If you recently made repairs to your home, then you may have left the remnants of building materials, whether it be wallpaper or laminate. It's a pity to throw them away, and there may be no place to store them. But they can be used for useful purposes. In our time, crafts made at home are very common and for their production, you can use the remnants of materials. If after laying the laminate you have a few lamellas, do not rush to throw them away. It is better to know what can be done from the remnants of the laminate, and to carry out such work. The things made by you will be useful in an economy. Let's find out in detail what can be done.
Material Features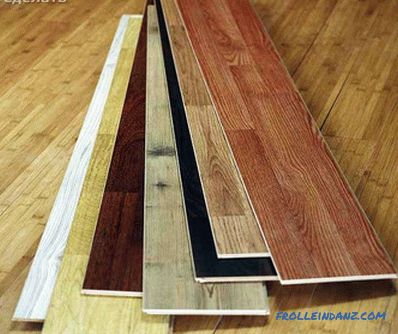 Laminate is a flooring that is used quite often due to the quality of the material itself and ease of installation. The structure of the laminate includes 4 layers: protective, carrying, stabilizing and decorative. Due to this structure, composition and production technology, high-grade material is:
wear-resistant;
resistant to stress and mechanical damage;
resistant to temperature changes;
antistatic;
moisture resistant;
resistant to the formation of stains from chemical agents.
If you use low grade laminate, it does not have the above properties!
Furniture for storing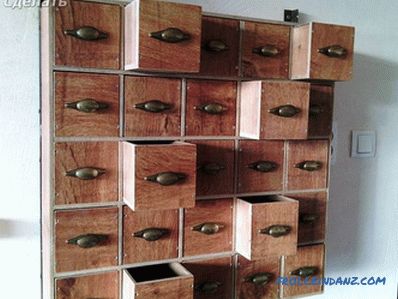 In your home there is always something that needs to be placed in a box or storage box. Then you will know where that lies, how to find it, and, thanks to the box, things will not be scattered. But such items for storage may be lacking. The solution to this problem is to build a box or a storage box made of laminate with your own hands. They can be of different sizes, depending on your needs. All you have to do is cut the leftovers and glue them together.
Here's what you should know when doing such work:
To cut the laminate, use jigsaws to make sure that the cut points are smooth without burrs and chips.
When working with a jigsaw, hold with your hand the part that hangs from the surface so that it does not break away and fall. Otherwise, the place of separation will surely be chipped.
Thanks to the decorative layer, the material has a beautiful aesthetic appearance. But if you want to paint it, use acrylic paint. It has almost no smell and fits well to the surface, hiding all the flaws of the material. Especially carefully apply a layer of paint on the edge.
It is better to fasten the finished parts to each other with a universal glue, since nails and screws in the laminate do not adhere well and can split it.
Anything can be put in such a box:
children's toys;
clothes or underwear;
books;
documents;
tools and building materials;
wires and more.
If you are a gardener, or just grow crops in a vegetable garden, you can make a convenient box for seedlings from laminate. Unlike the store option, you can choose the size that is right for you. After assembly, it can be put on the windowsill or installed on a special rack.
To prolong the life of the box, the laminate must be protected from moisture. The finished product is sheathed from the inside with dense polyethylene. As a clamp still use tape. Now these boxes for seedlings will serve you for a long time.
If you make a large box, you can store fruits, vegetables and cereals in it. The principle of operation is the same, but with one condition: the box must be equipped with a lid. You can fix it with ordinary hinges, which are sold in any hardware store. As a handle, you can purchase door accessories or make it yourself.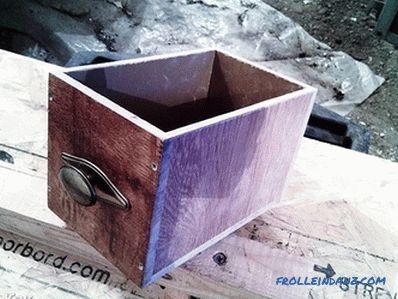 A small box of laminate
Even small residues can be used. Then the material will be used completely, without residues. For example, you can make pots of small plates that are suitable for indoor plants. In the role of a pot with the ground, such a construction is not suitable, but it is quite suitable for decorative purposes, therefore its size should be slightly larger than the size of the pot with the plant. Then the pot will easily fit in your product. If necessary, it can also be easily removed.
To "squeeze" everything from the remnants of the laminate, the smallest pieces can be joined together by making a box or a box for pens and pencils.
Everything for your kitchen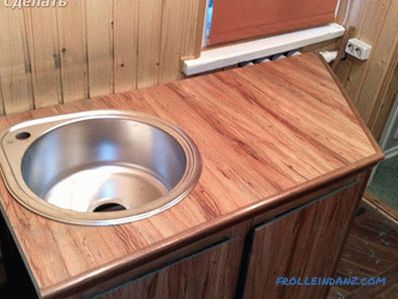 Take a look at your kitchen. What do you need for comfortable work? Thanks to the strength and special characteristics of the laminate, you can make various items for the kitchen from its remains:
a stand for hot dishes;
a shelf for storing spices and other small items;
chopping board;
cup stand;
sweets vase.
To protect the polished surfaces of kitchen furniture from hot pots, kettles and cups, you can make coasters of various shapes. Especially it is necessary to take into account in work the fact that it is not necessary to glue, assemble and assemble a specific structure. Simply cut the sheet of laminate in the form that you choose. The stand can be made round, square, triangular or figured using a template. The mass of options, then your imagination can roam. By the same principle, cutting boards are made. They can be made a little - for fish, meat and vegetables. This board will serve you for a long time.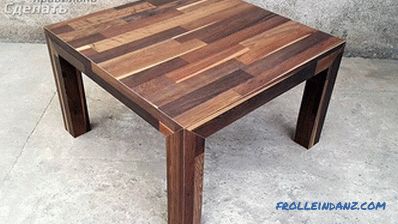 Laminated table
When you have a large amount of laminate residue in them, you can decorate the wall between the kitchen table and the shelves on top (kitchen apron). It will be a good alternative to the usual tile or mosaic decoration, especially since you will save your money on it.
If you want to make a shelf, it should be noted that the design can not withstand heavy loads, so placing heavy objects is not recommended. Below is a guide on how to make such a shelf.
You, husbands or sons, can please your housewives by making one of these items for them. Even if it will cost a penny, a gift made with your own hands is always more valued. For this you need only a little of your time and fantasy.
Shelves for rooms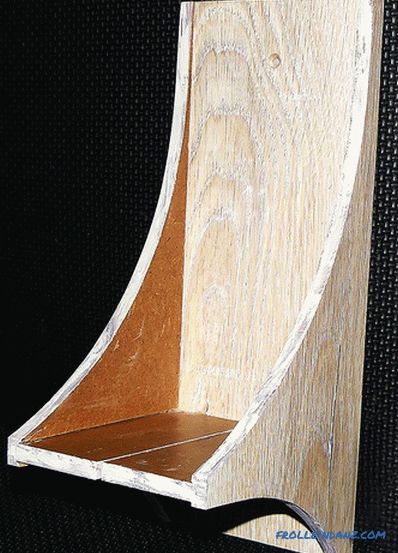 It is easy to make a shelf for a room from whole sheets or residues of medium length. They can be angular or straight, depending on your choice. As in the case of a kitchen shelf, this design is not able to withstand heavy loads, but you can put on it:
small toys;
frames with photos;
jewelry;
office;
fragrances and candles;
watches and more.
Another use of residues is a shelf for shoes. Its size will depend on how many pairs of shoes you want to place on it.
Other uses of residues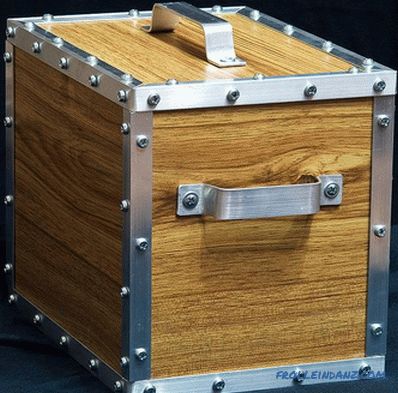 If you wish, you can use all the remnants of the floor covering. Moreover, as you have noticed, there are a lot of options. But all that was listed above is far from the limit. Often laminate is used to protect radiators, old doors and furniture fronts. To do this, the laminate must be connected to a solid shield.
Even simple pieces of furniture, such as a coffee table, stools, window sills, etc., are made from it. In this case, one laminate is indispensable. Other materials will have to be used for structural reliability and additional tools.
You can make a birdhouse for birds, a letter box, a wall clock, a housekeeper, and many other useful things for the house from laminate.
Making a shelf for the kitchen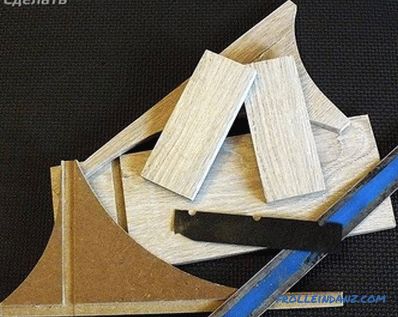 For work you will need:
pencil and ruler;
universal glue;
brush for applying glue;
jigsaw.
To make a shelf, it is necessary to cut the laminate into the following elements:
rear wall 32 cm high, 40 cm wide - 1 pc. ;
side walls 32 cm high, 10 cm wide - 2 pcs. ;
horizontal walls for shelves 40 cm high, 15 cm wide - 2 pcs. ;
slats measuring 40 cm - 2 pcs.
Consider the steps involved in assembling a shelf:
Mark and cut out all the details. To make the back main wall, connect several sheets of laminate, pre-lubricating the junction with glue for secure fastening.
The construction will be strengthened with wooden slats. They need to stick to the back wall. To begin with, mark the place of gluing to fix them in parallel. From the top of the wall measure 15 cm and draw a horizontal line. Measure from it again 15 cm and again draw a line. In these places you need to glue the slats. The space of the remaining 2 cm forms below.
Apply glue to the slats and glue them to the desired place.
Take horizontal walls and stick them to the rail from above. The ends of the horizontal walls, which will be connected with the side walls, grease with glue.
Immediately attach the side walls so that they lock securely.
The side walls can be rectangular, but for beauty they can be cut with a bend up.
Such a shelf can be hung using a bracket or simply put on the kitchen table.
Laminate hanger
You can make such a hanger in a few minutes. Of course, it is not suitable for clothes, but it is very convenient to hang keys, umbrellas or kitchen towels on it.
Take a laminate board and cut it to the length you want.
Edge process sandpaper.
If desired, it can be painted with acrylic paint.
After the paint has dried, mark the place where the hooks will be.
If you want the hanger to look very nice, you can apply a pattern on it using a stencil.
After that, glue the hooks into place.
The hanger is almost ready. It remains to make the mount. Drilling is not necessary, because it will be attached with double-sided tape. To keep it firmly, the tape must be glued along the entire length of the top and bottom.
It remains only to fix it in the place you need. As you can see, it can be made on the strength of 10 minutes, without any special effort, but now you will have a comfortable hanger that you made yourself.
Laminate is a very useful material that can be used not only for its intended purpose, but also to make excellent construction from its remnants that will be useful to you in everyday life.
Video
You can learn more about how to make a laminate table in detail from the video:
Another useful laminate piece is wall clock. How to make them? You will get the answer to this question in the video: