If you decide to glue the wallpaper, you may have heard that they can be painted. There are several options for applying paint on the wallpaper, which are determined by the choice of the paint itself. Of course, before starting to paint, you should find out which wallpaper you can apply paint on and which paint to choose for a particular type of wallpaper. For this reason, let's look at how to paint the wallpaper.
Types of wallpaper and paint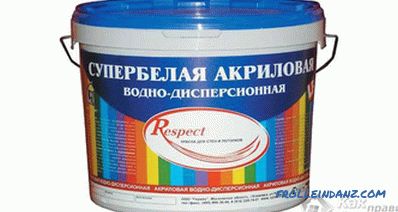 Water dispersion
The market offers three types Wallpaper that can be painted:
glass wall paper,
paper,
non-woven.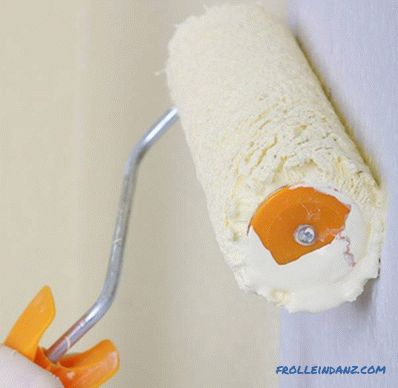 Staining glass fiber wallpaper
The choice of paint depends on the type of wallpaper you have bought. For example, if you decide to purchase glass fiber, then the best option would be paint of two types: based on alkyd and water. Painted wallpaper will have high-quality and durable film. Accordingly, this paint is resistant to liquid and moisture. Moreover, this paint can be washed with any detergent in case of contamination of the wallpaper.
The film formed from paint has one big disadvantage - it is not capable of passing moisture / air through itself. Also, after applying several layers of paint, there is a risk that the structure of the wallpaper may be slightly smoothed out. Alkyd paint is not recommended for residential use!
If the walls are painted in a private house, then water dispersion paint is the ideal option. It is environmentally friendly and safe for humans. Acrylic paint based on latex is also very popular. It dries out within five minutes, however, only after three days does it acquire all its best properties.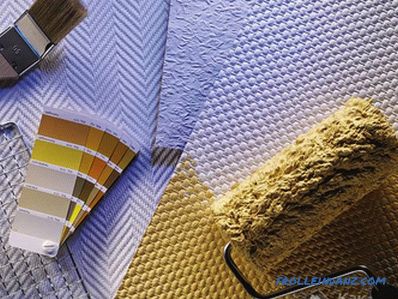 Non-woven wallpaper
If you have purchased non-woven wallpaper, then you should use only water dispersion for them paint. However, there is one drawback. This paint is made only in white. For this reason, to achieve the desired color you need to zakolerovat it. It is very important to calculate the paint consumption correctly, because if you don't have enough for one room, you can't make the paint exactly the same color, although you can use the services of building stores that have special tinting machines. The choice of color is selected using a computer, which facilitates the selection of color. This paint should be applied to the wall with a spray gun or roller. There is another option for painting the walls for wallpaper. Initially, a layer of paint is applied to the wall, and then non-woven wallpapers are glued on - preference is given to thinner ones. Accordingly, through them the paint will gleam with a matte shade, and give a very original effect.
Important paint selection requirements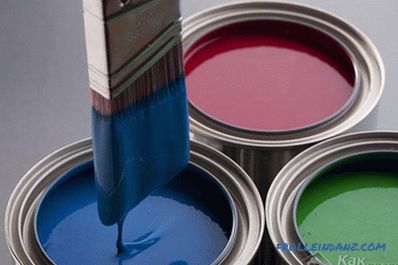 Which paint will suit
Paint selection should exercise extremely carefully. Indeed, in addition to decorative, it performs a protective function. As mentioned above, they are selected based on the type of wallpaper selected. So, when choosing a paint, one should take into account some of its features, namely resistance to:
exposure to the environment,
exposure to light,
mechanical effects,
detergents.
It is also important how much time is needed to completely dry the paint, as well as its environmental friendliness.
The paint can be made on the basis of latex, alkyd based or white spirit. Separately, you need to say about alkyd and latex paints.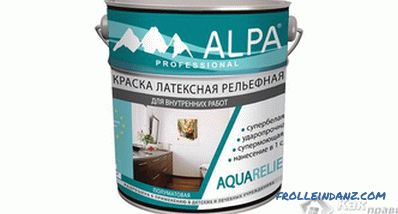 Latex
Latex Paints. Paints on this basis are very popular because they dry quickly enough, and most importantly, they are environmentally friendly. It does not emit any harmful odors when applied to wallpaper, it is quite stable and keeps well on the surface of the walls. The resulting film perfectly protects the surface of the walls from the appearance of harmful fungi and mold.
Alkyd paints. This paint is less popular. Unlike latex paint, it dries longer. However, such paints have their advantages. For example, when applying paint on the surface of the wallpaper does not leave traces of a brush or roller. Also, alkyd paint is much more expensive than latex. True, it has a pungent toxic smell, for this reason it is less popular.
An important factor in the choice of paint is the presence of gloss. Accordingly, the paint is divided into several categories:
semi-matte,
matte,
glossy.
As a rule, gloss paint is used less often to paint walls. In most cases, it is used to highlight certain items. As for the matte paint, it is completely devoid of gloss. This type of paint will perfectly hide all the flaws that can appear on the wall through the wallpaper.This paint is most often painted wallpaper in the hallway and in the kitchen.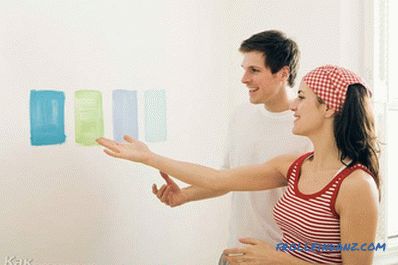 If we talk about the most popular types of paints, here are some of them:
Tikkurila is one of the best, but at the same time expensive paints that can be used for wallpaper.
Dulux Trade Supermatt This type of paint has the perfect combination of price and quality. The end result is guaranteed to satisfy you.
Dulux - Diamond Matt according to the majority opinion, has the best technical characteristics.
Beckers, unlike its counterparts, has high reliability and is quite durable.
So, we have looked at how you can paint the wallpaper. When choosing a paint, pay attention to its basic technical characteristics, because you can complete your repair on a positive note!
Video
Watch video tips on how to choose paint so as not to be disappointed: