The exact rating of electric spray guns cannot be made only on the basis of the characteristics of various devices. It is much more important to know how they show themselves in work, and only buyers who have already used such tools can tell about it. The models presented below are selected from those that are most often acquired and at the same time receive the most positive feedback from the owners.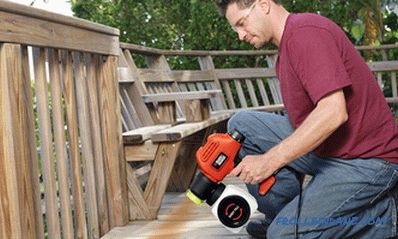 The best air electric paint spray guns
Electric paint spray guns are devices with high quality paint, which is provided by breaking the paints and varnishes into small particles with a stream of air. However, because of this, a colorful mist is formed at the workplace, so the work of such spray guns requires compliance with safety measures.
When working with such spray guns, there is no need to apply the paint on it, it is advisable not only to lay a film, but also to glue its edges additionally so as not to blow the air out.
Updated: September 2017
Bosch PFS 5000 E
WAGNER WP 585 Flexio
Spec BPO-350
Caliber EKRP-600/0. 8
Power, W
1200
630
380
600
Capacity, l / min
0.5
0.5
0.8
0.35
Diameter of the nozzle, mm
3
2.5
0.8
0.8
Max viscosity, Din
no data
40
60
30
Tank capacity, l
1
1.3
0.7
0.8
Weight, kg
4.8
2
1.3
2.1
Bosch PFS 5000E electric spray gun
For convenience, the spray gun is equipped with a four-meter air supply hose and pressure in the system is supported by ele With 1.2 kW motor.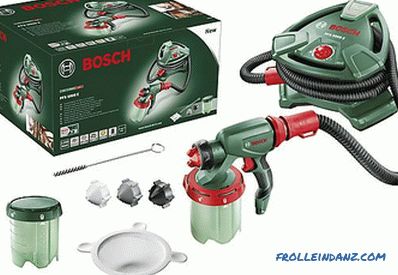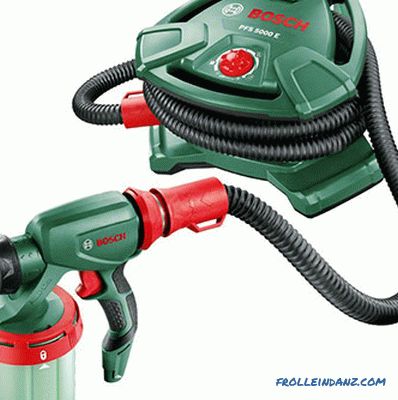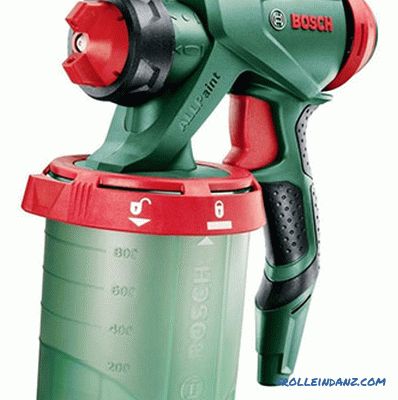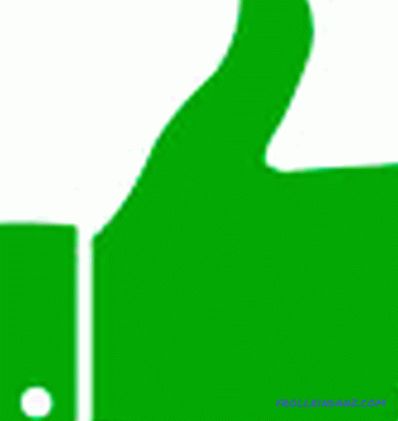 + Pros Bosch PFS 5000E
High engine power and the use of All Paint technology allow you to work with thick paints.
Quality assembly - body parts fit snugly and without backlash.
The most simple control - the manufacturer positions the device as a household class tool.
Motor housing on wheels to make it easier to move the spray gun along the surface to be painted.
Interchangeable nozzles for various types of paintwork materials.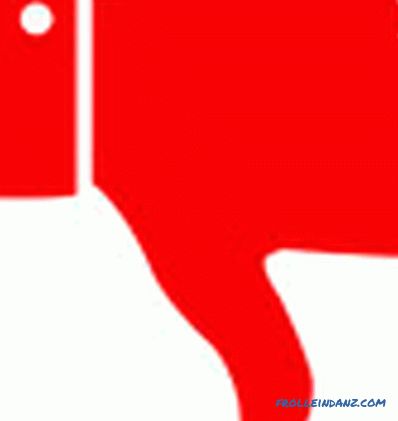 - Cons Bosch PFS 5000E
A small tank for paint - 1 liter, at a flow rate of 0.5 liters per minute.
When painting large areas, it is often necessary to add paint.
For long-term work, it is advisable to additionally purchase earplugs or headphones — the noise from the engine is roughly comparable to a vacuum cleaner.
The spray gun is positioned as universal, but for each type of paint it must be separately configured. At the same time, there is no intelligible instruction and it is necessary to get used to doing everything "by eye".
All similar tools from Bosch are made in a green case, which means a device for household use. At the same time, the power reserve is quite enough to use such a spray gun in small-scale production.
Electric spray gun WAGNER WP 585 Flexio
Universal spray gun with a 630 watt turbine air blower located directly in the device case. It is completed with separate nozzles for liquid and viscous materials. For carrying applied plastic case.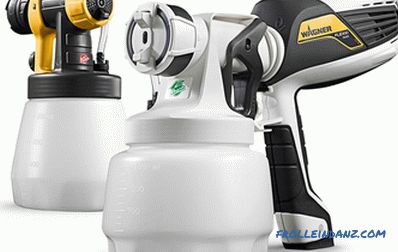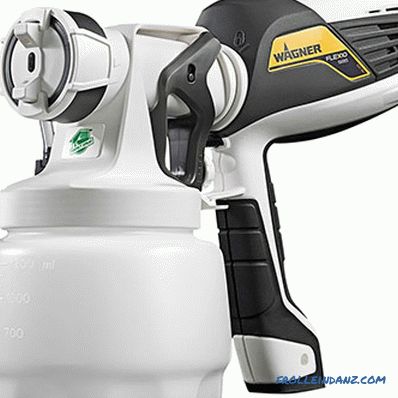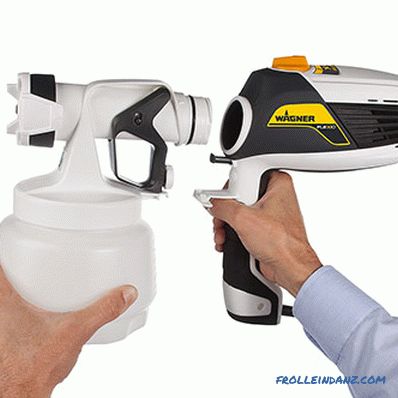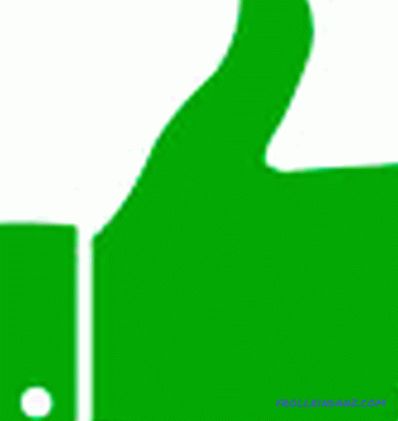 + Pros WAGNER WP 585 Flexio
The engine uses X-Boost technology, which allows using a relatively low power spray gun for applying viscous compositions
Versatility - the ability to work with most paints and varnishes.
Air flow rate control - adjusting the spray gun to the desired paint and reducing its losses for the formation of a paint mist.
Detailed and with pictures instructions for using the device.
Even with interruptions to the cooling of the engine, it is possible to paint an area of ​​150–200 m² per day with an airbrush.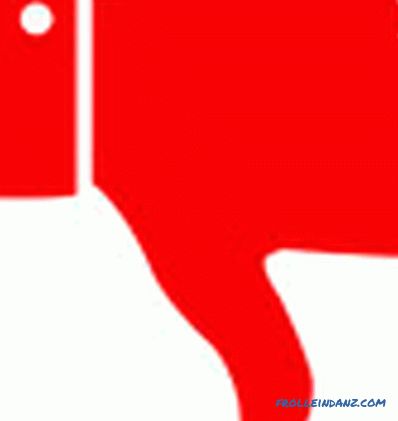 - Cons WAGNER WP 585 Flexio
It is necessary to get used to the spray gun. This is manifested in the need to filter some paint through a sieve or to adjust the spray to reduce the colorful mist.
The holes in the nozzle are small and it takes only 5 minutes of idle time for the paint, especially undiluted, to dry up in them.The same applies to the end of work - if you do not immediately flush the nozzle, then it will take a long time to clean it.
A short power cord - you must immediately calculate the purchase of an extension cord.
It will be necessary to wash the paint tank with improvised means - a brush or a brush is not included.
The design of the all-in-one-body spray gun implies its use exclusively for domestic purposes, since the engine will periodically need to rest. At the same time, the spray gun copes with all its tasks and fully justifies itself.
Electric spray gun Spec BPO-350
Household spray gun with a 380 Watt engine - designed to work with paints with a maximum viscosity of 60 Din. Spraying is made on the HVLP technology.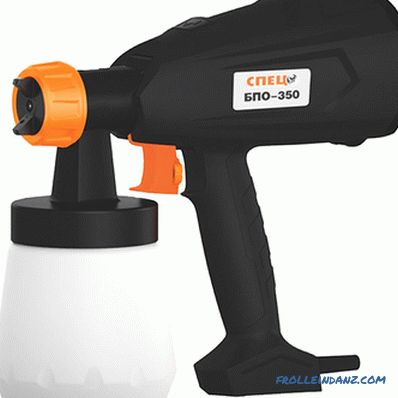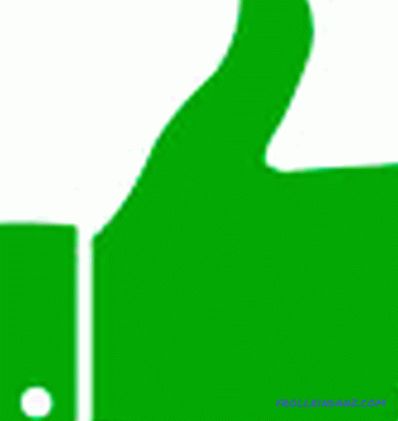 + Pros BPO-350 Special
Low weight. Although this is a parallel indicator of the simplicity of the device, but in the case of a manual airbrush it can be considered as an additional advantage.
Not picky about the type of paints and varnishes - within the allowable viscosity it works with water and oil paints, impregnations, varnishes, etc.
Sprays paint evenly and quickly - without stripes and similar troubles.
Good value for money with a simple and reliable design.
High performance sprayed with 0.8 liters of paint per minute.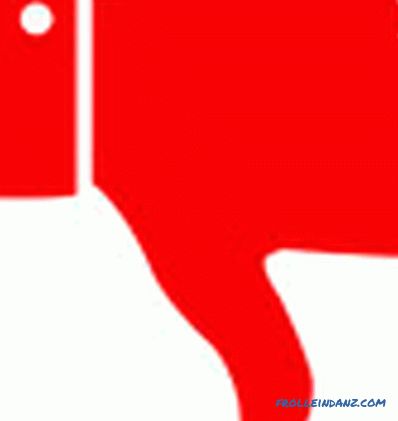 - Minutes Specials of the BOR-350
The nozzle diameter of 0.8 mm allows you to work only with liquid compositions.
Tank capacity for paint only 0.7 liters. Perhaps this is an additional reinsurance so that users do not forget to give the spray gun to rest more often.
Noise at 70 dB at work is tolerable, but unpleasant.
The whole design of the spray gun is the golden mean between functionality, unpretentiousness and reliability. For professional use, it is definitely not enough, but for applying liquid paints or other formulations during homework or in the country, it will fit perfectly.
Electric spray gun Caliber EKRP-600/0. 8
Spray gun with a separate 600 Watt air blower. It is intended for work with paint and varnish coverings with viscosity of 30 Din, productivity of the device is 0,35 l / min.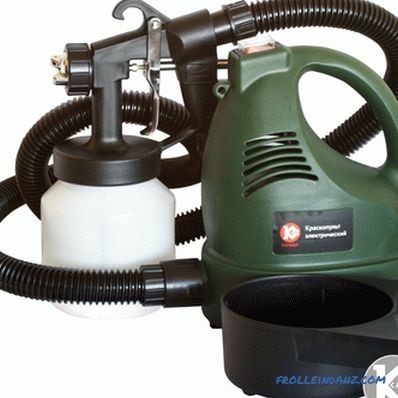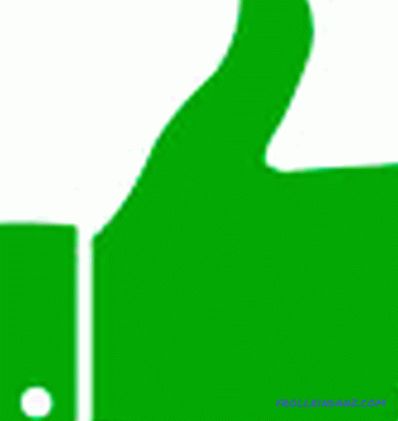 + Pros Caliber EKRP-600/0. 8
When using liquid formulations, it works without complaints.
Simplicity and reliability of the design.
Powerful engine - if necessary, it can be used as a compressor to blow leaves from garden paths or to inflate a fire in a furnace or barbecue.
The device is relatively light.
The sound of the turbine, though tangible, is quieter than its counterparts.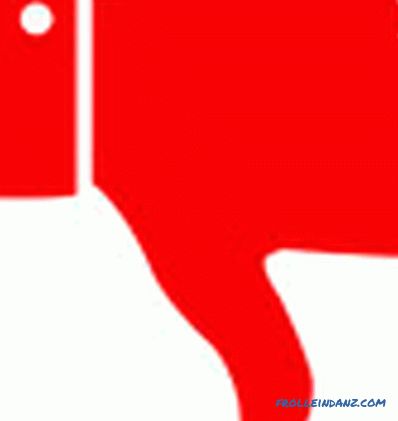 - Gauge EKRP-600/0. 8
It works only with compositions of extremely liquid consistency.
Aqueous emulsion paint or acrylic primers clog the nozzle for 20-30 minutes.
By standard means, the hose between the sprayer and the supercharger is poorly fixed. It is likely that you will have to additionally lubricate the joints with sealant.
Hard hose - spray operation is not always convenient.
If you do not take breaks in the work, the engine heats up significantly.
Each tool is made to perform a specific task. When working with liquid formulations, and with proper care, this gun shows itself to a high level.
The best airless electric spray guns
Although airless spray guns break paint drops not into such small particles as air, but the quality of painting is quite enough for home use. Choosing which electric spray gun is better, it is worth considering that airless models can be used with viscous materials, and during their work no colorful mist is formed.
Updated: September 2017
Hammer PRZ110
Fiolent KP1-260
Power, W
110
60
Max. productivity, ml / min.
300
260
Diameter of the nozzle, mm
0.8
0.6
Max viscosity, Din
120
80
Tank capacity, l
0.8
0.7
Weight, kg
1.8
1.6
Hammer PRZ110 Electric Spray Gun
Spray gun with plunger spraying of paint by electrostatic shock. It is powered by a 110 W electric motor, gives a capacity of 300 ml / min and is able to use paint with a viscosity of up to 120 Din.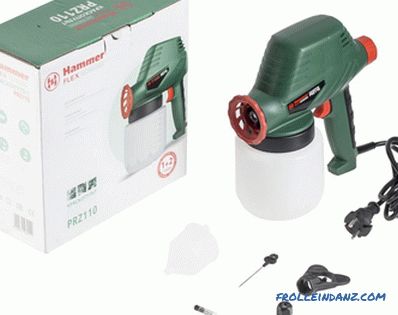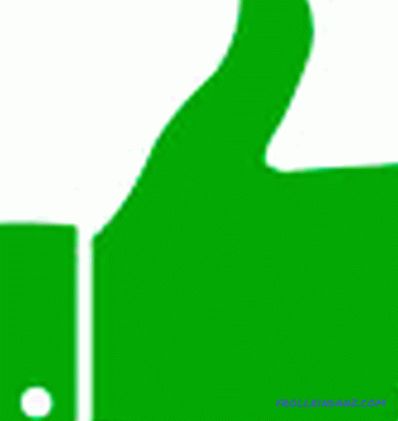 + Pros Hammer PRZ110
Good weight distribution - conveniently lies in the hand and does not load the brush.
Simple and reliable design - if you do not overload the engine, then there will be no complaints about the spray gun.
Convenient control of the amount of paint supplied - in the form of a lamb on the back of the case.
Good equipment, which includes a viscometer, a nozzle cleaning needle, two nozzles, a disassembly key, and two stop needles.
The transparent paint tank is made of chemically inert plastic - it is not corroded by the chemically active paint components and allows you to control the amount of paint remaining.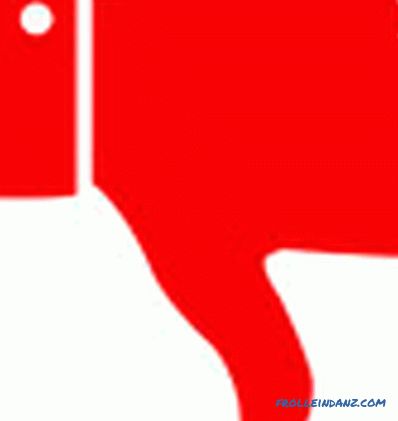 - Minuses Hammer PRZ110
Quality materials. Plastic, although it does not crack, but creates a feeling of "average" quality. Rubber on the handle improves grip, but has a pungent odor.
When working with liquid formulations, drips may form. Some buyers have adapted the spray gun for sprinkling potatoes and washing windows, where it is not critical.
The spray gun is suitable for most homework with paints and varnishes - from lacquering floors to painting exterior walls. Only you need to remember about the restriction of viscosity in 120 Din and the quality of plastic - do not try to fill it with paints with abrasive inclusions, liquid glass, alkalis and caustic substances.
Electric spray gun Fiolent KP1-260
Manual electric spray gun for working with paintwork materials with a viscosity of 80 Din. Power of the electric motor is 60 W, productivity is 260 ml. in a minute.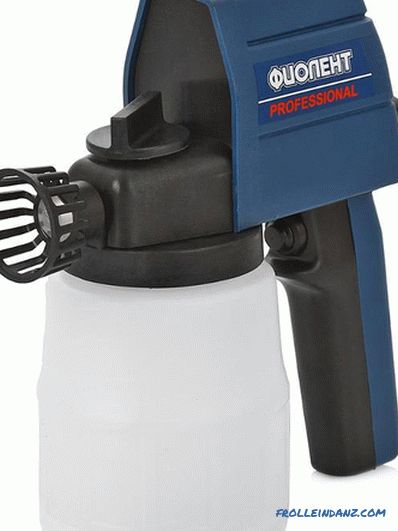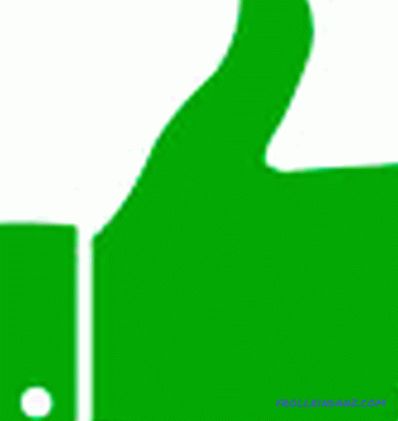 + Pros Fiolent KP1-260
The design of the spray gun allows you to disassemble it and clean it without using additional tools.
The package has a flexible nozzle so that you can paint hard-to-reach places.
The paint tank corresponds to the performance of the spray gun - it lasts for 3 minutes of work at maximum power.
Just a successful model - if you use it with viscosity-appropriate inks, then there will be no complaints about the work.
Nozzles with a diameter of 0.6-0.8 mm allow working with liquid paints.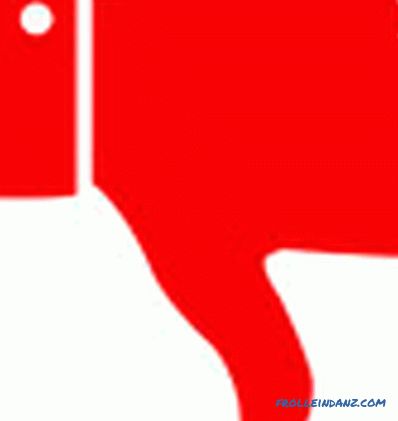 - Minuses Fiolent KP1-260
Noisy engine - even the instructions say that the volume can reach 96 dB.
May refuse immediately to suck in paint from the tank. It is treated by manual adjustment of the piston - it is necessary to unscrew the container with paint and set the piston so that it is looking out.
This is a budget spray gun, so you should not expect super-results from it, although it copes with its immediate task in living conditions.

We hope that the above rating of devices, supported by the opinions of customers, will help you choose the best electric spray gun for home use.
The selection of goods is carried out on the basis of reviews, opinions and ratings of users posted on various resources on the Internet. All information is taken from public sources. We do not cooperate with manufacturers and trademarks and do not call for the purchase of certain products. The article is informative.