For flooring, materials such as plywood are increasingly used. However, if we are talking about wood, then putting plywood on a wooden floor is not so easy, there are certain nuances that need to be taken into account. First of all, you need to deal with what constitutes plywood. This is a material consisting of 3 layers of wood, but it often happens that there are more such layers. There are several types of such material, so if there is a question about which plywood to lay on the floor, then it is recommended to stop your choice on a waterproof version, which is soaked with a special adhesive solution.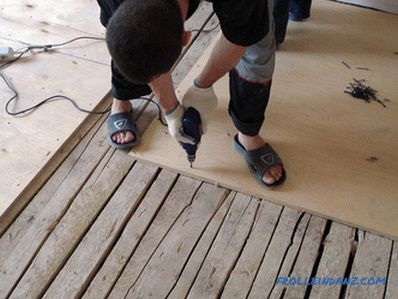 Plywood is perfect for a subfloor, as it is durable and resists deformation.
To cover a wooden floor with such a material is a very good solution, as it has a number of advantages. First of all, it should be noted that it is plywood that is the most practical subfloor for residential premises. When such a floor is in use, it does not lend itself to deformation, since there is no doubt about the strength and reliability of such a coating. This material can be used not only as a rough coating, but also as the main one.
But you should know that before you lay plywood on a wooden floor, there must be a certain gap between its sheets, which does not in the best way affect the appearance of the floor. To avoid this, the plywood laid on the floor must be sanded (it is recommended to use fine-grained sandpaper for this), then everything is varnished and a very attractive and prestigious appearance is obtained. For all this you need to use the following tools:
Hammer.
Nails.
Self-tapping screws.
Screwdriver.
Construction level.
The hacksaw.
Nuances of laying plywood sheets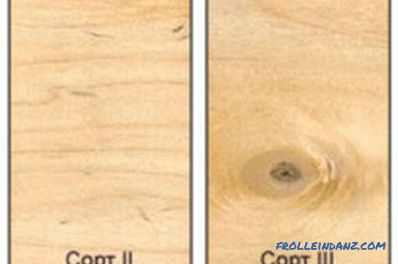 Plywood can be 1-4 grades.
The use of moisture-resistant plywood will allow not to be afraid of the consequences of the flood, which neighbors can always arrange from above. If we talk about the benefits of such a material, it should be noted the excellent thermal insulation qualities that allow you to retain heat 20% more than other materials.
Laying plywood on a wooden floor is especially recommended in cases where it has completely become unusable (either it has cracked or has loosened). Using such material, you can quickly and inexpensively put everything in order, and it will be very reliable. But if there are significant temperature fluctuations in the room, then the use of plywood is best avoided, the same applies to apartments, where there is high humidity. That is, it is not necessary to lay plywood in the bathroom or in the room where there is no heating.
How are plywood sheets installed?
Laying plywood for flooring.
When the question arises about how to lay plywood on the floor, then the most difficult is laying it on logs. They must be installed so that the upper ends are in the same horizontal plane. Plywood should be mounted on the logs so that they were docked sheets.
If there is a need, a heat and sound insulation layer can be installed between the lags, installation of communication networks can be done. It is recommended to use plywood sheets that are approximately 1.5 cm thick.
If you use moisture-resistant plywood, which is 1.2 cm thick, you need to drill 6-8 holes with a diameter of 1 sq. M. With a drill. mm Then in such holes you need to insert plastic sleeves that have an internal thread. These holes are needed in order to screw in the bolts (they are also plastic). Such bolts are used as racks.
Now the sheets are placed on the wooden floor, the surface of the plywood should be horizontal.
How should the plywood be laid on the floor if the wooden base is old?