Today's ceilings are surprisingly diverse. Some are able to make the room brighter and more spacious, others effectively emphasize its best sides, others are masterpieces of design. Especially original and functional designs of the suspended type. Next, we will tell you what types of suspended ceilings exist and are used in modern homes.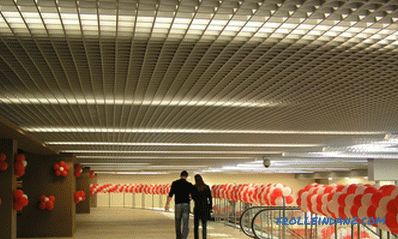 Drywall - we fantasize with the shape of the ceiling
Using drywall, you can bring to life any idea, even the most daring. Straight and wavy lines, smooth bends of surfaces, figured details of the decor - all this is within the power of the master working with gypsum plasterboard. Each element is made individually, taking into account the characteristics of a particular room. At the request of the customer ceiling can be layered, as well as with niches or projections inside. Decorative elements and lights perfectly decorate it.
Two sheets of thick cardboard and plaster "filling" inside - such a simple composition of this material. To make the construction solid, drywall is mounted on profiles made of metal. The master with such a ceiling will have to tinker a lot, but then the result is impressive. To enhance the effect, build in fixtures. It can be ordinary incandescent lamps, as well as LED, energy-saving or halogen lights.
Standard plasterboard sheets - GCR are quite suitable for finishing the bedroom or living room. If we want to make a similar ceiling in the bathroom, laundry or in the pool, then we must take moisture-proof drywall. These are brands GKVL (usual waterproof sheet) and GVLV (waterproof superlist). When finishing a fire-hazardous premises, we take the GKLO mark, and apply the GKLVO sheets when it is necessary to protect oneself from both fire and water.
Installation work will bring a lot of noise and dirt. If it is done by hired masters, then the owner is better at this moment to leave the apartment. You cannot mount such a ceiling alone - you can only lift a 15 kg sheet together. Yes, and the joints of the sheets do not always succeed in gently sealing up - and this is fraught with cracks. It is better to immediately turn to professionals.
See for more details: What are some types of suspended plasterboard ceilings.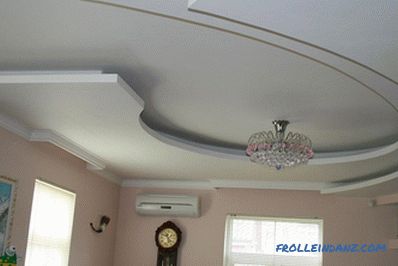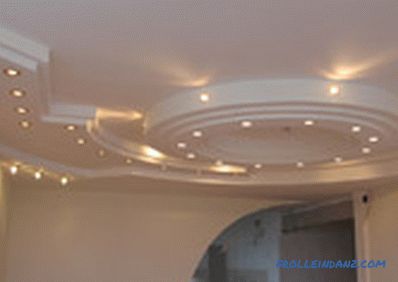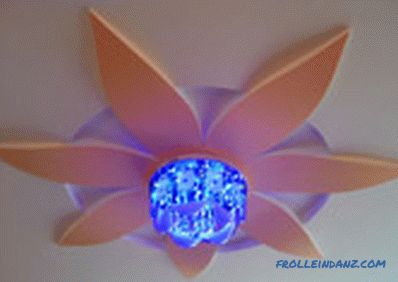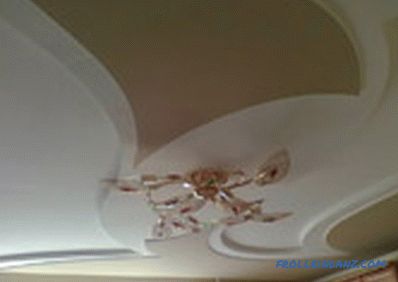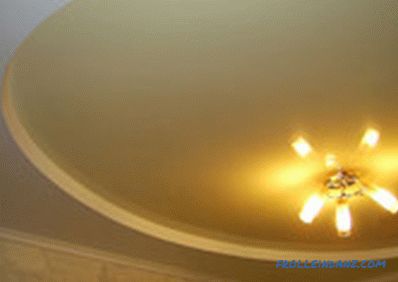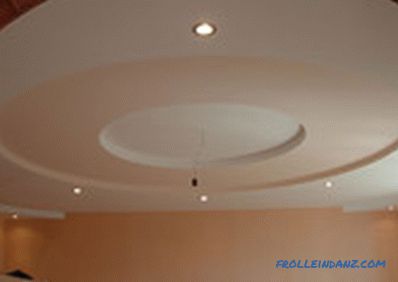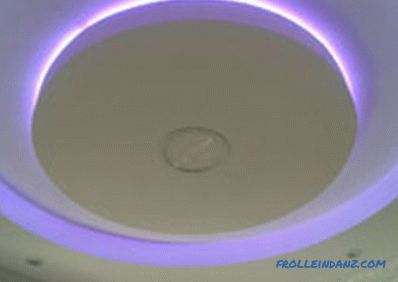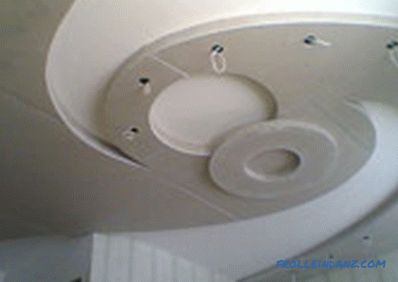 Tiled false ceilings - inexpensive and strictly
This type of ceiling is not as comfortable as the previous one. It is more laconic and straightforward, so it is often used for decoration of offices, warehouses and other non-residential premises. The most inexpensive option for a tiled ceiling is the Armstrong suspension system, which has an open profile. In this case, the frame is a design element, and therefore does not require disguise. Standard plates are fixed on this frame.
A 2-cm-thick mineral fiber plate is either a square with a side of 60 cm or a rectangle with a width of 60 cm and a length of 120 cm. Their surface can be smooth, cellular or perforated. The frame, fixed to the ceiling with steel spokes and a self-gripping plate, consists of profiles and guides. The latter are available in lengths of 60, 120 and 370 cm. T-shaped profiles have a width of 1.5 or 2.4 cm.
Low price, functionality, high speed and low cost of installation work - all this attracts the buyer. At the finished ceiling is very easy to get to communications. There are many options for plates, including waterproof. If desired, you can order the ceiling is not a standard white color, and other shades. However, a minus in the tiled system is present - fragility. Mineral fiber board is easy to beat when falling or hitting. On such a ceiling can not be much pressure. However, the low cost and interchangeability of the plates reduce this disadvantage to a minimum.
See material: Armstrong Ceiling - technical characteristics and properties.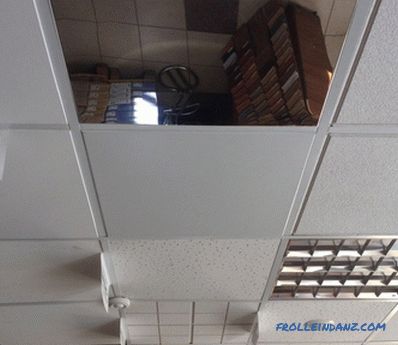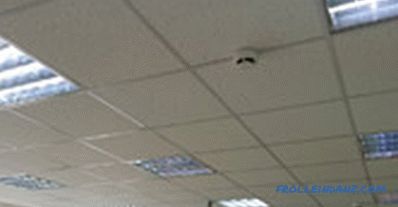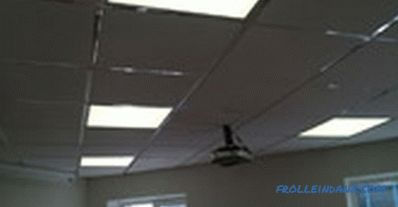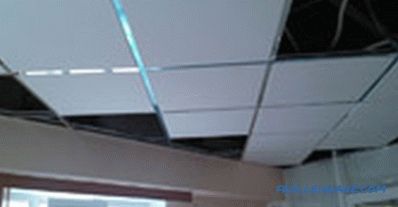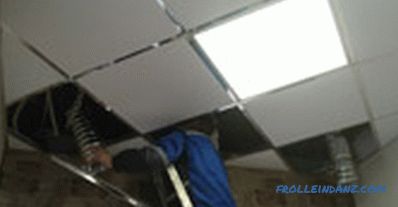 Cassette-type ceilings - stylish interior, high reliability
Considering the types of suspended ceilings, one should not overlook the cassette suspension system. It is very durable, long serving and looks great. In this case, the ceiling, like the designer, is assembled from individual cassettes (the so-called modular elements). They are made of aluminum or steel with zinc coating. The finish of their surface can be varied (mirrored, matte, coated, metallized). Designer - just expanse.
Cassette modules are squares with a side of 60 cm (sometimes they are made twice smaller or larger). They are mounted on the frame in two ways, which determine the type of construction:
The design of the hidden type involves the complete closure of the frame overlay cassettes. It is easy and quick to assemble it, and then, if necessary, it is just as easy and partially disassembled, having reached internal communications.
The open-type design provides for the visibility of the supporting frame. It is used much less frequently.
As you can see, this type of ceiling has a lot of advantages. And they are reliable, and durable, and serve for a long time, and are mounted "on time". And take care of them is not particularly necessary. If a cassette module has deteriorated, then you can change it yourself, and without difficulty. And these ceilings are resistant to water and fire, and also perfectly combined with other types of structures. That's just the price of such pleasure can not be called budget or democratic.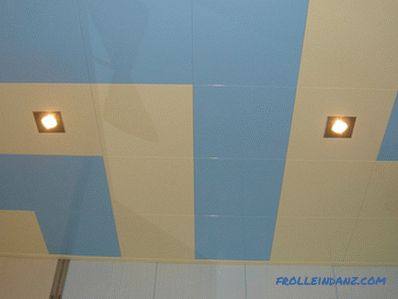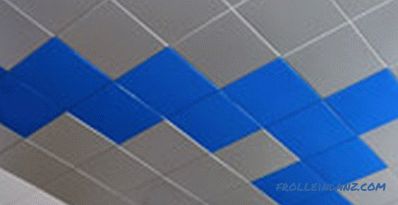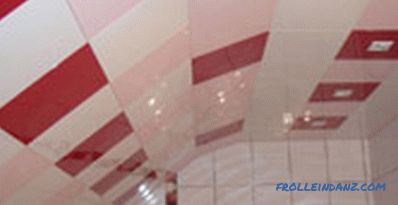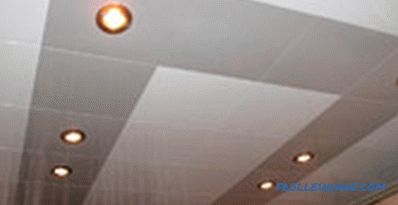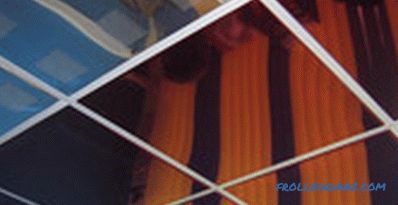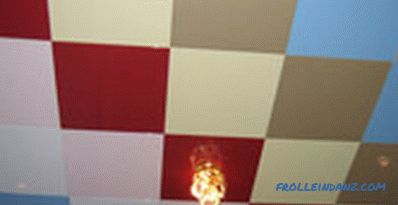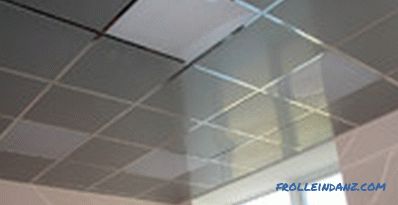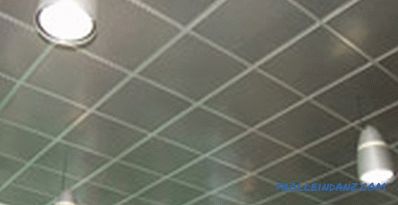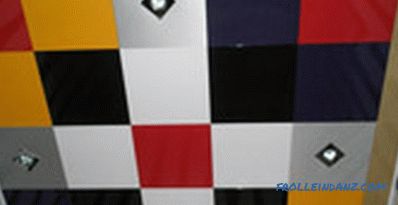 Rack ceilings are avant-garde and stylishly
For the manufacture of such suspended structures are used long slats, so the finished ceiling looks like a clapboard surface. Such ceilings look good in large rooms - at the metro station, at the airport, in the station building or a large shopping center. Reiki can be made of metal (usually aluminum) or polyvinyl chloride.
Aluminum batten structures
Standard slats of three meters or four meters length are made at the factory. Longer products (from 6 m) can be ordered individually. Width can vary from 5 to 20 cm. Coverage and design are varied. Gold, copper, chrome - for every taste there. You can also choose any color from the RAL table. The surface of the rails is solid, mesh, embossed, perforated. Consider the three main types of design of such ceilings:
# 1. Italian style is mesh-type slats made of aluminum or steel galvanized. May have perforations with a diameter of 1.5 mm. The height of the rails is quite large, the shape of the edges - rounded. The design is durable. The hidden or open type of fastening of laths is used. In the latter case, decorating elements are placed in the joints.
# 2. German style - strictly rectangular slats with perforation (1.5 mm in diameter) or without it. When flush-mounted, the ceiling is smooth and fairly flat. With open installation, you can insert decorative elements into the joints.
# 3. The design style is the unrestrained orgy of the author. These designs are made individually, for a specific room. The panels in the form of the letters "V", "S" or "P" help to create a ceiling with shaped relief. And if you still play with texture and colors, then it will work out a miracle.
Attach the slats to special guides - combs (aluminum or steel). Latch tongue on the comb firmly fixes the rail. And to the supporting structure itself, the ceiling is fixed with a spring-type suspension. U-shaped (RPP-18) and angular (PL) profiles are also used. They are mounted around the perimeter.
A ceiling of this type does not corrode, serves for a long time and passes air well. It is great for business style rooms and very durable. And aluminum panels are very lightweight, so do not require a reinforced frame.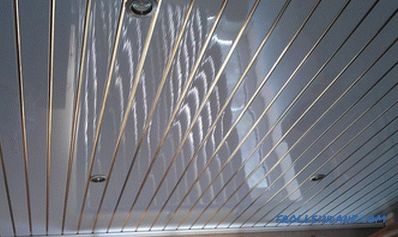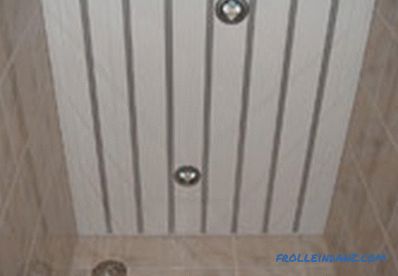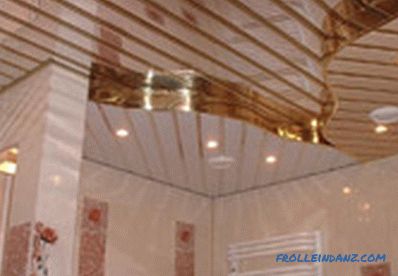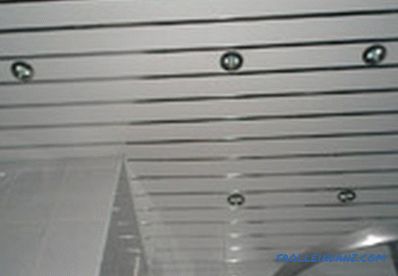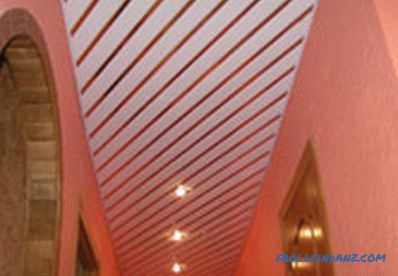 PVC Ceiling Slats
Narrow slats (from 10 to 12.5 cm) is called clapboard, and wider (from 15 to 50 cm) - panels. The standard length is 3 m. These slats can be of any color or printed pattern. For example, it can be an imitation of wood, marble, fabric. The surface is matte or glossy (lacquered). Designer expensive options - mirrored, wavy or perforated panels.
Plastic is good because it is one of the lightest materials. Therefore, it is easy to mount. It is only necessary to fix the profile to which the PVC rails are attached to the ceiling base. If repair or replacement of communications is required, these rails can be removed, then installed in place. Also, the advantage of this ceiling is water resistance. It is inexpensive, and looks quite nice. Such a ceiling is good in the bathroom, hallway or kitchen.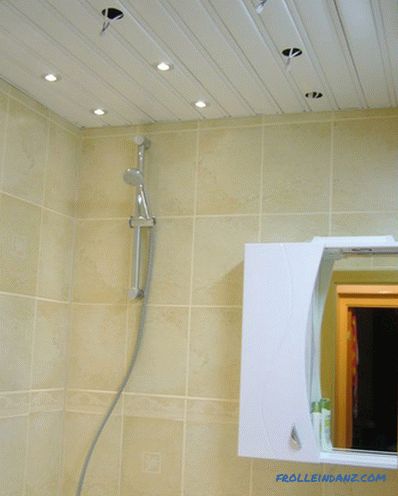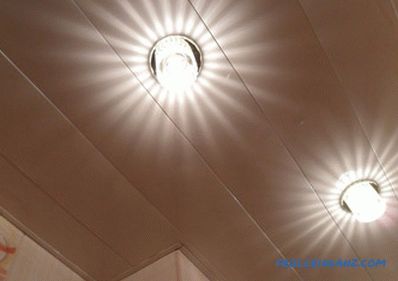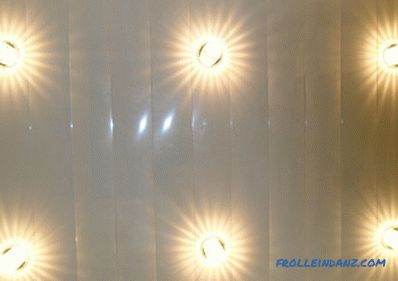 Stretch ceilings
Of all the varieties of suspended ceilings, this is perhaps the most popular. They can be made of thin PVC film or fabric cloth, dyed extremely precisely according to the size of the room and tightly stretched on the frame. If the material is matte, the ceiling resembles a classic painted or whitewashed. Satin creates the effect of a glare and shimmering surface, and the lacquer ceiling allows you to see the reflection of the room, increasing the space. Metallic fabric looks futuristic, and suede - mysteriously.
PVC sheets have a standard width of 1.5 m, so for large rooms they are carefully welded. Fabric fabric does not require connection, as it has a width of up to 5 m. When installing, they think over future lighting. To create the effect of twinkling stars, you can embed a light generator with a connected fiber optic cable.
Tension structures deserve the love of the consumer. After all, they are very beautiful, and you can make them completely to your liking.Various shades, patterns, textures, photo printing - all this creates a rich selection. Installation of such a ceiling is quick and smooth, and they almost do not require care. And everyone likes the legendary water-resistant PVC fabric. That's just the price of these products is still high, unfortunately.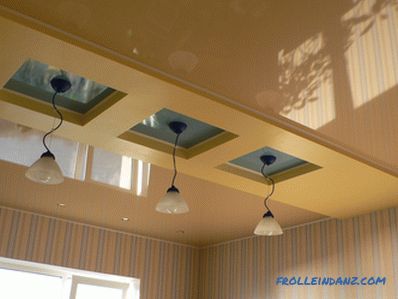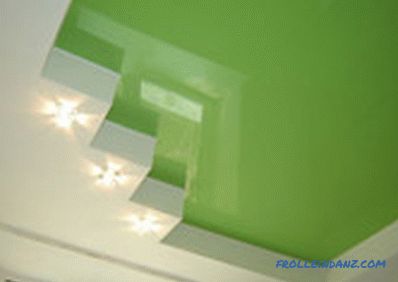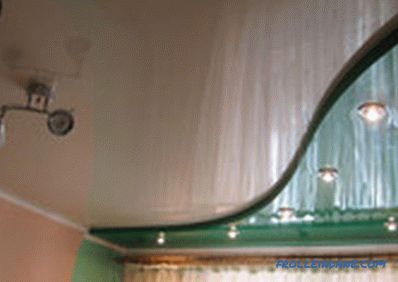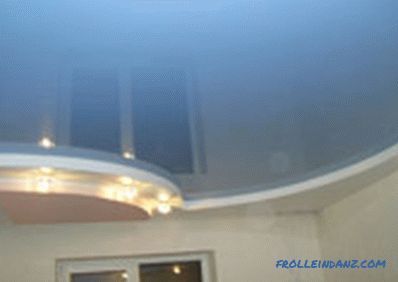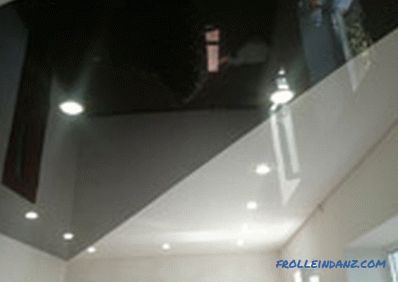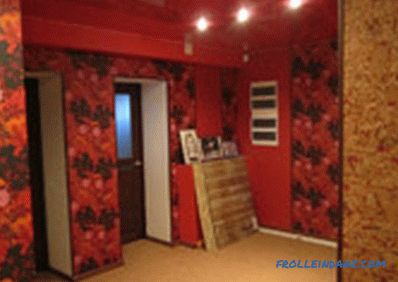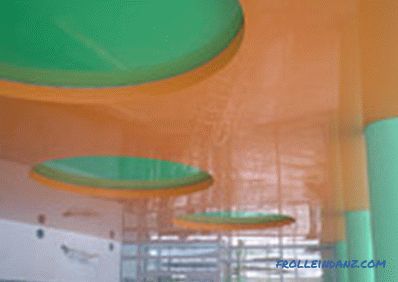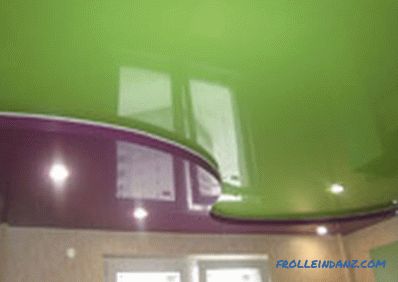 We frame the suspended ceiling in a drywall frame
Describing the types of suspended ceilings and the materials used to carry them out, it is worthwhile to dwell on this construction. In this case, a plasterboard box is mounted around the perimeter of the ceiling, inside which an insert is made of stretched film or fabric. The size of the box can be any - it depends on the characteristics of a particular room and tasks. If you need, for example, to visually raise the ceiling, focusing on the stretched canvas, make the sides of the box thin.
It is possible to make a hole in the box not rectangular, but round or oval. In this case, the ceiling will be good starry sky. Optimally, the box should be used with a room height of up to 2.5 m. Another option is to make a "tablet" of plasterboard in the center of the stretch ceiling. Here you can install a beautiful chandelier.
See: What are the types of stretch ceilings.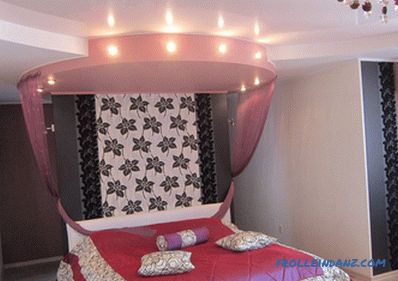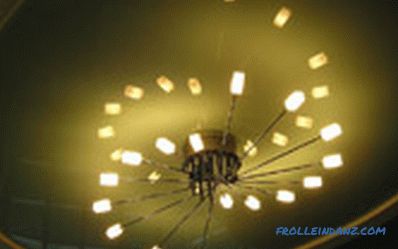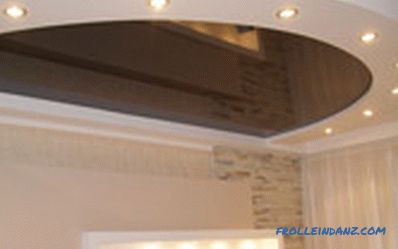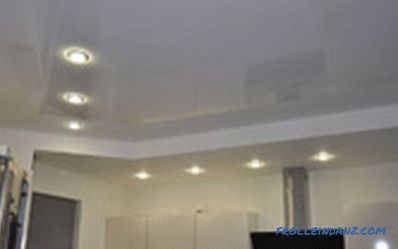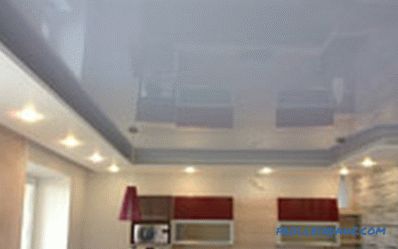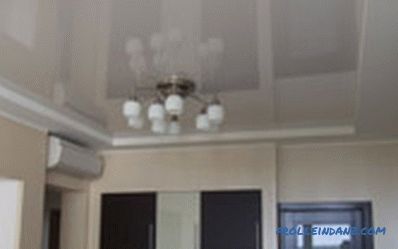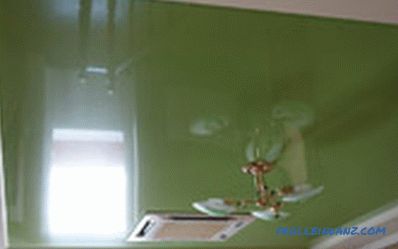 Take the survey: