If you need to cut ceramic tiles or, for example, porcelain stoneware, you can either use the "grinder" for this purpose, or you can get yourself a tile cutter. But, once in the store, you will find that this tool is not simply presented in a variety of options (depending on the manufacturer, which issued it), but also has a clear division into manual and electric models. And how to choose a tile cutter so that he does not just cope with the task set for him, but at the same time you did not have to overpay for it?
Manual tile cutters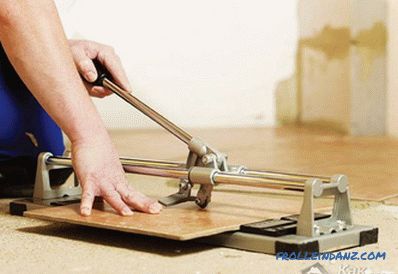 Work as a manual tile cutter
Manual tile cutters are considered to be the least powerful, since the result of working with them depends not only on their characteristics, but on human abilities. At the same time, they have the following advantages:
lack of energy consumption (that is, you can cut tiles in rooms not equipped with electrical outlets);
ease of maintenance (you only have to wipe it off after work and put away for storage in a dry room);
low weight (and you will always easily transfer it to the place you need).
However, manual tile cutters of different models still have their own individual characteristics, for example, some of them can cut round holes due to additional devices. It is also useful to immediately check with the sellers whether this type of tool is suitable for working with porcelain stoneware, or its functions are limited only by thin ceramic tiles for wall cladding.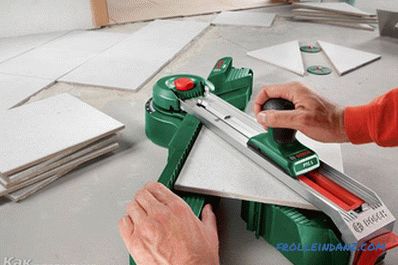 Cutting tiles by hand with fixation
Special rulers and corner stoppers that allow cutting tiles not only parallel to one of the sides, but also at a strictly measured angle.
It is quite simple to work with a tile cutter, but nevertheless it is not always possible for beginners to precisely cut the tile. Sometimes excessive efforts do not lead to the expected result, but, for example, to splitting tiles. Therefore, if you have never used such a tool, read the instructions attached to it or watch its video version before starting work.
Electric tile cutters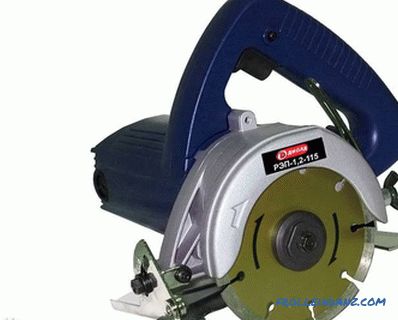 Electric tile cutters
V Unlike their manual counterparts, electric tile cutters are more powerful, but they need a constant power source. And although outwardly they slightly resemble the familiar "Bulgarian" and also, like it, easily cope with both ordinary tile and porcelain stoneware, they have one distinctive feature - the function of a wet cut. When used, the coolant will not allow the disk to overheat. The connection consists in the fact that with the help of a special hose the electric tile cutter is connected to the water tap through a special adapter.
Since you need to choose a tile cutter not for one day, but for a very long time, you should pay attention to such moments as:
reliability and popularity of this model ,
warranty repair,
warranty repair in your city,
availability of spare parts,
ease of replacement of carbon brushes (by doing it yourself, you save on calls to service centers).
Do not forget to clarify about the presence of such additional functions as the possibility of slanting tile and the regulation of the depth of cut.
Tile cutting machine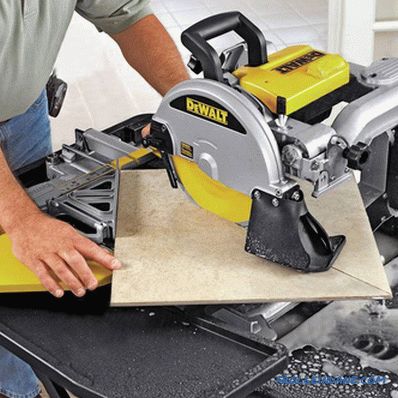 Working on a tile cutting machine with cooling
With large amounts of work and the constant need to cut tiles and porcelain tiles instead of an electric cutter, it is better to purchase a tile cutter.
Possessing great power, such a machine easily copes not only with tile facing or floor, but also paving. Unlike conventional electric tile cutter, the machine has its own desktop with angular and parallel stops, which allow cutting tiles with fairly high accuracy. If you need to perform oblique cuts, some models allow you to tilt the work surface at the desired angle.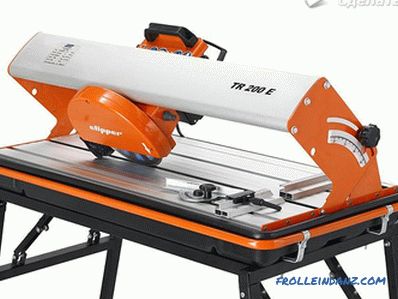 Cutting at an angle
To cool the diamond disc, the machine design involves installing a water bath (small open container for water), so it does not need to be connected to the water supply network.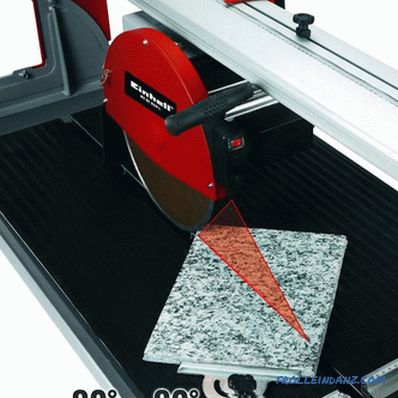 Cutting on a machine at 90 degrees
However, such a machine has a weight (just over 10 kilograms) that exceeds the weight of a simple tile cutter, which makes it less mobile, but safer in operation (subject to safety precautions).
Work on the machine should only be installed on a flat non-slip surface, and in any case should not remove the protective cover from it.