Provence, or "French country", as it is also called, is not just a style in interior design, but a unique opportunity to plunge into the atmosphere of peace and comfort, to feel the lightness and closeness of nature, to fill life with peace and harmony. Provence style in the interior is very popular today: it is chosen by people who are tired of ostentatious luxury, who want to bring to the interior the romantic atmosphere of rural life, and simply refined natures.
At first glance it may seem that this style is not very suitable for the interiors of modern city apartments, but it is not. It is able to bring light, warmth, pleasant natural shades and inspirational silence, which is so lacking for residents of large cities.
A little bit from the history of the origin of the style
The Provencal style was named after the region in the south-east of France, where it began its history. In the 17th century, representatives of the French bourgeoisie began to build more and more often their homes in the provinces. In an attempt to get away from the hustle and bustle of the city and strict classics, people inspired by the freshness of rural life and the picturesque surrounding landscapes began to decorate their houses simply, but with characteristic French elegance. The simplicity, naturalness, charm of the old world - all this is reflected in the atmosphere of French country music.
The popularity of Provence style began to grow rapidly, especially among bohemians - artists and writers. In the XIX century, a new style was widespread throughout Europe.
Nowadays, the interiors of apartments and houses in Provence style attract the attention of many people, thanks to the comfort, special energy and atmosphere created by them, which disposes to a peaceful rest from everyday fuss.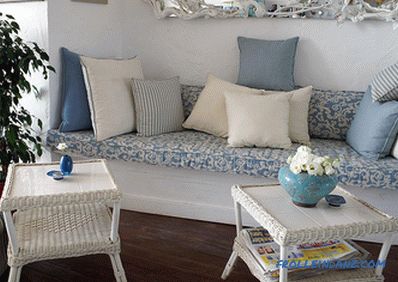 Differences between country styles and Provence
What are the characteristic features of Provence that allow you to unmistakably recognize this style and not confuse it with any other?
Undoubtedly, all village styles have much in common, but Provence has its own nuances:
never bright colors are used in the interior design - they are mostly pastel and muted;
walls here, as a rule, are whitewashed, decorated with paintings or flowers;
in the interior, decorated in the style of Provence, there are a lot of bright fabrics with floral patterns in no other Om ethnic style there is no such abundance of "flowering" textiles;
forged elements used are thin and very elegant, which, in general, is not characteristic of either the Scandinavian style or the American country;
houses in the style of French country are distinguished by a certain minimalism, and even a kind of "coldness": in the Provence region, it is quite sunny and hot, as a result of which they try to create an environment in the premises that contributes to artificial cooling (for example, the walls here are white average number of décor);
In the olive areas of the dwellings, large windows are usually installed, which, due to differences in climatic conditions, are rarely found in other country styles.
Of course, not all of the above can be implemented in the conditions of our modern apartments, but the main thing is not to follow exactly all the nuances, but to create the necessary associations. And what are the main associations associated with this style? Summer, sea, sun, flowering meadows, the smell of grass, the smell of spices and dried plants. And to create such an atmosphere, it is not necessary to strictly follow all the rules, you just need to put all the warmth of your soul into the process.
Walls, floors and ceilings in Provence style
Walls
The most commonly used wall decoration in interiors designed in Provence style is plastering, and the plaster is applied roughly, with bulges and irregularities, with brickwork peeking through it. In the design of modern interiors in the style of Provence used textured plaster.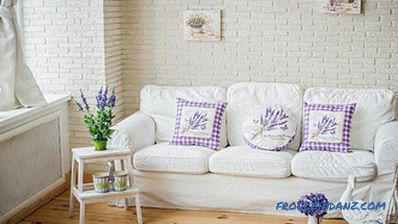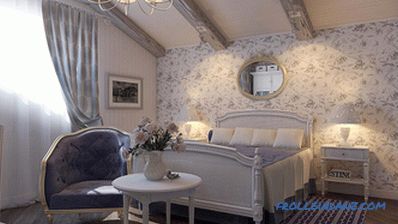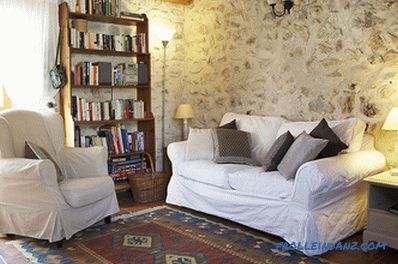 Another popular type of wall decoration is paneling followed by painting. Here distinction with other country styles is clearly seen: for example, in Russian country they try to preserve the color and texture of wood, and in French, as a rule, boards are painted white.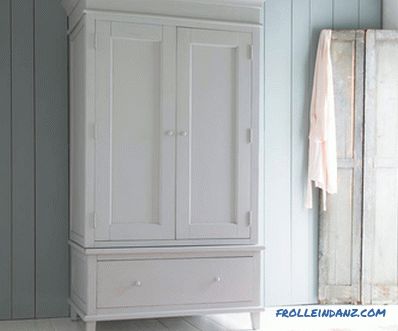 Glazed brick, artificial or natural stone, as well as tile are used to finish the walls of the kitchen.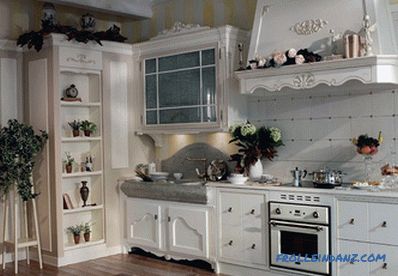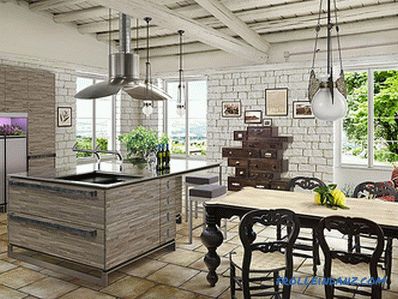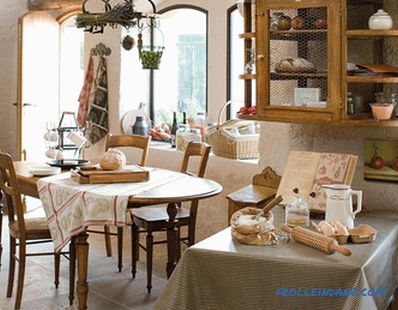 Floors
The most popular flooring in French country are wooden boards and tile (usually with beveled corners, terracotta or light brown). In the provincial houses can be found both painted and untreated wooden floors. Laminate, parquet, carpet and linoleum, of course, absolutely not suitable for apartments in the Provencal style.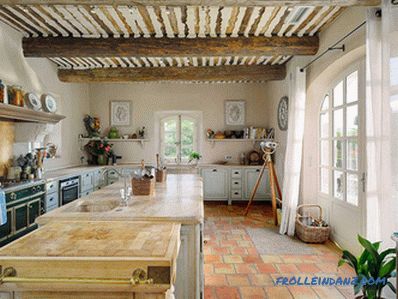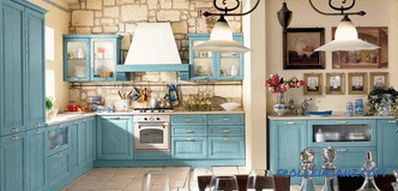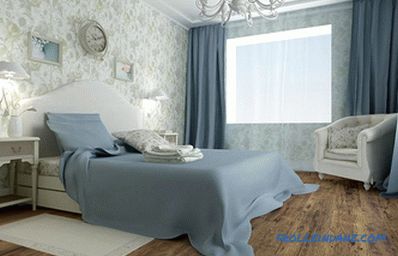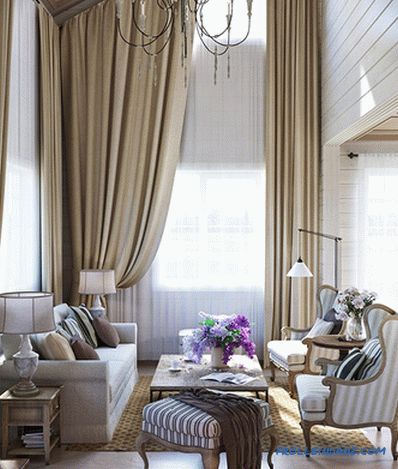 Ceilings
Ceilings As a rule, paint in light shades.Often use decorative ceiling beams - usually in contrasting dark colors or, on the contrary, whitewashed.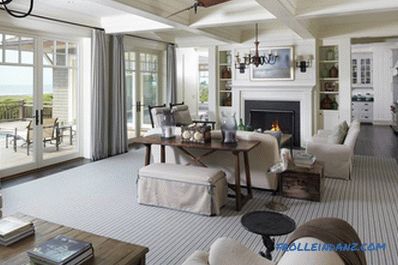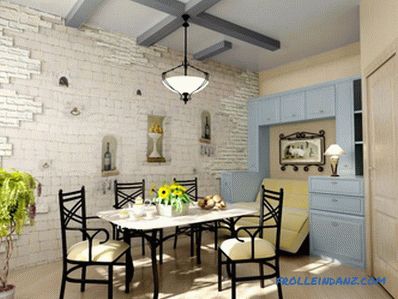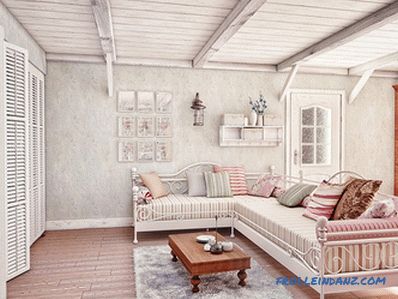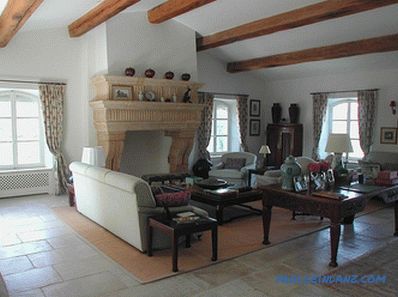 Doors
For rooms, decorated in the style of Provence, you must choose white doors. However, you can purchase ordinary wooden doors, paint them with white paint and artificially age the surface. White doors are often decorated with floral paintings.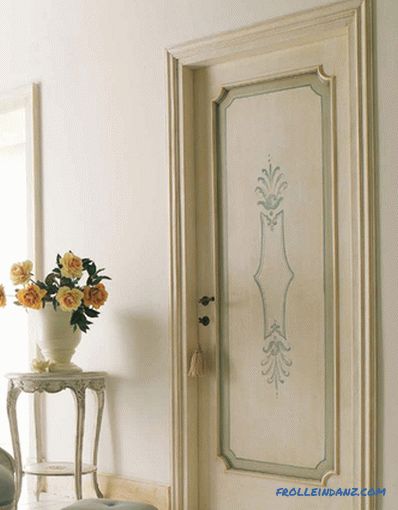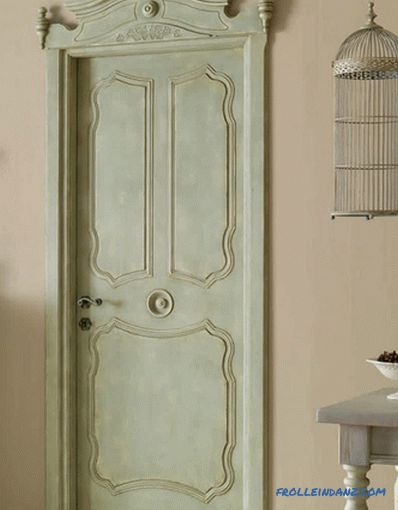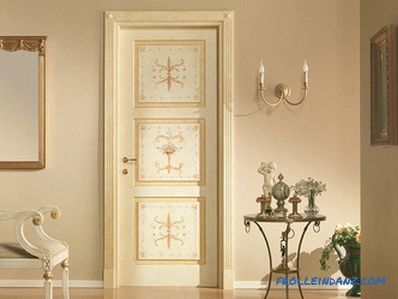 Windows
For windows in the Provence style, French windows from floor (original window-door). But since it is almost impossible in our apartments, you can install windows with multi-section frames instead of classic French windows. The color of the frames is usually white too.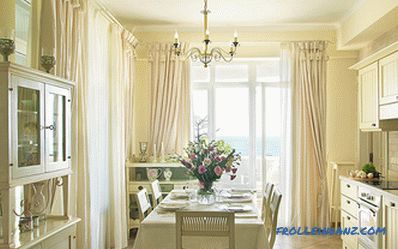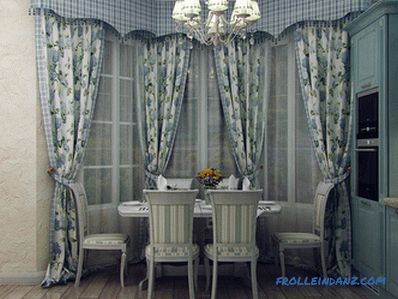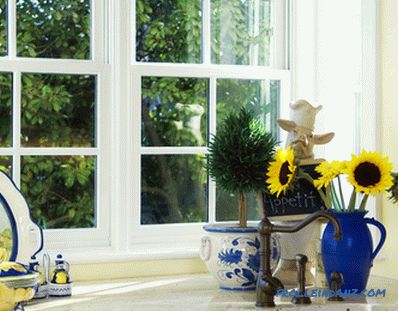 Simple, stylish furniture
Furniture in French country is balanced at the border sharing elegance and functionality. Although it is largely free from embellishment, which historically has been the hallmark of French design, in general, it can be called elegant. And although for villagers, especially in the past, the main thing was that each piece of furniture clearly fulfilled its functions, it was not uncommon to have multifunctional copies or furniture elements that could easily be moved to where they are most needed at the moment.
Stay away from excessively monotonous furniture. Instead, "mix" wooden pieces of furniture with different surface finishes and metal, which give the interior a touch of antiquity.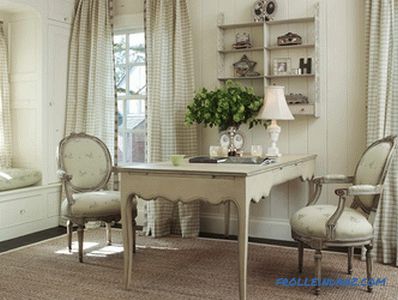 The seating area in this photo personifies the French country style of furniture. Upholstered chairs with armrests, a table and shelves blend in subtle harmony, connected in a common color palette of soft white and bluish-gray shades. These pieces of furniture have decorative curlicues, which raises them above the strict practicality, but such elegance can in no way be called deliberately ostentatious or exaggerated.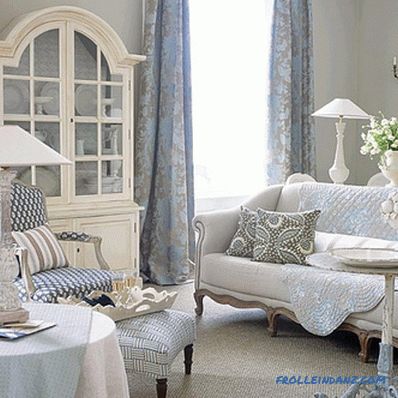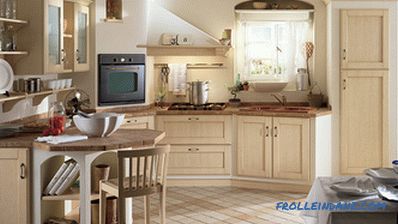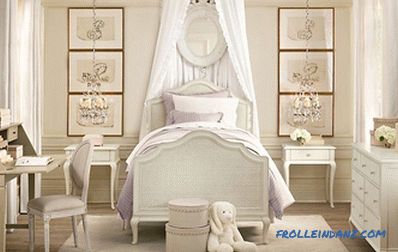 Flowers
Striving to erase the boundaries between the inner and the outer is the basis of life in rural areas of France (in fact, throughout the country). No interior in the style of French country is complete without flowers, whether they are put in a ceramic vase, whether they are painted on linen or carved on a wooden mirror frame.
Fresh flowers and leaves should look like they "came" from the garden right outside the door - naturally and naturally. Choose flowers that grow in those places where this style was born - sunflowers, irises, poppies.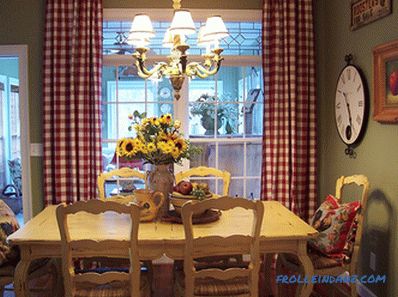 Those who gather around this table, for sure, feel at home at ease and very comfortable. A vase of flowers is the undoubted star of this scene. Other elements of the interior (a bowl of fruit, a picture on the wall, a jug decorated with a rooster) reinforce the overall impression, the feeling of country life.
Warm colors
Whether they are bright, deep or pastel, the colors of the interior design in the style of French country are soft and tender and give comfort. White is always warm here, rather, it is not even white, but shades of ivory, cream or pale beige. Other colors are borrowed directly from the surrounding landscape - sunny yellow, sky blue, brick red, and the color of peonies, sage and lavender.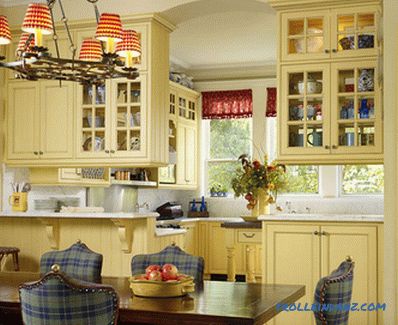 In essence, the palette of this kitchen, combined with the dining area, includes three primary colors - creamy yellow, rich red and slightly muted bright blue. Since the dominant colors are used only in the form of small strokes, they do not violate the ease of space.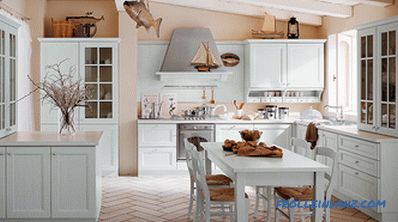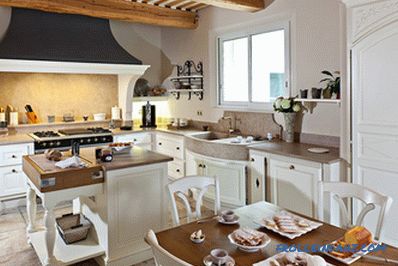 Not just accents
Accessories used in Provence style interior decoration are very rarely purely decorative. They, as a rule, bear a subtext of utility: wall plates, which, if necessary, can be put on the dining table, baskets with which you can bring the harvest from the garden, pots and jugs, which can also be used for their intended purpose. Open shelving is a natural choice from this point of view - household items here are given a place of honor, rather than hiding them behind the doors of the cabinets.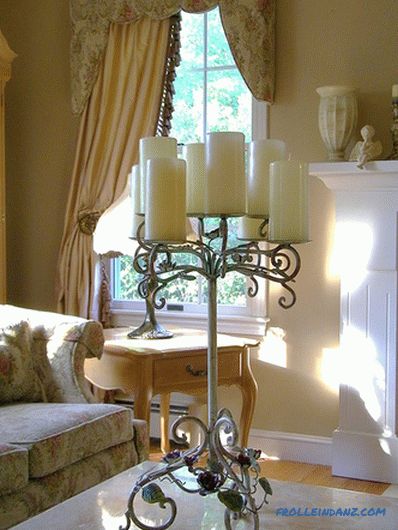 The overall candelabrum on this table not only instantly attracts the attention of anyone who crossed the threshold of the room, but can also serve a well-defined goal. Once upon a time candles were the main source of light for people in rural France. Despite the abundance of unnecessarily intricate decorative elements on this candelabrum, its potential functionality eliminates the feeling of excessive pathos.
The attractiveness of French country is in no small part due to the fancy accents that are present in this style.And what in France can be more symbolic than the Gallic cock? In this case, the task is to limit yourself: the market is so oversaturated with all sorts of knick-knacks of rooster themes that it is easy to fall into insanity and ultimately turn your house into an Old Macdonald farm from an English folk song than into the image of old France. Practice the art of restraint: purchase one or two items with a rooster, such as a kitchen rug, a jar of cookies, or a picture.

Despite the statuette crowing on the island table, in this kitchen the cockerel elements are kept in check. Three-dimensional image on the hood merges with the background, and you will not notice it until you look closely. The image of the farm scene on a hand-painted apron over the stove complements this bird theme, but in a more subtle, sophisticated form.
Multifaceted fabrics
Just like furniture, fabrics in French country create a skillful, attractive potpourri. The quintessence for this style is a veil, but one should not neglect other matters, checkered and striped, floral and monophonic. Textured fabrics such as linen and matlass, as well as famous French tapestries give the room a tactile interest.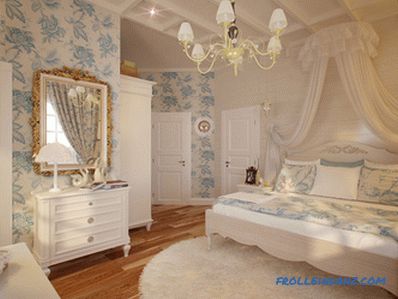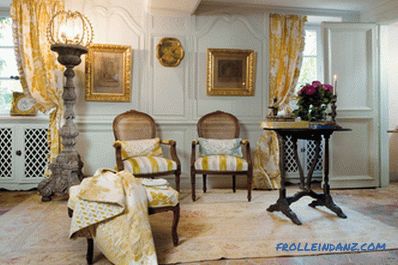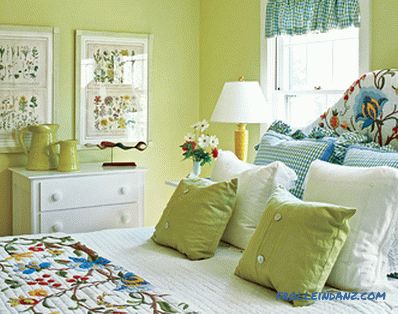 Whisper of time
In style, which is a reflection of longevity and tradition, new furniture and accessories will seem somewhat alien. Provence requires a bit of rust and dust. Objects should look as if they have faithfully served man for many years. Discard the shiny metal in favor of wrought iron, bronze or tin, fine if there are dents on metal objects and other traces of frequent use. It is not scary if the house will have a little worn out bedspreads or pillows with stains of wear.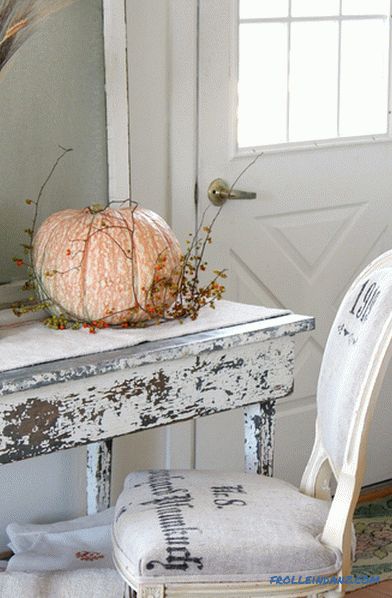 This cozy room looks as if each item has its own story - this is how the most stylish collection of used items possible. Even on new items, the presence of age-old dust is felt. Against the background of faded fabric colors, worn wood legs look great.
Textured surfaces
There is no room for stainless steel or perfectly smooth tiles. Surfaces in French country require visual depth and proudly "bear" their imperfections. Cover the walls throughout the house with plaster, plaster, stone (or a combination of all three materials). If you decide to paint the walls, consider using a glaze — a paint that mimics expensive plaster — or other treatments where the wall surface doesn't look perfectly flat. For floors from this point of view, the best options will be slate or limestone flooring, ceramic tiles, and natural wood.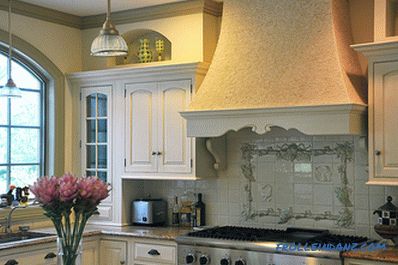 The hood in this kitchen is covered with a tiny mosaic, which makes the surface more visually coarse, which is typical of Provence in the interior. The feeling created is enhanced by the volumetric elements of a kitchen apron.