Pistachio combines a group of light green hues resembling the color of unripe pistachios. He is loved by both professional and novice designers, because he gives the room a special freshness and vitality. How to use the pistachio color in the interior, with what shades and materials it can be combined, consider in more detail.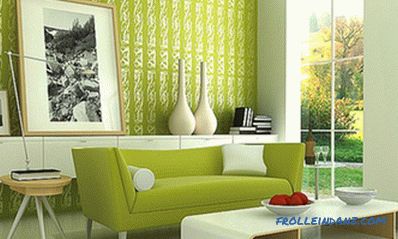 An important feature of this color is that it is quite predictable and unambiguous. It has very few shades, so it practically does not change under the influence of lighting or various accessories. If you decide to decorate a room in a pistachio tone, do not be afraid that it will hurt your eyes against a light background or appear too dark in combination with black.
Another advantage of pistachio over other colors is its compatibility with most shades. It can be combined with both classic and more rare colors.
What colors does pistachio go with?
It is best to combine it with classic light shades: beige, cream, white. The combination of pistachio color in the interior with white fills the room with ease, lightness and makes it much more spacious. Moreover, the emphasis can be made on one shade, and on the other.
If the room has low ceilings, you can make it visually more spacious with the help of a pistachio background and vertical white accents. They will give the room a special freshness and slimness. You can dilute the color scheme with the help of more saturated details - coral, orange, cream. This solution will be especially spectacular for the bathroom.
An equally popular combination is with clover pink. This option is universal and is suitable for the living room, and for the nursery, and for the bedroom, and for the bathroom.
It will successfully complement this juicy shade with a room decorated in delicate pink, yellow or peach tones. An interesting color scheme can be created with the help of turquoise or blue elements. Combinations with olive or a touch of coffee with milk look no less advantageous.
It looks good not only with pastels, but also with more saturated, deep tones. For example, it can be combined with purple, burgundy, emerald, blue, sapphire, celadon, brown, black, chocolate. Such fusion combinations are great for the living room.
Pistachio color and natural materials
Consider what combines pistachio color in the interior. An important feature of this shade is its harmony with many natural materials. For example, it looks great in combination with straw, bamboo, wooden or stone accessories or interior items. Therefore, if in your bedroom there is furniture made of natural wood, you can be sure that pistachio will fit perfectly.
Pistachio color in the kitchen
You can use this shade in various rooms, ranging from a cozy bedroom to a small hallway. His energy, vitality and brightness will be particularly appropriate in the kitchen. Being in a color palette between yellow and green, it calms, but at the same time improves the appetite and mood. It is suitable for any kitchen - large or small, low or high, narrow or wide.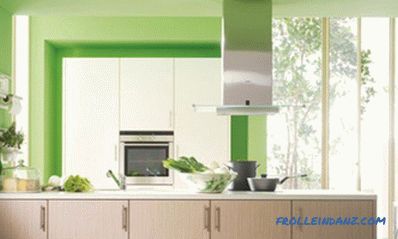 Kitchen walls in pistachio blossom. Photo - denoxa. com
More often pistachio is used in the interior of the kitchen for the general background. Both light and dark furniture looks very stylish and beautiful against its background. Red, claret, yellow, violet, green facades perfectly will approach.
You can even perform a floor in this tone. This design course is quite original and quite practical. Suitable pistachio and for accessories.
Buy bright curtains, potholders or dishes - and you can create a great mood and transform the interior.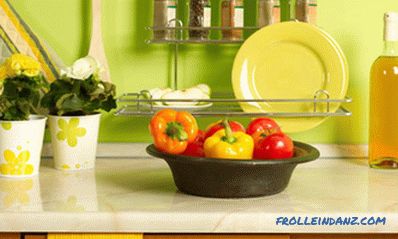 Kitchen apron decorated in pistachio color. Photos - sheknows. com
Pistachio color in the bedroom
Despite its brightness, the pistachio color looks great in the bedroom interior. Fresh accents will successfully complement the airy, delicate interior of the creme brulee shade. But it is worth making the pistachio tones of the wall - and you will start a new day with invigorating, fresh colors. To remove excessive brightness, you can add to the interior elements painted in soft shades - warm pink, caramel or peach.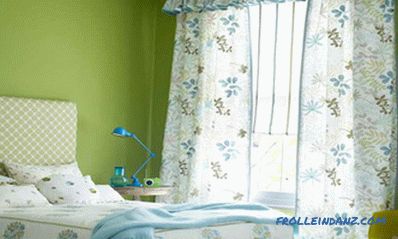 The walls of the bedroom are decorated in pistachio color. Photo - bonasty. com
As an option, you can limit yourself to small accessories in the pistachio tone - pillows, linens, decorations.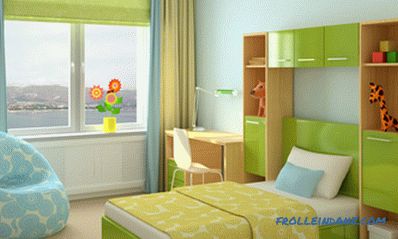 Bedroom accessories in pistachio color. Photo - makeablind. com
Pistachio color in the living room
If the windows of the room face north, and the traditional cream or beige shades are already tired, pistachio color in the living room will help refresh the room and make it lighter.
Fully living rooms are made in a bright tone quite rarely, usually it is used in accessories and details, combined with other colors. This allows you to refresh the interior and give it a special expressiveness. Using small bright accents, such as lampshades or pillows, you will make the atmosphere of the room more energetic and cheerful.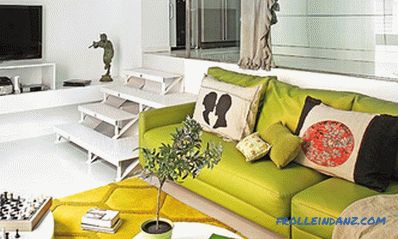 A pistachio-colored sofa in the living room interior. Photo - decoholic. org
If you like bright colors, you can safely perform in the rich color of the room's walls. A good addition will be small cushions of the same shade.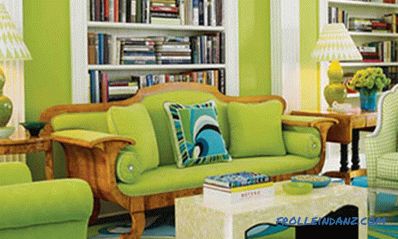 The pistachio-colored living room walls. Photo - interiorclip. com
What pistachio color doesn't combine with
This color can be attributed to the number of summer tones that are distinguished by brightness and lightness. It does not conflict with muted autumn colors, but in classic light interiors dark objects look too defiant and create a sense of dissonance. The only possible option is to use dark elements that are not located above the floor. For example, you can use a dark floor covering, but a dark lamp in this interior will be superfluous.
Pistachio can be both primary and background color for more saturated hues. It brings a sense of joy, freshness and vigor to any room, makes the atmosphere lighter and more airy.
Video: Examples of interiors in pistachio color