If you have a small bathroom, do not be discouraged: we have a lot of ideas in stock for cases like yours. Regardless of how compact your bathroom is, we can offer you a suitable interior design option. The design of a small bathroom is a whole art, but if you wish, you can master it.
A small bathroom can be stylish, practical and properly organized in terms of the rational use of space. Make a small room seemingly large enough and spacious help neutral colors that go on the floor, climb the walls and even "crawl" on the plumbing. This will create a sense of continuity, and hence infinity. Otherwise, the bathroom will be divided into separate areas, which will make you feel like in a cage.
A well-chosen palette will help to add depth to a narrow bathroom. Do not be afraid to use dark colors. They give the small room an elegant and luxurious look.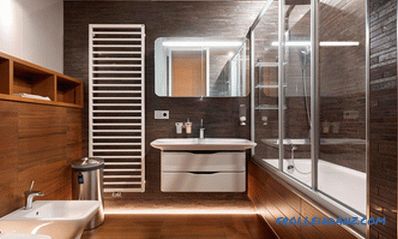 Color solutions for small bathrooms
Add a bright color stroke to a snow-white interior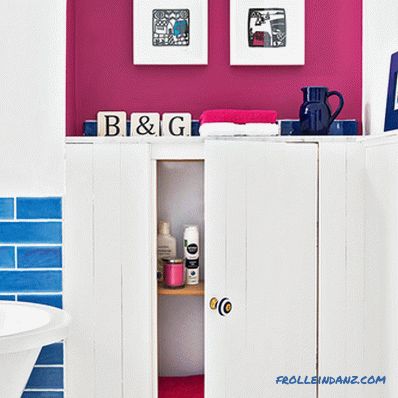 White color is the best choice for a small space, but a completely white room will seem a bit dull and uncomfortable. The perfect compromise is a hint of color on the walls: the feeling of lightness and airiness remains, but the interior acquires its own unique character. In this bathroom, niches for storage were made of panels, their white color contrasts with the crimson inset on the wall and bright cobalt-blue tiles.
Freshness of the white interior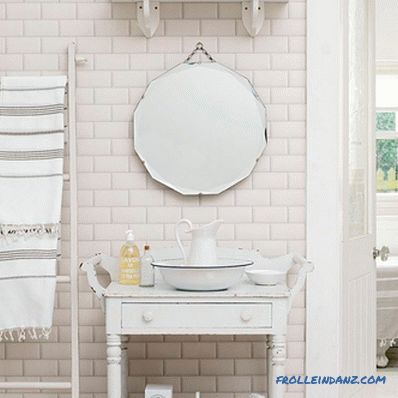 Make the compact bathroom more spacious, keeping to a simple white scheme. And to make the space look more hospitable and welcoming than cold, add more texture to this white suite - glossy wall tiles, soft towels, etc.
Stick to the monochrome palette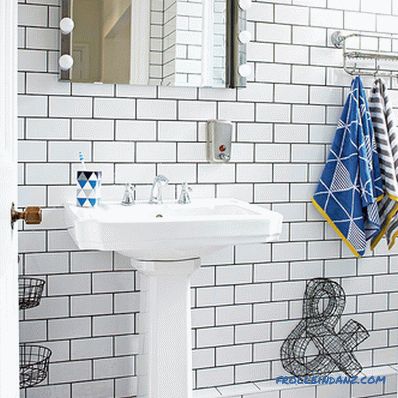 You will be surprised how spacious the small room will look like if you stick to the white scheme when finishing it. A color, texture and pattern can always be added with accessories. The combination of white tile and black grout will be a winning combination in the design of a small bathroom.
Creating an individual room character using the color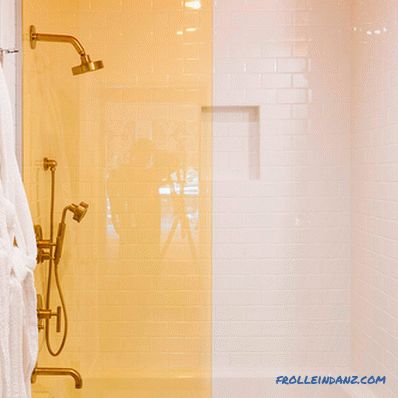 In this compact modern bathroom, several methods are used to create a stunning effect, and you can follow this example. Without sparing, add color to make the white space bright and give it individuality, otherwise you risk getting a "sterile" and spineless room in a hospital setting. Bright yellow ceiling and shower screen screen became the center of attention in this small bathroom, while the built-in lights and white tiles make the space bright and bright.
Balance of the palette
Use different colors in the bathroom more boldly, because this is a great opportunity to experiment with shades that you might refuse in large rooms houses. Using tiles and paints of different colors will add the necessary resonance to the space. Towels and accessories of complementary shades will help to unify the created color scheme.
Organizing the space of a small bathroom
Semi-lacquered bath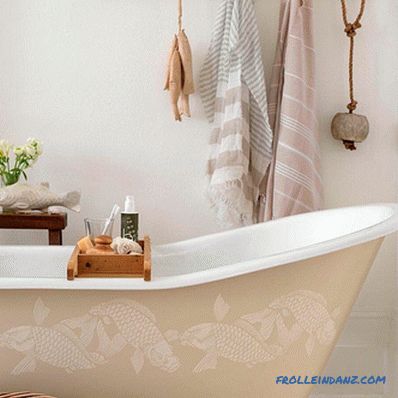 If you cannot fit a standard bath in your bathroom, consider using a semi-bazaar. This kind of bath will allow you to wash with no less (and maybe even more) comfort, since your back will have a comfortable support.
Refuse too much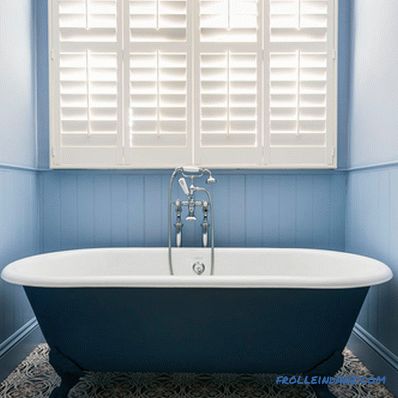 With a well-designed bathroom design, everything you need can be placed on two square meters (and even less if it is not a bathroom, and about the shower). The main thing - do not try to squeeze into the room too much. If you have too little space, place here only a shower cabin or a beautiful bath, instead of trying to shove a lot of less necessary things and as a result be in a very close room.
Shower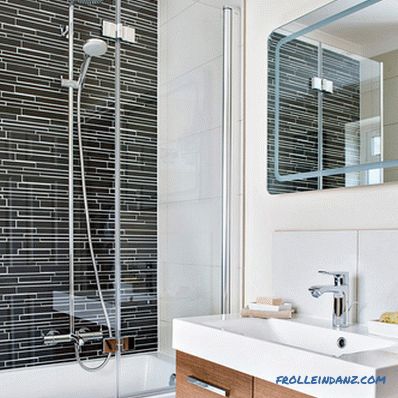 If the space is very limited, give preference to a shower - in this case it is the best option. Try placing it along the longer wall of the room. Use near tile bold colors, clearly contrasting with the rest of the interior, and you will realize that the design of a small bathroom with a shower can be truly magnificent.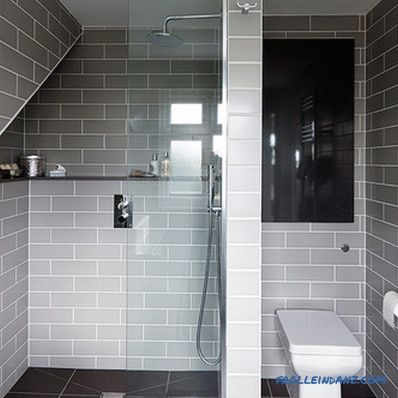 The shower allows you to maximize the use of available space. If you have an attic room at your disposal, consider rejecting the bathroom in favor of the shower room.This is a great way to "squeeze" the maximum out of a small space, and, moreover, if the shower is beautiful and decorated with the knowledge of design art, it looks amazing. The key point is ventilation. Accumulation of water vapor can cause condensation and, as a result, mold and other problems caused by dampness, so install a good exhaust fan. Heated floors do not take up space, but make the room warm and help to quickly drain the surface.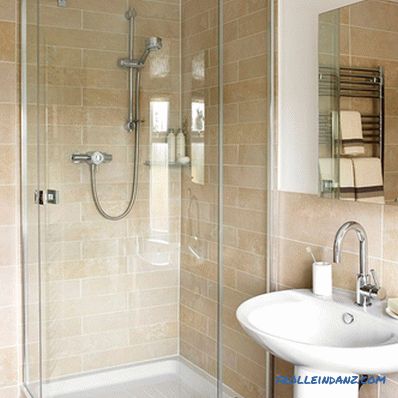 But if you are very close, give preference to the angular structure. The best option - rounded shower. It is very compact, and its door slides over the frame, so you need just as much space as you see on the showpiece in the store. If you wish, you can install a square cabin, just avoid swinging or pivoting doors that require additional space.
Save the simplicity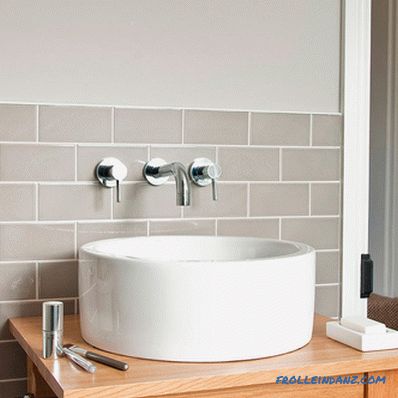 If you do not know how to decorate the interior of a small bathroom, give preference to simplicity and soft natural shades. Try not to clutter the room, abandoning the furniture and accessories, without which you can easily do.
Built-in shelves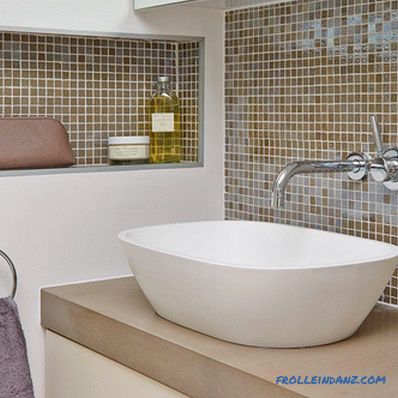 "Recessed" shelves in the wall - a great way to save space, both practically and visually, and also keep your toiletries in a neat order and easy availability. To really save space, it is necessary to make such shelves in false walls hiding pipes. Also think about installing in such false walls of recessed fixtures - point or linear.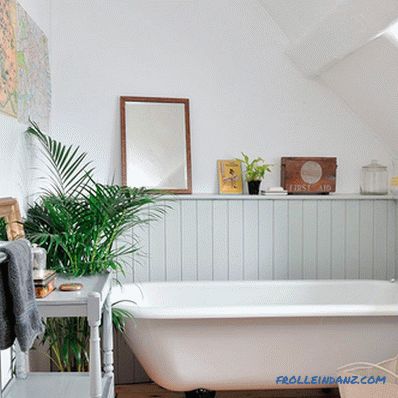 Panel cladding in this room visually frames the bath, and the resulting comfortable shelf in the upper part resembles a fireplace — you can place a lot of trinkets, toiletries and accessories on it. The greenish color of the panels is not a random choice: this color has a relaxing effect and makes this compact space even more interesting.
A smart solution for a narrow space with a window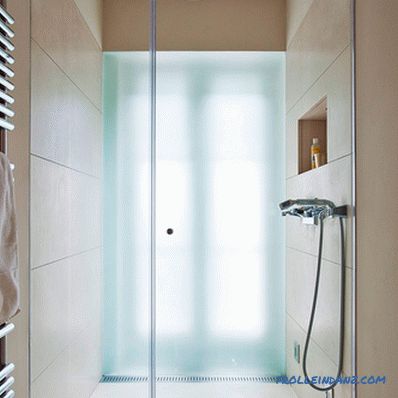 In a narrow bathroom, the most rational way to use the space is to install a shower stall that fills the entire width of the room. But what if there is a window in the room? Perhaps the ideal solution for the given conditions is shown here: the rear panel of the shower stall is made of frosted glass, which protects the window from splashes and provides the necessary level of concealment from prying eyes, but also allows enough natural light to pass through. A watering shower mounted in the ceiling and a frameless shower door complement the elegant look that has been created.
"Drowned" bathtub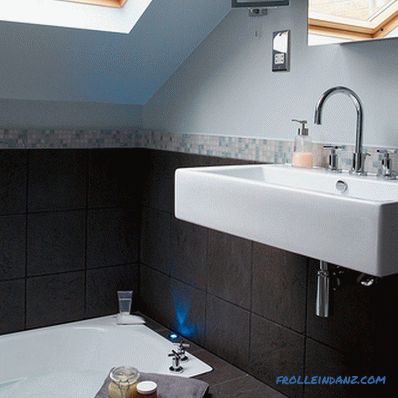 If you started a complete renovation of your bathroom, think about installing a bathtub "sunk" in the floor. Of course, this option can only be realized if there is available space below the floor level. Every time you take a bath, you will feel like a visitor to a luxury hotel.
Use angles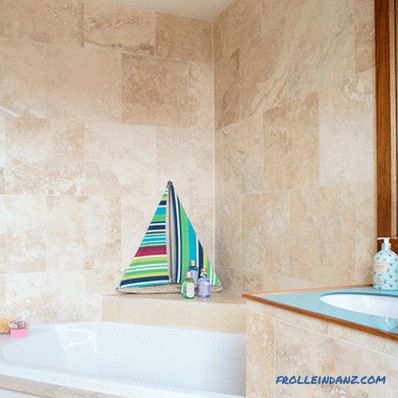 A small bathroom can be a real problem, because often you cannot place everything you need here. Consider an interesting and practical option for installing a corner bath. And if you can't make the bath wide, make it deep. Use the corner as a shelf for storing toiletries.
Under the roof of a house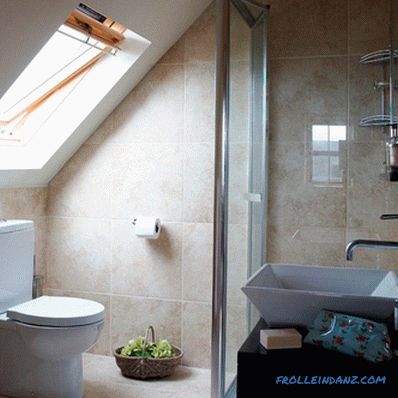 Compact plumbing is often indispensable when arranging a bathroom in attic spaces, which are usually quite inconvenient for the form to work. Do not try to squeeze a bath here, the glass shower cabin will be the best choice. But what to do with the part of the space where the ceiling height is greatly reduced? Leave her unoccupied? But why not place a toilet here? It seems that a similar design option for a small bathroom combined with a toilet is a good idea.
Turn the flaw into dignity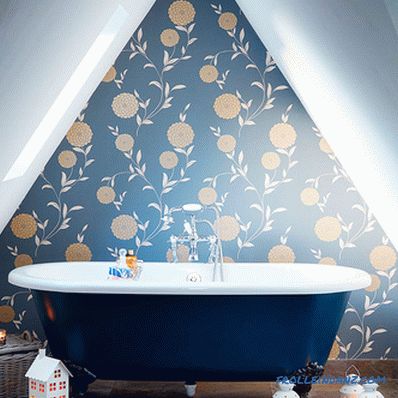 Use every inch of attic space, placing a bath there. The ceiling of an unsuccessful form can be turned into a decorative feature. Paint the ceiling in white, contrasting with the bright wallpaper behind the bath. This is a great way to add personality to limited space.
Furniture and storage spaces
Mobile and multifunctional furniture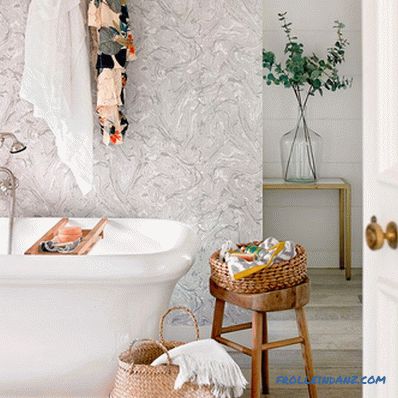 The fact that bathroom space is severely limited should not affect your creativity. Consider using furniture here, which, if necessary, can be easily moved in space. Using detached storage cabinets and small seats, you can change the interior layout whenever you want. In addition, if we are talking about removable housing, this furniture, unlike the built-in, you can take with you when it comes time to move out.
Suspended furniture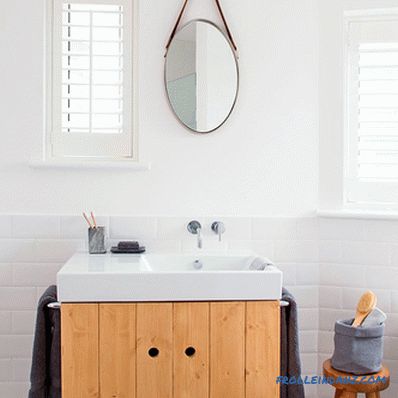 Furniture or plumbing furniture hanging on the wall visually increases the space, as the floor surface under them remains free. You can use the vacated area to store toiletries in pretty wicker baskets. A bright white or light gray palette will make your bathroom seem larger and more spacious. Water taps built into the wall complete the overall minimalist picture.
Furniture size
Massive pieces of furniture can make a small room look even smaller, so always buy furniture that matches the size of the room. For a small bathroom, it is better to choose a dressing table and storage cabinet that can be hung on the wall or installed on the edge of the bath. Do not forget that the interior must be unique. Paint the dressing table in your favorite color, harmoniously looking at the same time on the background of patterned floor tiles.
Multi-level storage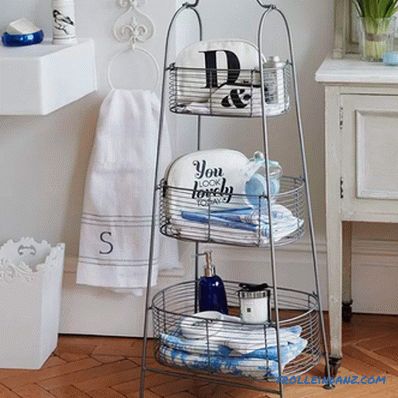 Multi-level shelf will keep lotions, shampoos and creams in order and easy accessibility. If you are too crowded, you can store a shelf with toiletries in another place and bring it to the bathroom when necessary.
Visual increase in the space of a small bathroom
Optical illusion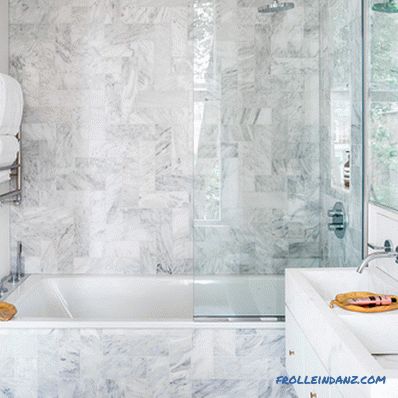 A small space does not have to look like that. Play with the boundaries of perception, drawing up a wall above the bath and a screen covering the space under the bath, uniformly. This will make them difficult to distinguish, making the room seem significantly larger. The marbled color is considered the most suitable for this purpose, since the individual tiles are not striking and look like a single whole.
Equal tiles on the floor and walls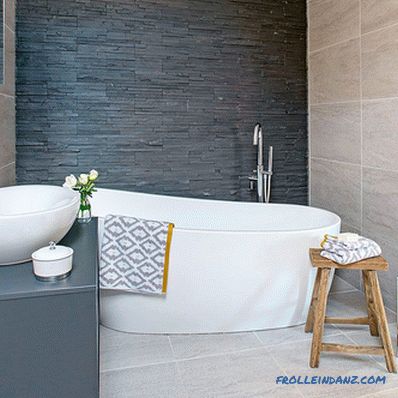 A tricky trick to make a small bathroom look bigger is to use the same tile on the walls and floor. The natural stone, as well as the pendant lights placed on the floor, make this bathroom look like an elegant spa room, and the continuous movement of the tiles creates a feeling of spaciousness. If natural stone seems too low-key to you, you can easily revive the picture with bright colored spots of your towels and accessories - this is the most inexpensive way to add individuality to the interior.
Mirror focus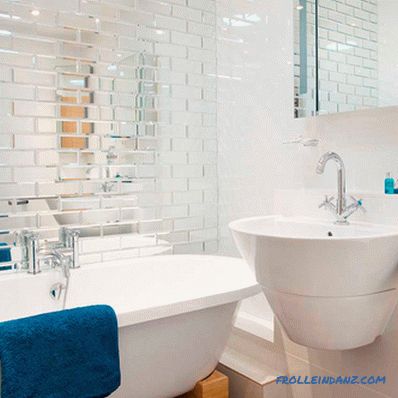 Mirrors can completely change the appearance of a room, because they reflect light and create the illusion of increased space. This is a great trick that interior designers use very often. Regardless of whether you hang a regular mirror or go on a perilous step and tile the wall with mirror tiles, the reflection is guaranteed to transform your bathroom.
Bathroom, located in the attic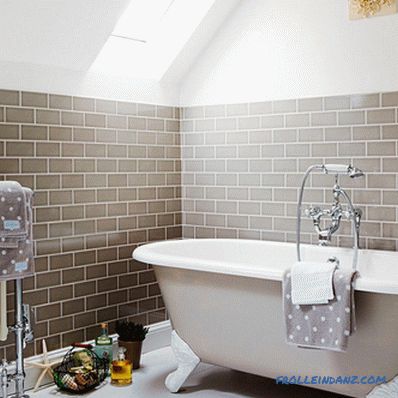 Do not know how to tile the slanted walls of the attic? Then try to veneer them only to half the height. This approach, firstly, will save on tile and, secondly, make the space more visually. It is better to choose a dark tile, and the ceiling above it should be painted white.
The effect created by the horizontal strip on the wall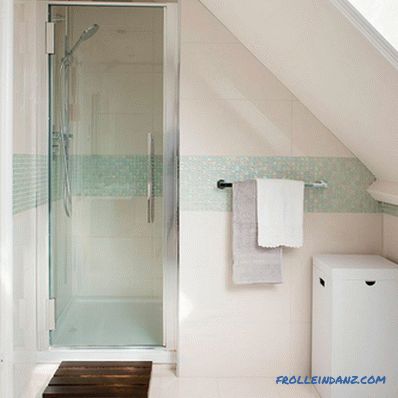 When you finish a small bathroom, for example, located in the attic, draw a horizontal line around the perimeter of the room, using This is either a tile or paint. This trick will visually expand the space, creating the illusion of a larger room.
Wallpaper in the bathroom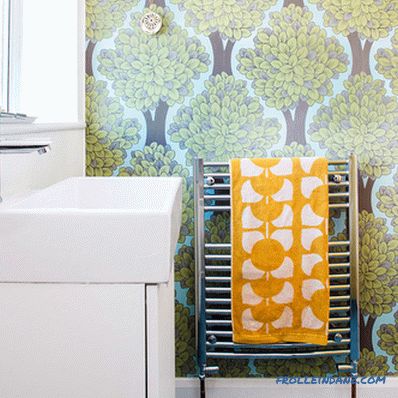 One of the best ways to hide the main disadvantage of your bathroom - its small size - is to create an interesting design, and bright wallpapers are suitable for this is better than nothing. Above all, do not forget to make sure that you have purchased wallpapers designed specifically for bathrooms, i.e., wallpapers, which will not care about the humid and warm climate of this room.
Using accessories
Accessories come to the fore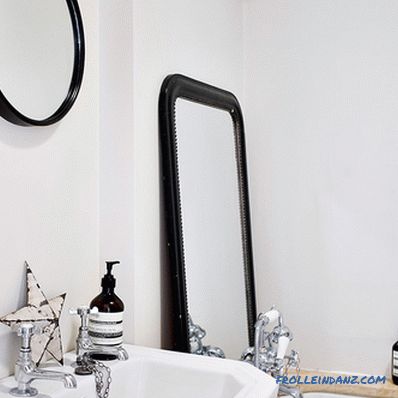 If you do not have enough money for a serious redecoration of the bathroom, all is not lost: real wonders can create accessories. Choose an interior theme such as coastal, floral, or monochrome. Apply the chosen style to lamps, mirrors, small accessories and upholstered furniture, and the space will instantly transform.
Make your bath a center of attention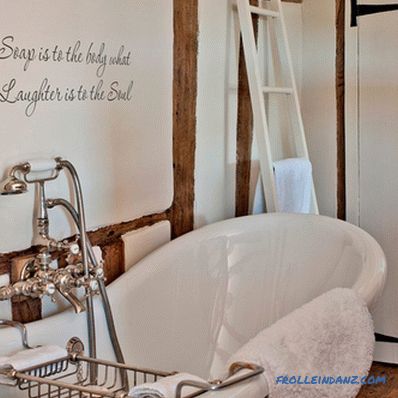 A free-standing bath can become a focal point in a small space. It is not as big as you think; if you wish, you can buy a completely compact version that fits into a very cramped room. Add a beautiful stencil on the wall above - it will attract attention, so you no longer notice how small your bathroom really is.
Results
1. Lighting is a key factor in the design of a small area. Think about making a skylight in your bathroom, if possible - such a space will look open, bright and spacious. White trim reflects light throughout the room. Place the lights near the mirrors and darken the space in the niches to create a slightly dramatic mood. (Remember to make sure that all lights have the necessary degree of protection for safe use in wet areas.)
2. There is no need to make the small bathroom minimalistically simple. If you like vintage style, then do not give it up. At the other end of the decorating spectrum are hotel-style bathrooms. Choose a chic black and white interior, seasoned with a soft gray - in its monochrome, it will look fresh and modern.
3. Replacing the bath for a shower cabin will make room and create a feeling of salon luxury. A few interesting accessories will help to make your bathroom unlike any other.
4. Of course, in any bathroom, and especially in a small one, there should be a place for storing everything necessary. Competently planned storage spaces will relieve the feeling of clutter and help to maintain a sense of spaciousness and sophistication.
Photo: modern design ideas for a small bathroom