We have recently learned about bimetallic radiators - at the beginning of the current era. And they have already fallen in love with our compatriots much more traditional cast iron batteries. Not only that - they are now more popular than aluminum heaters and steel ones. And all because durable bimetallic radiators of heating characteristics are excellent. Want to know what - read on.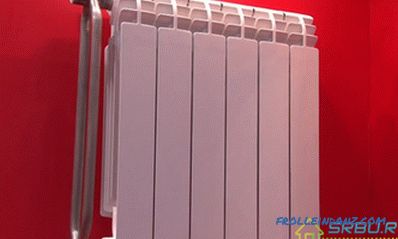 Design features and types of bimetallic radiators
Each bimetallic heating battery consists of steel pipes and aluminum panels. Due to this, heat is transferred very efficiently, without losing any waste. Hot water, passing through the core consisting of steel pipes, quickly heats the aluminum sheath and, accordingly, the air masses in the room.
The aluminum figured casing of this core not only looks elegant and stylish, but also helps to distribute heat better. In addition, due to the use of aluminum, the battery is very light (especially when compared with heavy cast-iron analogs). This gives additional comfort during installation. And the intricate shape of the case looks great, and also significantly increases the heat transfer.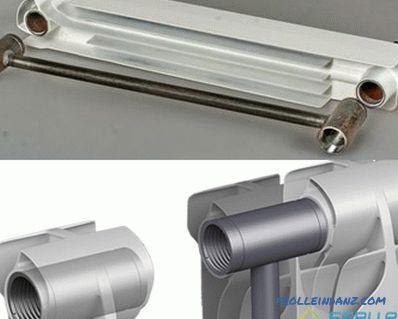 The steel pipes that make up the core are very strong - they calmly withstand pressures from 20 to 40 atmospheres, and the temperature of hot water is 110, and even 130 degrees Celsius.
Specific limit values ​​of the working pressure and temperature can be found by looking in the passport of the device. After all, it depends on the model, and on who made this model.
Today in the store you can buy two types of bimetallic batteries:
1. Radiators that are one hundred percent bimetallic. This means that they have a steel core of pipes surrounded by an aluminum sheath. They have high strength, leakage is excluded. These batteries are manufactured by Italian companies:
Global Style;
Royal Thermo BiLiner.
Russian manufacturers also make them - for example, Santechprom BM.
2. Polybimetallic - radiators that are only half bimetallic. Only pipes reinforcing vertical channels are made of steel. In this case, aluminum is partially in contact with water. Such half-bimetallic radiators give off heat by 10 percent better than the previous type. And they cost 20 percent less.
Release them:
Russian manufacturer Rifar,
Chinese - Gordi,
Italian - Sira.
Experts have not yet come to unanimity, arguing which of the two types of radiators is better for centralized heating, and which for individual heating. So, the technical characteristics of a bimetallic radiator allow it not to be afraid of "chemistry" in city water. But at elevated water pressure, aluminum will behave better. Experts agreed on one thing: if you have old heating pipes in your house (they are more than 40 years old), then it is better to take bimetallic batteries.
Sectional or solid?
The bulk of such radiators is made up of a certain number of sections. That is, at first each of the sections is done completely, and then they are connected by nipples. This is done in the factory, the total number of sections is even.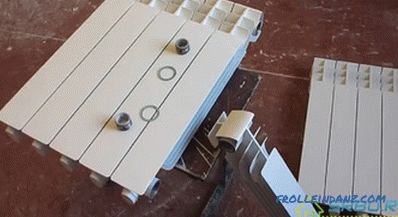 A specialist is quite able, if necessary, to remove an extra section or add a missing section.
However, besides sectional ones, there are commercially available and whole bimetal batteries. The core of steel pipes is made immediately the right size. Then it is "wrapped" in a figured shell made of aluminum. Such a battery will not burst, even if the pressure reaches a hundred atmospheres.
In detail about the characteristics of bimetallic radiators
When choosing a radiator, you need to study how the passport of the chosen model should be. And now - about what important parameters are listed there.
Heat transfer
The amount of heat given off by the radiator at water temperature plus 70 degrees Celsius is measured in watts. The average value of heat transfer from bimetal batteries is from 170 to 190 watts. It's just awesome.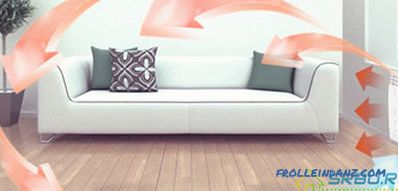 Heat transfer occurs both by heating the air and due to the special design of radiators - by convection.
Withstand pressure at work
It ranges from 16 to 35 atmospheres and depends on the model and manufacturer. If the heating system is centralized, then the standard pressure is not more than 14 atmospheres, and in an autonomous system - about 10 atmospheres or less. So that the battery does not burst when the pressure rises, usually the manufacturer indicates this parameter with a margin.
Center distance
This is the distance (in millimeters) that the upper radiator collector is from the lower one. Standard values ​​are as follows: 800, 500, 350, 300 and 200 millimeters.This variety allows you to choose a battery that fits well with the existing wiring of heating pipes.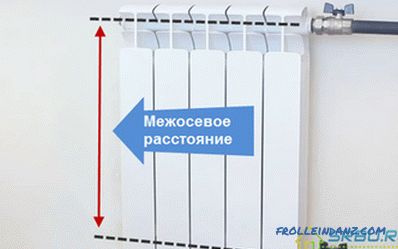 Most often, radiators with 50, 35 and 20 centimeters between the axes of the collectors are in demand.
Extreme coolant temperature
Generally, bimetal radiators are able to withstand hot water up to 90 degrees. Sometimes the manufacturer is slightly disingenuous, promising that even 95-degree boiling water will be nothing to the batteries. Do not believe this - more than 90 0 C, none of the manufacturers produce. It is worth looking at this indicator - it also determines the coefficient of heat transfer.
Reliability and lifetime
Given the characteristics of bimetallic radiators of heating, for twenty years, you can safely use them. No maintenance is required. This is a pretty good time.
Easy to install
The sections of these radiators are absolutely identical. This allows you to install them even to the left of a suitable heating pipe, even to the right. Where the pipe fits, a pipe is connected to the radiator. From the opposite end, a plug is installed, which is completed by Mayevsky's crane (from the side), as well as another plug (from the bottom).
A crane, named after its inventor, Mayevsky, is a very convenient device. At the beginning of the heating season, there is often a problem with "airing" the system - because of the air remaining in the pipes, the batteries remain cold. Mayevsky's crane allows you to bleed off excess air from the radiator without disconnecting the entire riser. What is good is that you can do it yourself, without resorting to the help of the called masters.
In addition to those mentioned above, they also produce radiators with nozzles located on the bottom side. They connect a valve with a thermostat that controls the temperature of the air in the room. Nozzles, plugs and Mayevsky's faucet are included in the set of each bimetallic radiator. Also, it relies and a set of brackets for mounting the battery on the wall.
And now about the shortcomings of radiators from bimetal
The most significant disadvantage of these batteries is their high cost. They are much more expensive than the usual cast-iron radiators. However, bimetal products look much more accurate, fitting well into the modern interior. And in life expectancy, they are ahead of other types of batteries.
It is not good that when exposed to both water and air at the same time, the steel pipes of the core can start to "eat up" corrosion. And this happens when, during a repair or accident, they drain water from the heating system. And rust pipes from antifreeze, which is often present in the heating systems of small houses. In this case, bimetallic sectional batteries should be abandoned - it is better to take either solid or all-aluminum.
Such an option is also acceptable - radiators with a copper core and an aluminum body. The oxide film on copper pipes is strong enough - it will save them from corrosion. It is possible instead of a copper core and stainless use - also a good option.
Characteristics of bimetallic radiators of some manufacturers
1. Reliable and high-quality, but expensive batteries are made by the Italian company Global Style. Moreover, the technical characteristics of bimetallic radiators made by this company can be called ideal. Russian buyers have long appreciated these batteries, knowing that they were approved by experts from the Research Institute of Plumbing and designed for Russian conditions of operation. Already the second line of the three models saw the light. A ten or twenty year warranty is provided by the manufacturer.
The Global Style Extra and Global Style Plus batteries are famous for their high heat transfer coefficient (no worse than that of semi-bimetal models). They are beautiful and durable, but expensive. Models are simpler and cheaper, they transfer heat a little worse and are less elegant, but they also look good. They are neat and small, and have very decent features. An even number of sections painted white in a warm color is 6 to 14.
2. The Italian company Sira has been making batteries for more than half a century. Her "horse" - semi bimetallic products with high heat transfer. Radiators company produces three varieties. Rugged products that are fairly boring, batteries with beautifully outlined, smoothly rounded corners, and a model called "Gladiator."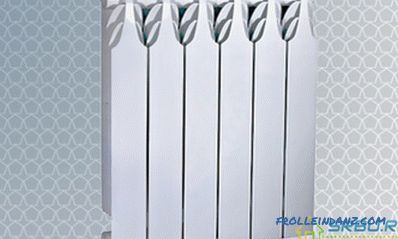 The form of the latter is very unusual and creative.
Even-numbered sections of batteries (there may be from 4 to 10) are painted in warm shades of white. Warranty - 20 years. Factories of this company are not only in Italy. Some of them are located in China :).
3. The Russian company Rifar (Orenburg region) has been making batteries relatively recently, since 2002. But in the domestic market, it has already won sympathy, and also successfully reached the CIS level. Its products are seven varieties of polibimetal radiators.Especially popular are the models "Monolith" (new development, having a patent) and "Rifar Flex" (has the ability to bend under the bay window).
The bright white sections of these radiators are supplied in packs of 4 to 14 pieces. Rifar guarantees trouble-free product service for 10-25 years. There are usually three leading models in stock. The rest of the range is available on request.
Table: Comparative characteristics of different manufacturers and models of bimetallic radiators
Brand, country made.
Model
Distance between axes, mm
Sizes, V / Sh / G (sections)
Max. working pressure, bar.
Heat output, W
Water volume in the section,
l
Weight, kg
Max. temperature

Italy

STYLE 350

---

STYLE 500

---

STYLE PLUS 350

---

STYLE PLUS 500
350

---

500

---

350

---

500
425/80/80

---

575/80/80

---

425/80/95

---

575/80/95
35
125

---

168

---

140

---

185
0.16

---

0.2

---

0.17

---

0 , 19
1.56

---

1.97

---

1.5

---

1.94
110

Italy

BiLiner Inox 500

---

BiLiner 500
500
574/80 / 87
20
171
0.2
2.01
90

Germany

TENRAD 350

---

TENRAD 500
350

---

500
400 / 80/77

---

550/80/77
24
120

---

161
0.15

---

0.22
1.22

---

1.44
120

Russia

RIFAR Forza 350

---

RIFAR Forza 500

---

RIFAR MONOLIT 350

---

RIFAR MONOLIT 500
350

---

500

---

350

---

500
415/90/80

---

570/100/80

---

415/100/80

---

577/100 / 80
20

---

20

---

100

---

100
136

---

202

---

136

---

194
0.18

---

0.20

---

0.18

---

0.20
1 , 36

---

1.84

---

1.5

---

2.0
135

China

Gordi 350

---

Gordi 500
350

---

500
412/80/80

---

572/80/80
30
160

---

181
0.21

---

0.3
1.4

---

1.7
110

Italy

Gladiator 200

---

Gladiator 350

---

Gladiator 500
200

---

350

---

500
275/80 / 80

---

423/80/80
30
90

---

140

---

185
0.1

---

0.13

---

0.42
0.65

---

0.85

---

1.6
110
How to calculate the required number of battery sections
For example, take Russia, its middle lane and the usual panel high-rise building. Multiply the area of ​​the room by 100 watts, and then divide this number by the amount of heat given off by one section.
If the center distance is 500 millimeters, the calculation will be easier than the easy one. Divide in half the area of ​​the room - and that's it. For example, a room of 12 square meters. We need 6 sections with heat output from 180 to 190 watts. Percent 10 will have to be thrown onto the last or first floor, corner rooms with a large window (more than two square meters) or thin walls (less than 250 millimeters).
In a cottage built outside the city, you will have to tinker with the calculations. First, find out the thermal conductivity of each material of which the house is built. It is not only the walls, but also the roof and the floor. To do this, it is preferable to invite a professional from a reliable company. An experienced specialist will calculate everything exactly, and he will advise the battery that is suitable for your home, and does not require extra money.
Video: Technical features of bimetallic radiators