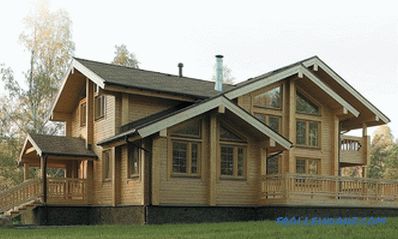 The laminated timber has the following positive aspects: high resistance to deformation, high level of thermal insulation, environmental harmlessness.
Initially, wood was the first material to be actively used in construction. Over time, it has become increasingly popular. Therefore, it is very important now to build houses from laminated veneer lumber. But such a building has its own characteristics, because it is worth paying attention to the advantages and disadvantages of laminated veneer lumber as a material.
Technology of production of glued laminated timber
Wood is an environmentally friendly product if it did not grow in the radioactive zone . Houses made of glued timber perfectly retain heat in winter, keep cool in summer. The appearance of such buildings is very presentable, regardless of size.
However, it is worth noting that for a very long time people have learned to deal with the instability of the geometry of wood. Due to the special production technology of such a material, he received the name of glued laminated timber, which implies gluing polished lamellas.
Boards of such material are created using a special technology, subject to which the timber and acquires its properties. But it is necessary to spend time and effort.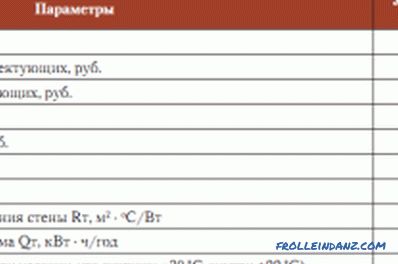 Comparative characteristics of laminated and insulated laminated veneer lumber.
In order to get rid of the internal pressure, the tree is sawn into boards of identical thickness. This eliminates the possibility of deformation and cracking during operation of this material.
Since there is moisture in the structure of the tree, wooden houses often settle after construction. Therefore, glued laminated timber is dried in special automated chambers, where only 10-12% remains from the initial moisture level. All processes are controlled by computers, so it is possible to avoid the human factor.
Each board is sorted by quality. On examination, all relief defects are eliminated - knots, cracks, etc. After careful selection, the process of cutting into blanks is carried out.
The tested areas are spliced ​​along the length into a single lamella. After that, with the help of grinding machines give a perfectly smooth surface. Only in this way can high-quality sizing of the material be achieved.
The gluing process itself implies a high-quality adhesive and a hydraulic press. Glue substance allows the tree to breathe. During the connection of the lamellae, each element is folded so that the fibers oppose each other. This allows glued laminated timber to have high strength. At this stage, a lot depends on the quality of the glue, as a bad solution will lead to the fact that after some time the material will crack.
The resulting structures are amenable to profiling and trimming. With the help of automation, bars are created according to previously specified parameters. Due to this, marriage is less common in batches.
Finished elements are packed in batches, which are later sent for sale, and then to the construction site.
If the manufacturer takes a responsible approach to the production technology, then glued laminated timber will be of high quality, and the disadvantages of a house made of such material will be minimized.
Glued lumber as a building material
Possible options for the section of the bar.
Many residents of megalopolises would like to get out of the city, to the country or to your personal garden. Well, when there is such an opportunity, and even better when there is a wooden house.
Thanks to modern technology development, wood in its durability is not much inferior to stone or brick. At the same time, it makes the house alive, and it is well ventilated, which is very important for the elderly, people with respiratory diseases, and families with small children. Earlier, when they independently made wood houses with an ax and planer, the structures did not always have a neat appearance. But such were the possibilities.
Today, houses made of laminated veneer lumber look very nice and expensive. The material has already been prepared and polished for construction work. However, in each era there are advantages and disadvantages. If before the tree was quite affordable for construction work, then today, due to the large deforestation, wood is quite expensive.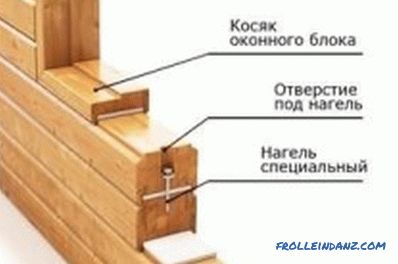 Construction of the wall of the beam.
The use of laminated veneer lumber is due to the fact that after construction is completed, you can not waste time and immediately begin finishing work, since shrinkage in such houses does not occur.
The convenience of laminated veneer lumber lies in the fact that, thanks to its natural texture, it is perfectly combined with other materials - stone, glass, plastic.You can create a house, not only beautiful outside, but also very cozy inside.
The tree is able to keep warm and to give it away slowly.
If the ventilation system is properly adjusted, then the air in the house of glued timber will be constantly saturated with wood resins and phytoncides. And this gives uniqueness to such a dwelling.
Advantages and disadvantages of a laminated timber house
These houses have more advantages than disadvantages.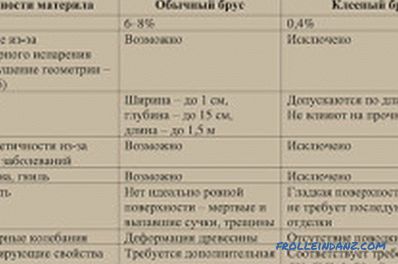 Comparative characteristics of a regular and maple bar.
Glulam lumber has the following positive aspects:
High resistance to deformation. As already mentioned, thanks to technology, the correct parameter of internal voltage in the boards is maintained. Therefore, there is no such moment as deformation and shrinkage of the structure. And the house itself has a long life, in no way inferior to other materials.
Special shrinkage chambers process the slats so much that they have a minimum of moisture (about 10-12%). This allows us not to be afraid that after construction, the glued laminated timber will start to dry, which means that cracks will appear, and the walls and floors will begin to warp.
High level of thermal insulation. The tree has always had good heat retention properties due to the fact that the fibrous structure contains air bubbles, without releasing them. If there is a fireplace or other heating facilities in the rooms of such a house, the air will always remain warm, even in cold weather. This quality is crucial when building baths and saunas from laminated veneer lumber.
Wood is a natural material, in nature it often suffers from tree parasites. But modern wooden houses are not scary. During production, namely, immediately prior to gluing, the lamellae are treated with special solutions and antiseptics, which prevent not only insect cravings on the tree, but also prevent rotting and the formation of fungus or other harmful bacteria. After all, mold is harmful not only to the house, but also to its residents, who inhale the air from its pores.
Factory marking. Glued laminated timber is produced according to certain parameters. This significantly speeds up the construction. Each package has its own labeling and standards. Since such a house does not require a heavy foundation, the construction takes a little over a month.
Ecological harmlessness of laminated veneer lumber outside of claims. The tree does not emit toxins and harmful fumes.
The main disadvantages of the house and the material
The marking schemes for connecting the corners of the beam.
Considering the advantages and disadvantages should also be taken into account, although there are few of them:
Material cost. The high price of glued laminated timber is due to the fact that the production technology itself is rather laborious.
In the case of manufacturers' unfair attitude to the process of manufacturing a material, this can essentially say on its quality. In the future, in a constructed house, cracks, delaminations, etc. can be observed.
However, after analyzing all the advantages and disadvantages of an ordinary laminated timber house, we can conclude that a house should be built of this material.
Comparison of glued and profiled timber
Some experts still argue over which timber is better - glued or profiled.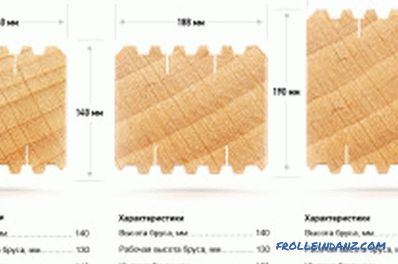 Characteristics of a dry profiled bar.
The first thing to look for when comparing is the deformation. Untreated wood is a fairly non-rigid material. It begins to crack, the fibers exfoliate. If such a nuisance happens to the house, it will quickly lose all of its thermal insulation values.
If you notice such a moment in time, you can often get by with basic repairs, but if you ignore this issue, this can lead to a complete disruption of the functionality of the house.
Therefore, during construction it is recommended not to neglect the preventive finish, and even better - to use high-quality insulation. Of course, the first thing you need to know is the quality of the profiled bar. If we talk about laminated veneer lumber, the production technology eliminates cracking and delamination of materials.
Often, profiled boards are taken for construction without having been pretreated with shrinkage chambers. While the tree will get rid of its natural moisture, the building itself will settle, and this, in turn, can lead to skewed surfaces. Some companies provide separate services for the shrinkage of the profiled beam. But their cost is such that it is better to immediately acquire glued - it initially passes through the shrinkage chamber.
Thus, glued laminated timber is much more profitable and better than its profiled counterpart. But this does not mean that the latter material should not be used at all. Each has its own preferences and capabilities.