Before you make a hole in the pipe, you should familiarize yourself with the appropriate methods to solve this problem without the use of special equipment. In this article we will tell you about the existing methods that help to make holes in pipes made of various materials. You will learn how to shape a hole in the desired shape, as well as subsequently bore it.
Tool for drilling holes
In order to do the work, you will need to prepare the following tool:
drill (electric or manual type);
clamping vice;
special marking tool;
core, hammer and "round" file.
For working with metal billets, in addition to the above names, you will need high carbon steel drills as well as coolant. In addition, drills equipped with carbide tips can be used.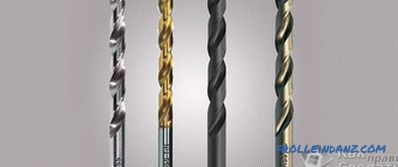 Metal Drills
It should be noted right away that the drilling procedure without using special equipment is quite simple. All that is required of you is a complete concentration and mandatory compliance with the relevant requirements of TB (safety precautions).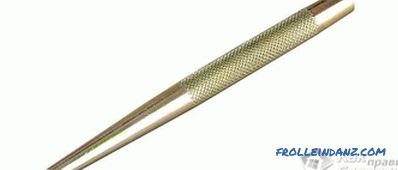 Kern
Works of this type are usually carried out in a garage or in a special utility room (in the home workshop, for example). In order to avoid injury during the drilling of holes it will be necessary to use safety glasses and thick gloves. In addition, be sure to pay attention to the fact that the drills were sharp enough and securely fastened in the chuck of the drilling tool.
With the same drill you can drill both metal and wood, only you need to sharpen it from a different angle.

You can use special tools
Workflow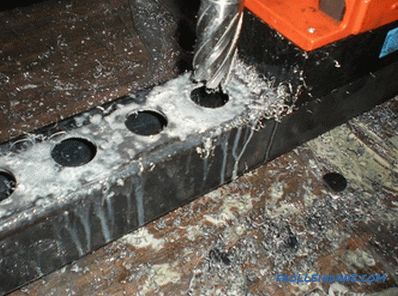 Drilling holes in a profile pipe
Before you drill a hole in the pipe, you must perform the following operations:
fasten the pipe section in a vice;
put appropriate markings on the drilling site;
then in the center of the future hole, use a core to knock out a small recess (as they say nack "drilling point). This operation is necessary so that the drill during work is not diverted to the side and fixed in the center of the markup;
after all these operations have been completed, you can proceed to a careful and slow drilling of the hole starting with small-diameter drills and gradually them on thicker.
During operation, the drill must be kept strictly vertically, otherwise the drill may simply break under the influence of lateral loads. You can use a round file to precisely fit the hole to the diameter.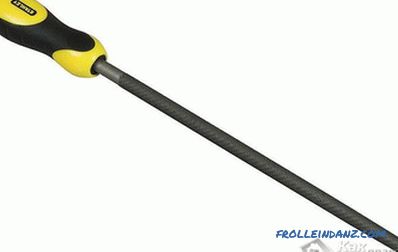 File round
In order to make a hole of a square shape in the pipe, it is first made the usual round hole, which can then be squared using a file. Note that this method is quite time-consuming and will require you to be very careful when working with metal.
When performing a similar operation with plastic or composite pipes, it is easiest to use a steel bar of a rectangular shape. As such a rod is driven into a round hole, the latter becomes square, after which it can be removed from the tube stock. Formed during punching irregularities are subsequently removed using a regular file.
In plastic pipes, holes of large diameter can be cut with a crown.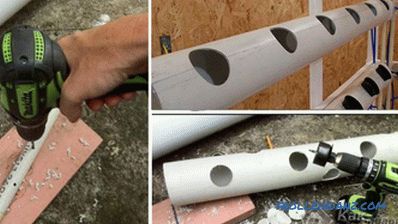 Holes in plastic pipes
And in conclusion we draw your attention to one more thing characteristic of operations considered by us. Since during the preparation of the hole in the metal, the drill becomes very hot, then coolant (water or used oil) should be periodically added to the drilling site.
Video: ways to drill pipes
An interesting way to drill through holes in pipes of small diameter is shown in video:
If you need to constantly drill holes in the pipes Then you can make a jig for drilling holes:
See also:
Glass drilling technology.
Insert the drill into the drill or drill.
Sharpening drill.