Perhaps it is difficult to find a more eco-friendly, warm and durable floor than a wooden floor. It will look great, perfect for every apartment. Particularly harmonious will look natural floor in combination with beautiful furniture, paintings, framed luxurious baguette. A floor from a natural tree, it is possible to put on the draft basis. It doesn't matter what it is made of: concrete, stone or plywood.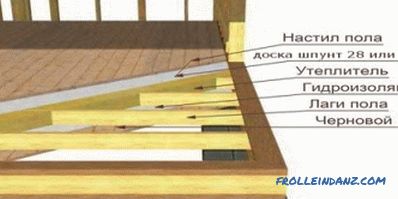 Wood floor plan on logs.
The appearance of old wooden floors is subject to renewal. It is necessary to simply cut and putty gaps. There are a lot of ways to renew the floors. You can paint it, draw with a stencil original pattern. The result will be a bright colorful coating, designed for many years.
Wood coatings
Builders distinguish several floor coverings made from natural wood:
cork;
mosaic;
made using parquet blocks;
made using parquet boards.
Gentle texture, pleasant warmth is the main difference between cork floors. The cork having the plastic basis is a part of a plate. It is covered with veneer, made of expensive wood. The surface of the veneer is covered with a special plastic that retains the coating for many years in its original form.
Thanks to the cork located in the center of the plank, the coating becomes soft. To make a cork floor, builders use a special chemical called an adhesive. It connects the materials by surface adhesion. Such substances are available in two versions: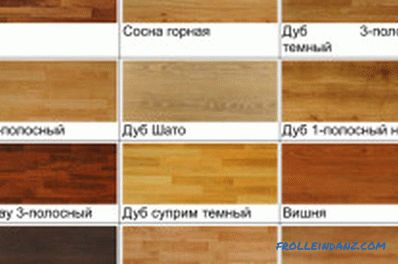 Types of coatings for wooden floors.
In some cases, mosaic blocks are called parquet. But this is a mistake. Mosaic does not apply to parquet. It consists of wooden planks of small size, connected by a "thorn in the groove" type. In each block there are four squares, each made up of several planks, which are fastened with wire or adhesive.
Squares are connected perpendicular to each other. Such a flooring looks like a colorful basket woven into a pattern. Laying mosaic blocks, mounting on the prepared surface is carried out with an adhesive. Such a coating is applied when there is an uneven surface. The use of mosaic blocks perfectly hides bumps. Mosaic looks great in the living room or office lobby.
In most cases, parquet blocks are placed on a rigid base. Applied mastic going "herringbone." It is better not to perform such work on your own. There are many subtleties that are well known only to specialists. Several decades ago, the floorboard reached great popularity and symbolized the wealth of the family. Parquet is made from a variety of wood species, for example, from oak. With the help of adhesive, only elements of the parquet floor are glued together. Parquet never stick to the laid floor, it is not nailed.
How to properly lay the floor on the logs?
You can lay the wooden floor in a variety of ways using: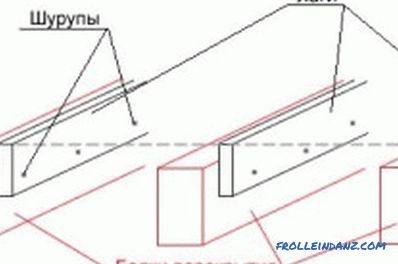 Lagging installation diagram wooden floor.
reinforced concrete slabs;
concrete screed;
wooden beams;
metal beams;
poles.
Most often the floors are laid on logs, which are mounted on the ground or the base of the floor.
This method allows to obtain high strength, excellent thermal characteristics. The floor is perfectly flat. You can put any floor covering on it. It will look great:
laminate;
parquet;
linoleum;
carpet;
tiles.
By applying lags, you can disguise engineering communications under the floor, hide all defects. However, such a floor can not be put in apartments with low ceilings. The fact is that the floor on the logs will reduce the height by 10 cm. For such rooms, ordinary flooring is made of wooden planks, a waterproofing layer is put down.
For installation on wooden floor joists, first prepare the base. It is necessary to remove all debris, remove dirt and repair existing cracks. Then a waterproofing membrane is placed on the floor to protect the wood from moisture.
Some features
Before installing the lag, you should rest for several days, preferably in the room where the work will be done.
The lag setting depends on the material thickness:
Board 40 cm thick. Logs are laid in 1 meter increments.
Board less than 40 cm thick. Stacking step 50 cm
More than 40 cm thick, the pitch is 80 cm.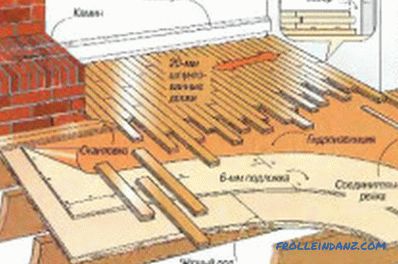 Laying the wooden floor.
Sometimes used when installing bars more than a meter thick. Lags should be laid at an angle of 90 degrees to sunlight. Adjustment is carried out by a water level.
Wooden wedges are used to control the installation height. They are enclosed in the right places to level the height. You can also use thin plywood, which is cut into 15 cm pieces.
Fastening lags and wedges is done with ordinary nails or screws of the desired length. If the base is concrete, fastening is carried out with anchor bolts or dowels.
First, there is one lag at each wall, and a thick fishing line is pulled between them. It plays the role of a guide along which the rest of the elements are mounted.
The resulting empty space is filled with insulation. For this, mineral wool will be the best material. As a result, the wooden floor gets excellent thermal insulation. Its operation becomes more comfortable.
After installation, the lag is made of chipboard, and moisture-resistant plywood is also used. Fastening is carried out with long nails with drowning heads.
Dimensions of wooden boards when installing the finishing flooring are chosen so that they are joined in the middle of the lag. When laying the first row retreat from the wall by 1.5 cm. The row is leveled with a stretched fishing line. The last extreme board is fixed at an angle. Pre-drilled holes for screws, which are wrapped under the cap.
Where pipes pass, the holes must be 10 mm larger than the diameter of the pipe. For better mounting boards are additionally fastened with brackets.
In addition, an ordinary plywood base is sometimes made, which gives the subfloor high quality. It is easy to put a covering on such a floor, as the surface will be perfectly flat.
Floorboards: Recommendations
Negative factors that accompany floor holders with a wooden flooring are gaps between boards, draft and rot. To cope with rot, it is necessary to treat the floor with chemicals, remove rotten parts. This is the most time consuming work. Other defects are much easier to handle.
Small gaps between the boards are carefully puttied, impregnated with glue, and leveled using a level.
It is much more difficult to fight when there are large gaps. The best option would be to remove the boards, and then lay them with a special wedge clamp fixed with nails.
The planed floor laid on the floor creates the greatest comfort in the house. Over the years, wooden floorboards begin to deform. To correct the swelling, the resulting deflection, use a scraper machine that moves diagonally. When boards are loosened, it is necessary to replace old nails with new screws. Left holes nails putty, and then subjected to scraping.
Painted floors are first thoroughly cleaned, for which use a metal sponge. An alcohol solution is used as a solvent. The scraping machine levels a surface. The floorboards will become beautiful again if they are varnished. In order for restored floorboards to get a luxurious look, they need to be covered with several layers of polyurethane varnish.