The frank loft style in the interior is instantly recognizable. A room decorated in this style resembles an abandoned workshop or factory. If you have in mind there is such a room, you can equip it according to all the canons of the loft. About what finishing materials, lighting devices and furniture will be useful for you to create an industrial interior, read this article.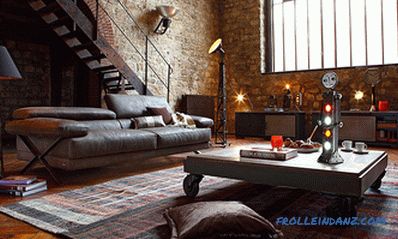 History
The discoverers of the style
The birth of the loft occurred in large industrial cities of the USA In the 40s - 50s of the XX century. When the prices for renting land in the center of the city increased several times, industrialists began to transfer their production facilities beyond the city limits or to its outskirts. Many factory and factory premises are empty. The owners could not find any use for them, so they sold for pennies.
New owners of huge premises began to rent them out as housing for low-income citizens. Who else would want to live in a hangar with bare brick walls, omnipresent pipelines and high ceilings? The hastily furnished housing with an equipped kitchen and a bathroom did not have walls and partitions, was full of inconspicuous signs of the past use and looked rather peculiar. Perhaps that is why the representatives of the New York bohemian saw in it something interesting and unique, and began to actively populate the former workshops and attic rooms.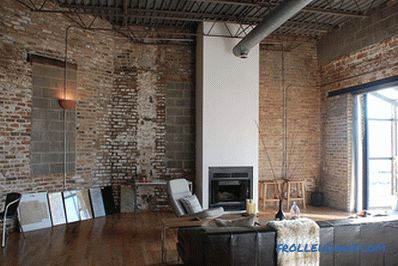 Artists and musicians with all the imagination inherent in them lived a huge space with an open plan. They did not remove wooden trusses and beams under the ceiling, did not cut open sewer pipes, did not curtain large window frames. They saw this as a special urban charm that allowed them to feel free and independent.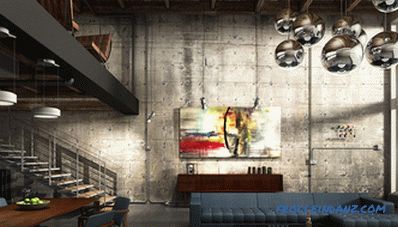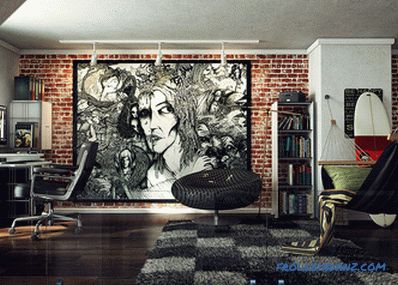 Dissemination of loft principles beyond America
Following America, the crisis reached major European cities, displacing plants from central streets on the outskirts. However, the former factory buildings were not empty for a long time. They immediately began to equip a residential apartment. Fashionable American trends reached Europe and became popular. It was at this time that the definition of style arose. Citizens created interiors, copying the American industrial style.
The final popularization of the loft occurred at the moment when rich entrepreneurs and the aristocratic elite began to specifically build residential houses in this style. New buildings specifically made spacious, with large windows and without walls. Equipped with open wiring, not decorated the bare walls, put a minimum of furniture. Otherwise, the desired style did not guess at all. So loft acquired its own characteristics.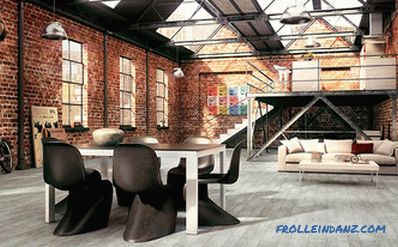 The main features and directions of the style
The loft-style design is characterized not only by the general features of the large-sized room, but also by the special color range, furniture arrangement, decoration features, ways of finishing surfaces.
To design an industrial interior for a city apartment, you need to rely on the following principles:
1. The layout should be open, without walls, fenced off rooms. This rule applies to the bedroom, living room and even the kitchen. Closed can only be a toilet and shower room.
2. Windows do not hide behind curtains and curtains. They remain visible. Panoramic and attic windows are honored.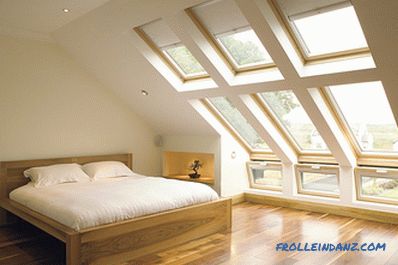 3. Walls are not covered with wallpaper and are not sewn with plastic. Most often they are bare brickwork or a concrete whitewashed surface. Sometimes the wall is sewn with sheets of metal or plywood.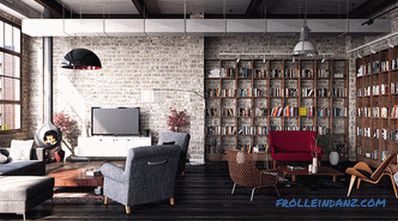 4. The floors in the authentic warehouse are usually concrete. But this option is not always acceptable for residential premises, so they are made of wood. Less often in bulk or from artificial stone and marble slabs.
5. The ceilings in the room must be high. On them they let the wires in for lighting, equip with wooden carriers or false beams. On the ceiling can pass various communication pipes.
6. Lighting devices are suspended in groups. They usually have a modern design.
7. The factory premises were initially very cold; they were made to be heated with fireplaces, iron barrels of firewood, and open stoves. Therefore, these interior items in the loft style are firmly entrenched in the design of the premises.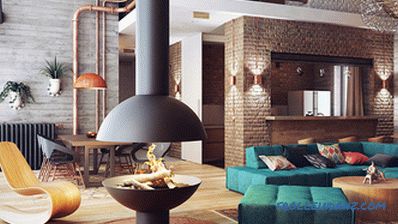 8. The high height of the premises allowed the second level to be equipped, for example, under a bedroom or a study. It was possible to get to the second residential tier using an added or fixed ladder. Today, they also equip the premises, making them out of metal and wood.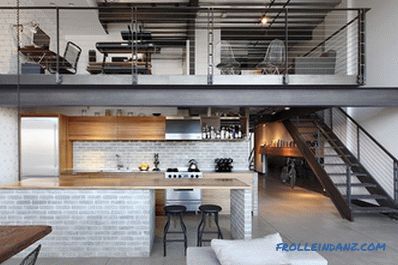 9. The color range of the furnishings and furniture is strict, consisting of two or three matching or contrasting colors. The color scheme in different countries is different.
10. Furniture is selected either very modern and multifunctional, or frankly belonging to the past century (with peeling paint, frayed edges and missing details).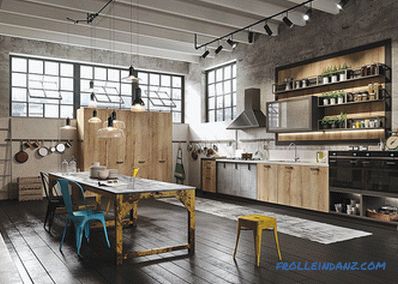 It should be noted that different directions of the loft are characterized by special features.
Modern designers have only three:
bohemian (boho-loft);
glamorous;
industrial.
The bohemian style - preserves the spatial features of a large factory premises, leaving the decoration intact. However, the furnishings and accessories are chosen with the imagination inherent in creative people. Furniture most often has the appearance of a used, with traces of history on the sides. The decor may not be combined with each other at all, but at the same time it is directly related to art. The interior is decorated with original paintings, or more often the work of unknown artists, sculptures, ikebana, art objects or musical instruments.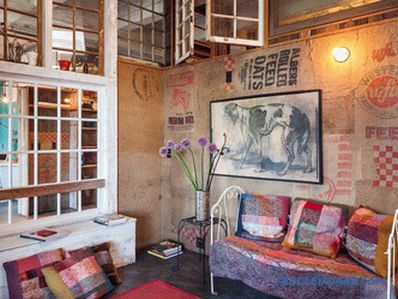 Glamorous direction - it has a peculiar color palette. It is immediately recognizable by the combination of pastel colors. For example, it may not be a traditional white-gray gamma, but gray-lilac. Particular attention is paid to the selection of chandeliers, ceiling lamps and floor lamps. There are many of them, they have unusual silhouettes and serve as an accent of the interior. Often, next to a strict berth, there is a dining table next to it surrounded by curved baroque chairs.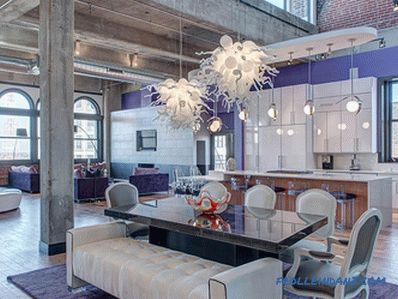 Industrial (industrial) direction is the most popular. To embody it, you need to fill the interior of the premises with signs of a factory building or a production hall. In honor of the construction of pipes with valves, wooden trusses, chains and components of the wires. The furniture is used without excesses, with the correct geometrical forms.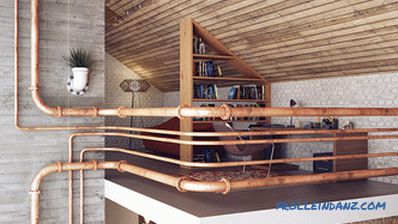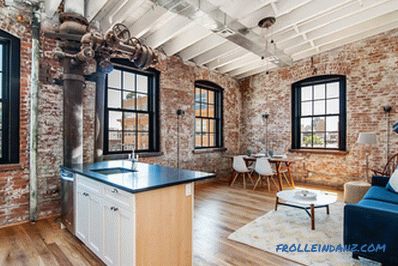 Characteristic colors
Most often, the interior design in the loft style is designed in strict colors. This is explained by the fact that industrial objects are rarely painted in bright colors.
Characteristic colors are:
white, gray, black;
brown, beige.
Blue, red or derivative shades of these colors are used as an accent.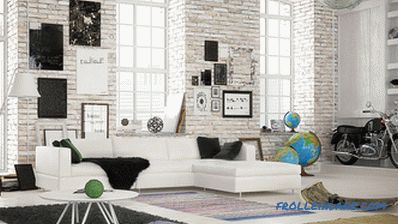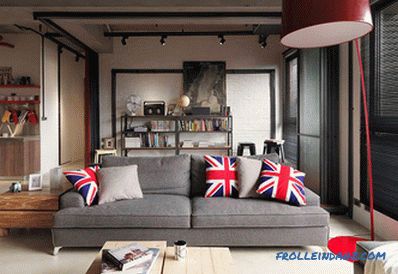 Loft is one of the currents of the modern style of the interior, so the colors for the interior are the same as in high-tech style (cold colors of silver, white and black) or minimalism (a strict combination of two shades of a contrasting or harmonious spectrum with an emphasis on one bright color). For the interior in the style of loft is acceptable and monotonous design.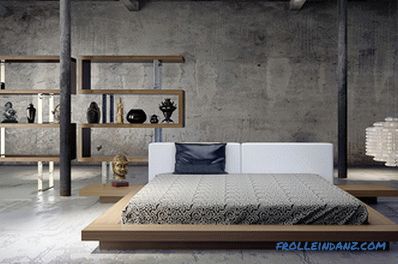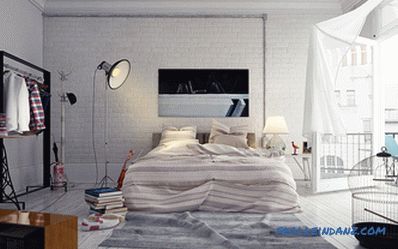 If the loft is used eclectically (in conjunction with other styles), then there are bright color schemes, patterns and patterns in the interior.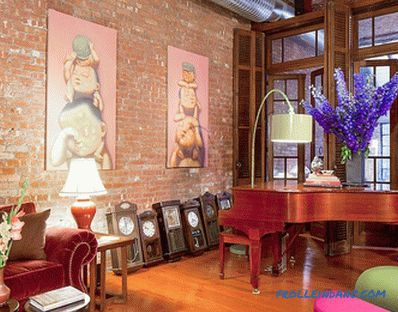 Materials used in creating
The most characteristic materials are the following:
Concrete slabs - used for bearing walls, ceiling and floor.
Wooden board - the walls are sewn up with it, but more often it covers the floor.
Glass - used not only for glazing window frames, but also as floors between floors or material for partitions.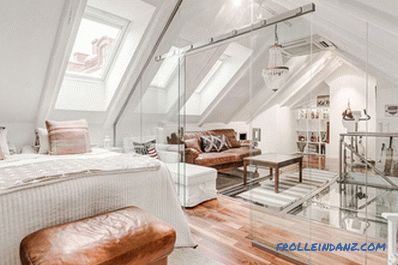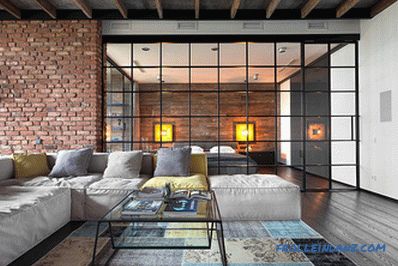 Red or silicate brick - the basis for wall or wall decoration, the most recognizable loft decoration material.
Metal pipes of various designs - can be used for their intended purpose or as a decorative material.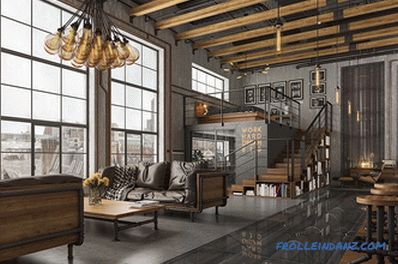 Furniture
The design of the room in the loft style requires the selection of furniture depending on the chosen direction:
1. If this is a bohemian trend, then pieces of furniture are picked up in antique shops, in grandmother's attic or in flea markets. Commodes, tables and chairs made of natural wood will do. They may be slightly worn. Forged items such as beds and chairs will fit perfectly.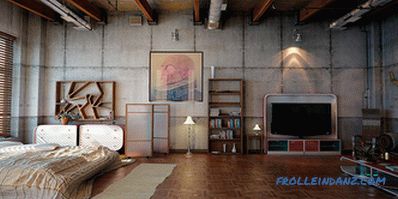 2. For the glamorous direction choose new furniture from the classic or baroque collection. It should look not just expensive, but luxurious, giving the impression of a stunning contrast.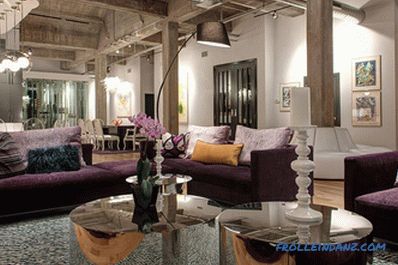 3. Modern minimalist-style furniture is more suitable for an industrial loft: a single-color leather couch, a simple rectangular bed, a geometrically regular dining table and chairs. Instead of a wardrobe, you can pick up an open hanger.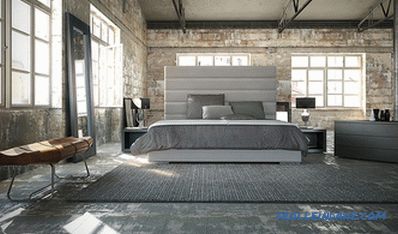 It should be borne in mind that the open layout blurs the boundaries between the rooms, as there are no walls. Functional zoning is precisely due to the placement of furniture. The kitchen area is arranged in accordance with the wishes of the owners.If they love to cook in the kitchen, and they do it often, they will equip the zone with all kinds of appliances - refrigerators and freezers, cooking panels and ovens, cooker hoods and a dishwasher. All this is useful. Chrome furniture in high-tech style will look great. Do not forget about the dining area. A large table with chairs for themselves and guests is selected in it. For at least 6-10 people, as in the factory canteen.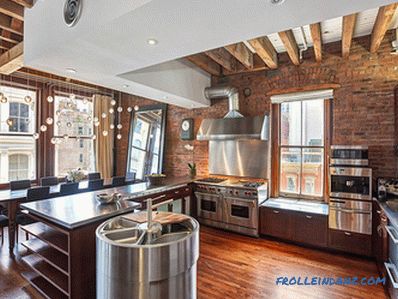 For the bathroom, plumbing is selected in two ways: from the most modern collection with many functions or old, as from a past era with a steampunk note. The bathroom is a closed room, so it is important not to disturb the spirit of the loft with an abundance of furniture and plumbing. Total should be at a minimum.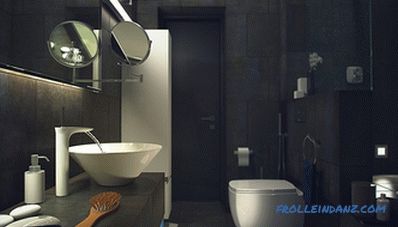 The sleeping area clearly indicates a large bed. She can stand alone, or surrounded by floor lamps and cabinets. If you wish, you can mark the border of the bedroom with open bookshelves.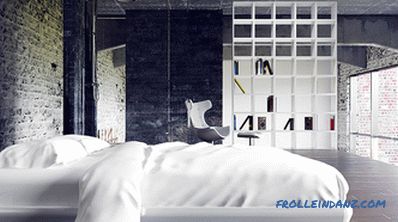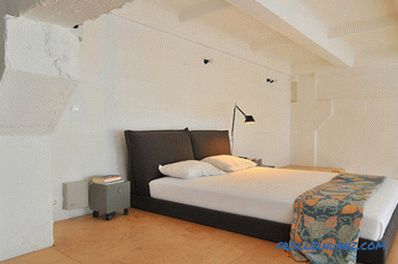 Window decoration
An apartment in a loft style is characterized by large windows with wooden frames. They may consist of many small segments or consist of one whole glass. It is good if the windows are with wooden frames painted white. Plastic windows are also allowed. However, they must be mansard or French, and differ in large size. They are not decorated with textiles, so that they miss the maximum amount of light.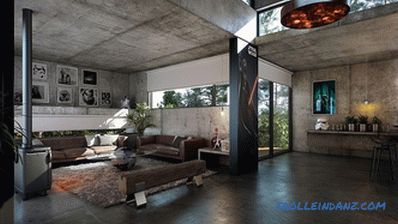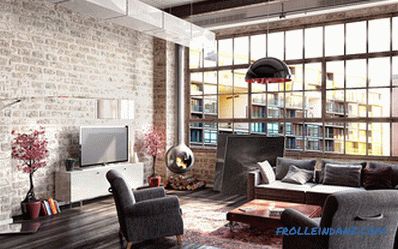 Floors
In the original warehouses there are ordinary concrete floors. But they are not always suitable for living space, as it is very cold. In addition, the concrete has a rough surface, from which it is difficult to remove dirt.
Therefore, floors are usually made of such materials:
wooden, parquet, laminated board;
ceramic tile, artificial stone or marble "
self-leveling floors with a warm floor system.
In order to emphasize zoning, a sleeping place or kitchen is distinguished by a separate type of material. At the same time, the entire area of ​​housing is decorated with another floor material.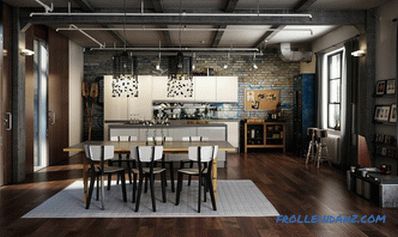 Walls
Since the open layout does not tolerate walls, glass blocks and plastic partitions replace them. In the kitchen, instead of a wall, there can be a bar stand with you The bearing walls should have a pristine industrial look: rough, somewhat untidy with areas of exposed concrete, brickwork or galvanized iron. Under no circumstances should they be covered with wallpaper.
If you create a loft in a normal residential apartment, Then the walls are laid out with decorative brick, wooden board or plywood sheets. They can be painted with white or gray matte paint.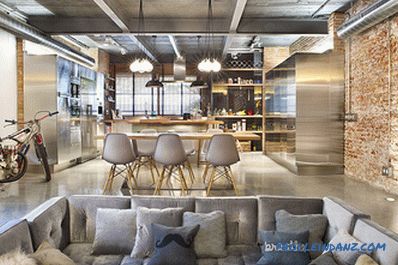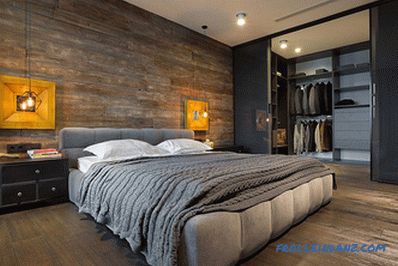 Ceilings
Embodying a loft in an apartment with not very high ceilings, you need to plaster the ceilings and paint them white. It'll be enough.
But if the height of the ceilings allows, then follow the principles of industrial style:
equip it with open wooden beams;
create an atmosphere of natural garret, building wooden structures;
between the trusses hang lamps on chains.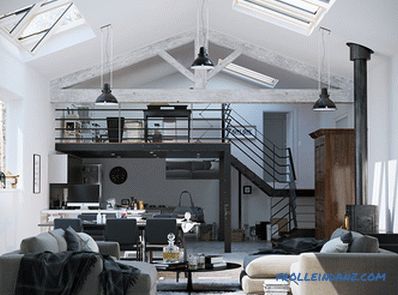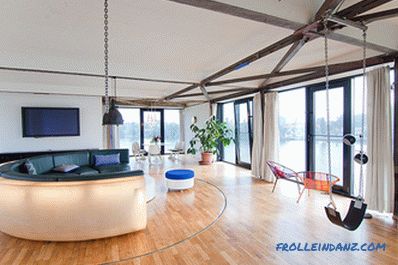 Decor and accessories
You can decorate a room in a loft style very easily. This style accepts many of the most original options.
For example:
in the recreation area a large hammock or swing on chains is hung;
a wide-screen plasma is placed on a rough brick wall;
in front of the window in full height of the wall is placed a chaise longue with a large modern floor lamp;
in the kitchen instead of chairs put stumps, complementing them with a metal barrel or an open fireplace;
under the ceiling and
you can install natural traffic signs in front of the bathroom and kitchen;
instead of chairs you can use a bench and a street lamp;
charcoal drawing on the wall can also be considered a decor.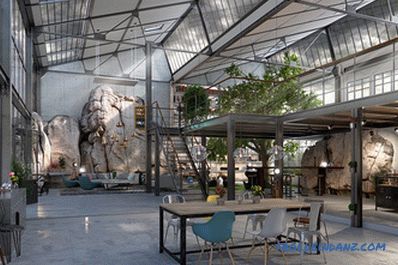 If such suggestions seem too bold for you, then you can get by with a more traditional decor:
paintings or posters in the style of pop art;
decorative pillows and colorful paths;
vases and table lamps.
Accents used in the style of
Design accents are extremely rare. Industrial loft itself is unusual and replete with non-standard solutions, so it is extremely difficult to emphasize something. However, in each residential area there may be a center place, which will immediately be evident. For example, the skin of an animal instead of a rug, a large green area of ​​natural flowers or bright furniture.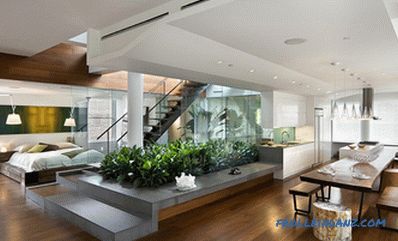 Lighting
Lamps, lamps, large chandeliers, street lamps - they all play an important role in the interior.In addition to good natural lighting, which is achieved through large windows, each residential area is highlighted separately. For her pick lamps of one design. To highlight another residential area, hang lamps of another type. The loft is characterized by a cluster of lamps in one place.
Often the wires for lighting are hung on the ceiling and fixed to the walls, as if temporarily. Bulbs without lampshades are suspended in a row through a certain distance. It turns out a kind of festoon.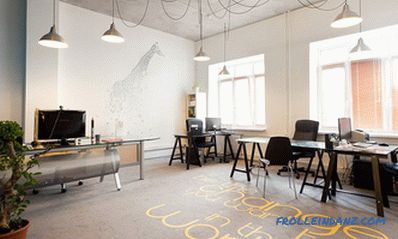 Now you know what a loft style is in an interior, and you can not only distinguish it among many modern styles, but also recreate it in your apartment. You will like it, if you need space for creativity and inspiration, you do not like borders and frames. And also, above all, appreciate the originality.