In the past few years, original and stylish, but quite simple and unassuming loft-style interiors have become very popular. Transforming old factory workshops into residential space is no longer a necessity. During this process, a new style was born, which has undergone many variations and adaptations. Although most often these interiors can be seen in the kitchen or in the living room, the design of the bedroom in the loft style is also possible, and today we will talk about it.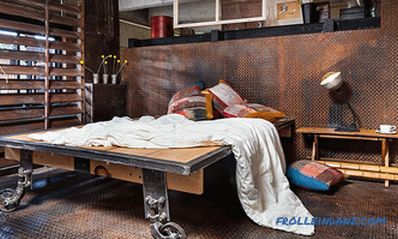 The coarse attractiveness of a loft-style bedroom
The loft-bedrooms have their own angular, coarse attractiveness. They seem ideal for a modern home with a hint of semi-minimalism. We invite you to familiarize yourself with our selection of the best interiors - from modest and vintage to elegant and stylish.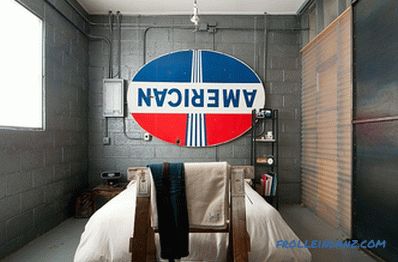 Gray cinder-block walls and a color bar in a stylish bedroom (from Lucy Call ).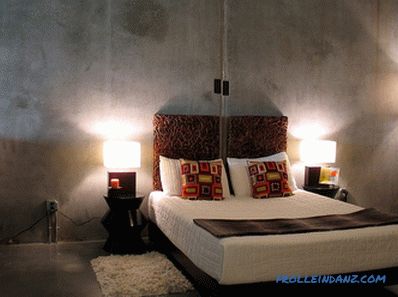 The bedroom with simple concrete walls and floor looks amazing (from By Pangea Interior Design ).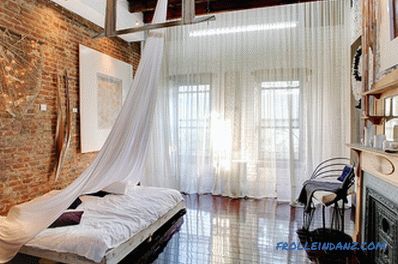 A loft-style bedroom with high ceilings, wooden beams and low decor (from Laura Dante ).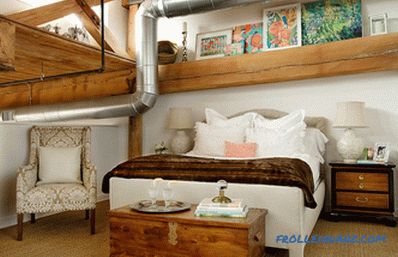 Smart use of space in a small bedroom (from Décorahh! ).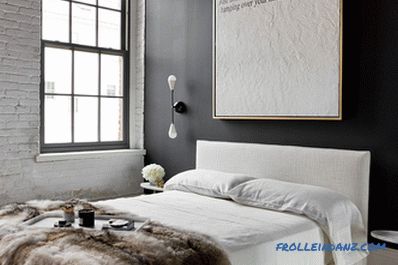 The white brick and dark accent wall add contrast to this bedroom in one of the New York houses (from Tamara Magel Studio ) .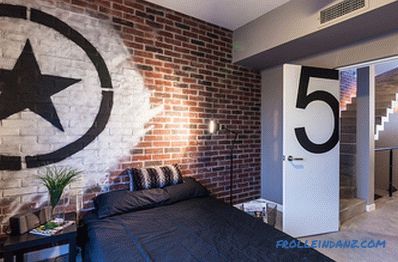 Brick walls with graffiti perfectly fit the style of this bedroom (from CityLoft / More Graffiti Inspiration ).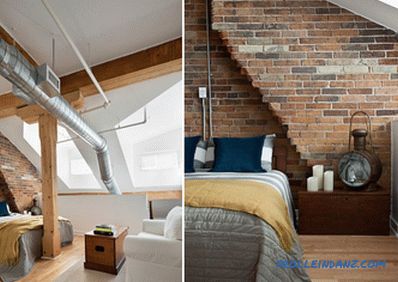 Decorating a loft-style bedroom (from Rad Design ).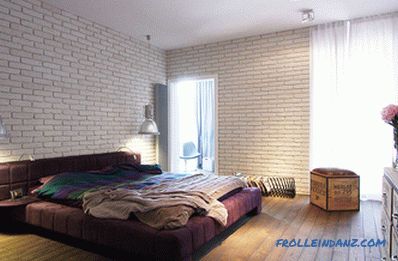 Bedside lighting catches the eye in this bedroom in one of the Warsaw apartments.
Practical metal magic
Exposed pipes, air ducts and other metal surfaces are an important part of the loft style. This rule applies in the case of bedrooms. Of course, in the kitchen or in the dining room, a similar metallic decor looks more natural. In the case of a bedroom, in order to obtain the desired result, careful integration of protruding pipes into the interior should be achieved. Remember that this style requires the abandonment of any kind of excesses, hiding these "naked bones" of the room.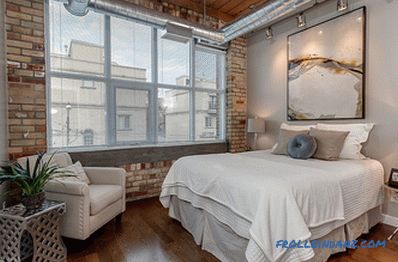 Modern loft-style bedroom with a protruding pipeline (from The Graces - ReMax Hallmark Realty ).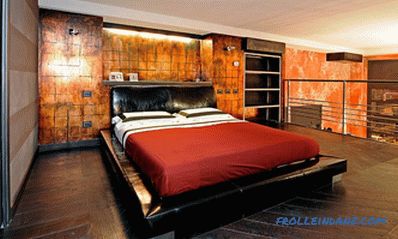 Oxidized copper plates create a spectacular accent on the bedroom wall (from Marco Dellatorre ).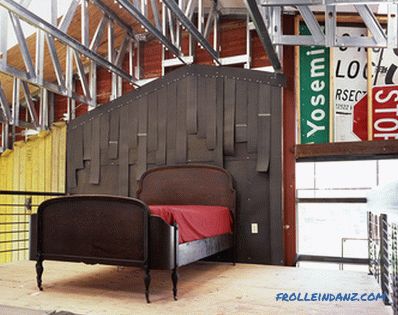 Unique and modern style loft in the bedroom! (from Jensen Architects ).
Modern designers have found unique ways to add metallic magic to industrial bedrooms when the "open pipes and ducts" approach does not work. For example, oxidized copper panels or stylish metal tiles with decorative patterns are used to form the accent wall of a room. Steel frames as space separators also help to emphasize the industrial atmosphere of the style. With the right decor, you can create a truly amazing and unique bedroom.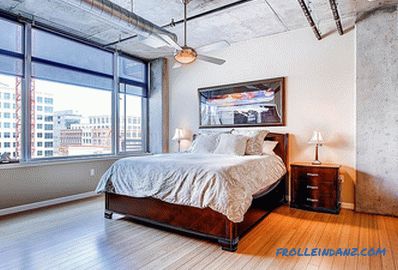 Wood, concrete and metal are found in this loft-style bedroom (from PorchLight Real Estate Group ).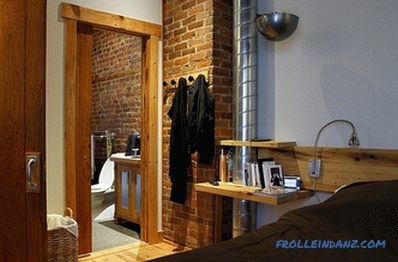 Unusual shelves that serve as a bedside table (from Esther Hershcovich ).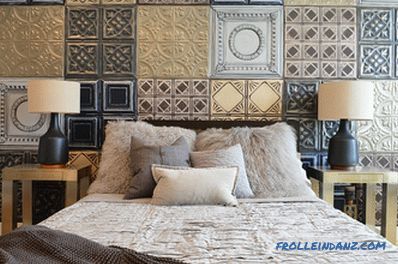 Metal tile creates an accent wall ideal for industrial style (from Contour Interior Design ).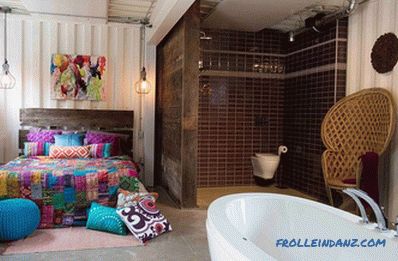 An innovative idea for a loft-style bedroom (from Les Collections Dubreuil ).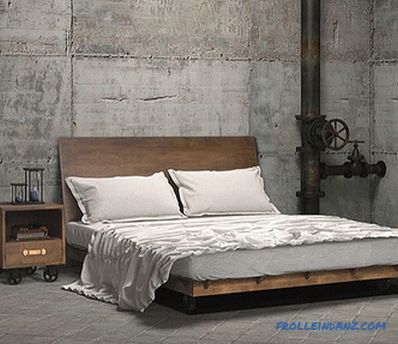 A loft-style bedroom with a mixture of steampunk! (from Zin Home ).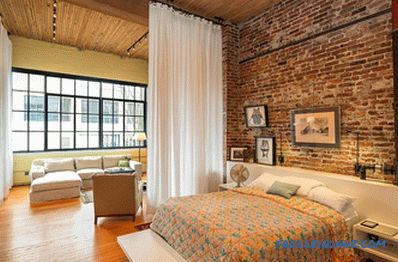 Large drapes separate the living room from the bedroom (from Luxe Architects ).
Classic brick walls
Brick walls and bare concrete surfaces, along with metal, are one of the main ingredients of the loft style. Once again, the emphasis is on maintaining the atmosphere as natural as possible inside the room. Some homeowners even use graffiti to give their rooms genuine appeal! Brick walls can be left unchanged or covered with white paint to make the bedroom look more elegant. A great addition to such an interior will be large unpolished wooden doors, like those installed in barns, barns, sheds and other outbuildings - they create a hint of rustic style.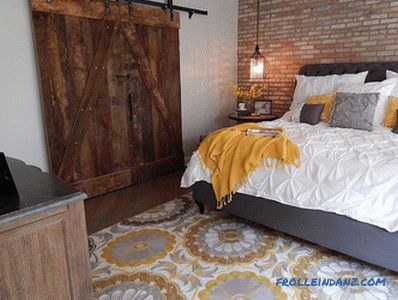 A bedroom with brick walls and a large "barn" door (from VIP Interior Design ).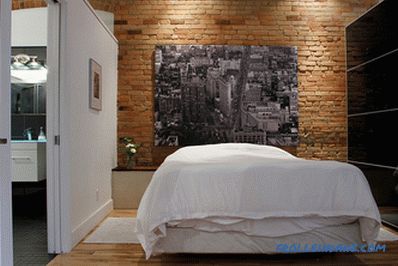 Contrasting black and white surfaces against a brick wall (from Esther Hershcovich ).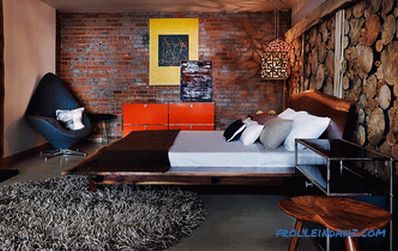 A wide range of colors and textures in the design of the bedroom in the loft style (from James Maynard-Vantage Imagery ).
Unlike the kitchen or living room, the look of a bedroom in a loft style is much softer. This is due to the decor, which in this case inevitably includes several "cozy" textures that visually soften the appearance of the room. For such a bedroom, we advise you to choose a bed with a low base, comfortable, but without excesses. The interior should seem natural, simple and uncluttered.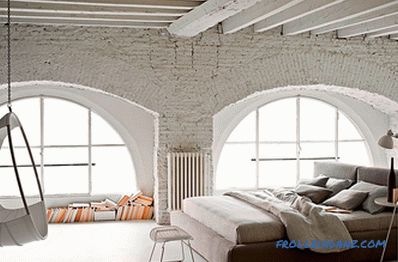 Spacious bedroom with white brick walls and unique decor (from Usona ).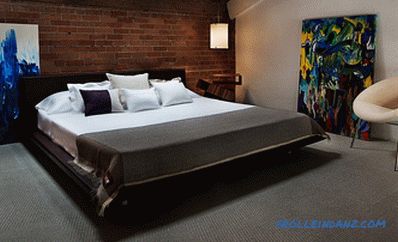 The thoughtful interior of the bedroom located in the attic with a sloping roof (from Vantage Imagery ).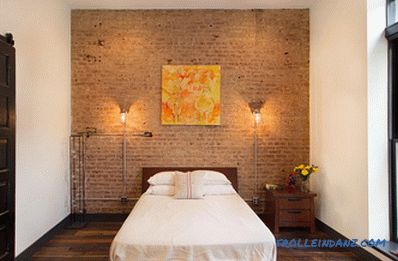 A bed with a base in the form of a socle creates a feeling of spaciousness in this small bedroom (from Bennett Frank McCarthy Architects ).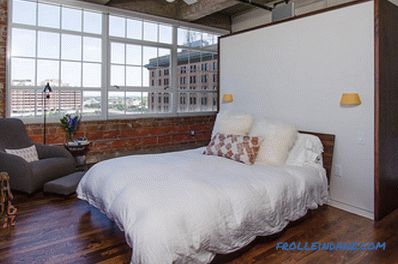 A custom-made wardrobe that separates the bedroom from the dressing room (from CONTENT Architecture ).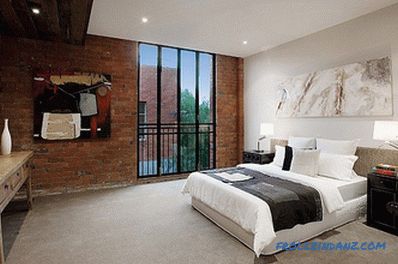 A stylish and elegant loft-style bedroom (from K + Architects ).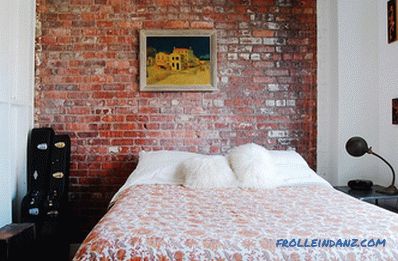 The idea of ​​a small bedroom design in a trendy loft style (from Corynne Pless ).
Elegant modern interpretations
With metal, brick and concrete, as well as a stylish decor, we figured out it was time to look at the overall attractiveness of the room. In the loft bedrooms, it looks good as a dark, deep background, exuding a sense of intimacy, and light, airy cool shades, complemented by metal elements. In choosing one of these areas, the size of your bedroom plays an important role. One famous designer once said: " If you want a dark room to shine and shine, make it even darker! " Small bedrooms benefit greatly from a dark, moody look. However, most of us prefer the bedroom to have a more cheerful look, so we offer a trendy chic loft style.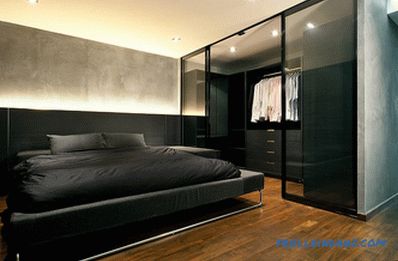 Modern minimalism combined with industrial style in the bedroom (from Architology ).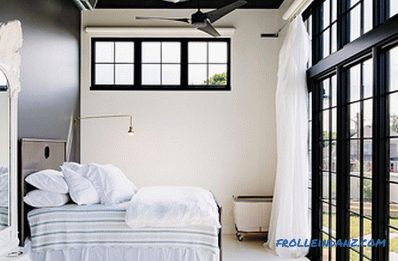 The modern attractiveness of a small bedroom in a loft style (from Emerick Architects ).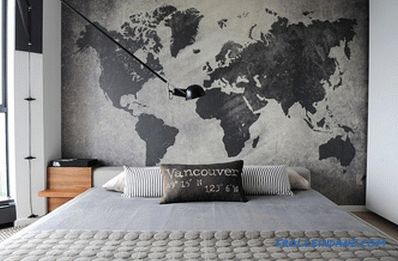 Discreet industrial style with a unique accent wall (from Gaile Guevara ).
Gray is one of the most popular colors in the past few years, and the choice is simply limitless. You can remake and reinterpret the loft style, combining it with any other to form your individual interior. Angular artworks, finds from the flea market, restored furniture, a floor not covered with a carpet or a carpet completes this trendy style.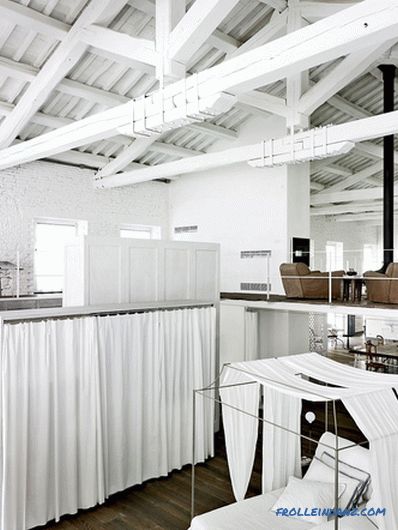 An old Italian factory turned into a unique loft-style house (from Paola Navone ).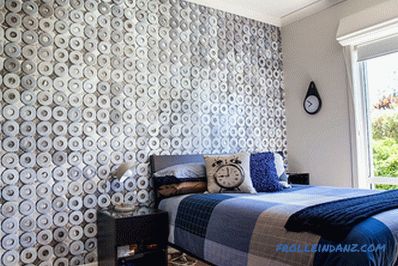 The bedroom of a teenage boy in a chic industrial style (from PURE color + design ).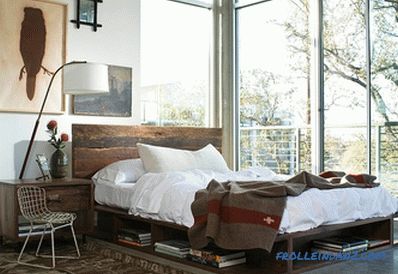 Fashionable bedroom in one of the houses in Los Angeles (from Marco Polo Imports ).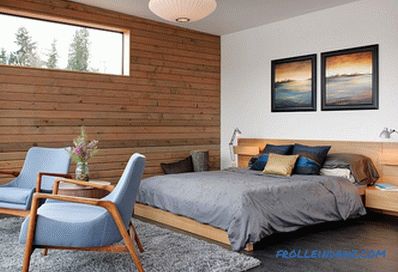 The soft atmosphere of the modern bedroom (from Dyna Contracting ).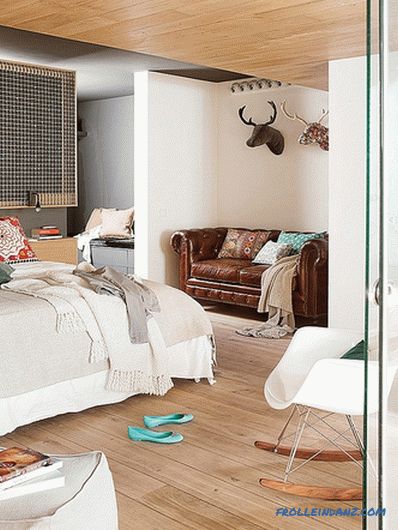 Elegant bedroom in the style of a Spanish loft.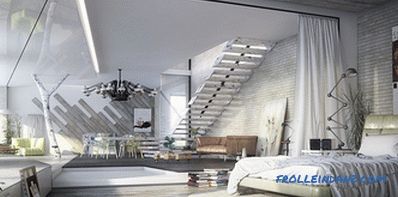 Large white curtains add soft visual appeal to this loft-style bedroom (from Crescent Builds ).
Photo: Loft-style bedrooms