Little construction will do without laying pipelines. For their installation, you can use various pipes, for example, polyethylene, created under low pressure (HDPE). Such products are used both in pressure and free-flow systems. But to use such pipes, it is necessary to know the method of working with them. This article will explain how to connect the HDPE pipe.
Advantages of using HDPE pipes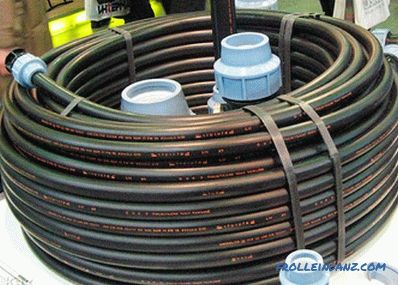 From HDPE pipes it is easy to assemble a water pipe
Today pipes made of polyethylene under low pressure are in great demand. This is facilitated by the positive qualities of such products. Namely:
Long service life (over 50 years).
Immunity to aggressive media.
Corrosion to such pipes is not terrible.
It is possible to lay the trenchless method, which significantly reduces the cost of all work, but limits the period of use of such water supply.
The inside of the pipe is very smooth. This prevents the formation of deposits and growths, which eliminates the appearance of blockages.
The pipes are very light, it greatly facilitates and speeds up the laying of pipelines;
HDPE products are not afraid of temperature changes.
Pipes have great plasticity. The constructed pipeline easily transfers ground movements. That is why such pipes are often used in earthquake-prone regions.
But there are some drawbacks. So, pipes from PND badly transfer ultraviolet radiation. Also, such pipelines are not designed for pumping liquids with high temperatures, as a result of which they can be deformed.
Butt-welding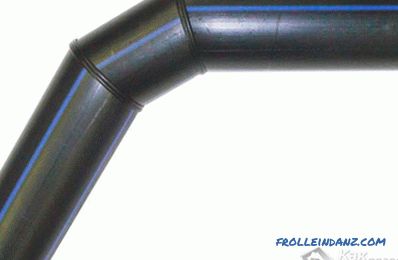 Butt-Welded Pipe PND
For Butt Welding of Polyethylene Pipes special equipment is used. At the same time, it is very difficult to perform such work independently; for this, it is necessary to have a special qualification. Welding of HDPE pipes butt-end is done in two ways:
using a mechanical welding machine;
using an electro-hydraulic welding unit.
The first method is used only when installing pipelines with low pressure. These include sewage systems and drainage at industrial enterprises. Electro-hydraulic equipment capable of creating pipelines for any purpose. Compounds made using this method are strong and durable. The pipelines themselves are able to withstand high pressure and any mechanical effects.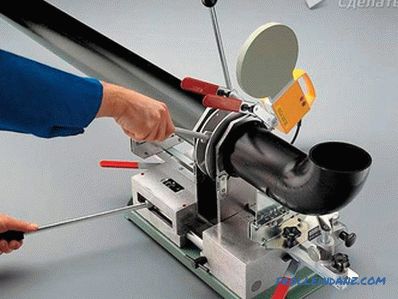 Welding of the swiveling elbow
Various PND parts can also be used for welding pipes. Thus, the industry produces bends, crosses, tees, transitions, etc. With their help, you can create a system of pipelines of any configuration.
But, as mentioned above, welding requires the use of special equipment and the presence of sufficient experience. For these reasons, this method is rarely used in everyday life. A simpler, but no less reliable way to connect HDPE pipes (and not only to each other) is to use fittings.
Using fittings
Connecting HDPE pipes can be made using special fittings. Such structures are used to create communications from pipes of small diameter (up to 50 mm). You can use the following types of fittings:
electric-welded;
compression;
reduction.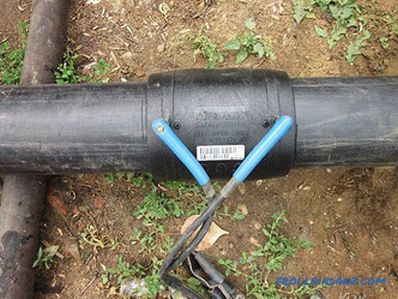 Electrofusion coupling
The first option is a coupling with an electric heating element inside. When connected (after connecting to electricity), the fitting heats up and melts the polyethylene. The result is a strong and reliable connection, but not folding.
For work, it is necessary to pre-clean the pipe and fitting of dirt. Then they are set on the same axis, while achieving the stillness of the whole structure. After that, the connecting element is connected to a specially designed for this purpose current source. As a result of heating, the plastic begins to melt, hermetically connecting all the elements. You can learn more about working with such connecting elements by viewing videos from the Internet.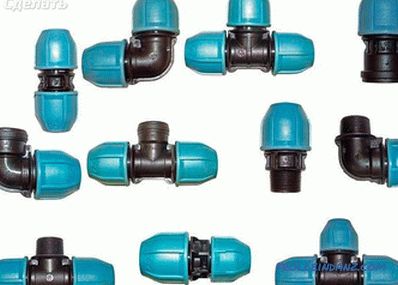 Fittings
The easiest way to connect the HDPE pipe is to use a compression fitting. Anyone can cope with this task, even without possessing any skills. These fittings consist of:
polyethylene housing;
sealing rings;
clamping rings (they protect the connection from mechanical damage);
bushings ;
nut caps.
Before you begin, you need to disassemble the design of the connecting element. Then at the end of the pipe mark the distance at which it should go to the fitting.Further, having previously moistened in water, we put on the connecting element. The last action is to tighten the cap-nut (in this case, excessive efforts should not be used). The result is a connection without the risk of leakage, besides collapsible.
In addition, compression fittings have another advantage - it is the ability to connect different (material) pipes. Very often when repairing an apartment it is required to connect the communications to old metal pipes. Using compression fittings make such a connection very easy. The work process is the same as in the case of joining two pipes of polyethylene.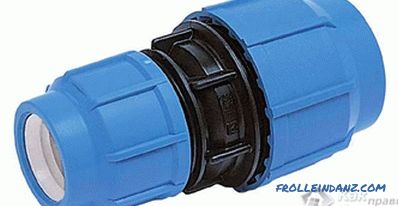 Reducing fitting
Reducing fittings are used if you need to connect two pipes of different diameters. The principle of using this connecting element is the same as that of the compression one.
We use flange connection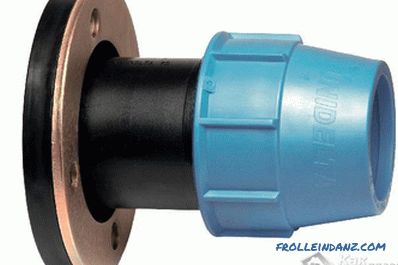 Flange connection
It is very common to connect PND pipes use flange elements. This method is used when connecting large diameter pipes, as well as flanges when connecting to various valves and pumps. Such a connection can be quickly dismantled for repair and cleaning.
The flange coupling itself consists of two nodes:
Compression flange.
Mounting flange.
The first component is used to fix the joint section on the side of the HDPE pipe - it works on the principle of a compression coupling. The second node is the usual flange, with normalized dimensions. And this flange is mounted on the second part of the connection (pump inlet, metal pipe, etc.).
Video
This video shows how to connect the pipes with a compression coupling: