To build a house on the water is quite a bold, but at the same time a very original decision that does not occur to everyone. If you decide to become the owner of this type of housing, then you must be prepared for the fact that you will have to work hard in obtaining the mass of necessary documents. One of the most important of these is the lease of the water area, which is located near the coast. It should be noted that no one will allow you to build a house in the center of the reservoir, since this violates all the rules and regulations of navigation.
How to start construction and how to build a house on the water correctly is probably the most important thing you need to be familiar with before starting the construction process.
Designing your future home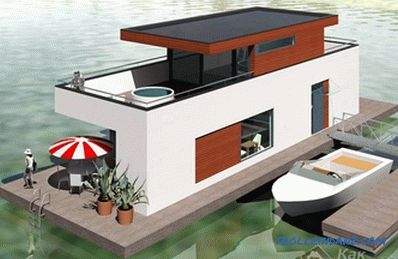 Project of a house on water
The most important element of any buildings, whether land or water - is the preparation of a competent project, which must necessarily include all stages of future work. If you do not have an engineering or architectural education and have never before encountered such a large-scale construction, then in no case do not experiment, but rather entrust this work to professionals.
Properly prepared project necessarily includes:
Selection of the base of the future structure, which is calculated on the basis of its carrying capacity.
The material to be used for the construction of the structure.
Directly designing the housing itself.
Safety conditions that are necessary for both future tenants and for shipping.
If you want to become an owner of a quality project, then take the trouble to find a competent specialist in this field, they usually work in local river navigation.
Communication and engineering networks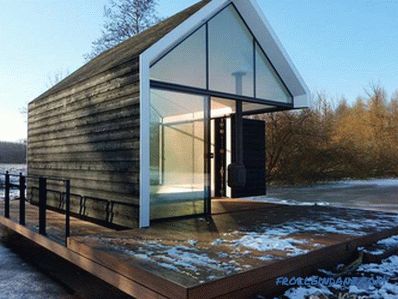 Communications in such a house
As soon as you get all the necessary permits for the construction of your future home, and agree on the project you submitted, you need to take care of one more thing before you begin to build the foundation for the floating house. It is worthwhile to think carefully about providing it with all urban infrastructure, which includes:
constant electricity supply,
sewer system,
water supply,
heating.
And here the best solution for you both in terms of economy and in terms of security will be urban systems. Moreover, if your building is located in the place where the connection to public communications is simply impossible, then consider purchasing autonomous systems, the equipment for which is today presented in a wide range.
The most difficult of all the above described communication systems is heating, which cannot possibly be urban, and therefore you have only two options:
Installation of a heating boiler, which can be almost anything , and for it will be used a variety of fuel;
Electric - while you must be prepared for the fact that it is quite expensive to use.
Construction of a house on water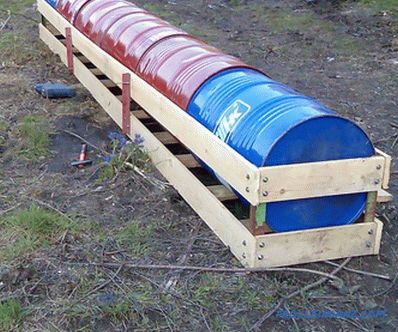 Pontoons
If you are planning become the owner of high-quality housing, which is located on the water, then trust the professionals who have extensive experience with similar facilities. In the worst case, you risk your own safety.
Construction work begins, as elsewhere with the erection of the foundation of the future structure, which is called a pontoon. This is nothing more than a platform that very much resembles a raft, while a variety of materials such as wood, steel, plastic or reinforced concrete can be used for its construction. What kind of pontoon is needed for your house directly depends on the material from which the main structure will be erected.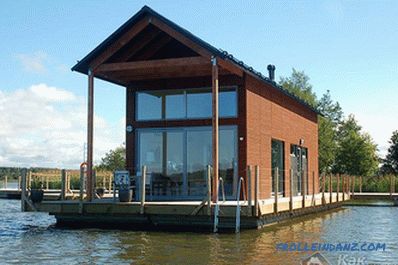 Finishing the house
Most commonly, water houses use such widely used materials as wood, This modern production technology of high-quality materials can be used for the construction of galvanized steel structures. As a finishing material for your home, you can use almost any that you like, whether it is a decorative stone or siding so common today.
If you use wood to build a house on the water, then you should take care of its quality treatment with antiseptics, which serve to protect it.
After you finish the construction and finally breathe easily, try not to relax too much, because now you have to do the most important thing - it's nothing more than getting it in the property, as well as getting masses of additional documents that will allow you to enter the building into operation.