Many of those who live in high-rise buildings look at modern bimetallic radiators with interest. It is painfully reluctant to mess with heavy cast-iron batteries, and light and beautiful aluminum for the apartment does not fit - do not withstand the pressure. But durable and stylish bimetallic heating radiators are perfect for an apartment - how to choose them, we will tell you now.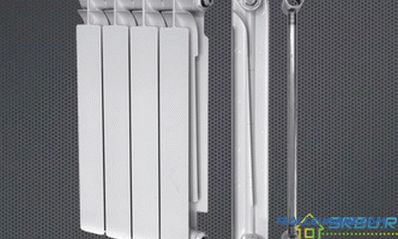 The design of bimetallic heaters
The case of these radiators is shaped-ribbed, made of aluminum alloy, which is distinguished by excellent heat transfer. Under the case there is a heating circuit made of pipes (copper or steel).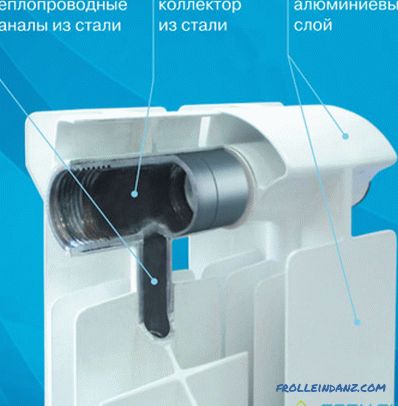 Such a "filling" helps the battery to adequately withstand the attack of chemical and mechanical impurities present in hot water for heating.
The steel that makes up the core tubes is very strong. Therefore, the radiator will withstand even at high pressure. This may be 20 or even 40 atmospheres (some models up to 100 atmospheres). And the temperature of the coolant can rise to 110 or 130 degrees. If you need more specific numbers, you need to look into the passport of a particular radiator. Aluminum, on the other hand, not only increases the heat output, but also greatly simplifies the device. In addition, the complex shape of the body has a very nice design, giving the radiator a great look.
According to the characteristics, these radiators are quite suitable both for apartments in houses of various heights and for individual cottages with autonomous heating systems. But do not rush to the store right away - at first we will tell you how to approach the issue of their choice.
Which is better: a model of several sections or solid?
The bulk of bimetallic radiators consists of sections. They are usually an even number. These elements, made in the factory, are combined into one common radiator. The joints between all sections are sealed gaskets, fixed nipples.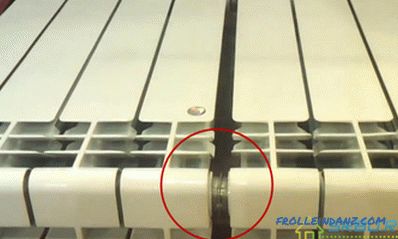 This option is convenient because you can always subtract or add the required number of sections - an experienced master can easily cope with this.
The monolithic construction is good because it can cope with enormous pressure - up to 100 atmospheres. After all, it has inside a monolithic core of steel, whose strength is higher than that of a sectional one. From above steel pipes are covered with an aluminum cover. Though less often than the previous type, such models are also found in stores.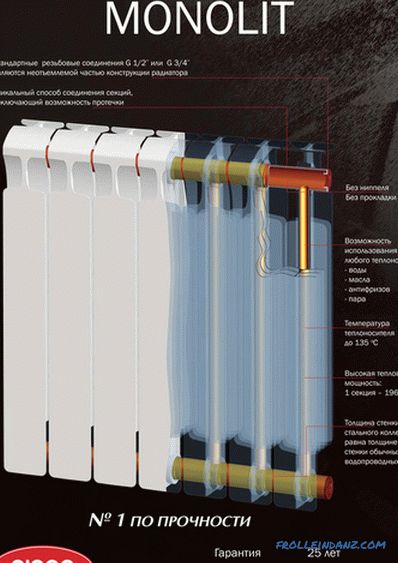 When choosing here, you need to look in the direction of what working pressure you need, if there are powerful hydraulic shocks in your centralized network, then choose monolithic devices. But they will be more expensive, so in all other cases it is better to stop at sectional ones.
Which radiators are safer and more durable
Bimetal batteries may differ slightly in the materials used. So, there are two types of radiators.
First made entirely on a steel framework.
The latter have only steel-reinforced channels through which the hot coolant flows.
Steel-frame radiators are better and more reliable. After all, they have hot water does not come into contact with aluminum alloy, so strong corrosion is not observed. Such a product will not leak for sure. At the same time, choosing a specific model, look at its value and weight. The heavier the battery, the more expensive it is. Radiators made on a steel frame produce such brands as:
Italian company Global Style;
Italian company Royal Thermo BiLiner;
Russian company Santechprom BM.
Russian company Rifar - model Monolit
In radiators, where the frame is not completely steel (they, by the way, are called semi-metallic), the heat output is higher. And the cost is somewhere one fifth less than that of radiators with a steel frame. The top three popular manufacturers can also be listed:
The Russian company Rifar (except for the Monolit model);
the Italian company Sira;
the Chinese company Gordi.
If you need a radiator for an apartment of a multi-storey building with a centralized heating system and old pipes, then your choice is a true bimetallic radiator made on the basis of a steel frame.
On which manufacturer to stop choosing
If you are thinking about a bimetallic radiator of which company to choose, then we will try to orient you in this variety. Argue that some well-known company for the production of radiators drives a marriage, it is impossible. After all, usually certified goods are sold, and therefore there should not be any defective products in principle. However, there are some differences from cheaper radiators. For example:
For their manufacture, slightly less steel and aluminum are taken.
They are less complex in design.
Painting works carried out according to the budget option.
As you can see, these are not so critical parameters. Therefore, the battery, which costs about 400 rubles for each section, cannot be called completely bad. They are simply not so beautiful, and the pressure can not be compared with more expensive models. However, they will do their work.
But some of them can be semi-metallic, they will differ dramatically in price, you can immediately understand it by looking at price lists and catalogs. About the companies that produce them, we spoke above.
The most common radiators from Rifar, Sira and Global are sold here. One section of domestic (rifarovsky) radiators costs from 350 to 400 rubles. Italian section batteries will be more expensive - from 420 to 500 rubles per piece. Specifically - you need to go to the store and watch certain models. After all, manufacturers produce sections with different heat output, design and construction. Therefore, you can always choose a radiator, focusing on the amount in the wallet.
Table: Comparative characteristics of different manufacturers and models of bimetallic radiators
Brand, country made.
Model
Distance between axes, mm
Dimensions, W / W / D (sections)
Max. working pressure, bar.
Heat output, W
Water volume in sections,
l
Weight, kg
Max. temperature

Italy

STYLE 350

---

STYLE 500

---

STYLE PLUS 350

---

STYLE PLUS 500
350

---

500

---

350

---

500
425/80/80

---

575/80/80

---

425/80/95

---

575/80/95
35
125

---

168

---

140

---

185
0.16

---

0.2

---

0.17

---

0 , 19
1.56

---

1.97

---

1.5

---

1.94
110

Italy

BiLiner Inox 500

---

BiLiner 500
500
574/80 / 87
20
171
0.2
2.01
90

Germany

TENRAD 350

---

TENRAD 500
350

---

500
400 / 80/77

---

550/80/77
24
120

---

161
0.15

---

0.22
1.22

---

1.44
120

Russia

RIFAR Forz a 350

---

RIFAR Forza 500

---

RIFAR MONOLIT 350

---

RIFAR MONOLIT 500
350

---

500

---

350

---

500
415/90/80

---

570/100/80

---

415/100/80

---

577/100 / 80
20

---

20

---

100

---

100
136

---

202

---

136

---

194
0.18

---

0.20

---

0.18

---

0.20
1 , 36

---

1.84

---

1.5

---

2.0
135

China

Gordi 350

---

Gordi 500
350

---

500
412/80/80

---

572/80/80
30
160

---

181
0.21

---

0.3
1.4

---

1.7
110

Italy

Gladiator 200

---

Gladiator 350

---

Gladiator 500
200

---

350

---

500
275/80 / 80

---

423/80/80
30
90

---

140

---

185
0.1

---

0.13

---

0.42
0.65

---

0.85

---

1.6
110
We select the distance between the axes
The functionality of various models of bimetal radiators is usually equivalent. But the distance between the axes of the collectors, they differ.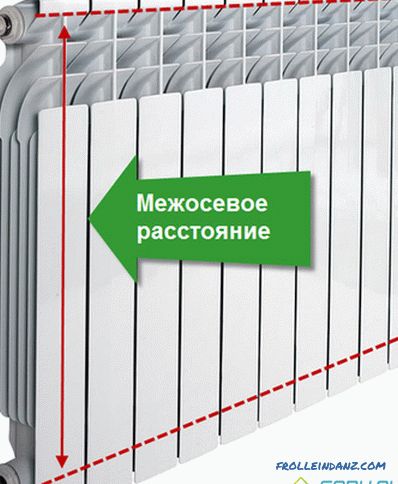 There are models with both its standard values ​​(50 and 35 centimeters) and non-standard ones. For example, if radiators of minimum or maximum height are suitable for your purposes, keep in mind the following points:
A small distance between the axes (20 centimeters) is only available for models from BiLUX, RIFAR and Sira.
A large distance between the axles (about 80 centimeters) is only available for models made by the Italian firm Sira.
It is possible to note some advantages of the products of our manufacturer - RIFAR. He makes a line of radiators RIFAR MONOLIT, in which the core is solid. Another line - RIFAR FLEX - can be rounded in accordance with the wishes of the customer.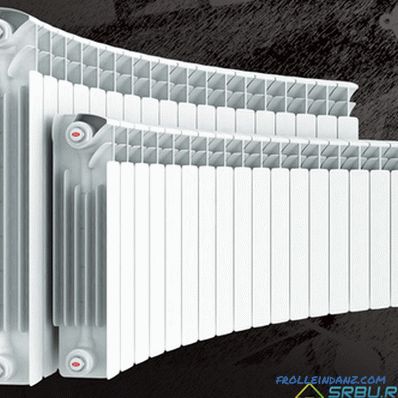 This is convenient in an apartment where the corners are not straight, but rounded. Such a radiator will flow into the design most optimally, and is ideal for wiring.
About the exterior of bimetallic radiators
Well, here you can only ask yourself how to choose bimetallic radiators. Everyone is free to choose according to taste, and also registration of the apartment. According to the colors, you can say this: snow-white batteries can be found in manufacturers such as RIFAR and Sira.If the bright white color seems too harsh for you, and the shade of baked milk looks nicer, then buy a Global radiator.
How much heat does the radiator give
The bimetallic model section gives off heat approximately at the level of the cast iron section. It's somewhere 150-180 watts. More details - in the passport of a specific model. Naturally, it is better to take a device that has this indicator more.
Working pressure is an important characteristic.
In central heating, the pressure is often "naughty." It happens, and water hammer happens. That is what the battery must withstand. Bimetal products have declared pressure from 20 to 35 atmospheres. This is enough even for apartments, not to mention private houses. But naturally, if you need a radiator to withstand more pressure, then choose monolithic models that withstand pressures up to 100 atmospheres.
How to choose how many radiator sections you need
Power can vary from 160 watts to 2.4 kilowatts. Depending on the area of ​​the heated room, choose a radiator of a certain power. You do not know how to choose how many sections will bimetallic radiators need? You can go two ways. The first is to entrust this to competent people. They'll figure it out. For any room - even in a high-rise apartment, at least in your own cottage with independent heating.
Do not want to trust anyone with the calculations - please. It is possible and most. It turns out, of course, not so perfectly accurate, but it is not critical. But the calculation method is quite simple. For him, you need to know some standard values. This is the thermal power (in watts), which is needed to heat one meter square room, where the radiator will be placed. Consider three options.
The room has one window and one wall facing the street. Ceilings from 250 to 270 centimeters high. The power to heat one square meter requires 100 watts.
The room has one window and two walls facing the street. The ceilings are the same. The power required for heating one square meter - 120 watts.
The room has two windows and two walls facing the street. Ceilings are again standard. Indicator of standard power - 130 watts.
Calculation:
1. We multiply the power index with the area of ​​the room - this will be the thermal capacity of the entire battery, which is necessary for a particular room. In the case of a house with high ceilings or a large area, we multiply the windows by an additional 1.1. This is the correction factor.
2. We take the radiator passport and write out from it the thermal power of one section. If the passport does not have this value, we find it on the off. site of the manufacturer. Dividing the number obtained in the first paragraph by this parameter, we obtain the number of sections. Problem solved. Yes, and another nuance: if the radiator is produced only with an even number of sections, and you get an odd number, you will have to round it up, while increasing it.
But if we are talking about sectional radiators, then some sellers remove or add the required number of sections and sell just as much as you need.
Calculation example:
We want to put a bimetallic Sira RS500 battery in a room that has only one window. The wall facing the street is also one. But the ceilings are high, three meters. The floor area is 19 square meters. Let's start the calculations.
We consider the total heat output that we need to heat this room. To do this, we multiply the area (19 square meters) by the standard (100 watts) and by a correction factor of 1.1 (we use it, since the ceiling height is greater than the standard values).
100 x 19 x 1.1 = 2090 (watts).
Looking in the passport of the radiator, we find out that one of its sections has a thermal power of 199 watts.
2090/199 = 10.5 (units).
This is the desired number of sections. Naturally, you need to round up to a whole number. Since the ten sectional model is the closest in terms of parameters, it makes sense to put it. So, we need 10 sections. As you can see, the calculations are not particularly difficult.
Video: Tips for replacing bimetallic radiators