The word high-tech has come into our everyday life from the English language, where it means "high technology" (literally - high technology). In principle, it cannot be said that most of our compatriots are fond of this style. Nevertheless, originality, dynamism and freshness of thought cannot be taken away from him. Therefore, high-tech style interior will always look modern and avant-garde. It is perfect for creative people, keeping up with the times.
But when you design an apartment in this style, it is important not to bend the stick, combining incongruous. And then the wits will laugh and obzvut lovingly decorated room interior in the style of "Hi-Tac". Therefore, it should perhaps be better studied, how does this trend differ from other styles, and in which rooms it is possible to use it, and in which areas it is not recommended.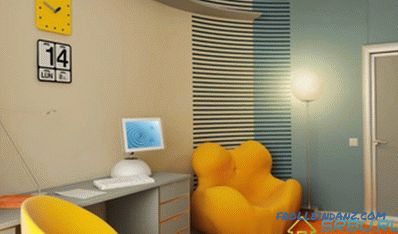 Let's look into the past - the history of high-tech design
For the first time, architects began talking about such a direction as hi-tech in the late seventies of the last century . This style originated as a product of modernism of the late period. Ten years after the appearance, he spread everywhere, coming into fashion. In conjunction with pop art and science fiction artwork, hi-tech has become a real challenge to established traditions, looking very lively and original.
The classic of the genre is the Paris Pompidou Center (1977). In France, they criticized him recklessly, saying that he terribly disfigure the historical center of the capital. But as time went on, the building got accustomed, and now the French proudly show it as one of the landmarks of Paris, along with the older symbols of the capital of France.
The architects of England fell in love with high-tech and tried with might and main to actively promote it. However, this direction did not stick in the architecture. Buildings built in this style can be literally counted around the world on fingers. But in the late eighties of the last century, high-tech style began to be used for interior decoration. Its popularity grew from year to year, and its peak came in the mid-nineties. However, even today this dynamic and bright style has not lost its relevance.
Basic principles of high-tech style
The following distinctive features are characteristic of high-tech interior design:
1. The lines are clear, rigorous and simple. However, right angles and flat planes are not as simple as they seem: they conceal convenient hidden drawers and shelves, built-in wardrobes and household appliances. This is called "complex simplicity."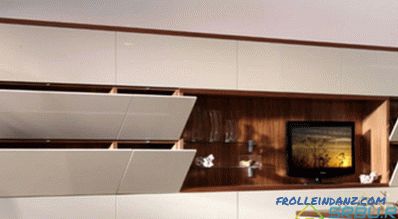 At first glance, you cannot say that these lockers can be opened
2. Use metal, glass, concrete and plastic elements. Such materials are also called industrial, in contrast to natural - wood and stone. The latter are either not used at all or are masked by staining under the metal, for example.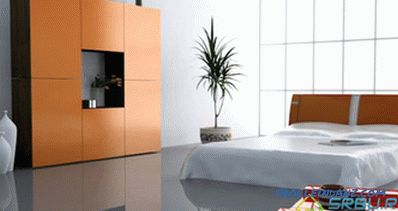 3. It is customary to leave brick and concrete "as is", without masking anything, sometimes a layer of plaster can be applied, but without excesses and flowers or imitation of bricks or blocks. Exquisite wallpaper, gilding and other decorations are not allowed.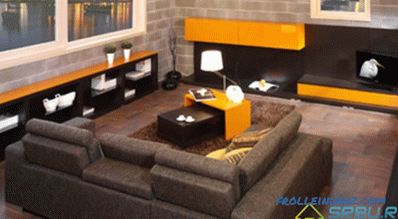 A room on the walls of which an imitation of blocks
4 was made. In the rooms there are often sliding doors and partitions. They are made of metal with frosted glass or plastic inserts. However, sometimes they are made of wood, not decorating anything.
A sliding door with frosted glass that divides the room into zones.
5. The hi-tech style is distinguished by an abundance of built-in lights. They are strengthened in the walls and ceiling. Sometimes used and built-in outdoor lighting. The lighting is also placed on furniture, which is usually made of metal with a chrome-plated or glass. The color of the built-in furniture repeats the color of the walls, and the lamps have an avant-garde look.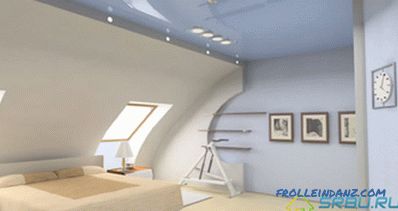 The lamps are located both on the ceiling and at the end of the side wall, due to the shape of which, the room resembles a spacecraft.
6. The main colors of this style are white, black, gray, metallic. House is decorated with paintings and sculptures in the spirit of the avant-garde. Often used for decoration black and white photographs and prints.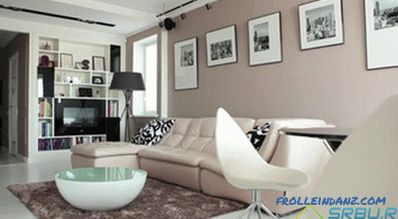 The living room wall is decorated with black and white photographs, and the furniture has unusual shapes.
7. In high-tech style, a large place is given to various super modern equipment. Here she is present everywhere. Technique of the latest models becomes one of the design elements, not only being used for its intended purpose, but also decorating the house. In this style, it is not customary to hide various communications and tubular structures, so here they are put on display.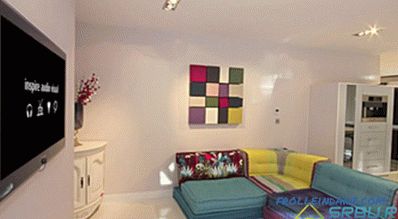 Large television panels are one of the main elements of this style.
Rooms that use high-tech design look spacious and comfortable.True, if you use this style in its pure form, you get a slightly cold interior. Therefore, when you make an apartment, it makes sense to "conjure" a little by mixing in other styles and softening some dry hi-tech. Next, let's look at the premises in which such a style would be appropriate.
Hallway - expanding the small space
This room is small. Since hi-tech is characterized by simplicity, functionality and dynamism, here it will fit. After all, if we decorate the hallway with elaborate decorative elements, then it will be completely lost, and it will seem tiny and cramped. Simple and clear lines of high-tech style - on the contrary, exactly what is needed in the corridor.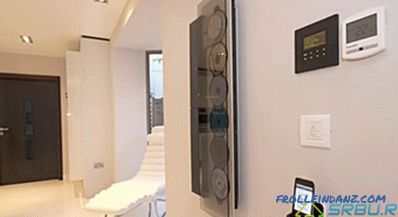 A simple, clean, bright entrance hall, no frills. The first thing that catches your eye here is the presence of various elements of household appliances.
Bathroom - convenience and conciseness
In the bathroom, too, there is not much room, and I want to put a lot of things. So hi-tech style will help out here. And the shiny surfaces of chrome and glass look great in the bathroom. Not only that - without metal and glass elements to do in this room will not work.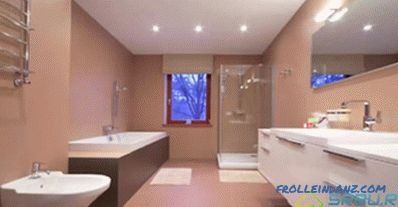 Straight lines, lots of light, glass and glossy surfaces.
To make the bathroom look stylish and modern, purchase a rectangular or square sink, metal or glass. Monochromatic tiles, large mixers of bright colors, a huge mirror will complement the interior.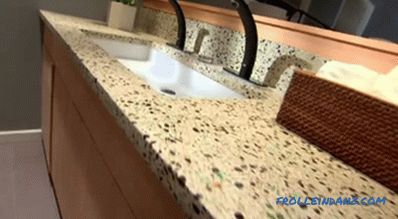 A large rectangular sink, unusual faucets and a huge mirror.
The main color of the room should be gray, metallic or silver. Yellow, blue and red details revive the situation. It can be stands for toothbrushes or shelves, for example.
Living room - the domination of modern technology
If the living room is small, then high-tech will do an excellent service, visually making it bigger. Although in a huge living room this style will look advantageous. Now, these rooms are often combined with a kitchen area - that's where stylish and comfortable glass or plastic partitions come in handy.
The design of the living room in this style requires the latest technology - you need to keep the brand. Unfortunately, you have to part with your favorite old TV or speakers from the last century - such a "retro" definitely will not fit into the interior.
Long pile on carpets and their bright colors do not fit well with high-tech style. But it looks good smooth or glossy flooring, plain wallpaper or painted walls and ceiling.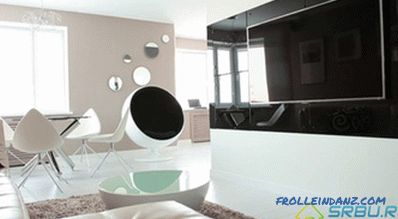 A living room, in which the main purpose is given to a large television panel and unusual furniture elements with glossy surfaces.
Bedroom - hi-tech is used only partially
The room where we sleep should be cozy and comfortable. Therefore, the bedroom is not completely finished in the style of "high technology" - it will turn out too strictly. But some of his "chips" can be used, and not without success.
For example, the bed looks great, devoid of a headboard and equipped with a built-in light. Will add an interior gray or colors of an ivory, and also wall-paper without drawing. A pair of avant-garde lamps - and the bedroom will be modern and original.
But don't get too carried away with glass, metal and plastic. For comfort, be sure to add textile elements of decor - then it will be nice to sleep in the room.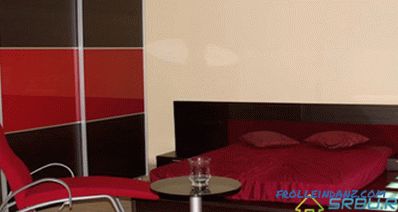 A bedroom, the main elements of which are a bed with integrated lighting and a closet with a glossy surface.
Children's - high-tech teenagers will appreciate
parents rarely draw out rooms for babies in such avant-garde style. Little girls and boys are more suited to cartoon characters and teddy bears on wallpaper, delicate pink and blue colors, soft fabrics. Therefore, the interior design in high-tech rooms for newborns is almost never found.
Children grow up, turning into restless teenagers who love everything new and original. Separate elements of the style of "high technology" in the room of the student will allow you to perfectly arrange the working area, as well as a place to relax. Especially if a son or daughter likes this style, then it is quite possible to decorate a room according to his or her tastes.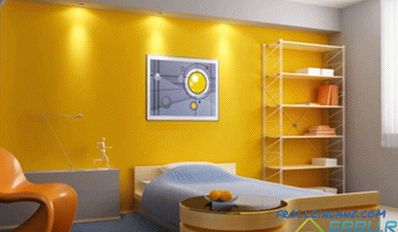 A simple, bright and dynamic room that will appeal to some teens.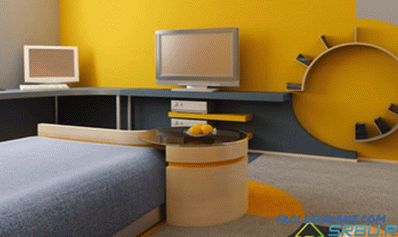 Exterior view of the work area of ​​the same room.
Kitchen - hi-tech fits perfectly
It is in the kitchen, sparkling with a variety of modern units, this style can be fully utilized. Yes, here the designer has a place to turn around, placing numerous built-in lockers and appliances. In this room, work is constantly in full swing, and "high technology" will fit in here just perfect.
Video: Exclusive high-tech kitchen
In this case, we buy single-colored tile for the apron.Although it would be even better to make an apron with frosted glass or metal. A lot of lighting, illuminating the working plane and cabinets, simple furniture without decorations, strict facades - this is what a modern high-tech kitchen looks like, shiny and dynamic.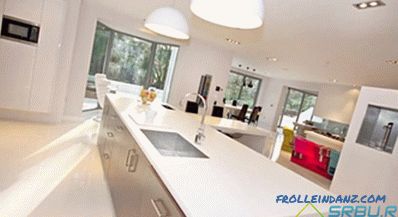 Spacious, bright kitchen with lots of lighting.
Video: High-tech kitchens
Office + high-tech - a great combination
In the workrooms, all the features of this concise, functional and bright style able to unfold completely. Instead of a boring government office with dull rows of jobs, you can get a brilliant example of style and functionality. It will not be a shame to invite any VIP client here, and he will be satisfied. And in the office of the CEO, and in a large working room, and in the receiving partition of glass and metal, together with modern technology and built-in bright lights will look just fine.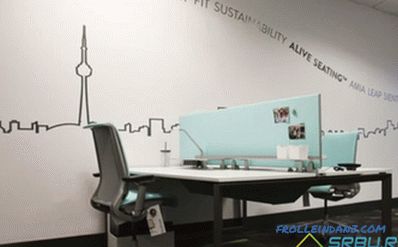 High-tech is simply created for the office - strict lines and simple forms, nice appearance and at the same time distracts nothing from work.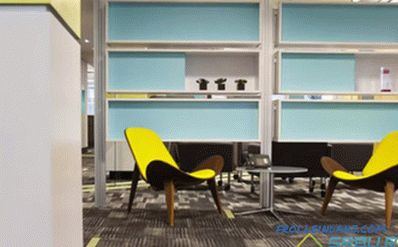 Taking into account all these points, it is possible to come to the conclusion that it is quite possible to use high-tech design not only in office buildings, but also in residential premises. Of course, not everyone likes it. Someone seems that the apartment in this style is too similar to the office, well, you should not persuade him. Everyone is free to choose what they like. But for those who love freedom and independence, they live vividly and dynamically, while appreciating functionality and laconism, the high-tech style may well be liked and even loved.
Looking at these photos, you can make sure that the rooms decorated in this style are quite cozy, and at the same time very unusual. Their main elements can be combined with other styles, creating beautiful and cozy interiors. And you can be sure that no one will have such an original apartment.
Video: High-Tech Style. Interior details