Nowadays, the most effective method for cutting concrete, bricks, floor slabs, reinforced concrete, tiles and other surfaces is diamond cutting. The quality and speed of cutting is the best way to find. The technology of diamond cutting is that a hard material acts on a softer one. For example, the knife can be sharpened with an abrasive wheel, the glass can be cut with a hot iron, and the paper with scissors. Diamond is the only mineral that can scratch and damage everything, because there is nothing firmer than it. It is clear that if you hit him hard with a hammer, he can split, as there is a difference between hardness and brittleness. A diamond is durable to pressure, but fragile "on impact." Therefore, the principle of diamond cutting is precisely the grinding of the surface.
A bit of history of diamond cutting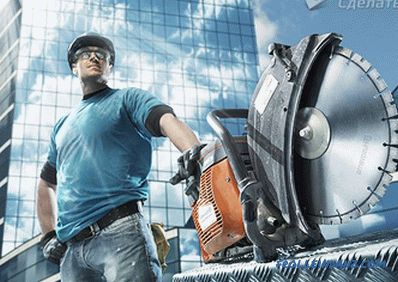 Diamond cutting has been applied since the middle of the last century
Any construction process that meets modern advanced technology can not do without the use of high-tech tools. Thanks to them, you can solve any engineering and technical problems. A big breakthrough in the improvement of specialized tools for cutting reinforced concrete , asphalt, floors and concrete was the use of diamond spraying on cutting tools. Now with the help of such equipment you can easily, quickly and efficiently handle complex surfaces.
"But this is incredibly expensive, use diamonds in construction!" - you can say. Due to the fact that in 1954 an American company developed a technology for the production of artificial diamonds, diamond-coated tools began to be widely used. In Europe, this technique appeared in the early 60s, in Western countries. Such tools have gained high popularity due to the rare properties of diamonds, which were fixed on its surface with the help of a bundle, by sintering, pressing and electroplating. The performance and quality of the tools depends on the type of diamonds, their concentration, and the characteristics of the binder material.
Since structures made of concrete and reinforced concrete gained great popularity, the technology of diamond drilling greatly simplified the task of processing this material. Since previously, for these purposes, jackhammers and perforators were used, the unbearable noise and dust prevented normal operation and were life-threatening. Moreover, such work required a lot of effort. Thanks to diamond-coated tools, construction has moved to a new, higher level.
What is the cutting technology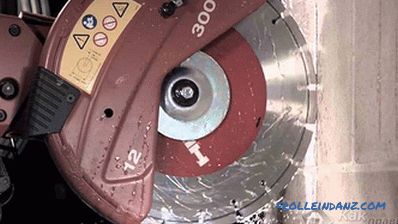 Cutting technology
Diamond cutting is a process , in which the formation of holes and openings in various designs using tools with a diamond coating. These can be disks, crowns, chains, ropes, etc. As we have said, diamond is the hardest mineral. Therefore, due to its properties, it can easily cope with any surface in which it is necessary to make an opening, a hole, or it just needs to be cut off. And no matter how durable it is. If you need to cut or dismantle various parts of a building, cut off a slab, make a window and doorway, or cut a piece of glass, such a tool will cope with your task. It is noteworthy that the work does not use percussion and vibration instruments.
Cutting can take place in 2 modes:
manual mode when man uses hand tools;
machine mode when all work is done by the unit.
Moreover, the cutting can be divided into 2 types: dry and using liquid. Since the cutting surface becomes very hot during friction, it needs to be cooled. If we talk about dry cutting, the plus can be called the fact that you do not need to look for water. The main disadvantage of this method is the formation of dust and tool wear, so you cannot use dry cutting indoors. That is why the method of using a liquid is much more efficient - when cutting, no dust is formed, and the equipment is constantly cooled, which prolongs the life.
More about the scope of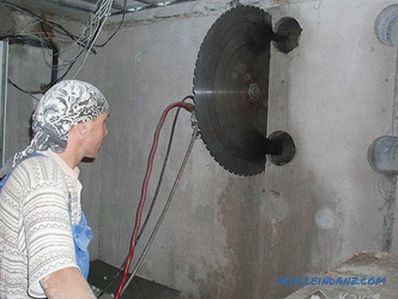 Cutting the doorway
Using diamond cutting is used for such purposes:
dismantling of window sills, partitions and other structures;
formation of functional channels, gates and openings in the walls for ventilation, water supply, sewage pipes, sewage systems and electrical networks;
removing scrap on monolithic slabs;
building renovation, forming new door and window openings in the walls;
housing redevelopment, combining rooms;
cutting through doors or windows openings of complex shape or their expansion;
dismantling of balconies, columns, marches, walls and partitions of the building;
cutting of a solid foundation, pool, chimney, garage and other reinforced concrete structures;
road construction work on cutting asphalt .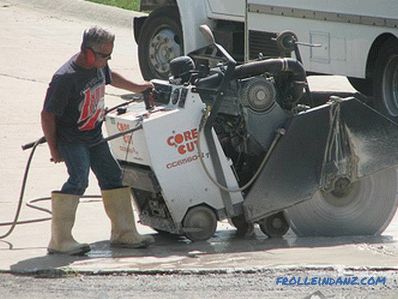 Cutting asphalt
All this and more can be realized , thanks to diamond cutting technology.
Advantages of diamond cutting technology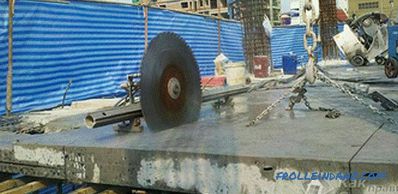 Compact equipment
Here are some advantages that make diamond cutting is so popular, simple and efficient:
Holes and cuts result in perfectly flat, precise and do not need to be ground.
The cut depth may be large, depending on requirements.
There is no dust, noise, vibration or cracks during operation.
Accessibility.
High speed of work.
High security.
Ability to work in three planes: horizontal, vertical and inclined;
Work is performed at any height.
Diamond tools can handle any hard material.
Equipment mobility, cutting in hard-to-reach places.
Water or air cooling.
Work can be both manual and automated.
Low price.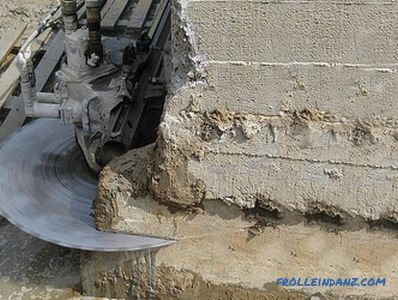 Versatility of use
Tools for diamond cutting
Without special Equipment can not be cut. It is with his help that all the work is done. Here are some of the tools and their brief description:
Electric handheld carver. This is a hand tool used for cutting surfaces in enclosed spaces that are not ventilated. Thanks to him, you can cut through the opening with a maximum depth of 125 mm on one side, and 250 mm, if there is access to both sides. It is possible to make cutting without dust when using water that is fed to the place of cut, as well as using a vacuum cleaner that sucks up all dust, preventing it from spreading. Apply this tool for cutting openings in residential areas when the use of a gas cutter is not possible.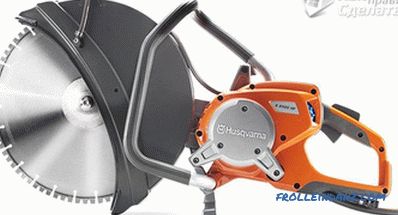 Electric manual cutter
Benzorez. Cutting takes place thanks to a disk with a diameter of up to 400 mm. It runs on gasoline. It can only be used outdoors and in well-ventilated buildings. As a result, working with a tool, you can get a cut of 150 mm on one side, and 300 mm when cut from two sides. All work needs to be done when water is supplied.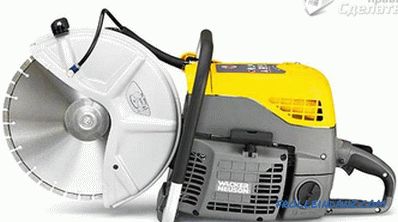 Benzorez
Hand saw with a diamond chain. Thanks to its long tire, such a saw can make a cut to a depth of 500 mm. Apply it rarely, since such work is very time consuming.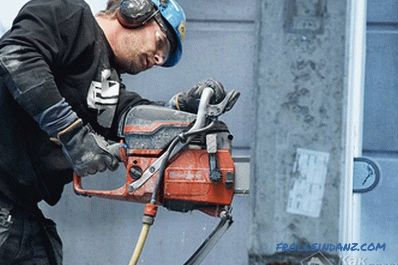 Hand saw with diamond chain
Wall cutting machine. This is a stationary device that can make openings: cut concrete to a depth of 1500 mm and even more. It is hydraulic and electric. It is based on a large circular diamond saw and guide rail, which is fixed on the surface to be cut. This equipment is much more efficient than hand tools, but it requires more resources and does not have the same mobility. A prerequisite for cutting is the supply of water, which serves to cool the tool and prevent the formation of dust. With this machine, you can cut at an angle, ceiling, horizontal and vertical.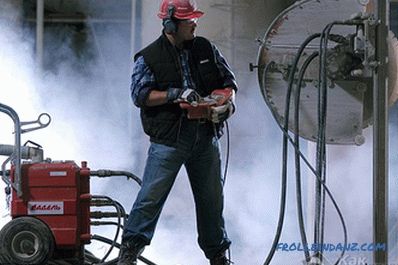 Wall-cutting machine
Wire cutting machines . For cutting with this method, they resort in cases when it is necessary to cut a large array of reinforced concrete or other hard materials. In this case, the cutting material is a special rope with segments, which is driven by the machine. In this case, you can cut a large material with an area of ​​10 m 2 . The required area is wrapped in a loop and thus the material is cut. It operates from a three-phase mains at a voltage of 380 V. Water supply must be a prerequisite for work. The peculiarity of such equipment is that it can be used under water.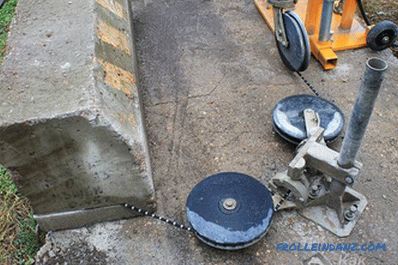 Rope cutting machine
Seam chisels. They look like a lawnmower.Suitable for cutting ceilings, asphalt and other materials arranged horizontally. The peculiarity of the work is that cutting can be performed with the least indentation from structures (columns, walls). Depth of cutting depends on the model. On average, it is 620 mm.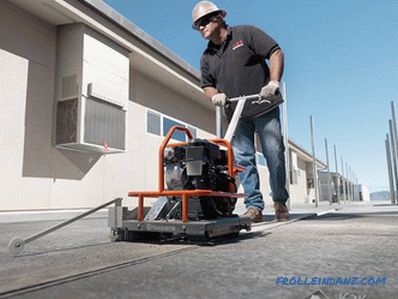 Stitch cutter
Power tools. Such equipment can afford each. It is suitable for the daily life and needs of the owner. It can be purchased at any hardware store for a low price. It is used for home use in small household chores. This includes the grinder, wall chaser, etc.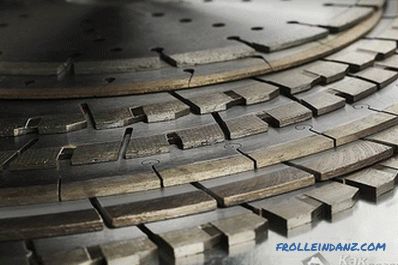 Cutting tools
Thanks to the use of such equipment, the cutting process was simplified many times. Technology is simply necessary in construction work, since it allows to solve the most difficult tasks.
Video
This is a video about concrete cutting technology with TYROLIT diamond wire:
See how diamond cutting is performed in Moscow with a wall saw: