Doorways are a necessary element in each room, but, despite the standards (rectangular shape), many quite often choose another option - the arch. For its creation it is necessary to use the usual recommendations of the builders, but an important part is its design, after which the arched passage will acquire its beauty. To date, the decoration of arches with decorative stone is very common, as everyone tries to develop and implement original ideas, thanks to which even a simple doorway will adorn the entire room.
In this article we will explain how to decorate the arch with your own hands in the apartment, give step-by-step instructions, as well as video and photo materials.
Nuances at installation
In most cases, arched passages from room to room are planned during construction, but you can also create such a passage after construction. In this case, it is worth considering tips for installing drywall arches. When changing the layout of apartments and houses there is a demolition of interior walls and the construction of new ones, while using profile and plasterboard sheets for the installation of partitions.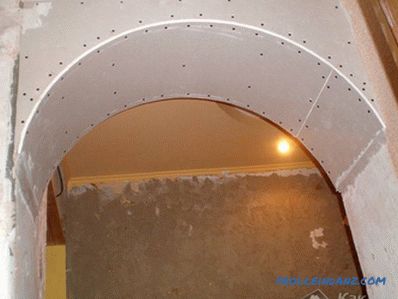 Drywall Arch
Since the aluminum profile is easy to install, it is excellent for structures any forms. It is also worth noting that drywall sheets can be shaped, so they can be mounted on a rounded profile. In addition to door arches, it can also be used to decorate small niches in the wall, but in this case it is several times more difficult to mount the structure.
When choosing materials for decorating drywall arches, you need to carefully consider the details and approximately determine the weight of the structure so that it can withstand the load.
Finishing materials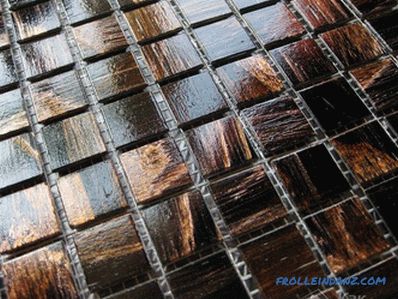 Mosaic on the grid
For decorating the arch use a variety of materials that are in specialized stores. Among the most common are:
mirror;
stone (natural, artificial, decorative);
mosaic;
ceramic tile;
textiles;
wallpaper;
plaster;
cork;
MDF;
plastic;
wood, etc.
In fact, the material can be absolutely anyone, as long as it is combined with the general interior, as well as well and securely attached to the arch itself.
When choosing a finishing material, you should not forget that it must be combined with several rooms at the same time, since such openings combine them into one whole.
Conventional and cork wallpapers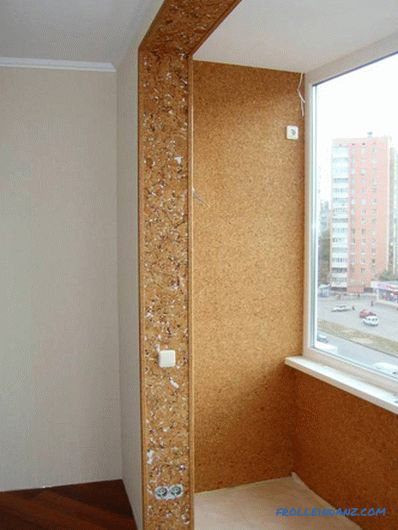 Cork wallpapers
Most often arches trim with simple and cork wallpaper. To do this, you need a standard set of tools: wallpaper, scissors, ruler, pencil, glue, brush. All sizes are measured and transferred to the wallpaper, the elements are cut, and then glued to them.
According to the advice of specialists, you must first glue the walls, and then the arched passage, with particular attention paid to the joints, which should converge as much as possible. When making openings in the apartment, it is necessary to take into account the humidity and temperature in the rooms in order to choose the right material.
Cork is an ecological material, as it is made of wood. In specialty stores, you can choose both wallpaper and panels that are glued to acrylic glue.
Decorative stone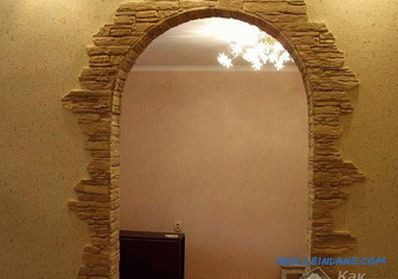 Having decorated the arch with a decorative stone, you can create a nice design. But it is rather difficult to carry out all these labor-intensive processes independently. However, the stone is distinguished by high performance, durability, and a universal pattern that is perfect for any interior.
When designing interior openings, it is necessary to level all surfaces and putty them to eliminate defects and irregularities. After applying primer. It is necessary to start laying at the joints, at the same time move upwards, and the inner side of the arch should be formed with an overlap of the outer one. If necessary, extra centimeters cut grinder. After laying all the elements of the openings are filled with a special grout (color is chosen correctly).
For fixing the elements of a decorative stone, you can use liquid nails or special glue on cement-lime basis.
Molding and corner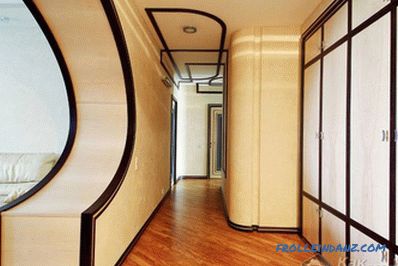 Molding
Quite often, together with Wallpaper or colored plaster use other elements, for example, complement the composition with molding or corner. Now in stores you can find a sufficiently large range of similar products, namely molding made of metal, polyurethane or gypsum. Such a variety allows you to complement any interior with original elements. To fix them is very simple. They are mounted on the ends of the arch on both sides using ordinary liquid nails.
Finishing of the openings of the arches with a corner is done in the same way. Corners can be made of various materials:
plastic;
wood;
metal;
aluminum;
MDF;
polyvinyl chloride, etc.
This is how the polyurethane molding is glued:
In fact, the corner performs simultaneously several functions: it is a separate element of the decor, it combines several types of finishes, and also protects the corners from scuffing and possible mechanical damage.
Mosaic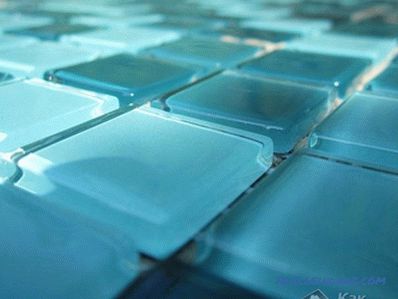 You can use the mosaic
Another fairly common mosaic is a decorative material for the decoration of the arched doorway. Its range is very large, as manufacturers use innovative technologies and modern equipment that allows you to create a mosaic of various materials:
glass;
ceramics;
metal;
concrete;
tile.
In order to make the arch finishing a mosaic it is necessary to prepare a decorating material, as well as an adhesive solution. In specialized construction stores sell ready-made formulations or dry mixes that must be diluted with water according to the proportions indicated. Glue is applied both on the mosaic itself and on the wall, but in small quantities and when using a notched trowel.
Do not forget that when laying mosaic it is necessary to adhere to the pattern, if any, in order not to disturb the composition.
The arch can be trimmed with a variety of materials and even an apprentice can do it quite well. The main thing - decide on the type of finishing material, as well as explore the technology of its installation. If you have questions about finishing the arch, then write comments to the article. Maybe you have additional tips for newbies? Write them, your experience can be useful!
Video
If you want to finish the arch with plaster, see how to do it:
Photos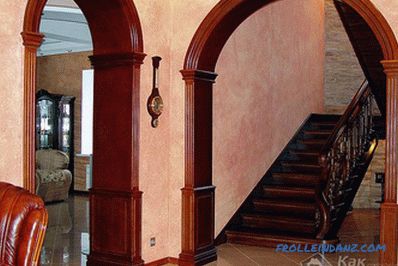 Wooden
Wooden Decor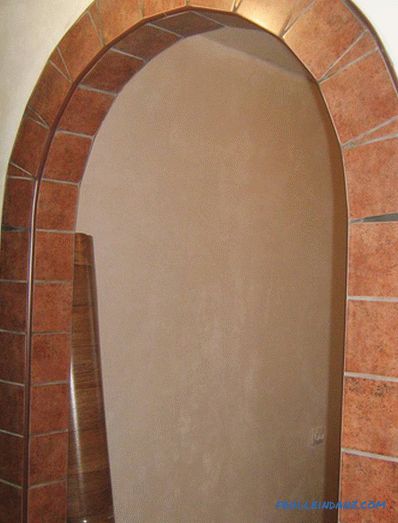 Tile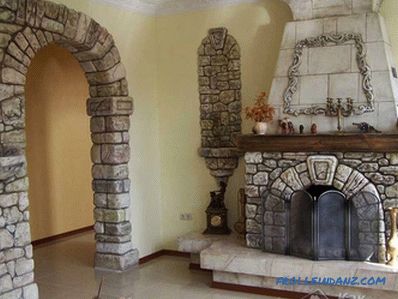 Stone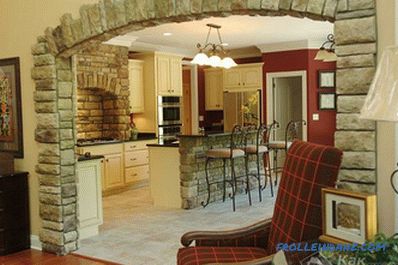 Masonry of decorative stone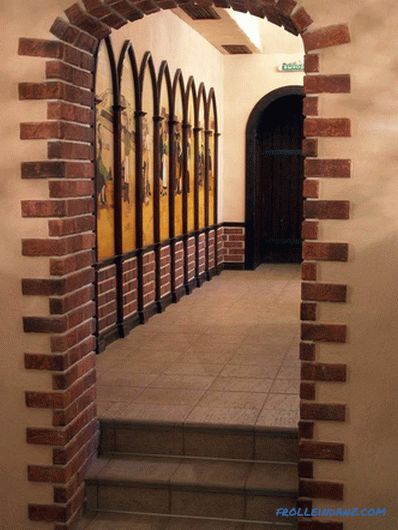 Clinker tiles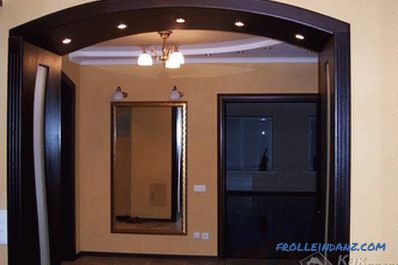 MDF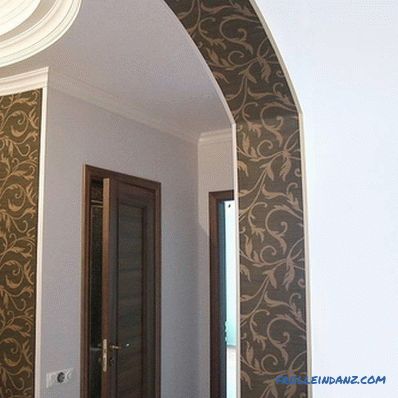 Lined with wallpaper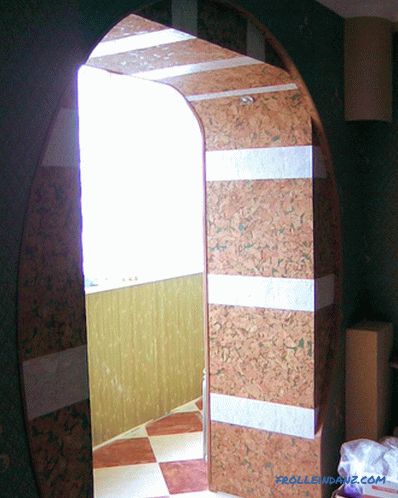 Cork decoration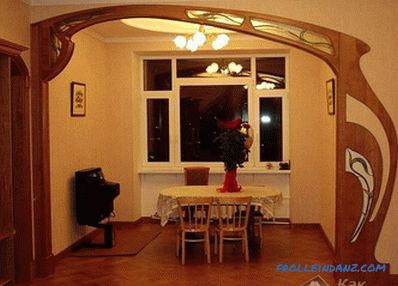 Wood with glass inserts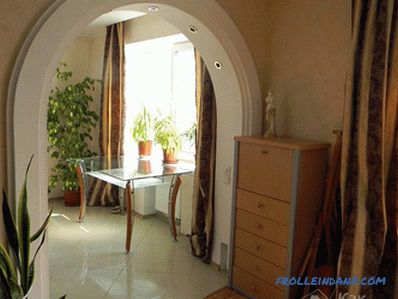 Made of drywall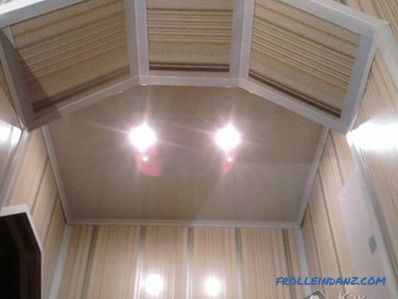 Plastic panels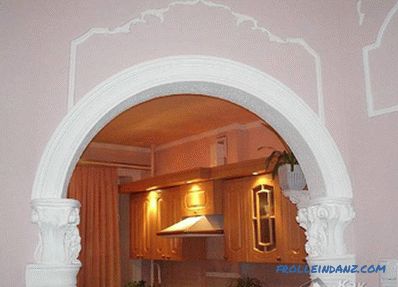 Polyurethane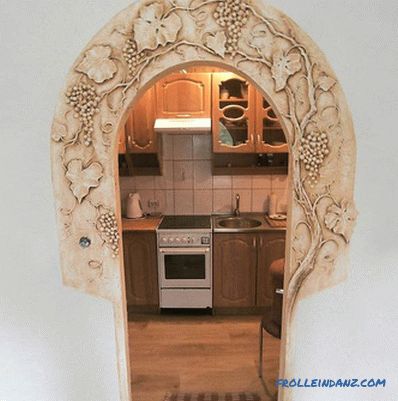 Painting on plaster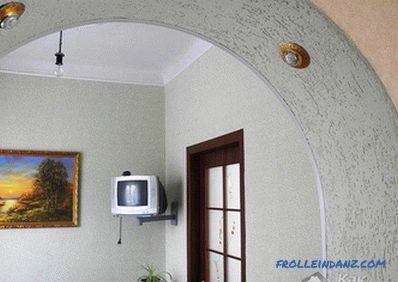 Plaster bark beetle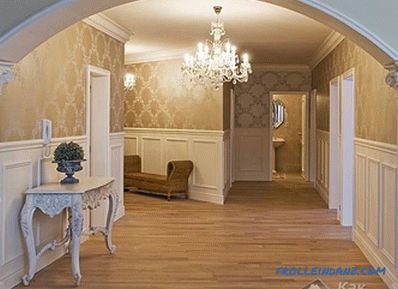 With moldings and decorative columns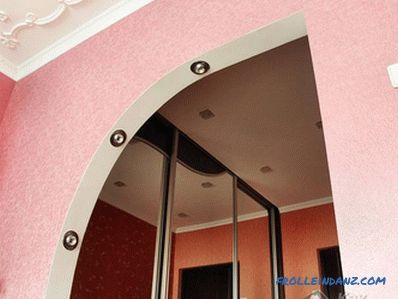 Built-in lights