Arbolit is a unique building material, ideal for the construction of walls, lintels, supporting structures. In the manufacture of blocks and slabs using sawdust, chips with wood chips, cement and water, as well as other components. Cement serves to protect wood waste from external biological and atmospheric effects. Shock-resistant, crack-resistant and durable blocks are obtained. This building material has the properties of stone and wood, excellent thermal insulation properties, fireproof, does not succumb to rot, unlike wood. In the article we will tell you how to make blocks of arbolita with your own hands.
Arbolit was popular in the second half of the last century. Using foreign experience, Soviet scientists together with manufacturers made the development of the optimal composition of the material. Houses were built from blocks of arbolita, which today have maintained their good condition. This is proof of the fact that wood concrete is characterized by excellent performance properties.
Arbolit is considered opilkobeton, for its manufacture requires only high quality cement, it is mixed with fine wood chips, chips and sawdust. It is important to observe the dimensions of the filler, they should be about 5 mm thick, and 25 mm long.
Wood filler
All wood fillers are first passed through the crushing mechanism, and then the mass is mixed with cement . Sugar, contained in organic matter, leads to swelling of the material; therefore, chemical substances in the form of calcium chloride and aluminum sulphate must be added to organic waste to neutralize sugar. In the manufacture of blocks of their own wood waste should be kept for several months in the open air.
Production of blocks from arbolita should begin with the processing of wood filler. To do this, crushed wood pulp should be filled with water and gently mixed. For the decomposition of sugar, it is recommended to keep wood waste in a solution of lime for about 3 hours. After soaking in a solution of lime organic matter is mixed with cement in a concrete mixer until a homogeneous mass, lumps should not remain. We must take the components in this proportion: 4 parts of water, 3 parts of cement and wood chips and sawdust. When squeezed in a fist, the finished mass should take the form of a lump, but it will turn out a little crumbly.
What are the advantages of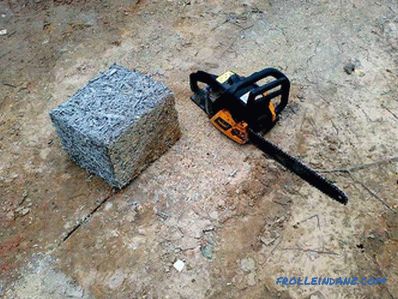 It is easy to cut
After hardening, Arbolit can be easily processed: cut, drill, adjust in different ways to the desired size.
The production technology is very simple and takes very little time.
The material lends itself to any finish: it adheres well to plaster and concrete, it can be lined with bricks, sheathed with plasterboard.
Blocks retain heat longer than bricks.
Arbolite is not exposed to fungal diseases.
It is characterized by frost resistance, durability and reliability.
It is lightweight and easy to transport.
It has environmental friendliness.
Production of blocks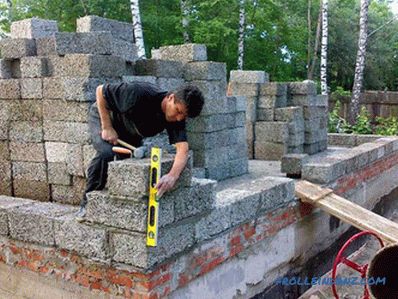 Construction of wood concrete
Prepared mass with wood base is used to make blocks for building a house. To create blocks of wood concrete it is necessary to prepare forms from wooden boxes of the desired size, in which the bottom should be removable. In order to easily remove the finished blocks, it is possible to sheathe the boxes from the inside with pieces of linoleum or film. The mass in the cooked form lay layers in 2-3 stages, each layer should be carefully rammed. To increase the strength and resistance to atmospheric phenomena outside the blocks lubricated with a solution of cement. Dried blocks in the form more than a day, so that the mass was able to harden. Then the blocks must be moved under the canopy, because they can dry out and crack under the rays of the sun.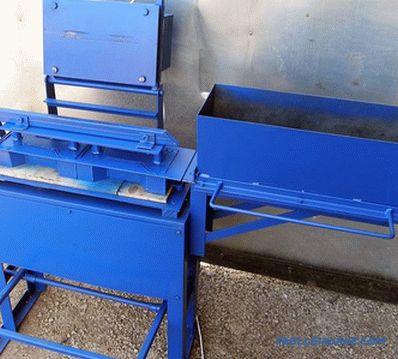 Machine for the production of wood concrete
You can buy a machine for the production of wood concrete, it is inexpensive. Professional equipment includes machine tools, concrete mixers and presses for tamping. If you want to buy blocks, the price is affordable - about 50-60 rubles per block.
Video
The process of making opilkobeton and mixture proportions: