Gray is definitely one of the most used colors in the interior. Available in a variety of halftones and shades, it has become the most favorite option for both designers and homeowners. One of the reasons for this is the modern trend of creating stylish and elegant interiors with clean and well-defined lines.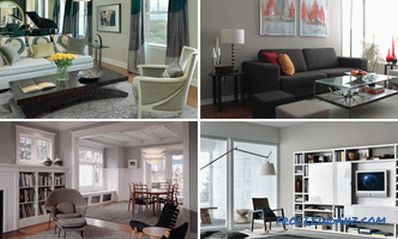 Thanks to its subtle shade of semi-minimalism and the ability to create a neutral and slightly uncertain style that is gaining increasing popularity, gray has come to the center of attention. Beautiful, diverse and at the same time being an ideal basis for color accents, the gray color in the interior is elegance, refinement and some understatement.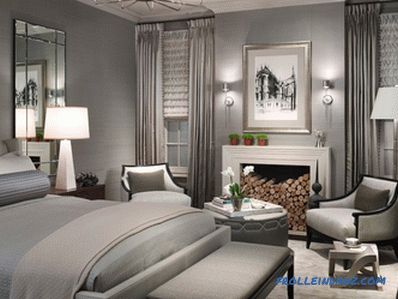 The immaculate gray bedroom combines style and elegance.
Photo credit: Michael Abrams Limited.
The contrast offered by the gray color - from cold hues to warmer tones - allows you to choose a color scheme for your whole house with enough possible variations. Ideal for any corner of the house, it can be perfectly combined with other bright colors. But even as an independent color, gray is wealth and sophistication.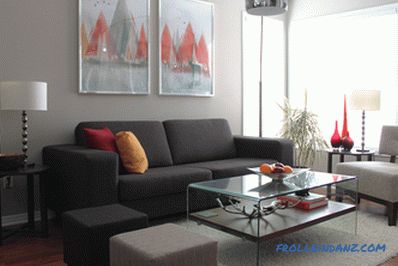 The modern living room organically combines various shades of gray.
Photo credit: Leclair Décor.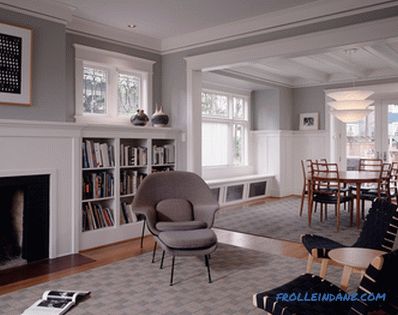 Gray chair-belly from Eero Saarinen.
Photo credit: Sheri Olson Architecture PLLC.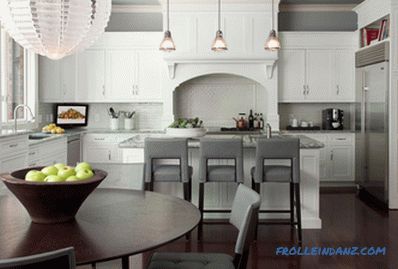 The use of gray in the kitchen and dining room creates a sense of the integrity of the space.
Photo courtesy of: Jeffrey King Interiors.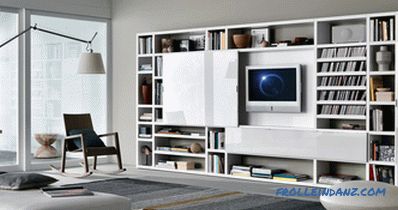 The gray color in the living room serves as a natural contrast to the white shelves.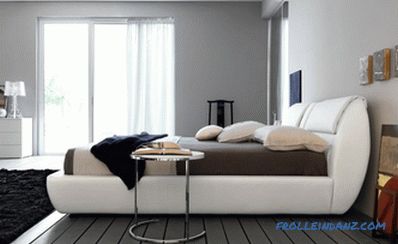 Minimalist bedroom in bluish-gray tones.
Photo credit: Imagine Living.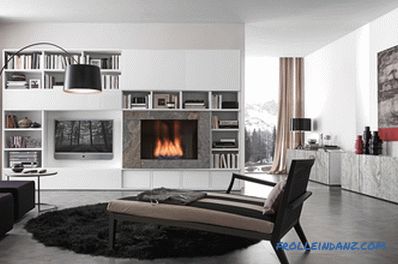 Subtle addition of various shades of gray to the interior.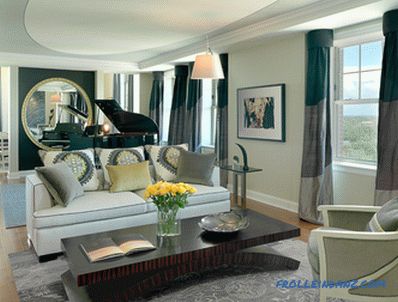 A creative approach to the use of gray will help create a lively atmosphere!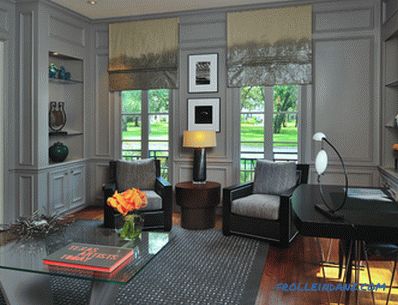 The gray color in the interior of the cabinet adds to its elegance and refinement
Photo credit: Wendt Design Group.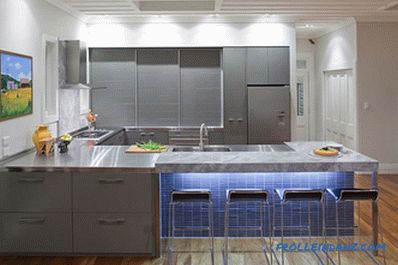 A hint of blue in the gray kitchen. Photo credit: Natalie Du Bois.
Relaxing bedrooms in gray
Although some believe that the bedroom should reflect the personality of its owner, this does not mean that in its design you need to use boldly bright colors. Numerous studies of sleep and everything connected with it indicate that too many bright colors in the bedroom can lead to excessive arousal, which does not contribute to a good night's rest. Gray color not only makes the interior contemporary, but also creates an aura of peace and tranquility in it. Cool gray-blue or chic shades of gray with a hint of silver offer the perfect balance between calm and style.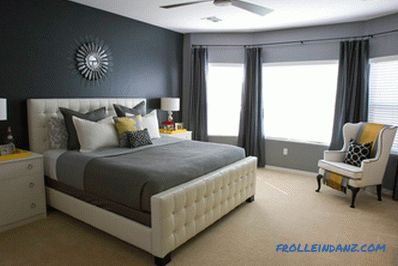 The bedroom in white and gray with bright yellow accents is soothing and stylish at the same time.
Photo credit: Michelle Hinckley.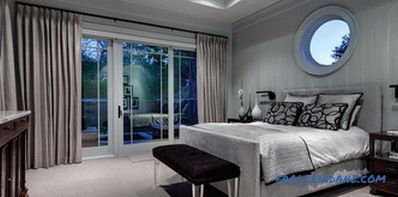 Silver and gray are becoming increasingly popular in modern bedrooms.
Photo courtesy of: Domiteaux + Baggett Architects.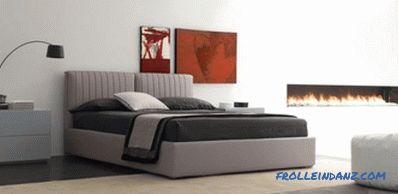 Gray bedding and decorative elements slightly dilute the snow-white background of the interior.
Luxury bedding, pillows and various accessories of gray shades, unlike any exotic flowers, are much easier to find. Once this perfect gray canvas is created, you can change accents and add contrasting colors depending on your mood, season and latest fashion color trends!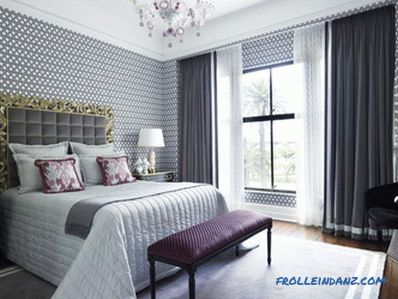 Gray and purple create in the bedroom an aura of relaxation and luxury!
Photo credit: Greg Natale.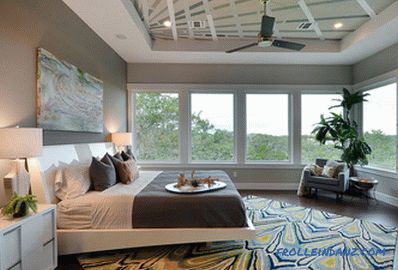 Bedding and decor of suitable shades can highlight the beauty of the gray color of the walls in the bedroom interior.
Photo courtesy: Pillar Custom Homes.

Bright table lamps are a great contrast if they are located on a gray background.

The abundance of fresh air and sunlight gives this bedroom a special attraction in light gray tones.
Photo credit: Catherine Nguyen.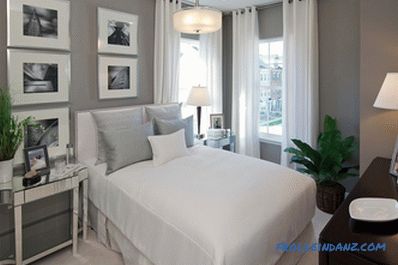 A fabulous bedroom in gray tones creates an atmosphere of privacy in the house!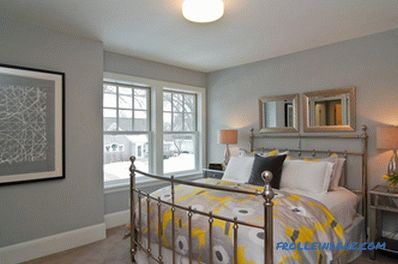 Light gray edema like and some more bold colors, can lift your spirits.
Photo credit: Great Neighborhood Homes.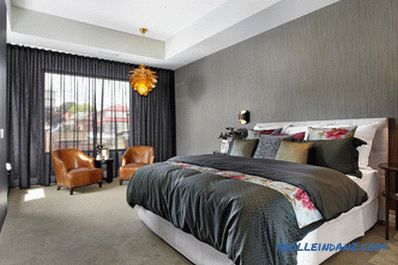 In search of what combines gray in the interior, look for orange and pink.You will surely like it!
Great living rooms using gray tones and shades
Gray is also perfect for a modern living room. While white is often used to create a clean background, gray adds complexity and chic to an interior. Since living rooms are much less private than bedrooms or bathrooms, homeowners tend to use muted tones in them. Cold shades of gray can be used in rooms with adequate natural ventilation and excellent lighting. Warmer shades of gray are ideal for compact living rooms, which need to add a sense of spaciousness and lightness.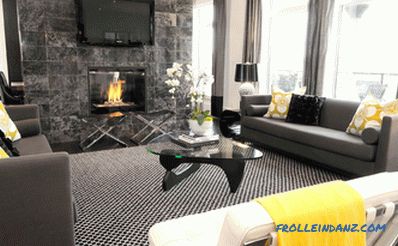 The gray interior looks simply amazing thanks to its bright yellow accents resembling the kiss of the sun.
Photo courtesy of: Atmosphere Interior Design.

Light silver-gray color combines minimalism and dazzling charm.
Photo credit: Niki Papadopoulos.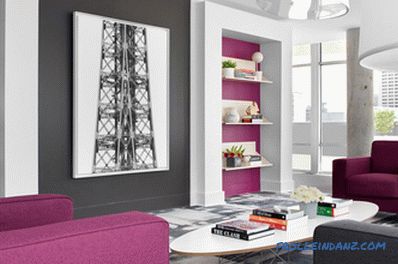 Luxurious magenta in combination with gray and white looks very elegant in the living room.
The naturally neutral color allows you to experiment endlessly with the décor and accessories. Combining different shades of gray is also a good idea, as it offers subtle variations without drastically moving away from the main theme.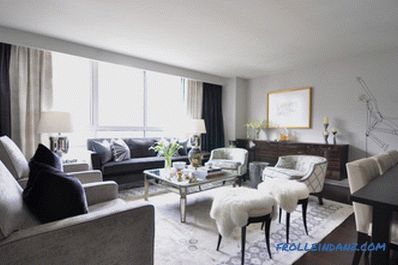 The combination of natural lighting with light and dark gray shades.
Photo credit: Meredith Heron.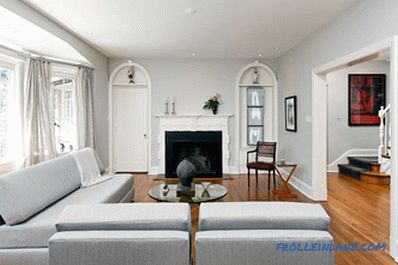 A cool light gray with a slight shade of blue to refresh the living room space.
Photo courtesy of: Case Design / Remodeling.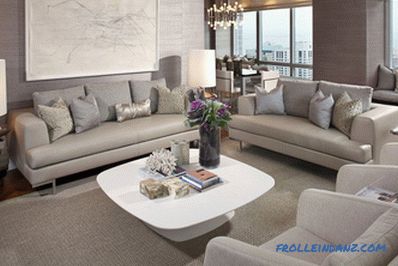 The contrast in textures of materials can make gray more interesting and exciting.
Photo credit: Green Couch Interior Design.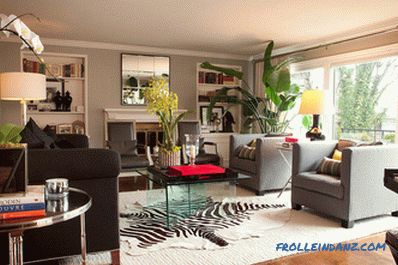 Different shades of gray, seasoned with rich greens!
Photo courtesy of: Garrison Hullinger Interior Design.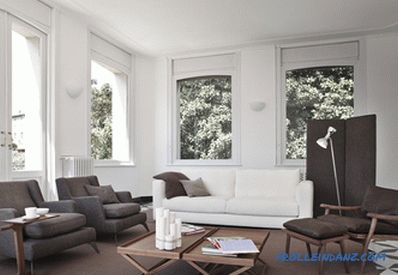 Sometimes gray strokes on a white background resemble theatrical scenery.
Photo credit: Usona.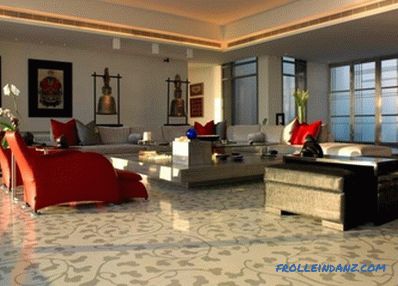 Gray flooring allows you to add a touch of diversity to the interior.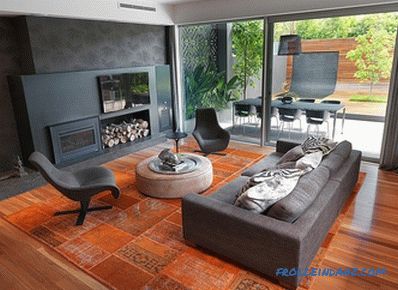 Warm woody tones combined with deep gray.
Fine kitchens and canteens in gray
Gray is not the most common color for a kitchen, the most popular here is still white or almost white. But in the past few years, this tradition has increasingly receded, and white in modern ergonomic kitchens has been replaced by no less relevant gray. The growing number of homeowners who are ready to use gray as the predominant shade in their kitchens, indicates a change in views on what should be the kitchen space. This color is ideal for homes that are located in warmer regions, with plenty of sunshine and relatively hot weather.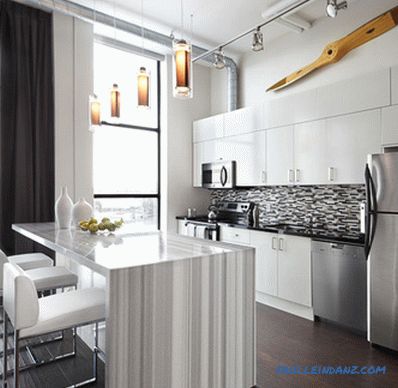 The island of gray-white striped marble is at the center of attention.
Photo courtesy of LUX Design.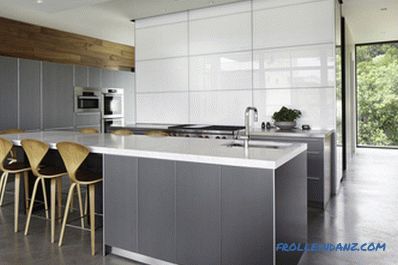 Warm wooden surfaces blend well with cool gray.
Photo courtesy of Cornerstone Architects.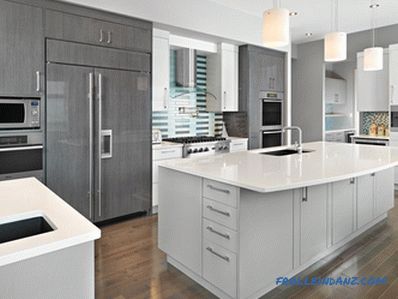 Gray high-quality furniture with the right approach can look very attractive and attractive.
Photo courtesy of Cucina Bella - Rebecca Gagne CKD.
Since the kitchen, as a rule, boasts functional lighting, achieved by using different sources, there is no fear that a dark corner or a common twilight will disturb the color scheme. The combination of gray in the interior of the kitchen with red, green or yellow leaves no place for homeliness and routine. Gray in the interior of the kitchen and dining room is really in the trend of time.

Many shades of gray contrast with each other.
Photo courtesy of: Joseph Trojanowski Architect).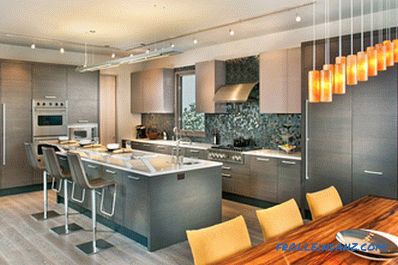 Beautiful lighting and eye-catching dining area serve as a successful addition to the kitchen in gray tones.
Photo courtesy of New Mood Design.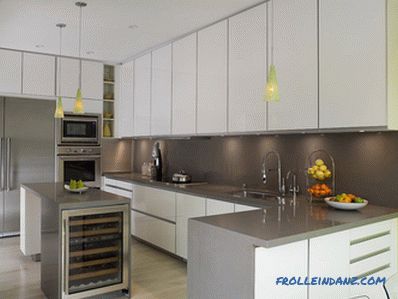 Ergonomic kitchen in gray tones with stylish green elements.
Photo courtesy of Dijeau Poage Construction.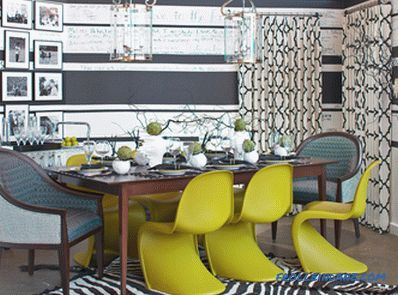 Yellow-green chairs in the style of Werner Panton enliven the gray dining room.
Photo courtesy of Cynthia Mason Interiors.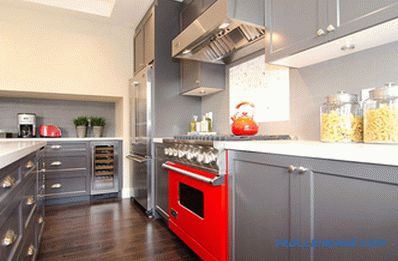 Modern kitchen in gray tones with a dramatic red smear.
Photo courtesy of Odenza Homes.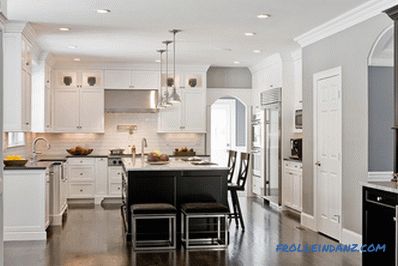 Light gray tones are effortlessly combined with black furniture.
Photo courtesy of Venegas and Company.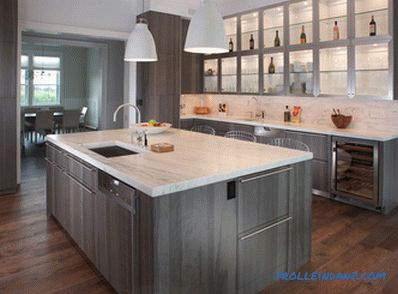 Greenish-gray cabinets enliven this compact open-plan kitchen.
Photo courtesy of John Lum Architecture.
Refreshing bathrooms and ergonomic cabinets
People often do not dare to use the gray color for fear that it will give the interior a "sterile", monotonous look. But most often this can be avoided by using a creative approach and the sensible use of color spots. Bathrooms in gray and white can get the look of a luxurious spa, and the combination of gray in their interior with stone, glass or wood will make these rooms truly unique and refined. Cabinets, corridors, home theaters in gray tones look no less stunning.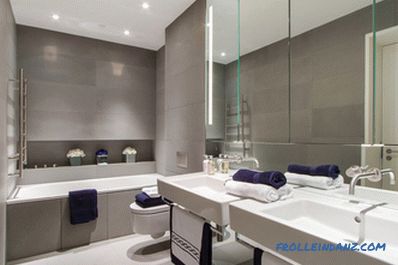 Thanks to the neutral gray background, neatly folded towels act as a color accent.
Photo courtesy of Chris Snook.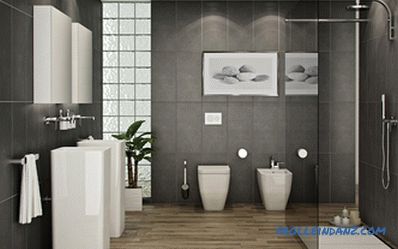 A stylish, modern bathroom made in gray, white and black. Just amazing!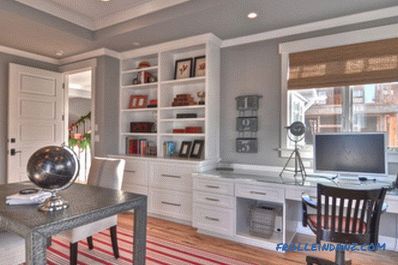 Home office in white and gray tones.
Photo courtesy of LuAnn Development.
The power of gray is in its neutrality. This gives creative people the opportunity to experiment with exciting bright colors such as orange or fuchsia. For those who do not have an adventurous character, this color offers a ready-made interior color solution, because gray looks much more fashionable than simple shades of white. Like Erica James's erotic novel Fifty Shades of Gray, this paint scatters from the store shelves at a breakneck pace. It's time to take advantage of this sophisticated splendor with a touch of inspiration and luxury!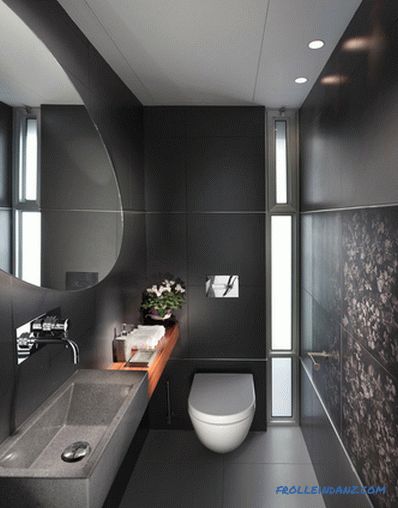 Dark gray shades can give brilliant results.
Photo courtesy of Elad Gonen. Zeev Beech.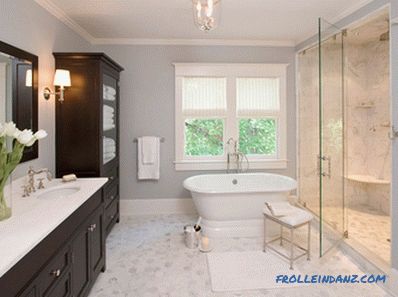 The relaxed atmosphere of this bathroom is created by the light gray color of its walls.
Photo courtesy of Clawson Architects.

The gray countertop gives this bathroom a special touch.
Photo courtesy of Austin Interior Renovations. Statewide Remodeling.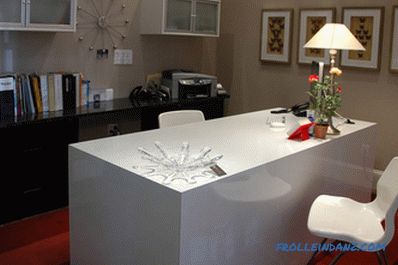 Warm shades of gray along with white and red are ideal for the cabinet.
Photo courtesy of AB HOME Interiors.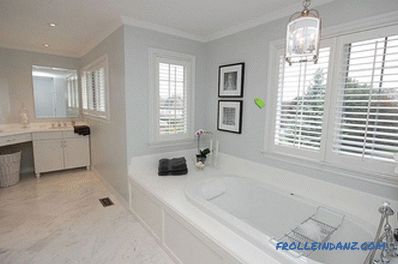 A spacious bathroom in gray and white promises spa luxury right in your home.
Photo courtesy of Pear Interiors.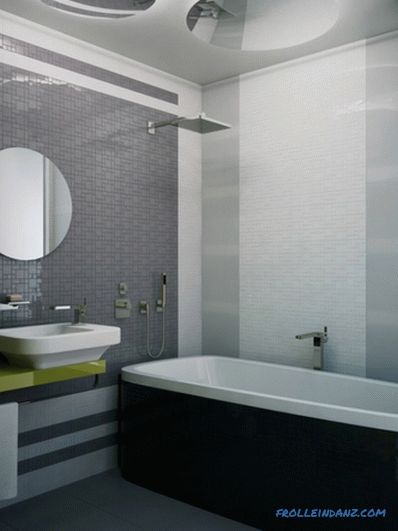 Different shades of gray combined with white and black give the minimalist bathroom a special splendor.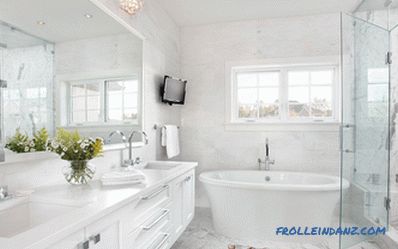 The combination of white and gray creates a feeling of luxury and wealth.
Source of translation: www. decoist. com