In almost every apartment today you can see laminated flooring. It is practical, comfortable and beautiful. And there is an opportunity to choose from a huge variety of colors for the soul. By the way: the size of the laminate board is also different. Much depends on them: for example, the speed of installation and its convenience.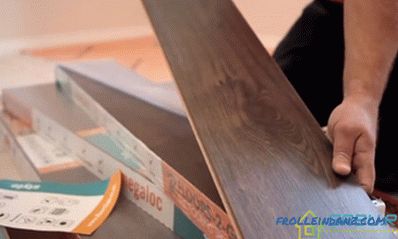 What you need to know about the size of the laminate boards
Like any rectangular geometric body, the height of the laminate board is determined by its height, width and length.
Height (thickness)
The thinnest laminate boards have a height of 0.6 cm, and the thickest are 1.2 cm. Almost all manufacturing companies produce 0.8 cm thick boards. Thick boards in operation manifest themselves better. They are characterized by the following:
There are almost no traces of furniture legs on the thick laminate.
It conducts heat worse, so the floor will get warmer.
Boards have less variation in size, so floor installation is simpler.
Board width
Narrow laminate boards, similar to real parquet, have a width of about 9 cm. To imitate ceramic tiles, boards are made wider - 33 cm. 5 to 19.5 cm. With such dimensions, the texture of the tree looks most natural.
Board length
Length from 126 to 138 cm is the standard size of the laminate. Sometimes there are also very long boards for sale, the size of which reaches 184.5 cm. It is more difficult to work with them, as it is not always possible to evenly lay such long floorboards. And the base is ideally leveled - not an easy task.
And before choosing the length of the floorboards, take a close look at your room. If it is spacious, then the board can be taken longer. So it will work out faster. And for a small room, it is quite enough to use oversized boards.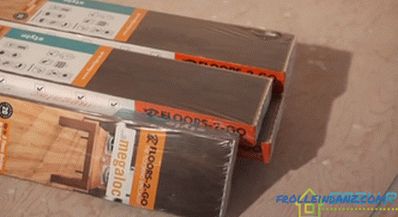 Laminate overall dimensions depending on the manufacturer
The following are the sizes of the laminate of the most popular collections and manufacturers:
Alloc
| Collection name | Board size, see | Number of boards in a package, pcs. |
| --- | --- | --- |
| Original | 120.7 * 19.3 | 8 |
| Home Plus | 128.8 * 18.6 | 7 |
| Domestic | 121.2 * 19.3 | 8 |
| Commercial | 121.2 * 19.3 | 8 |
| Commercial Stone | 120.7 * 19.3 | 8 |
| Prestige Narrow | 120.7 * 12.8 | 8 |
| Prestige Wide | 120.0 * 29.9 | 5 |
Aqua-Step
| Collection name | Board size, see | Number of boards in a package, pcs. |
| --- | --- | --- |
| All collections | 120 x 16.7 | 8 |
Balterio
| Collection name | Board size, see | Number of boards in a package, pcs. |
| --- | --- | --- |
| All collections | 126.1 x 18.9 | 8 |
BerryAlloc
| Collection name | Board size, see | Number of boards in a package, pcs. |
| --- | --- | --- |
| Grandioso | 203.3 x 20.9 | 5 |
| Loft | 128.8 x 18.6 | 8 |
| Business | 128.5 x 18.6 | 8 |
| Naturals | 128.8 x 18.6 | 8 |
| Regency | 128.8 x 12.0 | 8 |
| Residence | 128.8 x 24.1 | 6 |
| Riviera | 128.5 x 18.6 | 8 |
| Tiles | 128.1 x 32, 1 | 5 |
| Titanium | 122.8 x 18.6 | 7 |
| Unique | 119.0 x 39.3 | 4 |
| Empire | 128 , 8 x 18.6 | 6 |
| Elegance | 203.3 x 24.1 | 5 |
| Essentials | 128.5 x 18.6 | 9 |
| Exquisite | 128, 5 x 18.6 | 7 |
Berry Floor
| Collection Name | Board size, see. | Number of boards in a package, pcs. |
| --- | --- | --- |
| Loft Woodsound | 128.5 x 18.6 | 8 |
| Naturals | 128.5 x 18.6 | 8 |
| Elegance | 203.3 x 24.1 | 5 |
| Essentials | 128.5 x 18.6 | 9 |
| Exquisite | 128.5 x 18.6 | 7 |
| Grandioso | 203.0 x 20.9 | 5 |
| Regency | 128.1 x 12.0 | 8 |
| Residence | 128.8 x 24.1 | 6 |
| Riviera | 128.5 x 18.6 | 8 |
| Loft | 128.5 x 1.86 | 8 |
| Tiles | 128.1 x 32.1 | 6 |
| Titanium | 128.8 x 18.6 | 7 |
| Unique | 128.5 x 18.6 | 8 |
| Vintage | 128 , 5 х 18.6 | 8 |
| Royalty PasoLoc DELUXE | 128.5 x 18.6 | 8 |
| Royalty PasoLoc | 128.5 x 18.6 | 8 |
Bode
| Name to lecture | plaque size, see. | Number of boards per pack, pcs. |
| --- | --- | --- |
| Safari | 121.7 x 12.7 | 10 |
| Canada | 121.0 x 16.5 | 10 |
| Alpen | 121.5 x 16.5 | 10 |
| Lamini | 80.8 x 13.0 | 15 |
| Premio | 59.8 x 29.8 | 10 |
| Crystal | 121.5 x 16.5 | 10 |
| Nature | 121.5 x 16.7 | 10 |
| Nordic | 121.5 x 16.5 | 10 |
Kronostar laminate
| Collection name | Board size, see | Number of boards in a package, pcs. |
| --- | --- | --- |
| Premier | 138 x 19.3 | 8 |
| Home | 138 x 19.3 | 8 |
| Superior | 138 x 19.3 | 8 |
| Grunhoff | 138 x 19.3 | 8 |
| Salzburg | 138 x 19.3 | 7 |
| Prime line | 138 x 19.3 | 9 |
Kronospan laminate
| Collection name | Board size, see | Number of boards in a package, pcs. |
| --- | --- | --- |
| Castello | 128.5 x 19.2 | 9 |
| Kronofix | 128.5 x 19.2 | 9 |
| Quick Style | 128.5 x 19.2 | 7 |
| Comfort | 128.5 x 19.2 | 10 |
Kronoflooring laminate
| Collection name | Board size, see | Number of boards in a package, pcs. |
| --- | --- | --- |
| Super Natural Classic | 128.5 x 19.2 | 9 |
| Castello Classic | 128.5 x 19.2 | 9 |
| Variostep Classic | 128.5 x 19.2 | 9 |
| Vintage Classic | 128.5 x 19.2 | 7 |
| Floordreams Classic | 128.5 x 19.2 | 6 |
| Kronofix Cottage | 128.5 x 19.2 | 10 |
| Kronofix Classic | 128.5 x 19.2 | 10 |
| Vintage Narrow | 128.5 x 12.3 | 9 |
| Variostep Narrow | 128.5 x 12.3 | 12 |
| Super Natural Narrow | 128.5 x 12.3 | 12 |
| Castello XL Stoneline | 127.6 x 32.7 | 6 |
| Stone Impression Classic | 128, 5 x 32.7 | 6 |
| Variostep Long | 200 x 19.2 | 6 |
| Castello Wide Body | 128.5 x 24.2 | 8 |
| Variostep Wide Body | 128.5 x 24.2 | 8 |
| Super Natural Wide Body | 128.5 x 24.2 | 8 |
Tarkett laminate
| Collection name | Board size, see | Number of boards in a package, pcs. |
| --- | --- | --- |
| Holiday | 129.2 by 19.4 | 8 |
| Fiesta Cool | 129.2 by 19.4 | 8 |
| Playstyle 832 | 129.2 by 19.4 | 8 |
| Jungle 832 | 129.2 by 19.4 | 8 |
| Select | 129.2 by 19.4 | 8 |
| Lamin'Art 832 | 129.2 by 19.4 | 8 |
| Polaris Style | 129.2 by 19.4 | 8 |
| Oak Art | 129.2 by 19.4 | 8 |
| Intermezzo | 129.2 by 19.4 | 8 |
| Cozy | 129.2 by 19.4 | 8 |
| Vintage | 129.2 by 19.4 | 8 |
| Legacy | 129.2 by 19.4 | 8 |
| Woodstock Premium | 129.2 by 19.4 | 8 |
| Woodstock | 129.2 by 19.4 | 8 |
| Robinson Premium | 129.2 by 19.4 | 8 |
| Holiday | 129.2 by 19.4 | 8 |
| Revela | 129.2 by 19.4 | 8 |
| Artisan | 129.2 by 19.4 | 7 |
| Lamin'Art 832 | 129.2 x 33.1 | 6 |
| Infinite | 129.2 x 33.1 | 6 |
| Eden | 129.2 x 19.2 | 9 |
| Sublime Style | 129.2 x 13.6 | 7 |
| Liberty | 129.2 x 15.9 | 7 |
EGGER Laminate
| Collection name | Board size, see | Number of boards in a package, pcs. |
| --- | --- | --- |
| Floorline Classic Solution | 129.2 x 19.3 | 10 |
| Megafloor M1 | 129.2 x 19.3 | 10 |
| Spirit | 129.2 x 19.3 | 10 |
| Floorline Classic Country | 129.2 x 19.3 | 8 |
| Floorline Classic Universal | 129.2 x 19.3 | 8 |
| Megafloor M2 | 129.2 x 19.3 | 8 |
| Floorline | 129.2 x 19.3 | 8 |
| Laneo | 129.2 x 19.3 | 7 |
| Floorline Classic Business | 129.2 x 19.3 | 6 |
| Floorline Classic | 129.2 x 19.3 | 6 |
| Floorline Kingsize | 129.2 x 32.6 | 6 |
| Floorline Medium Compact | 129.2 x 13.4 | 6 |
| Classic | 129.2 x 19.3 | 8 |
Laminate Ecoflooring
| Collection name | Board size, see | Number of boards per pack, pcs. |
| --- | --- | --- |
| Country | 121.5 x 14.3 | 8 |
| Villa | 121.2 x 14.2 | 8 |
| Classic | 121.5 x 19.6 | 8 |
| Castle | 121.4 x 19.2 | 8 |
| Elegans | 121.5 x 16.5 | 8 |
| Art Wood | 121.2 x 16.3 | 8 |
| Brush Wood | 121.5 x 12.8 | 8 |
| Shato | 121.5 x 19.2 | 8 |
EPI
| Collection Name | Board size, see. | Number of boards in a package, pcs. |
| --- | --- | --- |
| Generation | 128.6 x 21.0 | 6 |
| Clip 400 / Presto 8 | 128.6 x 19.2 | 9 |
| D-Clic Aquastar | 128.6 x 19.2 | 9 |
| Profloor | 129.0 x 19.2 | 9 |
| Visual | 129.0 x 19.2 | 9 |
| Osmoze | 129.0 x 19.2 | 9 |
| Solid plus | 128.6 x 21.0 | 9 |
| Strong | 128.6 x 21.0 | 9 |
| Forte | 1286 x 210 | 6 |
Krono Original laminate
| Collection name | Board size, see | Number of boards per pack, pcs. |
| --- | --- | --- |
| Family | 128.5 x 19.2 | 10 |
| Classic | 128.5 x 19.2 | 10 |
| Rustico | 128.5 x 19.2 | 10 |
| Fashion | 128.5 x 19.2 | 9 |
| Valentino | 128.5 x 19.2 | 9 |
| Castello Classic | 128.5 x 19.2 | 9 |
| Bellissimo | 128.5 x 19.2 | 9 |
| Sublime | 128.5 x 19.2 | 7 |
Quick-Step Laminate
| Name collections | Board size, see. | Number of boards in a package, pcs. |
| --- | --- | --- |
| Eligna Wide | 138 x 19 | 8 |
| Perspective Wide | 138 x 19 | 9 |
| Elite | 138 x 15.6 | 8 |
| Eligna | 138 x 15.6 | 7 |
| Quadra | 39.4 x 39.4 | 10 |
| Arte | 62.4 x 62.4 | 4 |
| Classic | 120 x 19 | 8 |
| Clix Floor | 120 x 19 | 8 |
| Creo / Go | 120 x 19 | 8 |
| Rustic | 120 x 12 , 34 | 12 |
| Colonial | 205 x 15.6 | 6 |
| Largo | 205 x 20.5 | 6 |
| Majestic Pro | 205 x 20.5 | 6 |