A small room for a bathroom is a feature of the buildings of the last century. Many apartment owners resort to redevelopment in order to increase the area. What can be done? For example, to combine the toilet and bathroom - this will free up a little space. Anyway, if you think about the interior of a small room, it will be very comfortable and visually increase.
From this article you will learn how to make a choice between a bath and a shower. You will be able to understand the advantages and disadvantages of a combined bath and what is worth considering when making the final choice. In addition, information will be provided on how to visually expand the space with the help of light, mirrors, niches and doors. A lot of photos will help you to understand what exactly suits you. The article also discusses the styles that are used for the design of such premises, photo illustrations are attached to the descriptions.
Sequence of actions. Making a plan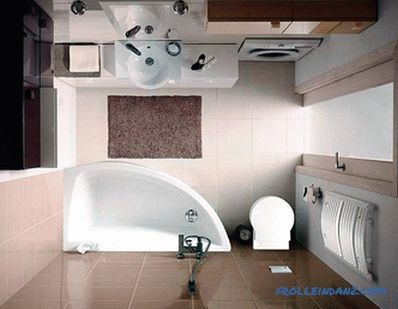 Sequence of actions when creating an interior design
In the process of drawing up a plan, you need to determine key moments. What does this include? Worth to decide: will be installed bath or shower? The design of rooms of small size requires careful planning, as in this case, every centimeter of space on the account. And also it should be considered whether there is a toilet in the same room. The final result of the repair depends largely on the choice of material for wall decoration.
With or without toilet
If you look at the question from a practical point of view, then, of course, it is better to make a separate bathroom and a separate toilet. If you have a large family, then there will not be a queue of those who want to wash at the same time and use the toilet. In addition, there will be no unpleasant odors in the bathroom without a toilet.
But on the other hand, by combining these two rooms, for example, in the Khrushchev, you can win the missing space, which will allow you to more correctly position the plumbing and furniture in the room. Competently decorated interior will create a cozy atmosphere in the combined bathroom.
Photo: examples of a bathroom with a toilet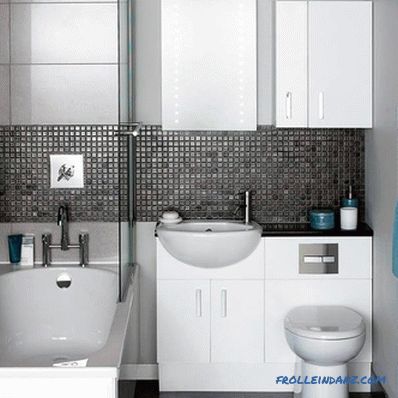 An installation with a hidden cistern will fit perfectly in a small bathroom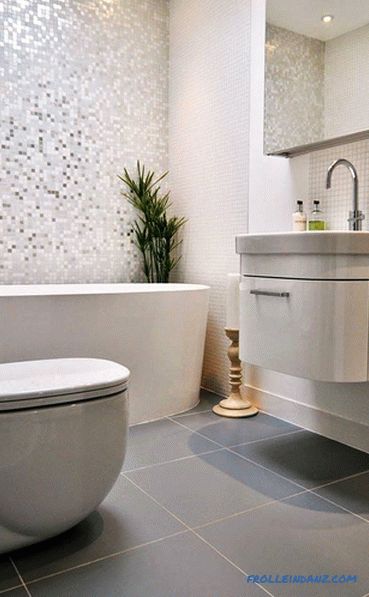 The interior of a small bathroom in light tones with mosaic walls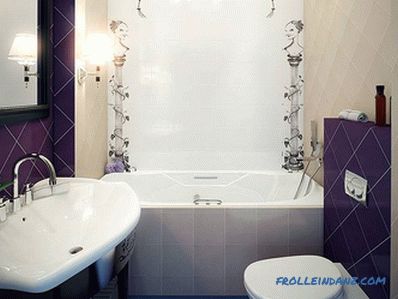 The interior of the bathroom is made in bright colors with elements of modern style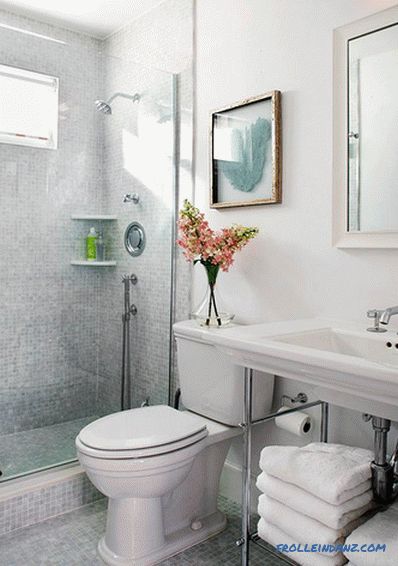 Small bathroom in the style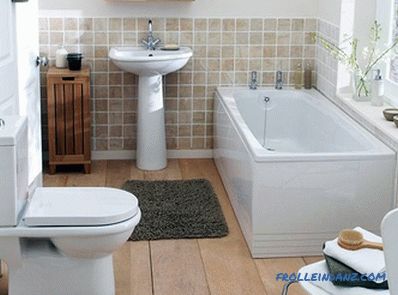 Small combined bathroom in bright colors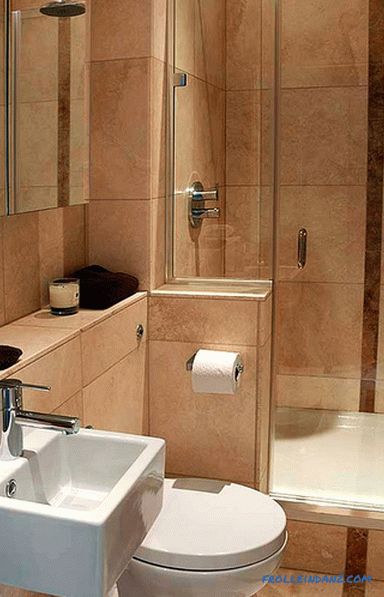 A small combined bathroom in warm pastel colors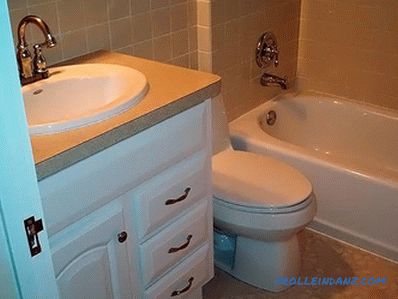 A small bathroom with toilet and a bedside table d sink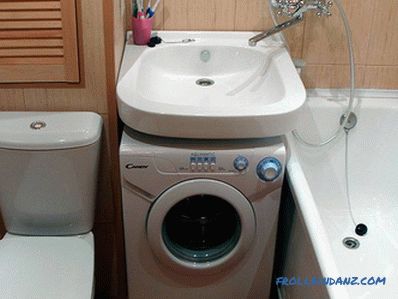 Successfully located washing machine under the sink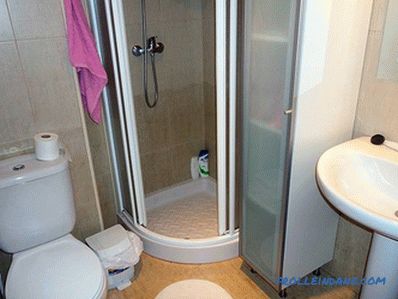 Corner shower in a small bathroom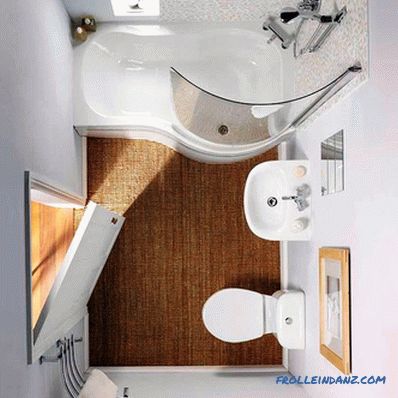 Bath combined with shower in the bathroom with toilet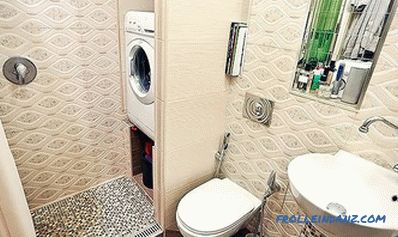 Bathroom with a niche for a washing machine
Photo: examples of a bathroom without a toilet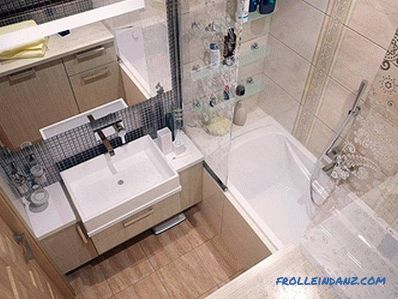 A small bathroom without a toilet in a modern style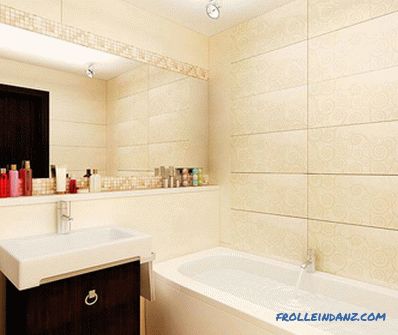 A small minimalist bathroom with a large mirror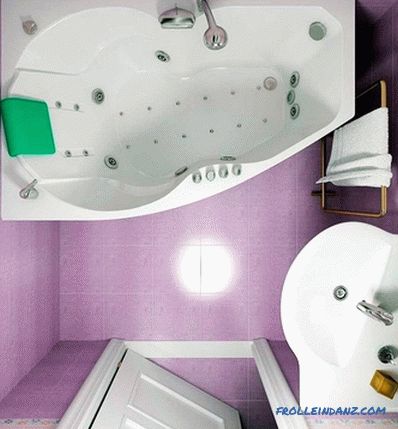 Planning bathroom without toilet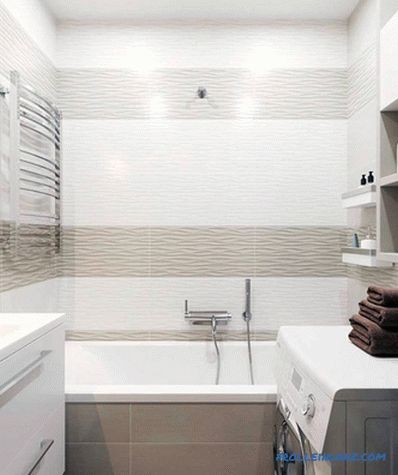 Properly executed lighting in the bathroom gives its design a special charm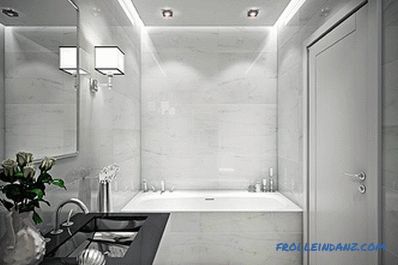 Gray in the interior of the bathroom
Juicy colors of the bathroom in the modern style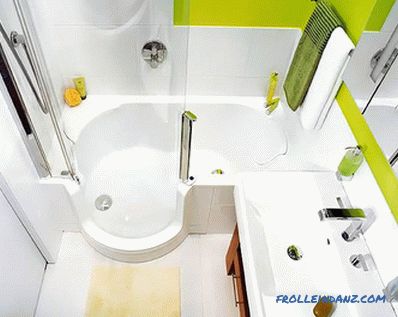 Bathroom with shower in the interior of a small room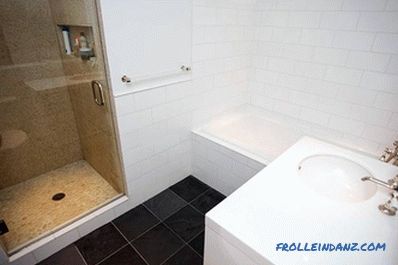 Bathroom combined with bath and shower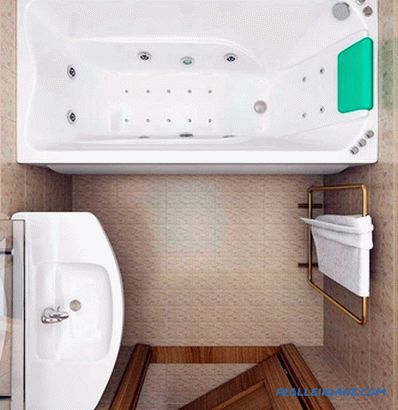 Bathroom with luxurious sink and heated towel rail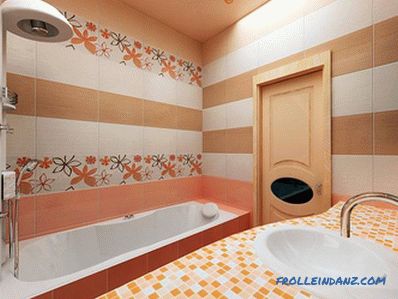 Bathroom in warm colors with floral prints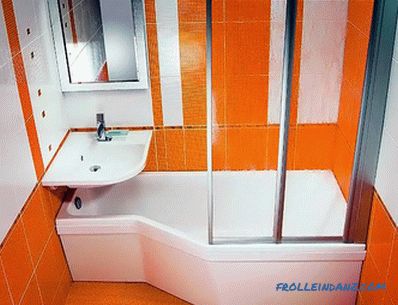 There is always a way out. Installing a sink over the bathroom
Video: Features of repairing a bathroom without a toilet
Which is better - shower or bathtub
The next most important issue is the choice between a bath and a shower. And here again it is worth considering a few important points. Much depends on who will use this room: young people, children, the elderly. For bathing children shower is hardly suitable. Older and fat people, more often, would prefer a bath rather than a shower. Much rests on the preferences: someone likes to quickly take a shower, while others prefer to soak in hot water.
Advantages and disadvantages of the bath
Among the advantages worth noting:
Convenience.
You can enjoy water treatments in it, which has a beneficial effect on the nervous system.
It is convenient to bathe babies.
Easy to keep clean.
Affordable price.
Not so many flaws, but they can play a key role in choosing:
Takes a lot of space.
Large water flow.
Video: how to choose a bath
If you have to make a choice of a bath, we suggest you to familiarize yourself with the video on this topic:
Advantages and disadvantages of a shower cabin
Among the advantages of shower cabins, the following should be noted:
Save space in a small room.
Great functionality.
Ability to significantly save water.
This sanitary device also has drawbacks:
The cost of a shower stall is higher than a bath.
Relax and lie down in the shower will not work.
It is more difficult to care for the cabin, as it will take more effort to do the cleaning.
It is worth noting that the showers are different - closed and open type. Therefore, the price depends largely on the number of lotions in the shower. And also, as an option, you can independently build a shower tray, which will save space and money.
Video: how to choose a shower cabin
If your choice fell on a bathroom with a shower cabin, then we suggest you watch a video on how to choose it:
Video: how to build a shower tray
If you want to build a shower tray yourself, then the video instruction offered by us will probably be useful:
The choice of material for finishing walls and floors
Today, ceramic tile and mosaic are most often used to finish the walls and floor of a bathroom. Although there are more original ideas on the building materials market, among them:
Plastering and painting.
Wallpapering.
Finishing with porcelain stoneware.
Gluing the cork cover.
Wood trim.
Use of agglomerate as a finishing material.
Painting the walls in the bathroom is, of course, the most short-lived finishing option, as well as wallpapering. Although with a limited budget it may even be. Innovative materials such as cork, porcelain stoneware and agglomerate are most often used in modern style.
Video: how to choose a tile
Cork as a finishing material for bathroom walls
Cork is resistant to mold, fungi and household chemicals. This material also has a low thermal conductivity and has a relatively small weight. Walls, corked, warm and smooth, do not dampen. Of the shortcomings of the material worth noting its high cost. In addition, it has low mechanical strength.
Woodworking
In past centuries, this material has been extremely rarely used in bathrooms. It was believed that water and wood are incompatible concepts. However, modern methods of wood processing allow it to finish wet rooms. And nevertheless, in order for the wooden walls and the floor to last as long as possible, it is necessary to make correct calculations and proper installation of ventilation. The only minus of wood is that when installed, the useful area is reduced.
Sinter as a material for finishing
This material appeared on the construction market relatively recently. Agglomerate is an artificial stone close to natural. In its production, natural mineral rocks are interconnected with a cementing agent. Agglomerate is, in fact, a tile of stone, having a rich color palette, comes in different sizes. The material has a high moisture resistance.
It is easy to work with the agglomerate, since it fits in the same way as ceramic tile. The main difference from the tile - the possibility of using seamless masonry.
The use of porcelain stoneware instead of natural stone
Porcelain stoneware is an artificial analogue of natural granite. It has the lowest water absorption rate, therefore it is considered the most suitable for finishing walls and floors in a room with a high level of humidity.
Matte porcelain stoneware has a high degree of wear resistance, but its polished counterpart is more capricious, as it is more susceptible to dirt and scratches.
The lack of porcelain stoneware is heavy. If you have thin walls in the bathroom, then this material should not be used for its finishing.
Features of materials for ceiling decoration
Most often paint is used as a finishing material for the ceiling. However, this is not the only and not the best option. In a number of used and more practical materials, the following should be noted:
Plastic panels.
Stretch ceiling.
Rack ceiling.
Plasterboard ceiling.
Video: how to choose a finishing material for the ceiling
If you are interested in finding out how to choose material for the ceiling finishing, then we invite you to watch the following video:
The choice of plumbing and communications device

The choice of plumbing must match the chosen interior style
the small bathroom didn't look visually even smaller and had a beautiful appearance; it should intelligently hide communications. Risers can be sewn into a compact box, providing access to water metering units. Pipes can be hidden in the grooves or, as a last resort, in a box-step. If you are unable to install a heated towel rail, then as an alternative, you can install an electrical one by installing an outlet near it. If you have the opportunity, then install a bathroom with a hidden installation, which will also allow you to save space.
As for the washing machine, it can be installed under the sink. This is possible provided that you have a machine with a horizontal load. Such a solution will significantly save space.
Visual expansion of the space of a small bathroom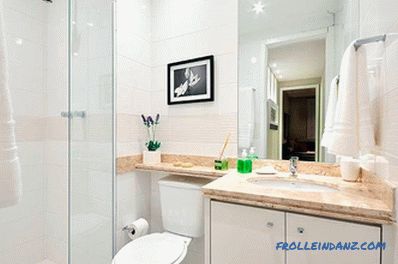 Visual expansion of the space with color and a mirror
Whatever material for the walls, floor and ceiling you choose and whatever types of plumbing equipment you install, if it is illiterate to approach the issue of visual design, your bathroom will look more like a closet. To avoid this, it is important to consider a few points:
The effect of color on perception.
The play of light.
Mirrors as a material for the visual expansion of space.
Emphasis on details.
Choice of a color palette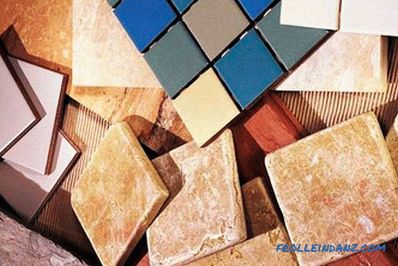 Definition of color according to the size of the bathroom
It is already experienced that time when it was believed that the design of the bathroom must be used in blue and turquoise. In reality, ivory and white pearls, warm beige shades and pale pink palette are best suited for a visual increase in the room. With such a color design should take care of the presence of bright color accents. You can use bright brushes, sponges and towels.
If you decide to decorate the bathroom in dark colors, then you should correctly choose the lighting.
Play of light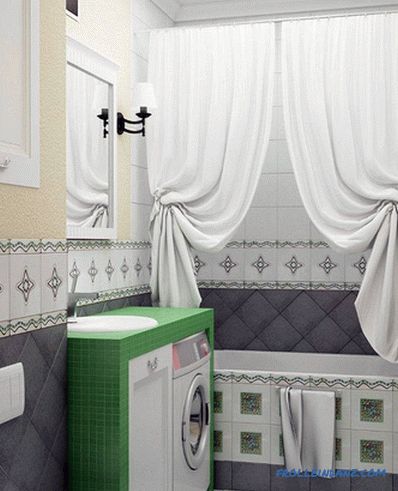 There should be a lot of light in the bathroom. Usually in this room there is a small window or none at all. Therefore, you should correctly make the installation of lighting. At the same time the light from the lighting devices should not hit in the eye. Scattered lighting is created in a complex. This may be LED bulbs installed around the perimeter of the ceiling, in harmony with the wall near the mirror. You can install one light bulb in the ceiling and one at the mirror.
If there is no window, then it would be better to use fluorescent lamps. The best in the bathroom look ceiling lights. But they can be installed only in suspended ceilings.
Mirror surfaces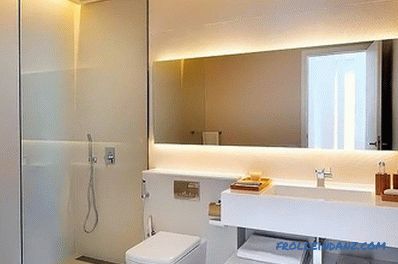 A large mirror decorates the interior and visually expands the space
В The design process of the bathroom can not do without mirrors. This is a great way to increase visual space. For example, it may be a cabinet above the sink with a mirrored facade. The mirror can also be installed on the door. But be careful, as mirrors in large quantities will create a maze effect.
Mirrors visually increase the space only at eye level, so do not make mirrored walls. A mirror floor is also not an option, as in this case there will be a feeling that you are at the bottom of the well.
Emphasis on details
There should not be a lot of furniture in a small area. All that is needed in this room is a few shelves above the toilet and a bedside table under the sink with a mirror cabinet above it.
In order to have more space in the bathroom, the doors should be installed so that they open to the outside. If the width of the wall allows, you can install a sliding door. An excellent solution for increasing space visually are glass doors.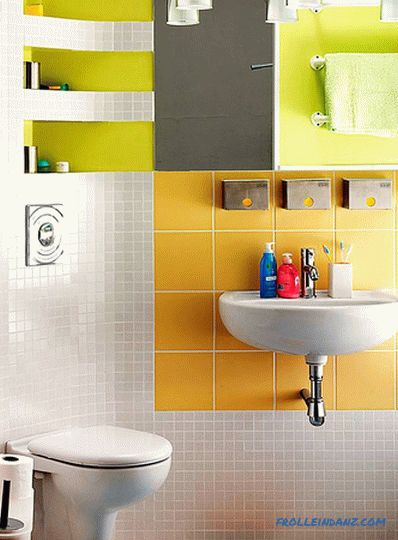 The niche in the small bathroom merges with the wall
When arranging such rooms, you can include in the project a niche wall, which will divide the space of the bathroom with a toilet into two zones. Niches can be used as a rack, placing, for example, in them clean towels and cosmetics.
If you chose a bright interior, you can use a live plant as an accent. It is worth noting that such a solution looks very impressive.
A variety of styles for decorating the bathroom
Those times in the past remained when all the bathrooms looked approximately the same, and in all parts of the country.Today, you can choose the style that is closer to you, while beating it so that your bathroom always remains unique, unlike any other.
It is worth noting that the best looking apartment, made in the same style. That is, if you chose a nautical style, then its elements should be traced throughout the premises. Below will be considered the features of different styles in the interior of the bathroom, as well as examples of ready-made bathrooms, made in each style.
Classic style
Classic, it is a classic, therefore it is always relevant. The main attribute of the bathroom, made in this style - bath. Ideally, it should be brass, marble or cast iron. A feature of the classic style are bent legs. The room should be made in bright colors. While the mirror frames, taps and mixers must be copper, bronze or gilded. A distinctive feature of the classical style is refinement and high cost.
Photos: examples of bathrooms in a classic style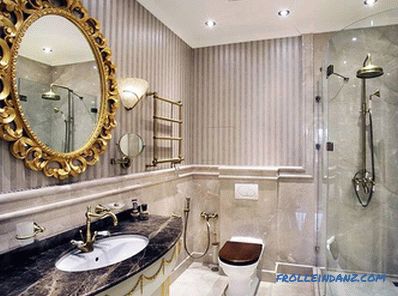 An emphasis on gold in a classic bathroom interior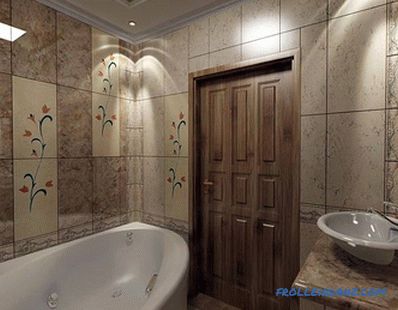 Colored motifs in the interior of the classic-style bathroom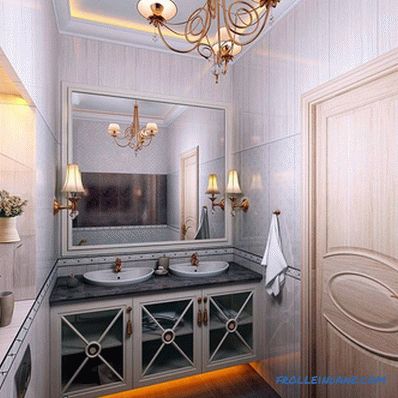 Classic bathroom style with illuminated ceiling and cabinet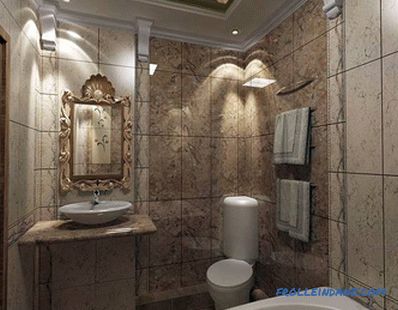 Marble in the interior of a small bathroom in a classic style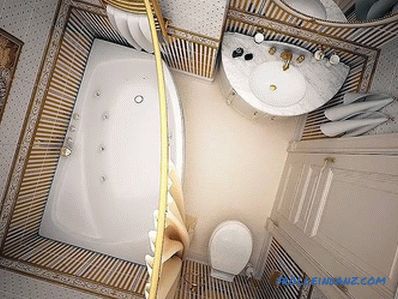 Marble, gold and Jacuzzi bath in a small bath in a classic style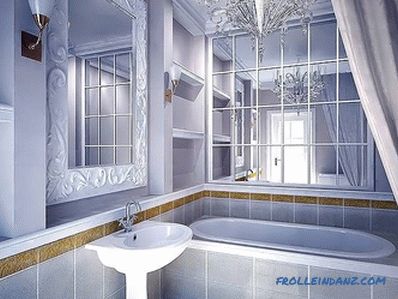 A distinctive feature of the classic style is mirrors, chandeliers and tapestries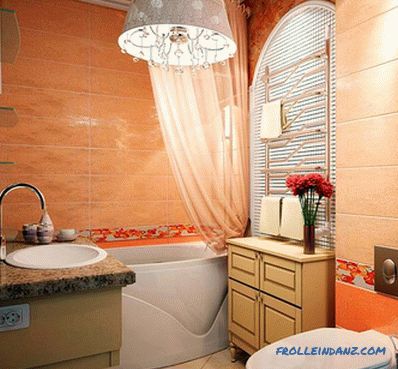 P The depth of the classic style is visible in every element of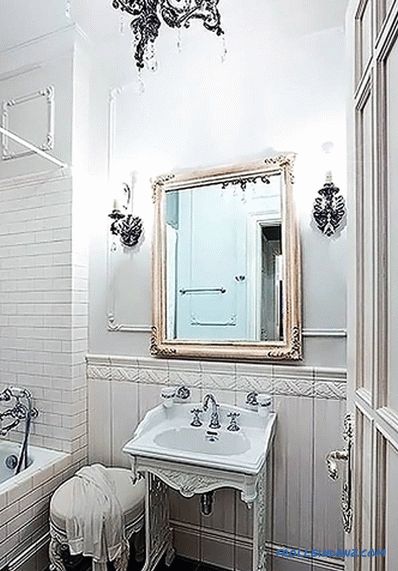 Light shades in a classic interior
Bathroom in classic style top view
Minimalism - fewer items, more space
The minimalist style is characterized by a minimum of details and a maximum of space. To create comfort in a small bathroom, this style fits perfectly. Minimalism implies the presence of objects with smooth outlines and clear corners. An abundance of different colors in this style is unacceptable. Maximum one or two colors. When making this style you can not be mistaken, because everything should be at a minimum, this applies not only to colors and furniture, but also accessories.
Photo: examples of bathrooms in the style of minimalism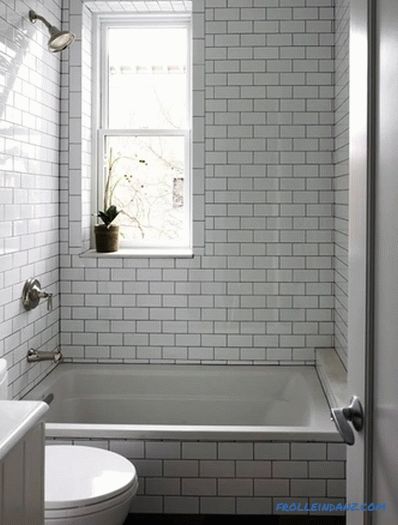 Minimalism is attractive in its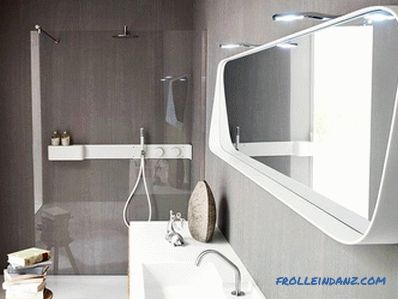 Sharpness of lines and lack of flatness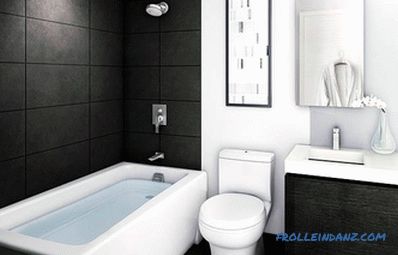 Black and white minimalism in bathroom design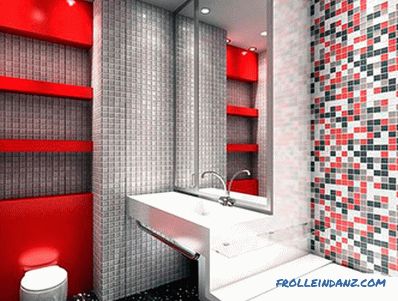 Red and gray in the minimalist style of a small bathroom
Minimalism as it is in the interior of a small bathroom with niches and shelves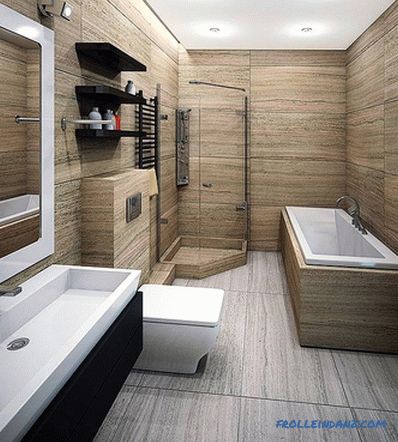 Minimalism in the interior of a small bathroom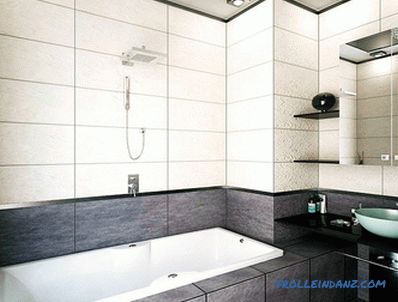 A minimum of light, a minimum of accessories, this is what minimalism means in a small bathroom
Natural stone and unusual sanitary ware in the style of minimalism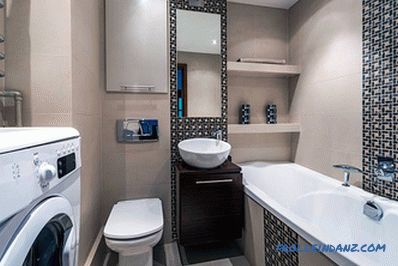 Niches in the style of minimalism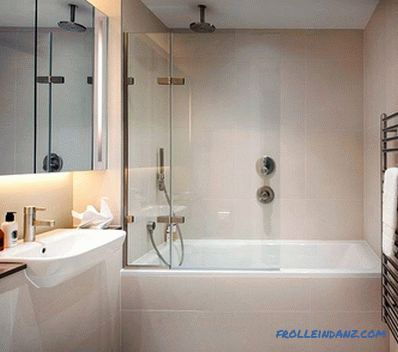 One color, glass and mirrors are the main accents of minimalism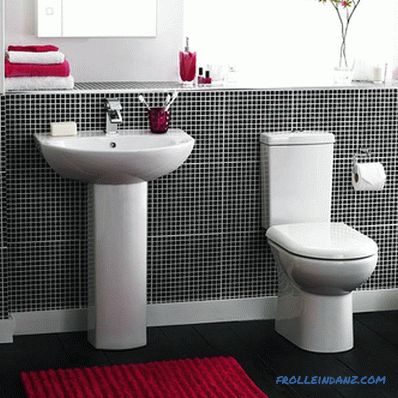 Bright notes in minimalism style, focus on pink
Modern as an interior design option
For this style characterized by the presence of bright colors. Original solutions are welcome. It uses small-sized, but multifunctional plumbing. Bathroom areas should be clearly separated. Accessories are selected non-standard in shape and color.
Photo: examples of modern bathrooms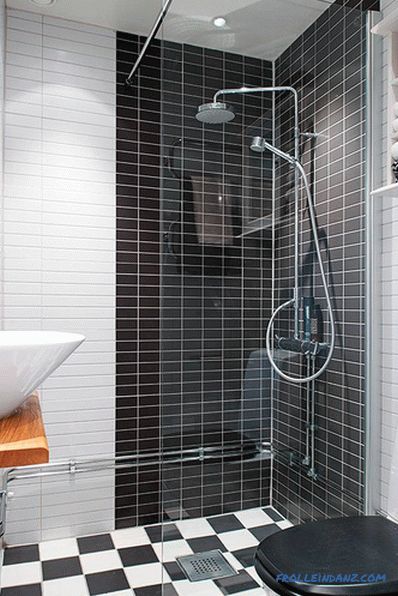 Black and white modern with mosaic tiles and transparent shower
Black modern strictly, simply and originally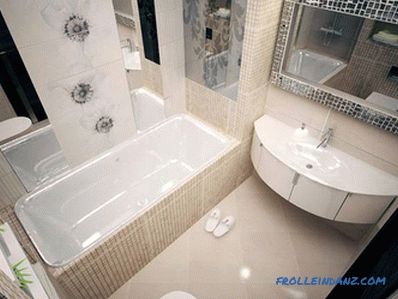 Modern in a brown and beige floral print palette in the bathroom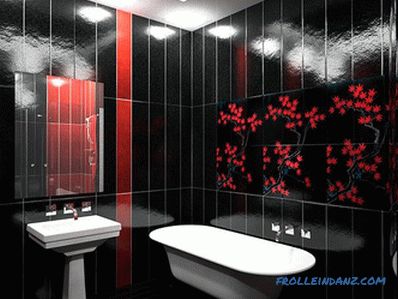 Modern style with bright accents in a small bathroom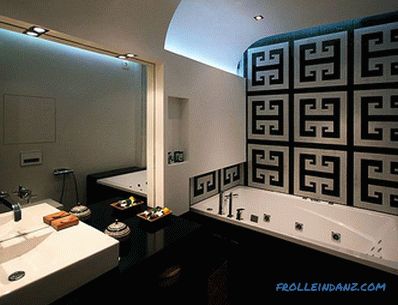 Modern style in a small bathroom with oriental motifs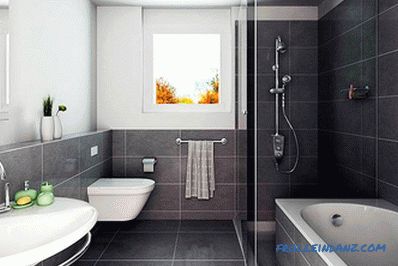 Modern style in the bathroom with shower and toilet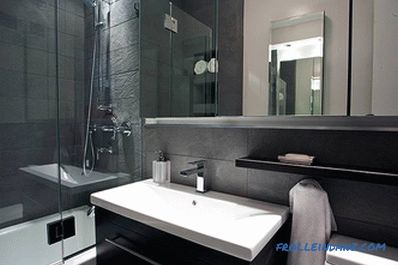 Bath with shower in style modern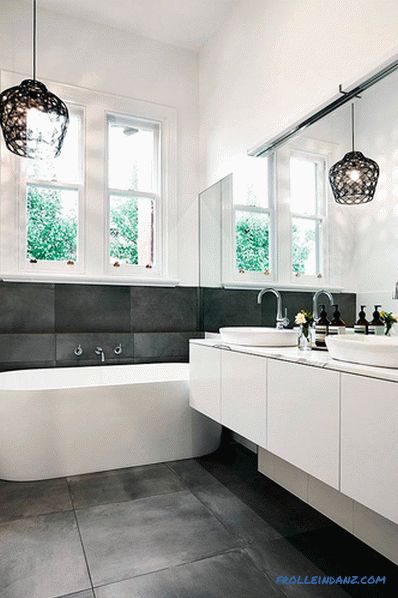 З tile, tile to window in modern style in bathroom design
Modern style
Combinations are typical of this style as well as for modern. bright colors. In addition, modern style combines incompatible materials. Relevant zoning of space.
If you install a shower cabin, then the corner option is best for this, the same can be said about choosing a bath. The advantage of style - the creation of a unique design does not require large investments.
Photos: examples of modern bathrooms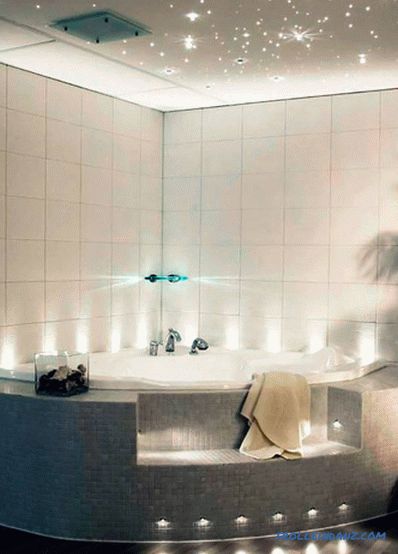 Focus on modern lighting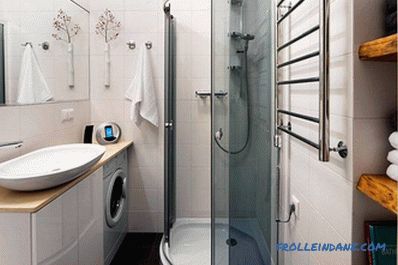 White modern style with shower and niche for washing machine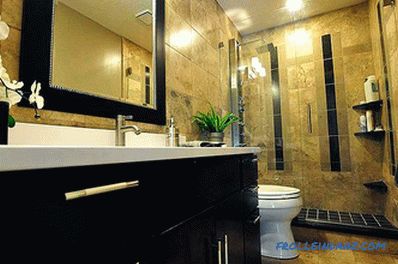 Black and yellow in the interior of a modern bathroom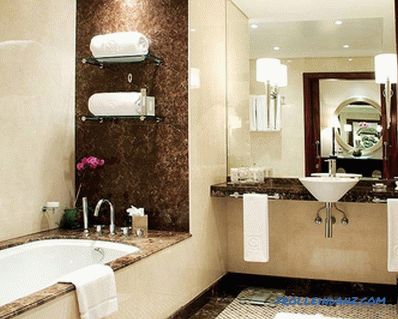 Marble in a modern style with a small bathroom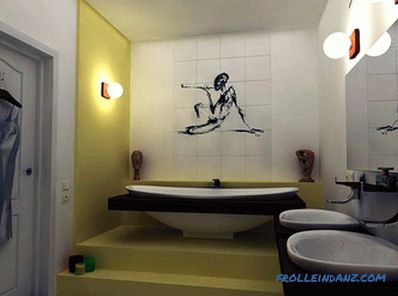 an unusual form of plumbing, mysterious pattern on the tile - this is the modern style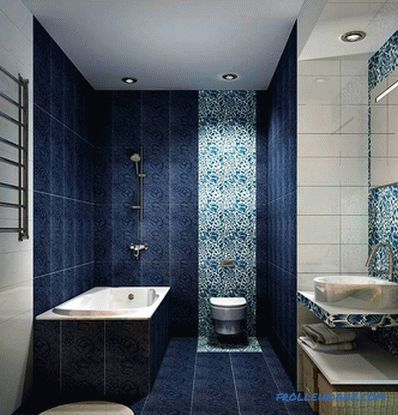 Blue floral print in the bathroom in a modern style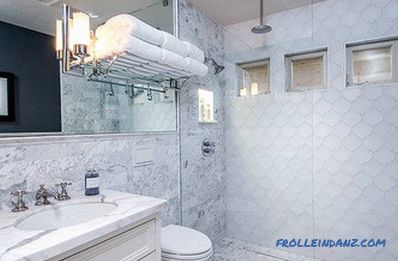 Modern style with emphasis on the classic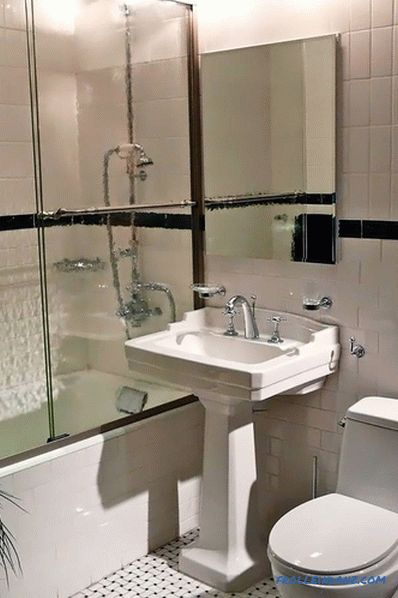 Modern style with elements of the classic design of a small bathroom
Modern style with minimalist elements in the interior of a small bathroom
Japanese style is the spirit of the East
Japanese ethno-style in our time is very popular. However, the design in this style would entail large cash costs. This is due to the fact that in order to decorate a bathroom in this style you will need a large amount of expensive natural materials. Among them are expensive woods, rice paper, bamboo and silk.
The distinctive characteristics of the Japanese style are reasonableness, rigor and conciseness. If you do not have significant funds, but you want to sustain the design in the Japanese style, then you can buy ceramic tiles with a themed ornament or pattern. It can be traditional houses, sakura branches and hieroglyphs.
An integral part of the Japanese style is the matching accessories. In this case, you must purchase candles in glass candlesticks of different colors.
Photo: examples of bathrooms in the spirit of Japan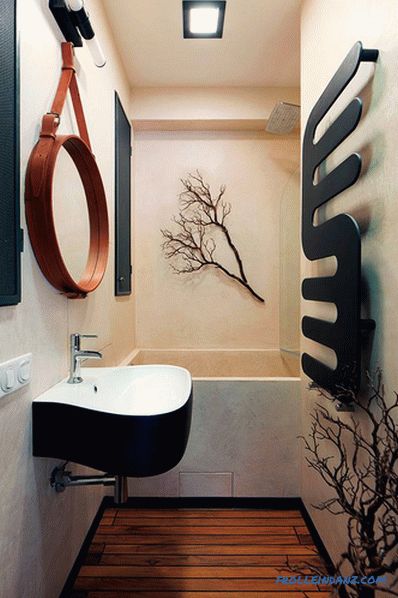 Decorative elements in the bathroom, made in the Japanese style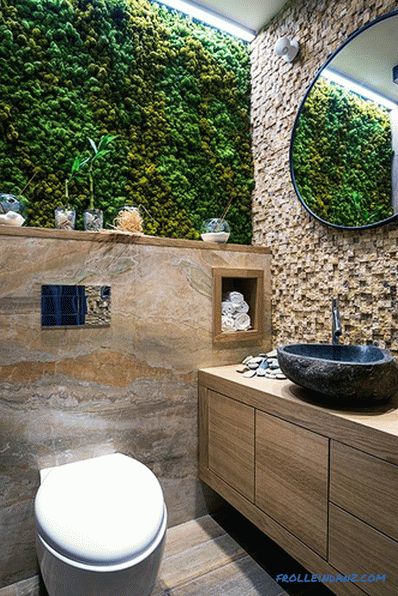 Bathroom design with Japanese-style elements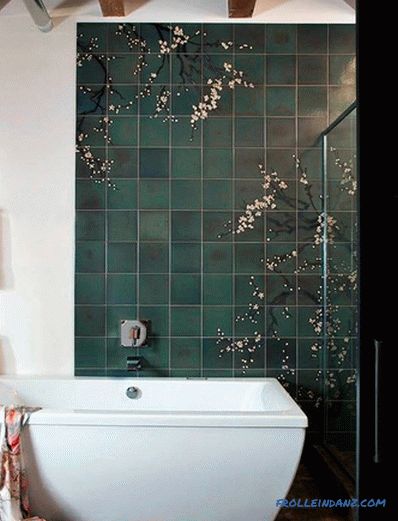 Ceramic tile with the characteristic Japanese style floral print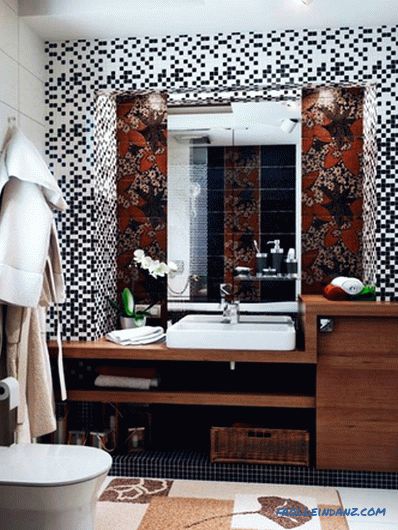 Mosaic and bright floral print are just some of the features of the Japanese style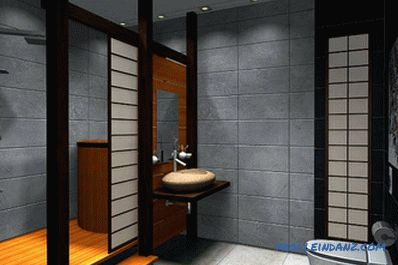 Natural materials are the main feature of the Japanese style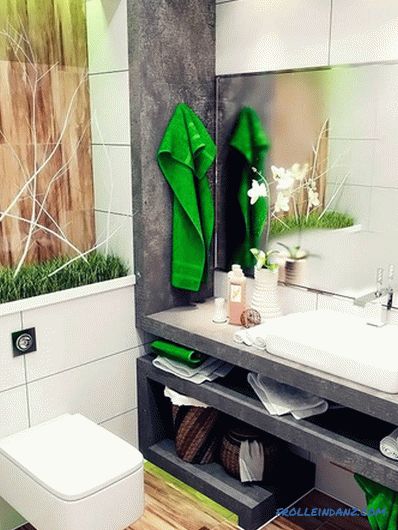 The woodgrain tile and flowers well underline the Japanese motif in slightly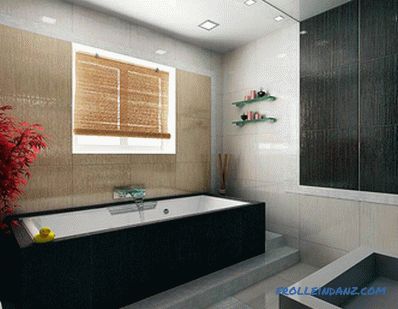 baths Bamboo curtains and a living flower of red color and a Japanese bath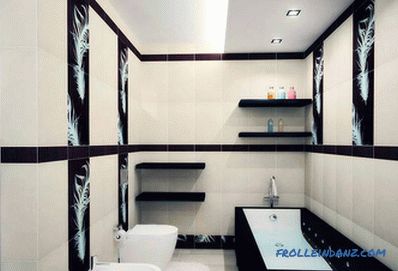 A modern approach to the design of a Japanese-style bathroom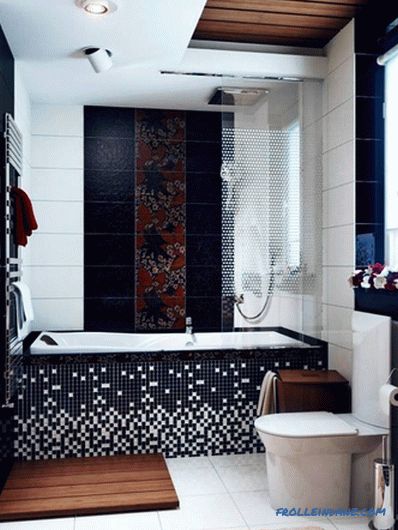 Japanese motifs in the interior of a small bathroom
Let's look into the past. Retro Style
Nostalgia. This feeling pushes people to create a retro-style in the apartment, including the bathroom. It seems that life has been easier in the past. Bathroom with shades of retro style looks very original. Trump style - a minimum investment. All you need is ingenuity and manual dexterity.
All elements that today are considered old-fashioned will be suitable for retro-style. White cabinets are perfect for this design. They will create a light and airy atmosphere in the room. Retro perfectly combined with almost all the accessories of modern times. Delicate textiles and wallpaper with small floral patterns and openwork embroidery - that's what you need for a retro design.
Fans of retro and bright colors will also be able to find an excellent design for themselves, since retro is characterized by bright colors, including red, blue, fuchsia, green and blue.
Photo: examples of retro style in the interior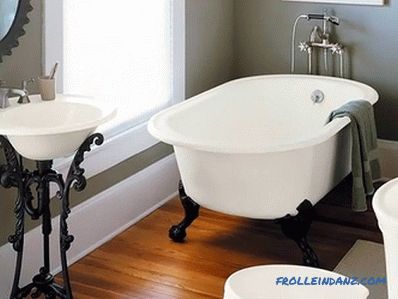 The forged legs of the bathroom and the sink are part of the retro in the small bathroom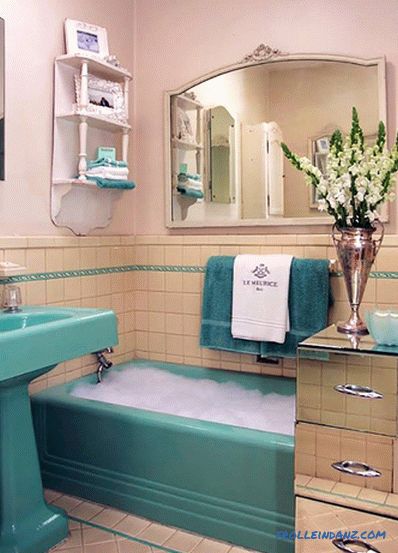 Turquoise color in the retro style of the bathroom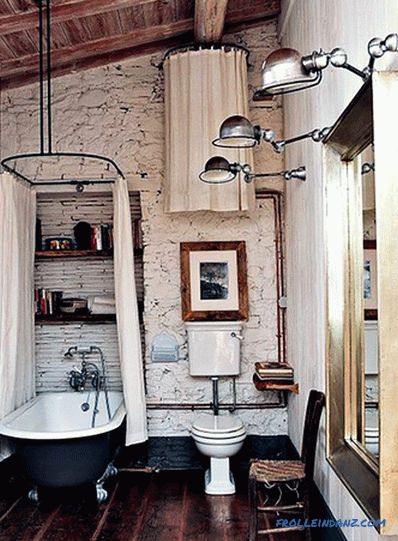 Easy negligence. Vintage toilet and curtain on the bath. Here are the bright outlines of the past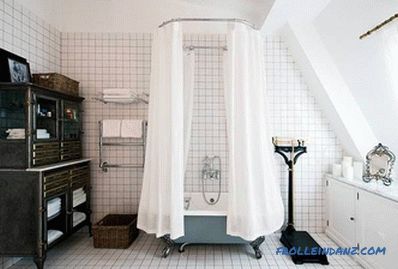 Furniture, decorative elements and a bathroom speak in favor of the retro style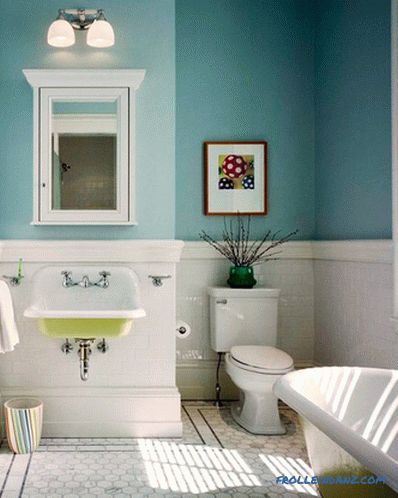 Retro bathtub and washbasin open, which is typical for this style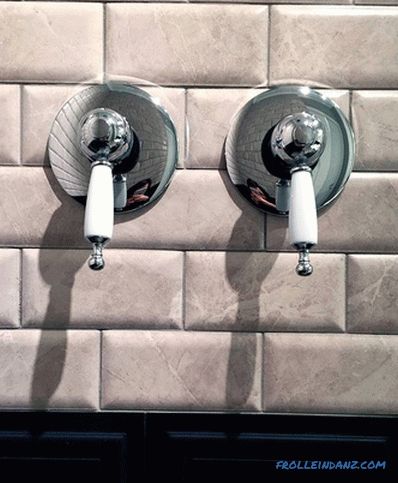 Plumbing for the bathroom in retro style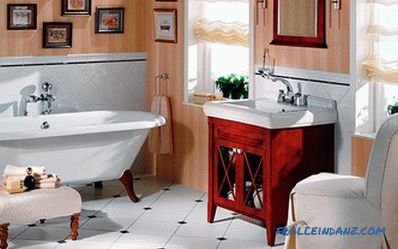 Light primary colors and dark accents make this interior even nicer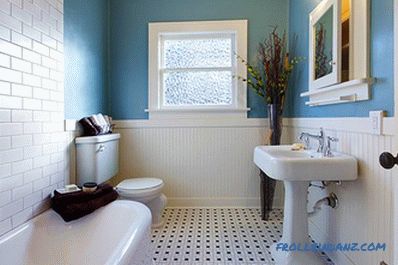 Traditional washbasin, panel instead of tiles, blue walls - this is the true ally of retro style in a small bathroom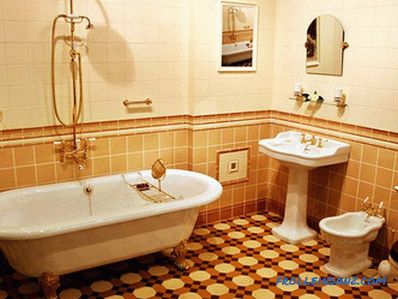 Bathroom as in the 50th traditional tetro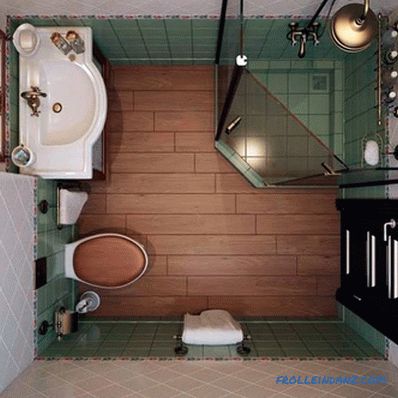 Bathroom in retro style, top view
Rural motifs - country style
Frilly decorations are unacceptable for country style or country. The main characteristics of this trend in design are simplicity and functionality. The walls are usually whitewashed, and the doors and windows are painted in rich colors. The furniture should be rough.
Simplicity and lightness never bother, so the rural style never becomes familiar with its owner. This is explained by the fact that in the style of country music there are no elements of fake, artificiality and bombast.
Photos: examples of bathrooms with rural motives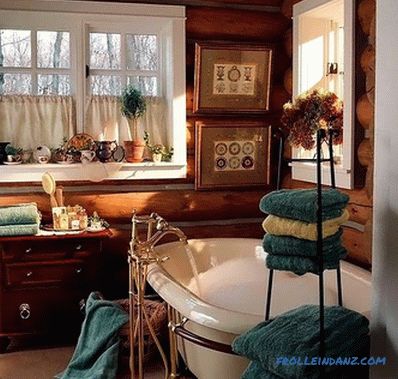 Classic country in a bathroom in a wooden house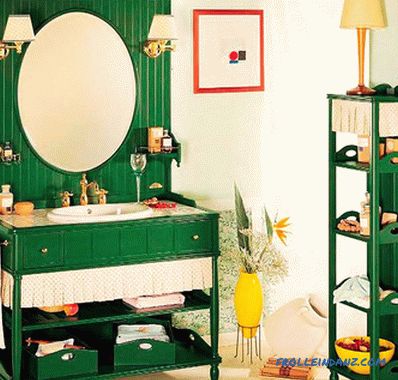 Green decor elements against the background of white walls look very attractive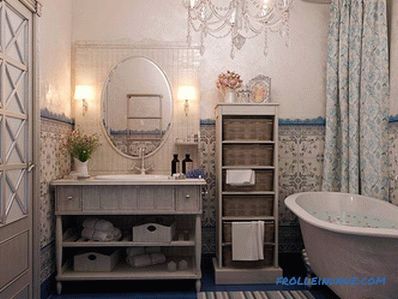 Option Tender French Country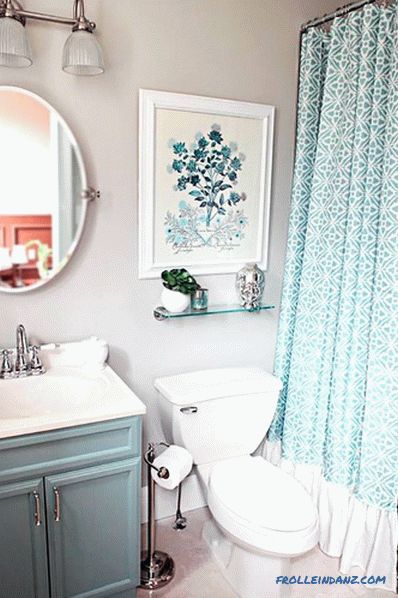 Bathroom in French Country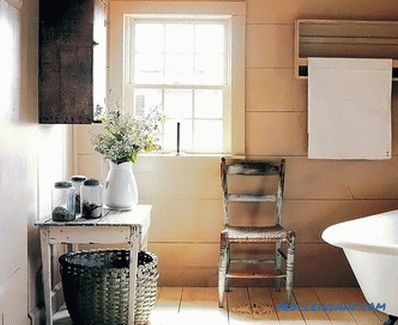 Simplicity and unobtrusiveness, functionality and harmony - this is how you can describe country music in the bathroom
Gentle prevailing turquoise hues along with white color look unobtrusive and very mi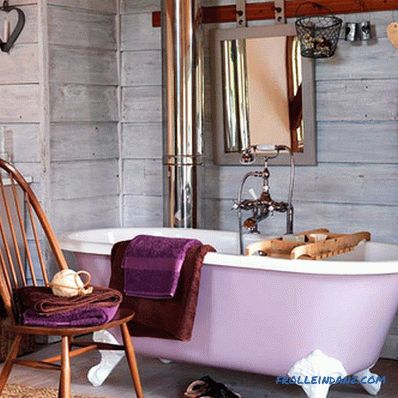 small bathroom in a gray palette with elements of country music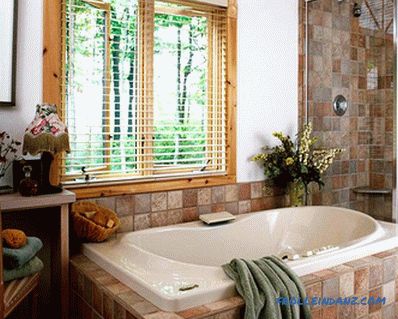 Brown-olive palette inherent in the general concept of country music in the interior as a whole, including in the bathroom
Maritime style
Maritime theme means a combination of white and blue. Of course, the design of the apartment and the bathroom in the sea style can not replace a full-fledged rest on the sea beach, but the mood will definitely lift, and it will help relieve the tension from everyday fuss.
The characteristic features of the style are expressiveness, decorativeness and high cost. Furniture should be made of wood, which can be artificially aged. Decorative items must be made from natural materials. Maritime style can be supplemented with elements of country and Provence.
Photo: examples of nautical-style bathrooms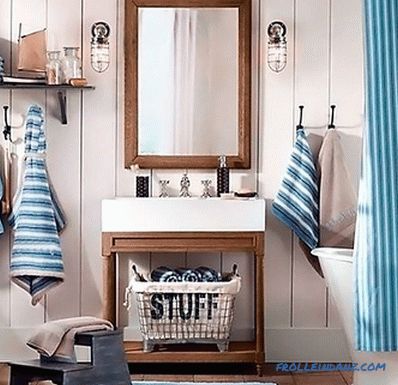 Beige shades of the walls and striped elements in the accessories - this is what you want to see in the nautical-style bathroom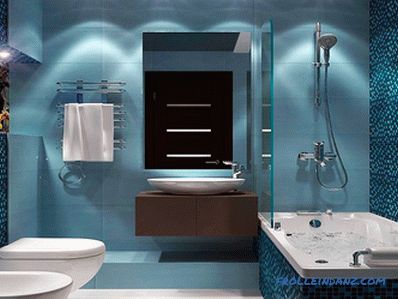 The sea-green color in the sea-style bathroom is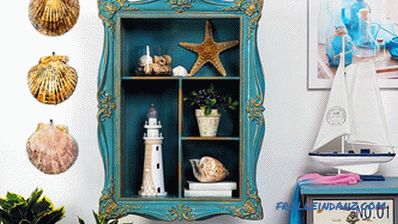 Decor for a nautical-style bathroom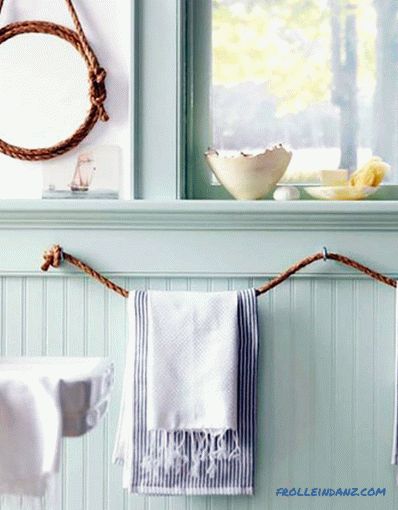 Interior elements in bathroom, made in the marine style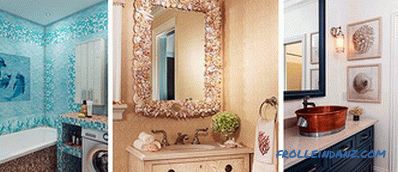 Options of the interior, made in the marine style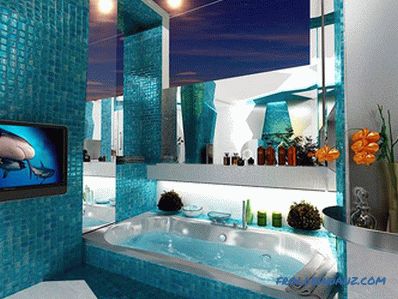 Glass turquoise mosaic looks like sparkling waves of the sea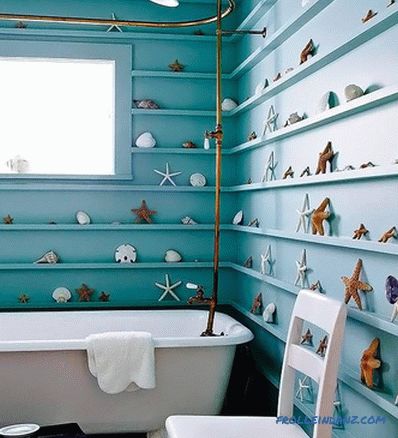 About Seashells and a turquoise background are all that may be needed to decorate a nautical-style bathroom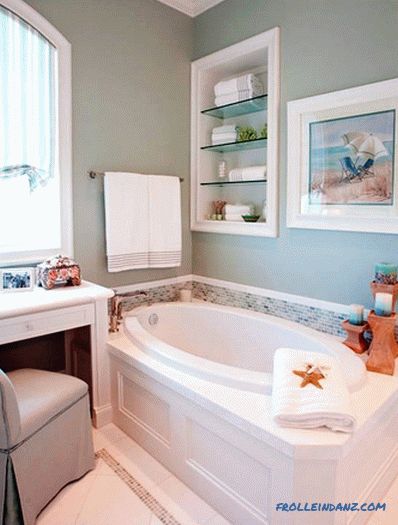 Light atmosphere in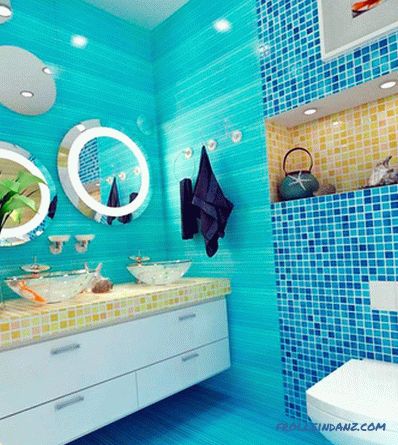 small-sized bathtub in a small size; Round mirrors remind you of the ship's hold
So, the interior of a small bathroom can be tasteful, neat and unique. The main thing is to make a competent plan of action and strictly adhere to it. If you still have questions on the topic, then you can write them at the end of this article, in the line - comments.
Photo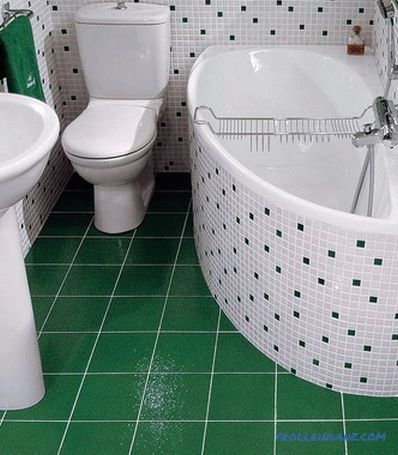 The original combination of white and green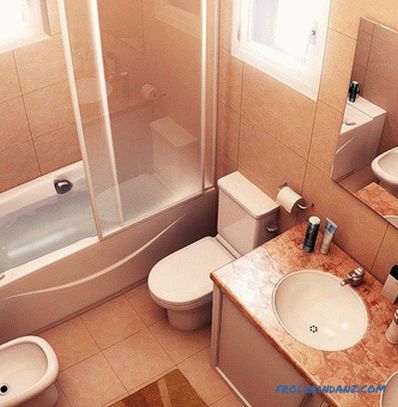 Design of a small bathroom in a beige palette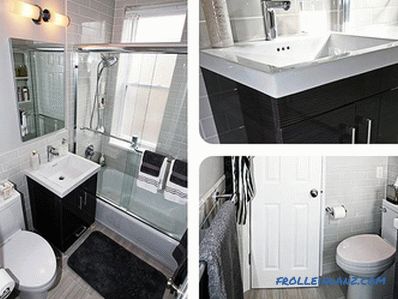 A white-gray palette in the interior of a bathroom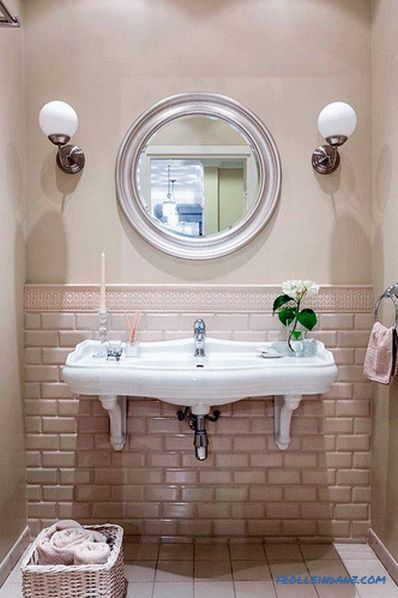 Vintage style in the interior of the bathroom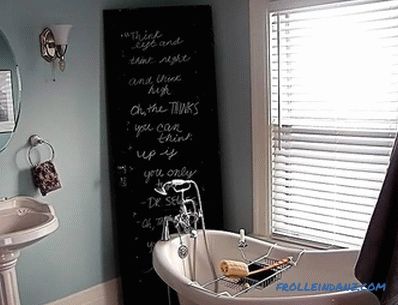 Vintage style as a design option for a compact bathroom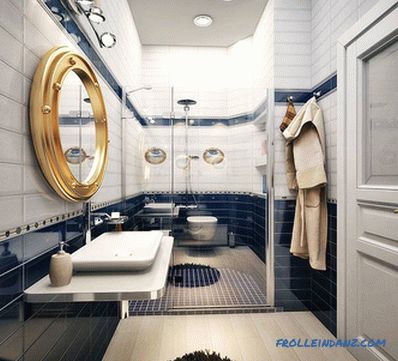 In this bathroom you feel like the captain of the ship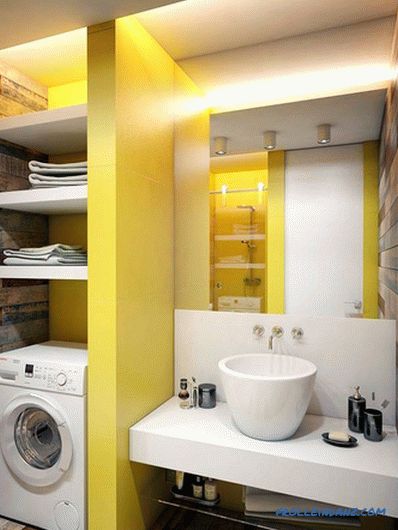 Bathroom with niches with loft style elements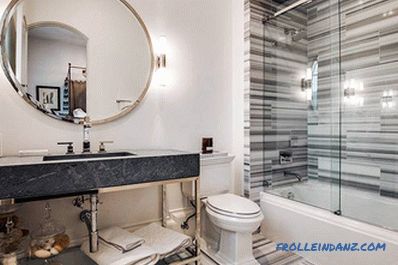 Mediterranean style in the bathroom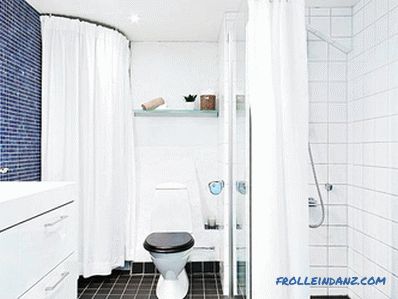 The combination of mosaic and tile in the design In the bathroom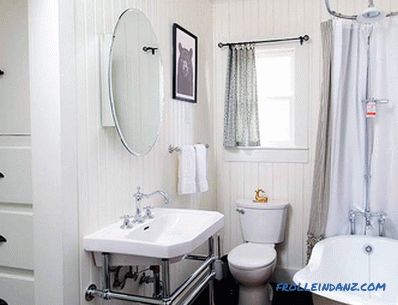 A variation of country music, made in bright colors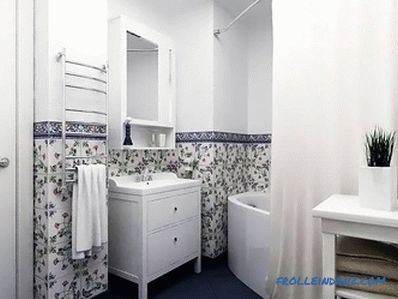 Provence is a gentle combination of light walls with tiles in a floral print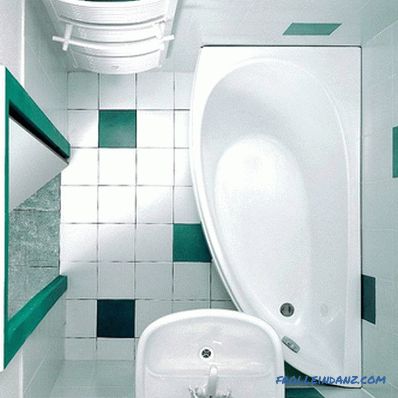 Bathroom decoration in Khrushchev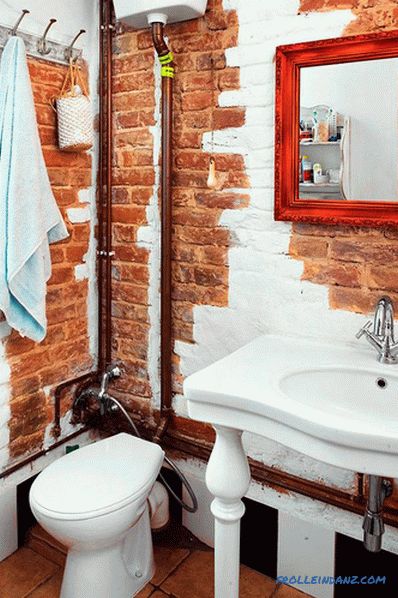 Unplastered walls, old floor and open communications are so characteristic of the loft style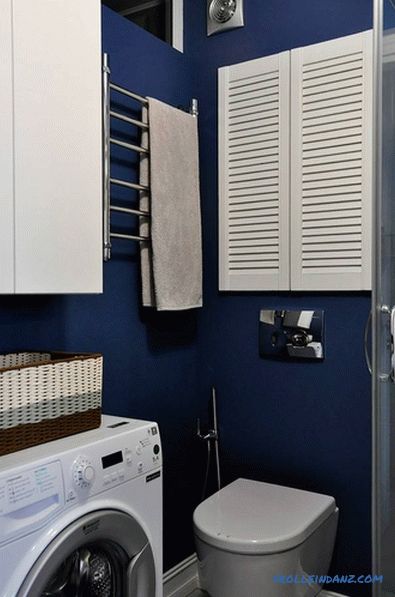 A small bathroom with a corner shower and toilet with a hidden installation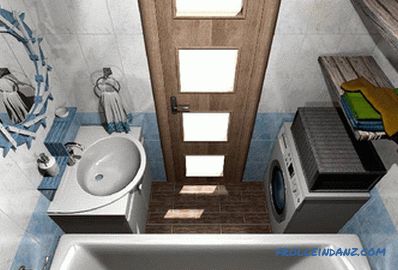 The sea motif in the design of the compact bathroom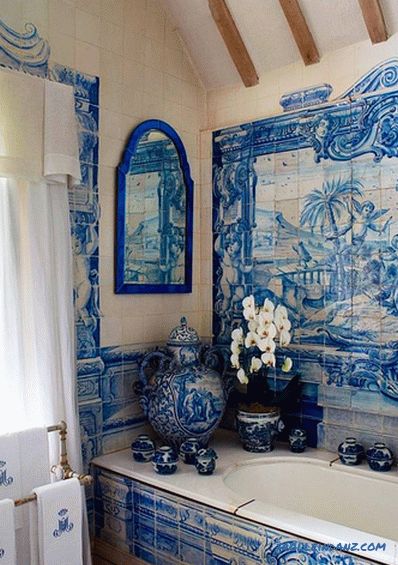 Dutch ceramic tiles porcelain in the interior of the bathroom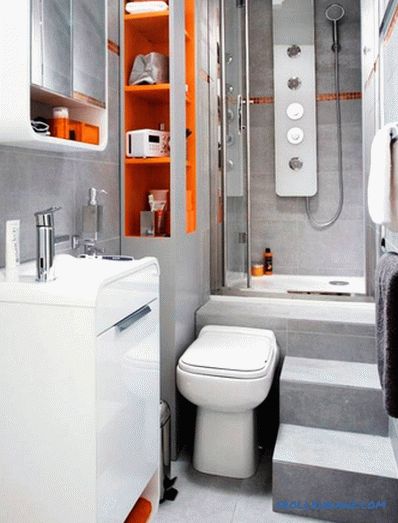 The high-tech style is characterized by clear lines and the presence of additional lighting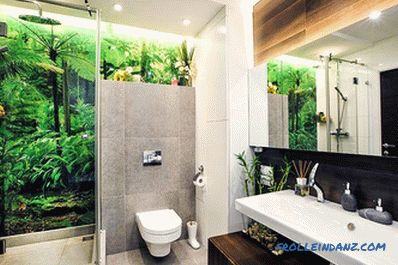 Eco-style in the bathroom