We will not hide, we are fascinated by the simplicity and subtle beauty of the Scandinavian style. Perhaps only this style, being very practical, allows one to put an end to the disorder without much difficulty. Here quality is more important than quantity, and sophistication is seamlessly intertwined with moderation and minimalism! Thanks to those who developed and perfected the Scandinavian style in accordance with a wide audience's views on aesthetics and ergonomics, it is still, many decades after its appearance in the international arena, appreciated and widely used by very, very many.
Having designed the interior of the living room in the Scandinavian style, you will inevitably fall in love with this beautiful and effective design! And to convince you of this and spur your imagination, we offer to get acquainted with our collection of magnificent Scandinavian living rooms.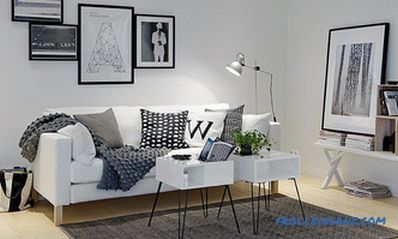 Small living rooms in the Scandinavian style
Born in the edges of the harsh Scandinavian winters, which require practicality and at the same time a feeling of lightness, allowing you to ward off darkness and gloom, this style is perfect suitable for small living rooms. If it comes to creating the background in the Scandinavian rooms, it would not be superfluous to remind you that the color palette is kept to a minimum here - all of them, as a rule, are white. This reduces fragmentation and visually increases the space. The use of a limited number of decor with straight lines also helps in creating a neat living room that seems attractive, bright and cheerful.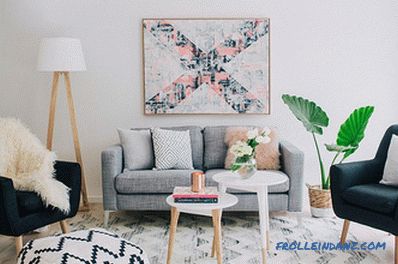 A touch of green in the luxurious Scandinavian living room (by Claudia Stephenson Interiors).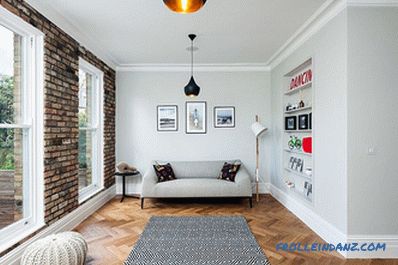 A small living room with a brick wall and hanging lamps by Tom Dixon (by David Butler Photography).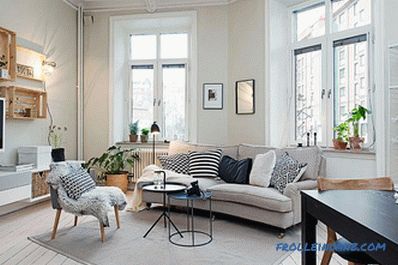 The idea of ​​interior design of a small living room in the Scandinavian style (from Studio Cuvier).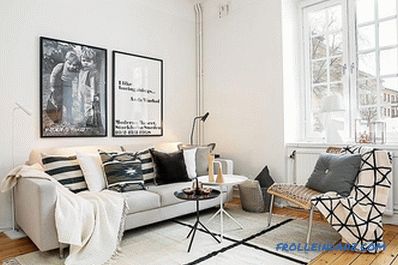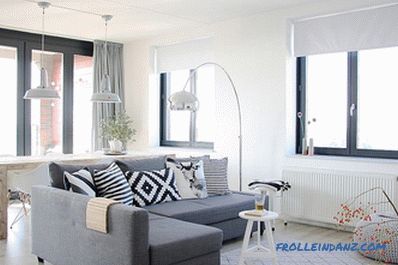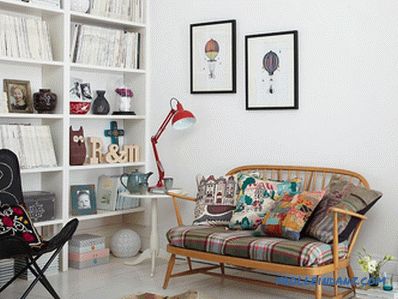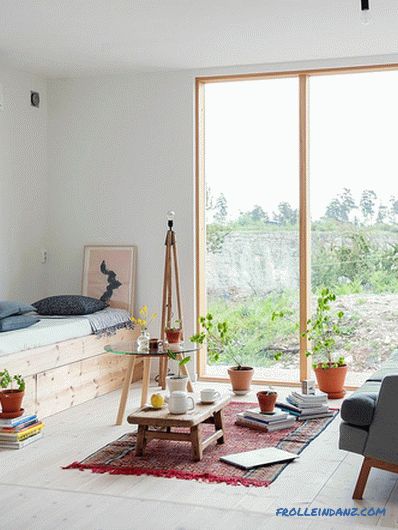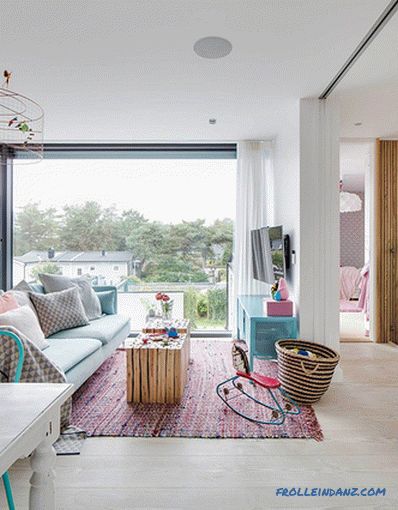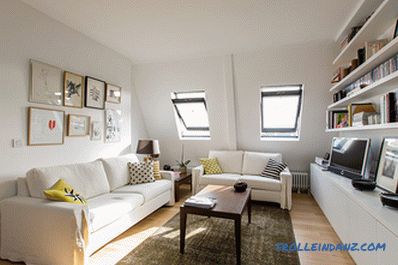 When designing the interior of a small living room, the main thing is not to shy away from the chosen color, otherwise you will get not a Scandinavian style, but a typical and boring atmosphere. Other colors can be added with simple small accents. A mirror (or even two), a soft carpet, a stylish side table, an elegant floor lamp and a cozy chair will help to complete the created image.
White and gray!
As we have said, white has always been dominant in Scandinavian living rooms. But in the past few years, another neutral color has been increasingly used — gray, which quickly replaced white and found a way to coexist with it. Moreover, this fashion trend simply refuses to go to no. It is time to bring this shade to your Scandinavian living room by putting a cozy gray sofa there or even painting one of the walls in an accent smoky gray color. In Scandinavian interiors, as a rule, light gray looks good, but you can choose a darker shade if you want to create a greater visual contrast.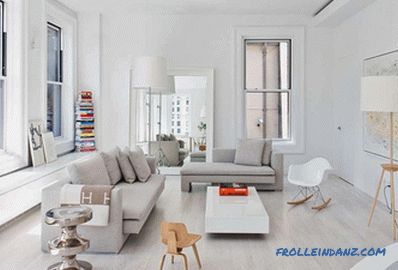 A stack of books adds color to this "sterile" living space (from Resolution: 4 Architecture).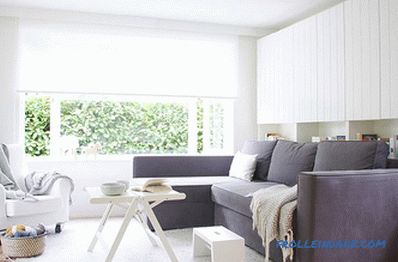 All about white! (from Holly Marder).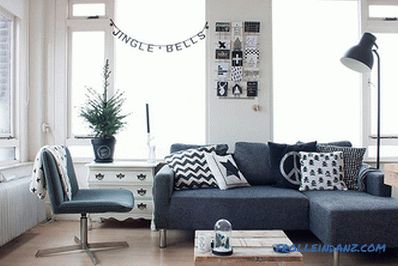 The elegant design of a small living room in the Scandinavian style (from Louise de Miranda).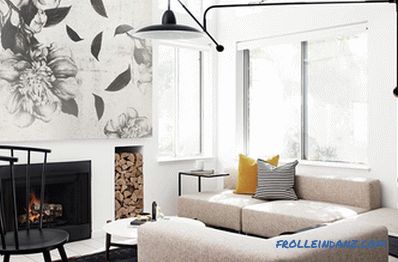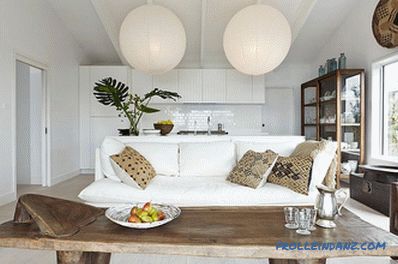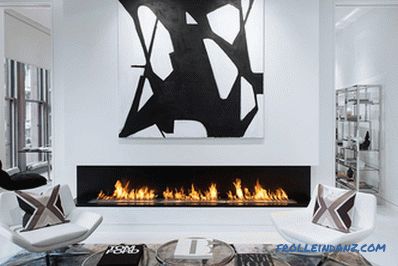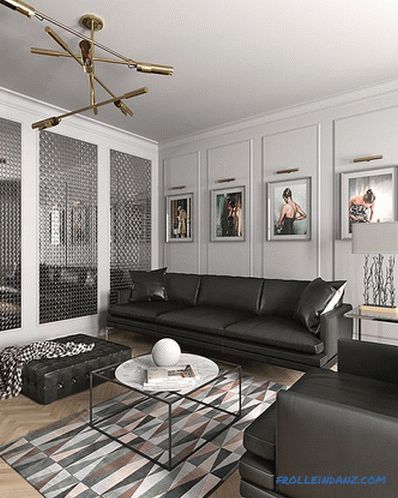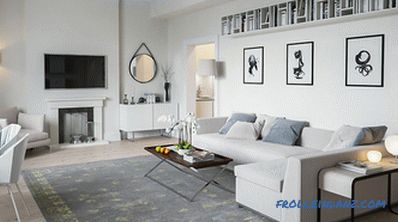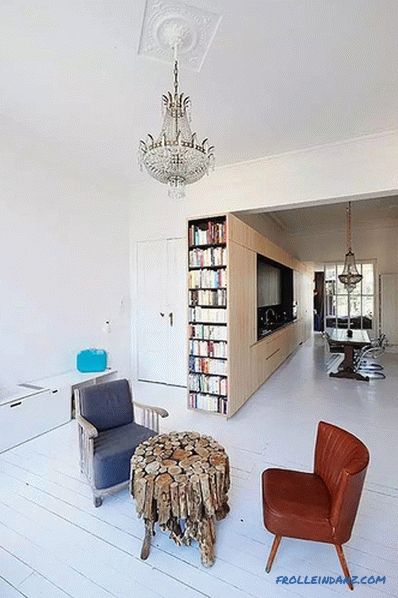 The black and white background with added shades of gray look great in Scandinavian living rooms, and this seems to combine modern minimalism with urban style. But remember that black must be used sparingly in order to simply consolidate the space and highlight certain architectural features, since an excess of black can quickly change the mood and appeal of the interior.
Color accents
Continuing on the Scandinavian way while decorating the interior of the living room, you realize that you need to get rid of unnecessary decor, and at the same time discover the door to the world of exciting and refined accents penetrated beautiful shades. Geometric patterns and abstract design elements create a sense of playfulness and delight and allow you to make your Scandinavian living room unique. The little color accents that you bring to your living room instantly become the focus of attention due to the uncluttered background that this original style offers.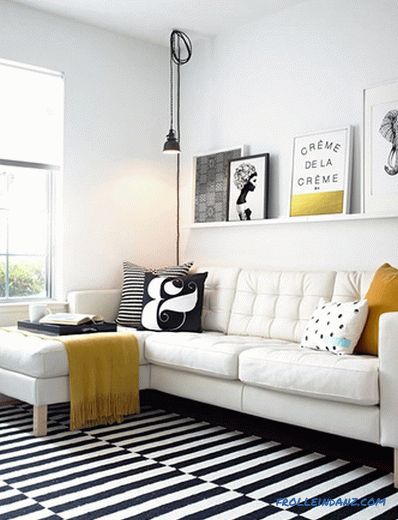 Black and white living room with elegant splashes of yellow (from Studio Revolution).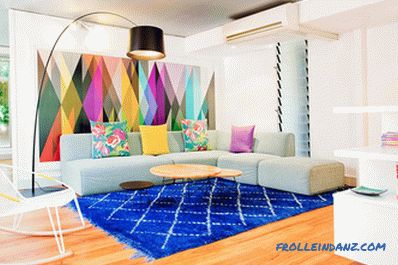 A magnificent living room using colorful wallpapers and a carpet (from Touch Interiors).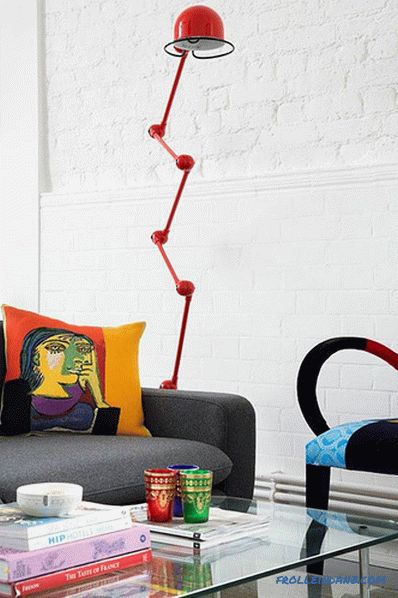 Cushions and other decorative elements carry color and a slight sensation of playfulness (from Trunk Creative).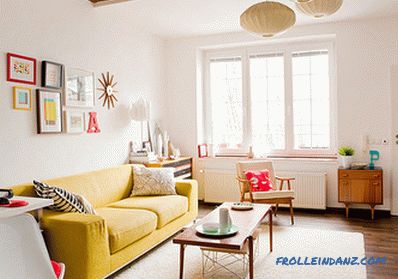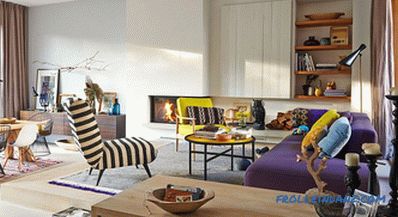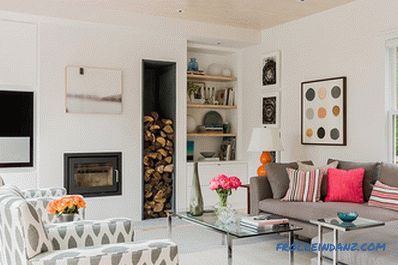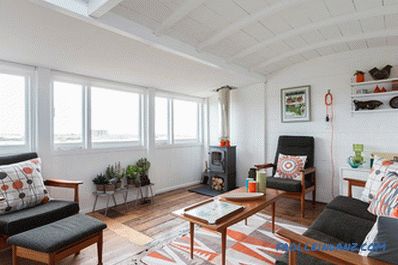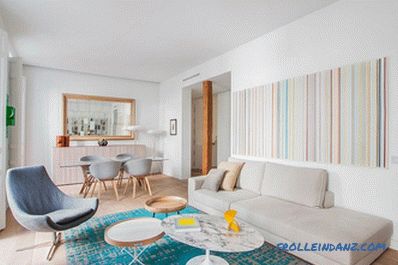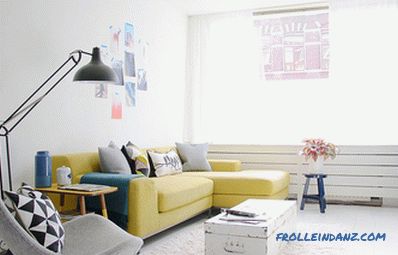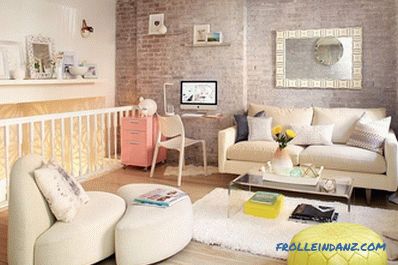 Canonical Scandinavian decor
One of the main potentials of the Scandinavian style is the ability to use timeless and iconic decor, and from the many available options you can choose what suits you best. The amazing things created by famous masters such as Charles Ames, Arne Jacobsen and Isamu Noguchi are worth investing in, as they will serve as excellent focal points in your living room. Of course, putting a chair from Ames or a coffee table from Platner at home is quite expensive, but you will soon realize that it's worth it. Form the rest of the living room around these "special inclusions": you can even put on furniture from IKEA - surely you will be able to find one or two interesting things that will help you finish the image you have created.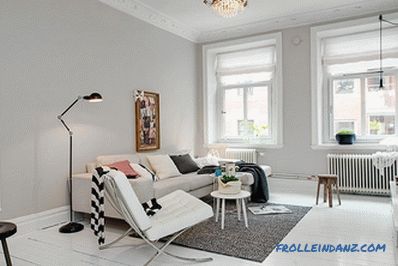 A charming Swedish apartment with a relaxing atmosphere.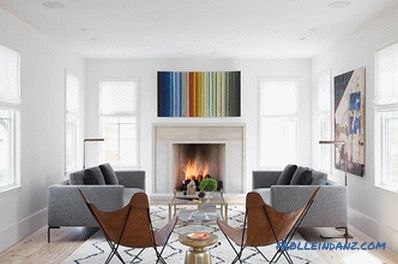 A combination of the modernist style of the middle of the last century and the Scandinavian style (from the Texas Construction Company).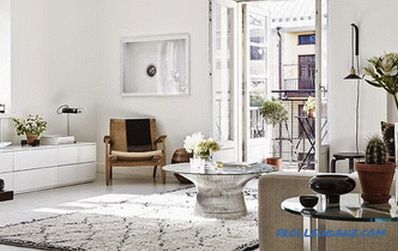 The elegant coffee table from Platner is the center of this beautiful Scandinavian living room (by Joanna Laajisto).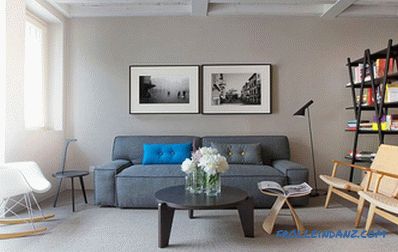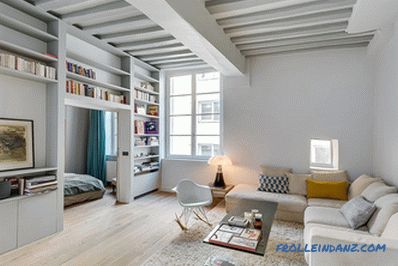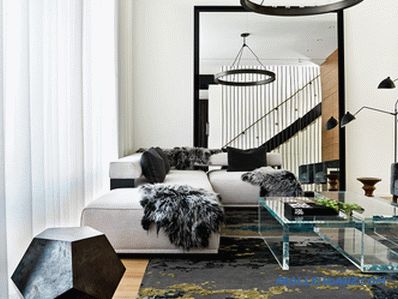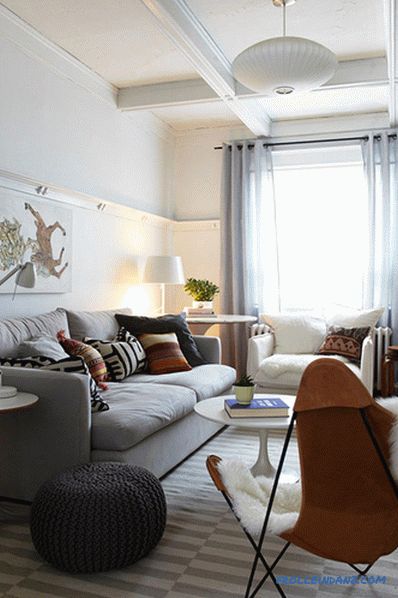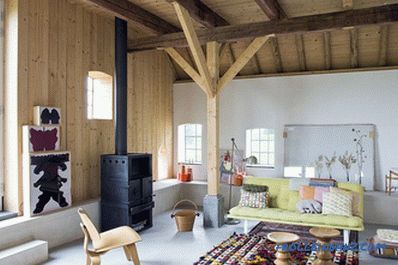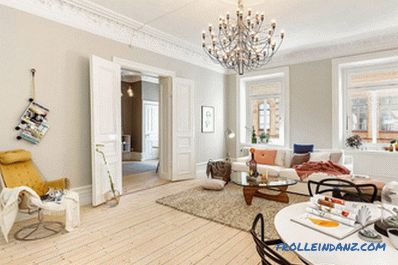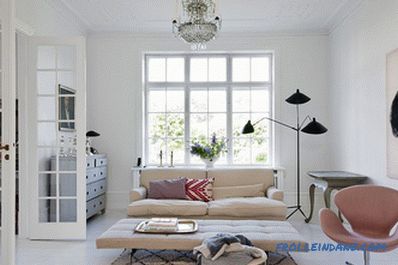 Mixing styles
In conclusion, we will look at several living rooms that combine the traditional Scandinavian look with other styles from around the world, thanks to which creates an amazing and unique living space. The modernist style of the mid-century and the Scandinavian style seems to have largely borrowed different concepts from each other and can be effortlessly combined into one whole. Vintage, retro and rustic style can also add intrigue to a Scandinavian living room. You can draw inspiration from Isamu Noguchi's brilliant works and create your own version of the "reunification of the Far East and Scandinavia"!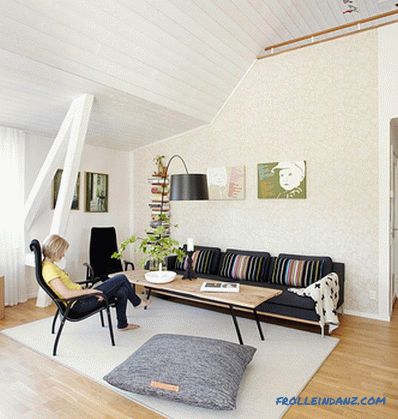 Throw a pillow or two on the floor to create an informal, relaxed atmosphere (from Burmester Photography).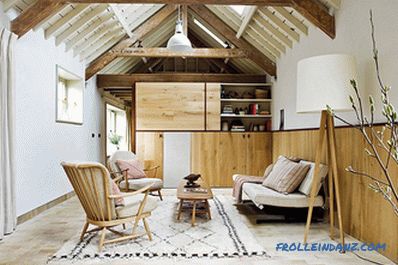 A quiet living room with warm wooden walls (from Retrouvius Ryland Peters. Small).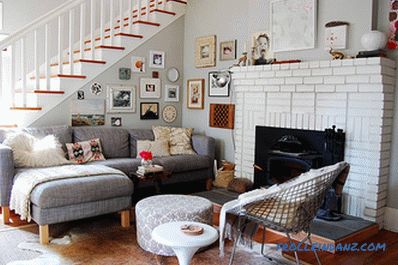 Modern Scandinavian style for comfort and ergonomics! (from Corynne Pless Photography).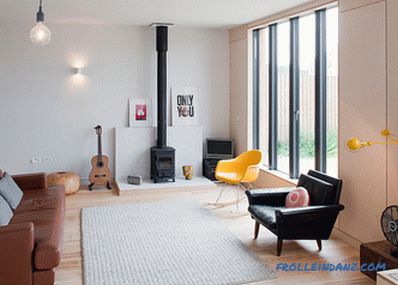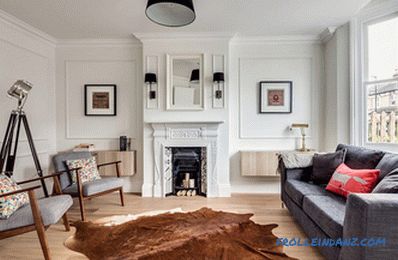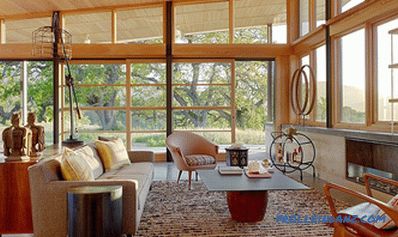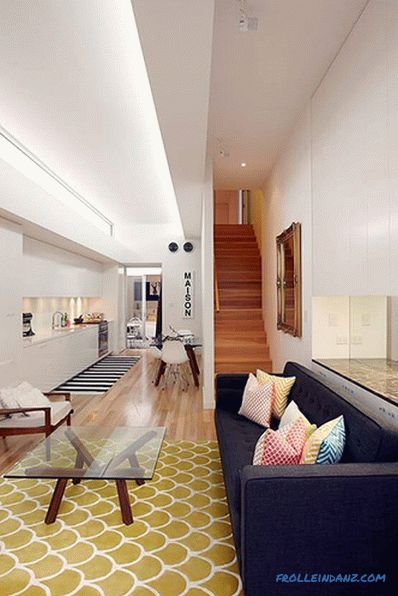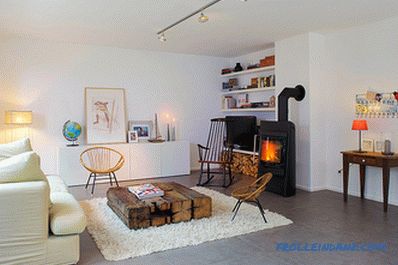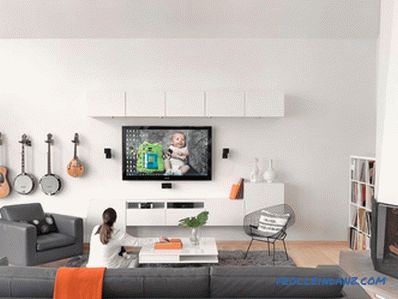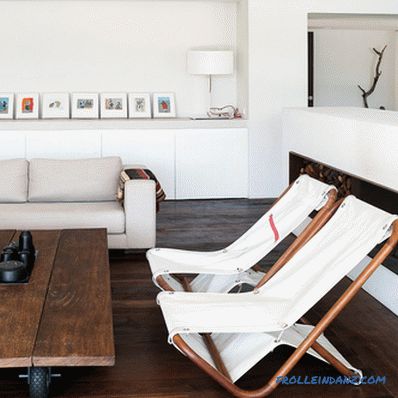 In the Scandinavian living room there is something peaceful, reassuring and soothing, which makes it ideal for a town house surrounded by constant noise and chaos. Find your own creative approach, and soon you will want to design your kitchen, bedroom and other rooms of your apartment or house in this style.