Polyfoam is a modern building material used for thermal insulation of buildings and structures. It can be used both for external, and for internal works. Polyfoam characteristics which we consider in this article has a number of indisputable advantages. This material is extremely in demand and is in high demand among developers and construction organizations.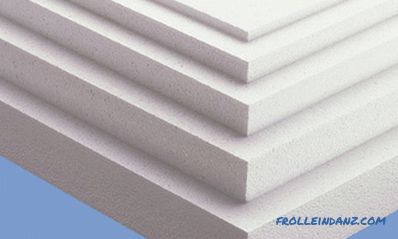 Structure and composition of foam
Polyfoam is a white material with a rigid foam structure that contains 98% air and 2% polystyrene.
For its manufacturing, a technology has been developed for foaming polystyrene granules, after which these microscopic particles are treated with hot steam. The procedure is repeated several times, resulting in significantly reduced indicators of density and weight of the material.
The prepared mass is dried to remove residual moisture. The process is carried out in the open air in special drying tanks. At this stage of production, the structure of the foam becomes final. The sizes of granules are in the range from 5 to 15 mm.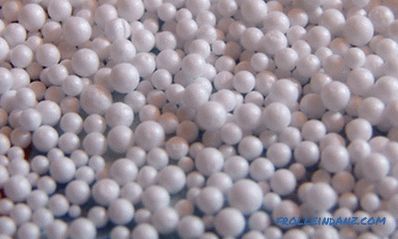 The dried granules of polystyrene are given the appropriate shape in the form of slabs. Pressing is carried out on special installations or machines that "pack" the foam and give it a compact form.
After pressing the foam, it is again treated with hot steam, as a result of which white blocks are formed with the specified width parameters. The blocks are cut with special tools according to the size required by the customer. Polystyrene sheets can be standard or non-standard sizes. The thickness of the foam varies from 20 to 1000 mm, and the dimensions of the plates have the following dimensions:
1000x500mm;
1000x1000mm;
2000x1000mm.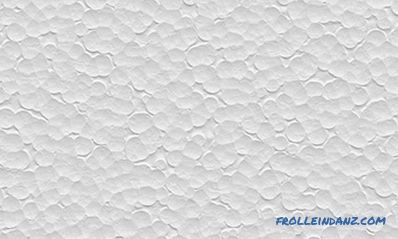 Technical characteristics of foam
Thermal conductivity
The undeniable advantage of the foam is its unique insulating ability. This results from the fact that cells of polyfoam in the form of polyhedrons of 0,3-0,5 mm in size. , fully closed. The closed cycle of air cells reduces heat transfer and prevents the penetration of cold.
Windproof and soundproofing properties
Walls insulated with foam plastic do not need additional wind protection. Moreover, the sound insulation of buildings and structures increases significantly. High sound insulation properties are also due to the cellular structure of the foam. For high-quality insulation of premises from external noise, it is enough to lay a layer of material with a thickness of 2-3 cm. The greater the thickness of the foam layer will be used, the better noise insulation can be achieved indoors.
Low water absorption
In comparison with other materials, foam plastic is characterized by low hygroscopicity. Even with direct exposure to water, it absorbs a minimal amount of moisture. This is explained by the fact that water does not penetrate through the walls of the foam plastic cells, but only seeps through separate channels through interconnected cells.
Strength and durability of polystyrene
Polystyrene plates do not change their physical properties for a long time. They withstand considerable pressure, but they are not deformed or destroyed. A good example is the construction of runways, where foam has found wide application. The degree of strength is determined by the thickness of the expanded polystyrene plate and its proper installation.
Resistance to biological and chemical effects
Polystyrene foam plates are resistant to aggressive media, including solutions of salts, alkalis and acids, sea water, lime, gypsum, cement, bitumen, silicone and water-soluble paints. A long-term exposure may be affected by substances containing animal and vegetable oils, as well as gasoline and diesel fuel.
When using polystyrene as a building material, its contact with aggressive chemical compounds should be avoided, including:
organic solvents (paint solvents, turpentine, ethyl acetate, acetone) ;
saturated hydrocarbons (alcohols) and refined petroleum products (kerosene, gasoline, diesel fuel, fuel oil).
The cellular structure, which is the basis of the foam, is in contact with the listed compounds and can completely dissolve in them.
Video: Polyfoam and acetone - chemical experience
Polyfoam is an unfavorable medium for microorganisms. However, in the case of significant contamination, the appearance and reproduction of harmful microorganisms on its surface is possible.
Ease of installation and ease of use
The foam plastic plates have an extraordinarily low weight, thanks to which they are easy to handle and their installation is easy.They are cut into pieces of the required size with ordinary tools.
Styrofoam is recognized as an environmentally friendly material and does not emit harmful substances. Therefore, builders working with him do not need personal protective equipment. The material is not poisonous, does not form dust, does not irritate the skin and does not have a smell.
Fire safety
High-quality building materials must meet all fire safety requirements and be resistant to open fire. The foam does not support the combustion process and flashes at a temperature that is two times higher than that of wood. Moreover, when burning polystyrene, energy is released 8 times less than when burning wood. This means that the temperature of the fire when burning foam is much lower.
Expanded polystyrene can ignite only during direct contact with open flame. When exposure ceases, the foam self-extinguishes within four seconds. These indicators characterize it as a relatively fireproof building material. Although manufacturers are vendors claim that it is absolutely fireproof.
Video: Foam flammability test
Styrofoam brands depending on density and their use
The figures in the foam marking indicate its density, the greater the figure the greater the density.
Polyfoam of grade PPT-10 is used for:
insulation of construction cabins, carriages and containers;
insulation of water pipes (protecting them from freezing and increasing service life).
Polystyrene of PPT-15 brand is used for:
sound and heat insulation of internal walls;
insulation of balconies and loggias;
insulation of houses, apartments and other premises;
sound insulation and insulation of structures without significant mechanical loads;
thermal insulation of water pipes (protecting them from freezing and increasing service life).
Polystyrene of the PPT-20-A brand is used for:
thermal insulation of building facades;
manufacturing decorative and finishing materials.
Polystyrene of brand PPT-25 is used for:
sound and heat insulation of internal and external walls;
heat insulation of foundations and floors ;
insulation of attic floors and ceilings;
sound and thermal insulation of attic rooms and roofs;
insulation of balconies and loggias, facades of houses and apartments;
production structures of multilayer panels (including reinforced concrete);
arrangement of access pads, heated tracks, car boxes, car parks;
hydro and thermal insulation of underground communica ;
protection of soils from swelling and freezing;
thermal insulation of water pipes;
thermal insulation of sewage;
strengthening the slopes of swimming pools, sports fields, flower lawns .
Polystyrene of brand PPT-35 is used:
for indoor and outdoor sound and heat insulation of walls;
for sound and heat insulation foundations and floors;
for sound and heat insulation of mansard rooms and roofs;
for insulating the facades of apartments and houses, loggias and balconies;
for arranging floors and walls of refrigerators in multi-storey refrigerators;
for thermal insulation of heated soils, ventilated undergrounds in auto repair shops;
when laying or reconstructing roads in wetland conditions and movable soils;
when installing refrigeration equipment (refrigerated wagons, freezing plants) and cold insulation of warehouse premises;
to protect the foundations from freezing and increase their strength during the construction of motorways and runways;
when laying and repairing railway branches (frost protection, protection from distortions and subsidence of roads on marshy ground);
to cover the soil in the process of strengthening the ledges of bridges and slopes of embankments.
The marking of the foam is complemented by conventional letters:
A - a plate with smooth edges in the shape of a parallelepiped;
B - a plate has edges in the form of an L-edge;
P - a plate cut to the outer dimension with a hot string;
F - a plate made to the outer dimension in a special form;
N - foam plate intended for outdoor use.
We give an example of what the foam plastic labeling looks like:
PPT-35-H-A-R 1000x500x50mm.
Disadvantages of foam foam
# 1. The main drawback of expanded polystyrene is its flammability. Foam sheets are flammable and emit toxic substances. To counter this, special additives and technologies for the production of self-extinguishing foam have been developed.
# 2. Polystyrene structures must be protected from the damaging effects of solvents and ultraviolet radiation. The use of polystyrene foam plates in the open air requires their protection from the sun's rays.
Video: Expanded polystyrene: myths and reality