Monterrey metal tile, the technical characteristics of which will be discussed in this article, is the most popular roofing material. Its most important parameters are the exact dimensions of the sheet, and its thickness, the material from which the coating is made, the parameters of the tile wave (pitch and maximum height), and much more.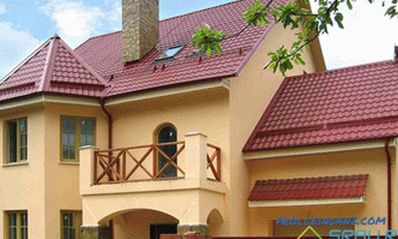 What is the Monterrey metal tile (Monterrey)
This metal tile with such a sonorous name is, in general, a classic. That is, it maximally repeats the shape of a traditional ceramic tile. Well, inside it - strong galvanized steel, reinforced with a layer of polymer. This material is often used when you need to restore the roof of some historic building, the renovated places get a look very similar to what they were in the historical past. However, for the roofing of modern houses tile with a Monterrey profile is well suited and in great demand.
Structure of sheet metal
A sheet of metal consists of several layers. As seen in the photo, there is a coating on both sides to protect the steel surface. Each layer of sheet metal is designed to carry a specific function, responsible for the quality of the entire product.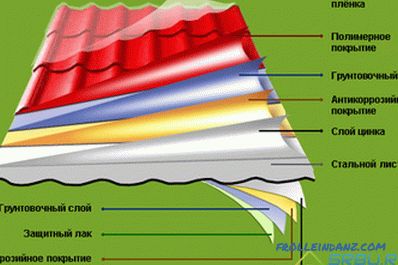 The inner layer is a thin sheet of galvanized steel. Thanks to him, the roofing can withstand significant loads.
On each side, the sheet of metal is covered with a galvanized or alumotsinkovym layer. This reduces the chance of corrosion.
The next layer, also located on both sides, is a primer with high adhesiveness. He needed to paint more tightly held on the metal.
A layer of polymer is applied on the front side of the sheet. This layer increases durability, protecting shingles from adverse conditions.
Inside there is a lacquer layer, which also contributes to the protection of the coating.
Technical Specifications of the Monterey Metal Tile
From which layers the sheet of metal consists of, we have considered, now let's talk about what technical characteristics each layer has or must have in order for the product to be of high quality and to last for a long time. time.
Metal sheet thickness
According to GOST, this value for metal tile and corrugated flooring should be in the range of 0.4 to 0.6 mm. Steel type: rolled, cold rolled. Sheets are formed on special roll forming equipment. It is not allowed to fluctuate the thickness over the entire surface of the steel sheet.
For Monterrey metal tiles, this thickness is usually from 0.4 to 0.5 millimeter. According to GOST, deviations can be up to 0.05 millimeter. In Europe, the requirements are much stricter - according to the ISO standard, the deviation in thickness is no more than 0.01 millimeter. Such parameters give the finished product good rigidity and sufficient strength.
Protective polymer coating
This coating is applied before the tiles are wavy. The polymer layer gives a lot of positive qualities to the future roofing.
A barrier is created for corrosion as well as for ultraviolet.
The surface is much less mechanically destroyed.
The tile does not lose its color for a long time.
Summer heat and winter cold are not dangerous.
The polymer coating can be made on the basis of one of the five most common polymers:
1. Polyester is a 25 micron coating consisting of resistant polyester paint. It very well protects against corrosion and mechanical damage.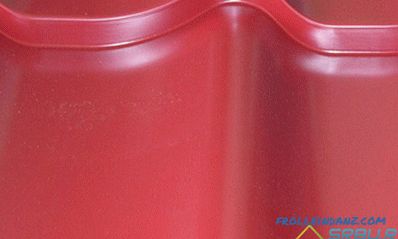 2. Matte polyester - 35 micron thick coating, distinguished by its refined look and special resistance to weather fluctuations. Suitable for any climate.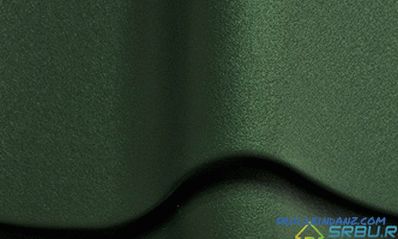 3. Plastisol is a coating of polyvinyl chloride (PVC). Its thickness is 200 microns. It gives excellent protection against UV rays, corrosion and damage (both mechanical and chemical).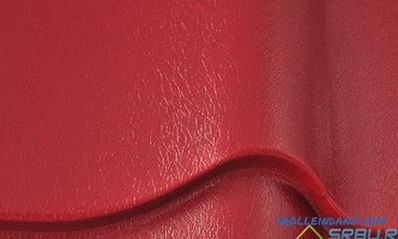 4. Pural - a coating of polyurethane, or pural (50 microns thick) perfectly tolerates large temperature fluctuations. Its color is very resistant, corrosion protection - almost one hundred percent.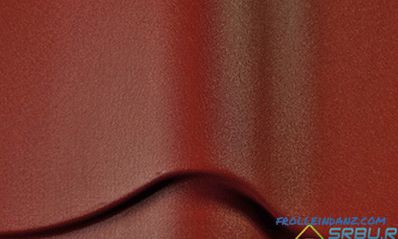 5. PVDF - the coating 27 microns thick is made of a mixture of acrylic and polyvinyl fluoride. It does not fade from sunlight, does not break under mechanical loads and can serve for an extremely long time.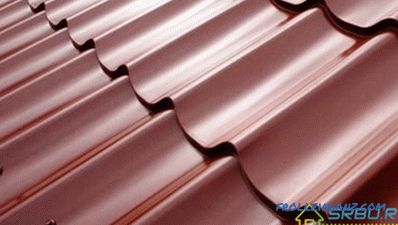 Comparative characteristics of types of polymer coatings
| Type of coating / Parameters | Polyester | Matte polyester | Pural | Plastisol | PVDF |
| --- | --- | --- | --- | --- | --- |
| Protective layer thickness, µm | 25 | 35 | 50 | 200 | 27 |
| Primer, µm | 5 - 8 | 5 - 8 | 5 - 8 | 5 - 8 | 2 - 8 |
| The texture of the coating | smooth | matte | smooth | embossed | smooth |
| Maximum temperature | 120 | 120 | 120 | 80 | 120 |
| Minimum temperature | - 10 | - 10 | - 15 | - 10 | - 10 |
| Anticorrosion | good | good | excellent | excellent | excellent |
| Fur resistance damage | average | average | good | excellent | good |
Geometrical dimensions and types of Monterrey profiles
The size of the Monterrey sheet metal tile, as well as the type of profile, are of great importance when choosing. Selecting the most suitable type of profile, you can reduce costs, as well as the number of cut pieces. Savings there. First of all, it is necessary to take into account the following tile parameters:
Length;
width;
profile height;
wave step.
All these indicators differ slightly and depend on the type of Monterrey profile.
There are three types of Monterrey profile:
1. MP Monterrey is perhaps the most popular type of roofing. It is strong, durable and very economical.
MP Monterrey
Sheet width nominal, mm
Sheet width useful, mm
Sheet length, mm
Profile height, mm
Wave spacing, mm
Metal thickness, mm
1180
1100
0.5 - 9
39
350
0.4 - 0.5
2. MP Supermonterrey - a kind of variation of the previous type. She has a high profile height. This roofing material looks very dignified and solid, it looks more like a real ceramic tile.
MP Supermonterrey
Sheet width nominal, mm
Sheet width useful, mm
Sheet length, m
Profile height, mm
Wave spacing, mm
Metal thickness, mm
1180
1100
0.5 - 9
46
350
0.4 - 0.5
3. MP Maxi - (Monterrey Maxi metal tile) has increased wave width and height. Due to this, its forms are particularly expressive. They emphasize the architecture of buildings, giving them completeness.
MP Maxi
Nominal sheet width, mm
Sheet width useful, mm
Sheet length, mm
Profile height, mm
Wave spacing, mm
Metal thickness, mm
1180
1100
0.5 - 9
46
400
0.4 - 0.5
About the color of the Monterrey metal tile
The RAL color table, invented back in the beginning of the last century Germany has a very wide range. The metal tile considered in this article is painted exactly in accordance with this table. Therefore, the color gamut of the Monterrey metal tile shines with a variety and richness of shades. This allows you to build a roof of the color that your heart desires. It should be specially emphasized that all international quality standards are complied with.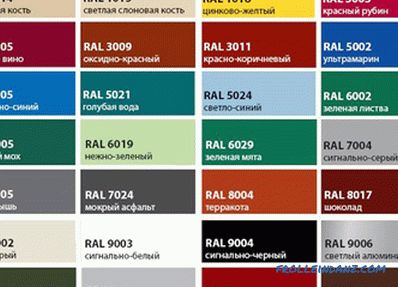 About a barrel of honey and a fly in the ointment (pros and cons of metal tiles)
First, about good
This roofing material is hard enough , it has increased resistance to stress.
Water is not able to seep through Monterrey metal roofing.
Ultraviolet rays do not penetrate the protective layer of the polymer.
Temperature fluctuations do not harm the metal tile - it does not burst from the cold and does not lose its appearance from the heat.
Corrosion has almost no chance of penetrating through layers of polymer, varnish and galvanizing, reaching the metal.
The lifetime of this metal tile is very long - it can lie on the roof for 30-50 years without any changes.
In addition, Monterrey metal tiles weigh very little. Therefore, its load on the rafters is small - only from 3.5 to 5.5 kilograms. So there is no need to use a system of reinforced rafters.This will save materials, finance, and time.
And also, under the Monterrey metal tile, there is no need for frequent crate. Thus, the type of profile MP Monterrey has a profile step of 35 centimeters. Accordingly, exactly the same step will obreshetki. Again, the substantial savings in building materials are clearly visible - after all, with a rare crate, they require significantly less.
Now about the disadvantages
In general, there are far fewer minuses than advantages. There are only two of them.
Unfortunately, it is not very profitable to cover the complicated roofing with this metal tile. Already a lot of waste remains. But a flat rectangular roof can be covered with a minimum of residues.
Well, the noise should be said - after all, it accompanies all roofing metal products. If you do not make a good sound insulation, then the howling of the wind and the sound of rain with hail will be clearly audible in the room. However, you can kill two birds with one stone by using a heat insulator with good sound-proofing properties for the roof.
Video: Monterrey metal tile: dimensions and characteristics