What does the living room of your dreams look like? Do you like the simplicity of the laconic Scandinavian style? And the comfort of the Danish style Hugge? Or maybe you like the eclectic combination of colors, patterns and textures? Whatever your preferences, it is interesting and tasteful to decorate the interior of a living room in a private house - the task is rather complicated. The online magazine LuxPad asked several experts from different parts of the world to show perfect living rooms from their point of view. Now we have a lot of ideas that will be useful to you when creating the perfect "heart" of your home.
Bohemian living rooms
Kate from Kate Young Design
This living room, one of the best examples of bohemian chic, is owned by Marie Olsson Nylander. The room is elegant and cozy, and it's about style rather than a demonstration of a beautiful collection of various vintage items. This living room with its neutral tones, white walls, natural materials creates a sense of calm and serenity. Just imagine yourself basking on this magnificent couch or enjoying a cup of tea with friends! That is what a living room should be. It must be the embodiment of life itself. .. beautiful life.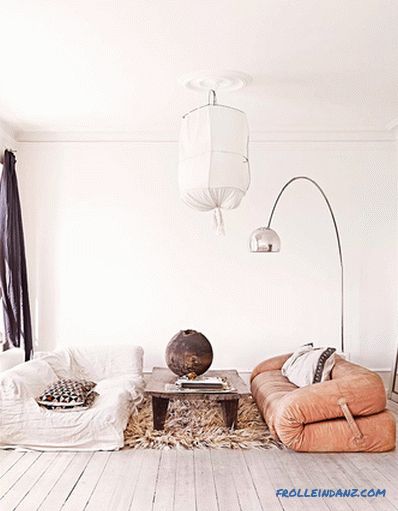 Photo: Mointerior.
Shireen Dhaliwal from Echo. Mirth
In the depths of my soul, I am a maximalist, therefore, from my point of view, this eclectic, bohemian living room is an ideal place for solitude. To bring some elements of bohemianism into your room, you will need a lot of books, curiosities collected during your travels around the world, and things that just make you happy - all this is perfect for decorating a living room!
Moderate your excess fun the rooms are somewhat larger, but more soothing elements, such as the sofa and the neutral color of the walls. How to breathe life into the interior, nature knows best. It does not have to be indoor plants - a coffee table made of a massive piece of wood or a bamboo hanging chair will create the same effect!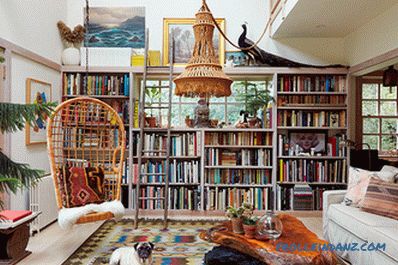 Photo: Lonny.
Emily Schumer (Emilee Schumer) from NousDecor
The best interiors, as a rule, are the result of a combination of different ideas about the beautiful - this is how a unique style is born. Take for example this magnificent bohemian living room. Notice how the pure whiteness of the furniture and walls is balanced by bright spots of color. The combination of the sofa, simple and modern (not to mention its convenience, which is also very important!), With this incredible Moroccan-style coffee table and bright striped rug, gives the space individuality and style. Add a lot of natural light flowing from the many windows and you will get a dream living room.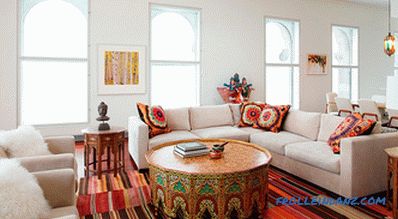 Photo: NousDecor.
Janice Issitt, internet blogger
It would be strange for me to call my dream space not my living room. I constantly rework and modify this room at home, but the end wall with the mirror on it remains unchanged - this is the hallmark of my living room. Recently, the floorboards in the room were painted white to drastically change the look of the entire first floor of the house.
The left sofa, bought at auction, was upholstered in new fabric, the walls were painted in my favorite colors. In the living room are my collections of textiles, works of art and various gizmos brought from long journeys. All this is very expensive for me personally, but this is what forms the dream space. It seems to me, it turned out very lively and cheerful, but at the same time it is comfortable and cozy.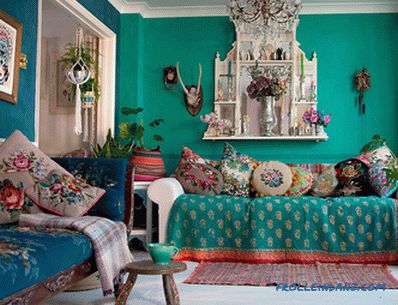 Photo: Janice Issitt.
Scandinavian style living rooms
Anna Lysik from Don't Cramp My Style
For me, a living room is more than just a comfortable place where you can relax and unwind. This is a multifunctional space where the owner of the house, among other things, can also show his taste, his style. I think that the most important attribute of the living room is a comfortable sofa and extra seating for guests, and a large carpet, decorative sofa cushions and lighting help decorate the most boring and dreary room. I like the mix of textures, the pure white background and the accent yellow color in this Scandinavian living room. The fireplace and works of art on the wall are a nice addition.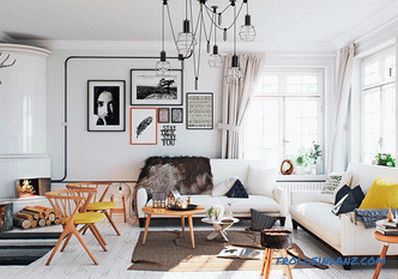 Photo: Box Studios.
Johan Hazenbroek from Label 1114
Most of all in this huge living room I like the combination of industrial and Scandinavian styles. The contrasts present here create a very interesting and inspiring picture. Rough and soft, dark colors and light accents go hand in hand in this room.We will not mention the humorous strokes, such as a rope for climbing, a cult rocking chair and unsuited (but at the same time carefully selected) pillows on the sofa. And ends the list of non-trivial interior elements with a mobile pallet with greens. This living room is a prime example of a combination of masculinity and femininity, allowing you to create a warm and cozy atmosphere.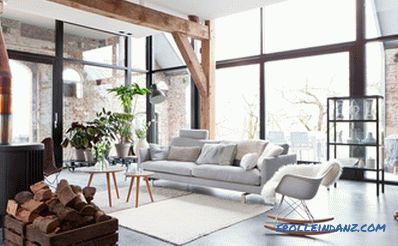 Photo: Barbara Kieboom.
Emma Harris (Emma Harris) from A Quiet Style
I'm not sure that this is the living space of my dreams, but it is pretty close to my ideal. It has everything you need to create the perfect room: a beautiful floor (the right or wrong choice of flooring is really able to create or disturb the interior design), a sofa in which one just wants to dive, a simple and calm decor that is easy to update, interesting objects to maintain white interior design ... and, most importantly, the place where you can put your cup of tea.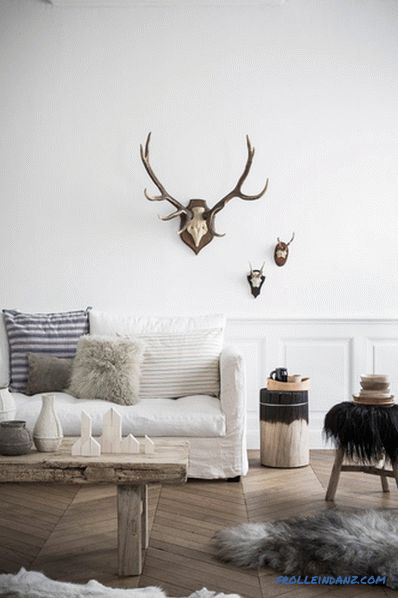 Molly from Molly and the Princess
This living room with a stunning fireplace and a curved skylight that instantly captures your attention is furnished to keep first enthusiastic impression. The black color of the fireplace is reflected against the opposite wall in the low-hanging luminaire and the Hoof coffee table. Carpet and sofa neutral shades are well combined with other interior items, and green pouf and indoor plants reflect the greenery of the trees outside the window - all this creates additional interest in space. The whole interior as a whole looks light, natural and minimalist comfortable. To achieve the perfect balance of beauty and functionality, to which I aspire in my home, nothing more is needed.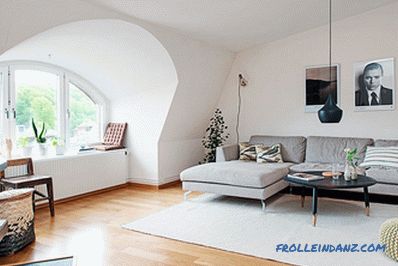 Photo: Alvhem.
Louise Parker (Louise Parker) from Studio Gabrielle
The design of this living room in a private house, developed by experts from the SJB Interiors studio, looks quite delicate due to the use of exquisite furniture, accessories and fixtures from leading world manufacturers. All this elegance is emphasized by the luxurious decoration and the abundance of natural light inside the room. The key to creating an ideal living space is dynamism created by contrast and focusing on a white background. To make your living room perfect for relaxing and relaxing and envy your neighbors and acquaintances, you need just a few large square pillows of neutral colors, a soft Scandinavian-style carpet under your feet and a mixture of hydrangeas and peonies scattered throughout the room.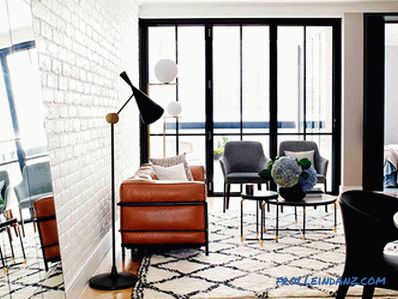 Photo: SJB.
Colorful living rooms
Anna Kovalchenko from L'Essenziale
When I saw this room, she immediately caught my attention with her unusual color combinations and unconventional using paint. I like the blue color scheme - at the bottom on one wall and at the top on the next. This trick makes the room bright and airy, and at the same time provides enough color to keep it from looking boring. I also liked the wardrobe with black triangles - this is a simple, but very interesting idea.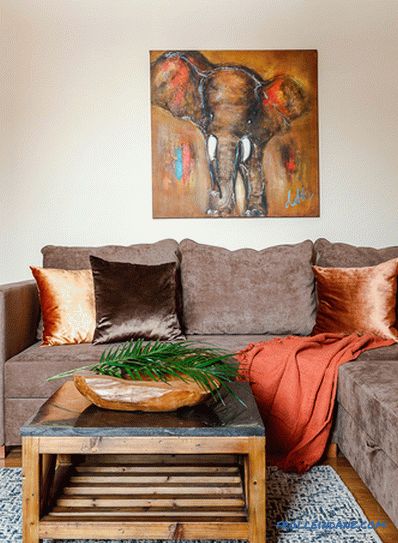 Photo: L'Essenziale Home Designs.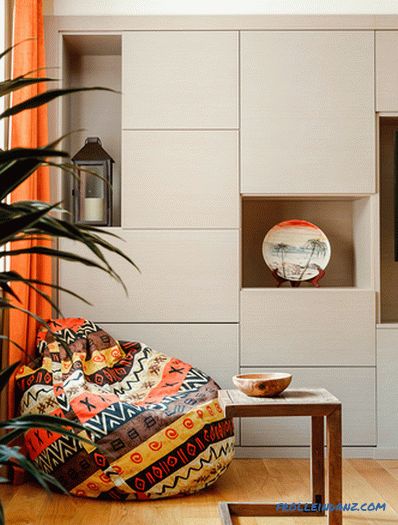 Photo: L'Essenziale Home Designs.
Suna Interior Design
In this living room from Suna Interior Design Studio perfectly blend fancy and snazzy. This space with its dark, rich tones and individually selected elements of the interior creates a mood. Both the collectible model of the Battersea power station and the nearby contemporary artwork, in which the name Wandsworth appears, serve as an indication that this living room is located in one of the London houses. The proximity of various textures, such as a concrete coffee table, a leather sofa and a soft velvet sofa, creates a sharp contrast. And the combination of blue, brown, gray and black colors surprisingly and effectively fits the atmosphere of urban space.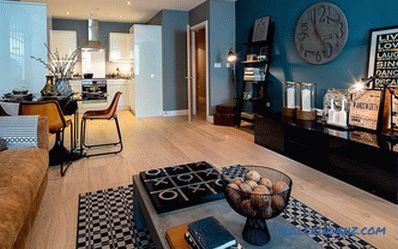 Lesli Devito from My Country House
I literally fell in love with this living room as soon as I first saw her in Domino magazine in August 2008. It belongs to the gallery owner and entrepreneur Katie Ukrops (Katie Ukrops) from Richmond (Virginia). I have always been attracted to pastel colors, but it is quite difficult to use them "as an adult". Here it was possible! Pale pink and soft blue hues were my springboard, and I still use them as a template for decorating living room interiors.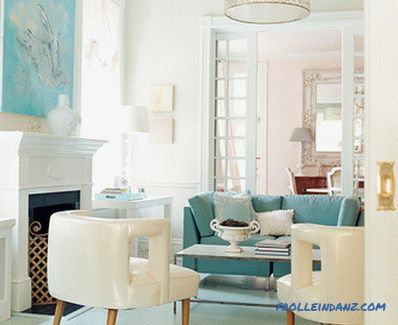 Photo: Domino.
Sophie Tatton from Tatty Designs
I am a huge fan of interiors where color and personality abound, and this space is, of course, in my taste.This interior uses wonderful bright and bold colors, which were introduced with the help of accent accessories. Looking carefully, you will notice that the walls and furniture here are calm, muted tones, so that in the future, using different accent elements, the color scheme of the space can be easily changed. Lighting is one of the most important functions in the living room, as this space performs various functions. In this room there are several different sources of lighting that will create a wonderful atmosphere in the dark.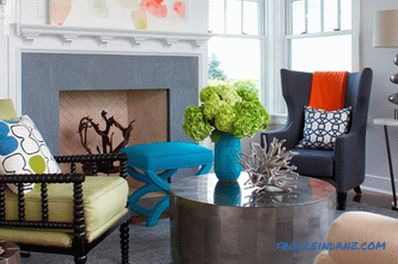 Photo: Rachel Reider.
Elena (Elena), interior blogger
I love color, so it's no wonder that I like the interior of this living room in a private house. The abundance of natural light makes this space an ideal blank canvas for further decoration. Yellow accessories give the living room a very feminine look. The room looks luxurious, but at the same time homely. I like the mixture of textures: a rug, canvases on the wall, glossy surfaces, as well as the sheen of metal - all this adds to the modern interior.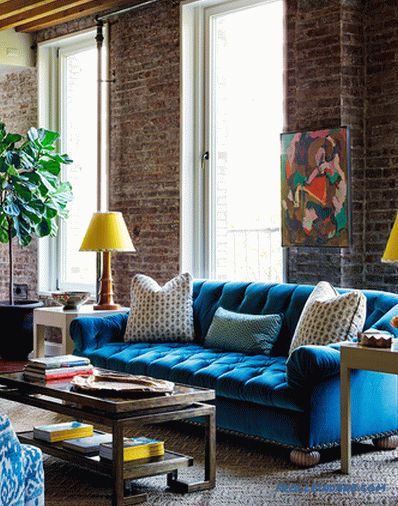 Photo: Courtesy of © Trevor Tondo / OTTO.
Mette Jakobsen from Monster Circus
Let nature into your living room. Add to the interior a touch of Japanese style, appreciated for its clean lines and attention to detail. For this, it is enough, firstly, to create a feeling of simplicity and, secondly, to place the external elements inside the room. Create a special character living room will help plants. Greenery will give the room lightness and freshness. Large windows in small spaces are a particularly powerful application. Coordinate your living room with simple wooden furniture and elegant plants.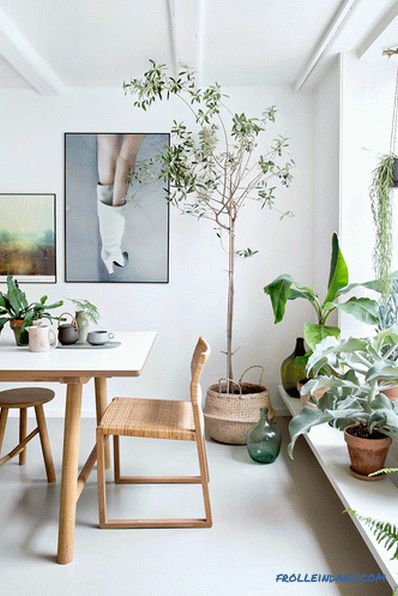 Photo: Christina Kayser Onsgaard, Styling by Rikke Graff Juel.
Natalia Alexandrova (Natalia Alexandrou) from British Style UK
Using self-adhesive photo wallpapers is a great way to instantly change your living room. These "wall murals" can be moved at any time, and they will not leave any traces upon removal, which means that it is ideal for rental housing! Borrowing elements and colors from your chosen photo wallpapers and using them in upholstered furniture and accessories will link the space together. Ideal for people looking for an inexpensive and stylish wall decor that is easy to replace when they want to give the living room a new look.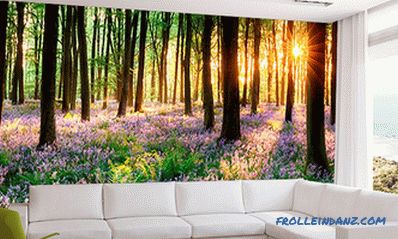 Photo: WallpaperInk.
Living rooms in the modernist style of the mid-century
Kirsten Grove from Simply Grove
More recently, we bought a real masterpiece from the middle of the last century, and as a result, they shouldered great responsibility and a huge repair project. It is easy to guess that I love the style of the 1940s and 60s, and this living room represents the perfect balance between this style and modern. White walls combined with dark furniture and color accents in the accessories make this space perfect. And what about this amazing chandelier? Agree, she enlivens the room!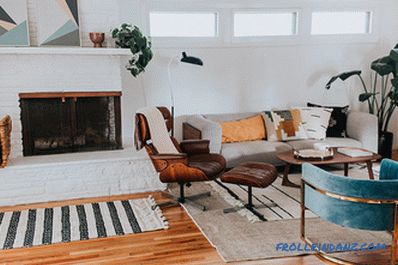 Photo: Jordan Younger.
Kate Beavis, interior blogger
I have an eclectic taste. I like to combine vintage and modern household items and furniture in one interior. It is for this reason that I really like this living room, the owners of which connected the tick, characteristic of the 1960s and 1970s, with African accessories and a lamp, in which a slight hint of industrial style can be traced. I am especially enthusiastic about the volumetric image on the wall of a teak sideboard, a beveled coal bucket, a dark gray steel hearth and a West German lamp with a large shade. Three-dimensional objects on the walls and the placement of paintings at different heights are of no less interest - all this adds space to the space. Undoubtedly, the owners of this living room adhere to the rules to which I myself try to follow: surround yourself with items that you love, because this is your home!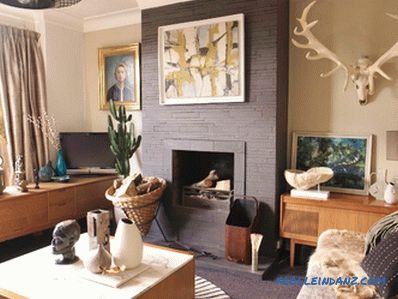 Photo: Simon Whitmore.
Classic Living Rooms
Jessica Stone from Persona Abode Interiors
Designer Rodman Primack takes into account the architectural features of the building and uses simple color palette. The latter allows him to slightly "go crazy" with the pattern and color with the help of accessories and pillows. I like the way the designer managed to bring order to this crazy combination of patterns by competent grouping.
I adore living rooms filled with books, they bring amazing colors and textures, and you can regroup them when you want to change. The real highlight of this interior are plants and crafts from natural materials.Forget about curtains - indoor leafy plants, placed on window sills or just near windows, will imitate the trees outside and cover the inhabitants of the house from prying eyes.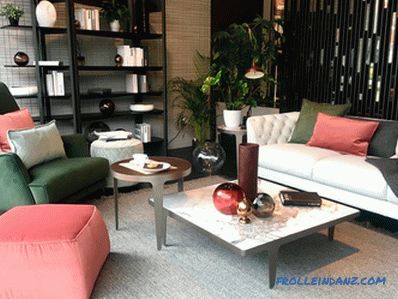 Photo: Persona Abode Interiors.
Nick Scott (Nick Scott) from WN Interiors
Often, the key to a successful design of a dwelling is careful selection of a color palette. In this stunning living room several basic shades are used, but then additional colors and textures are "injected". Another way to make the room more interesting and unique is to mix old and new materials, as well as the use of bright drawings with clearly outlined contours. Generating new design ideas by pushing away from a piece of furniture or a work of art allows you to find your inspiration and at the same time preserve the common thread of the original idea.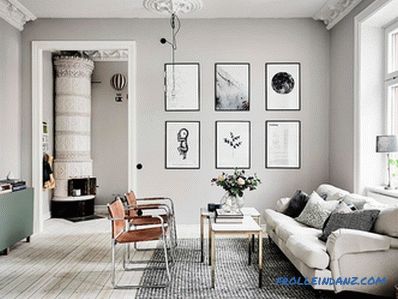 Photo: Entrance.
Louise Blackmore (Louisa Blackmore) from West Egg Interiors
The design of this living room in a private house, designed by spouses Jesse Carrier and Mara Miller from New York company Carrier. Company, is a reflection of three ways to achieve the ideal: (1) beautiful proportions, (2) a seamless combination of textures throughout the space and (3) a skillful combination of old and new. I like the sofa, the Ralph Lauren coffee table and the Chinese porcelain panels on the walls. For me, this is the perfect living room - comfortable, calm and cozy.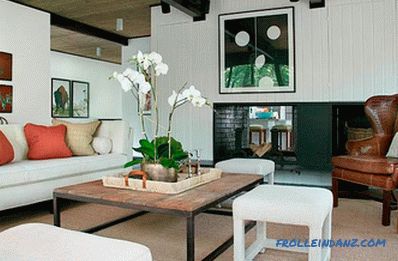 Photo: Jesse Carrier.
Lori Bernstein (Lory Bernstein) from Designthusiasm
When I decided to find an image that would reflect my view of the perfect living room, I knew that I needed to include certain elements in the list of search criteria. which I consider as defining components of my style. This living room at home in New Orleans meets all my requirements. It is both fresh and modern, with a European influence in its design. In my living room, from my point of view, there should certainly be a luxurious sofa in which you want to "drown" (by the way, pay attention to how attractive the cream furniture upholstery in this room is). Clean and light high ceilings, decorative moldings and magnificent arched windows create the perfect backdrop for a delightful combination of stunning antiques, beautiful reproductions and even modern art objects found here or there. Rich patina, lush gilding and carved wood add the final touches to the overall picture, and snow-white skin and soft cushions provide comfort and the desire to stay longer here.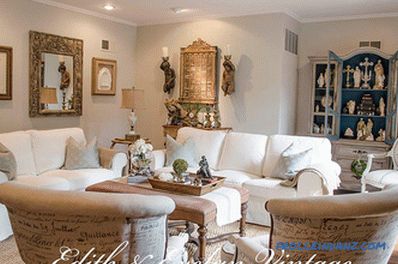 Photo: Edith and Evelyn.
Laura from We Made This Home
I present to you my idea of ​​a very cozy and attractive living room (image taken from the book "Cabbage and Roses"). I love how the light from the beautiful sash windows located on both sides fills the room, and the heavy floor-length curtains frame the view of the garden. The walls of warm neutral colors are perfectly combined with vintage faded floral and checkered fabric, which creates a feeling of ease and comfort. The cushion on the sofa not only makes the room look more comfortable, but is also a great practical solution for families with small children. A stack of books and magazines on the coffee table or footstool is a great idea: this "creative mess" reinforces the feeling of ease.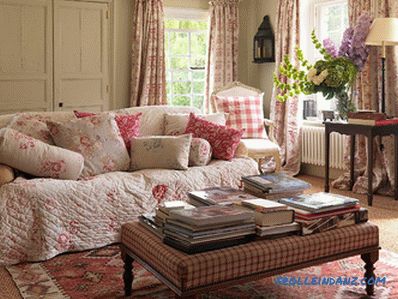 Photo: Cabbages and Roses.
Glamorous living rooms
Agata Dimmich from Passion Shake
Brick wall, indoor plants, the most diverse textiles and artistic objects are the four basic elements which I like in any living room, and therefore this room is especially attractive to me! I like houses filled with strokes of something personal and individual — this is easy to achieve by creating my own gallery of engravings, paintings and photographs. With the help of textiles it is easy to remake any living room - just add or replace pillows, skins or carpets. And, of course, indoor plants. .. They can revive any room, giving it an airy, spacious and at the same time lived-in look.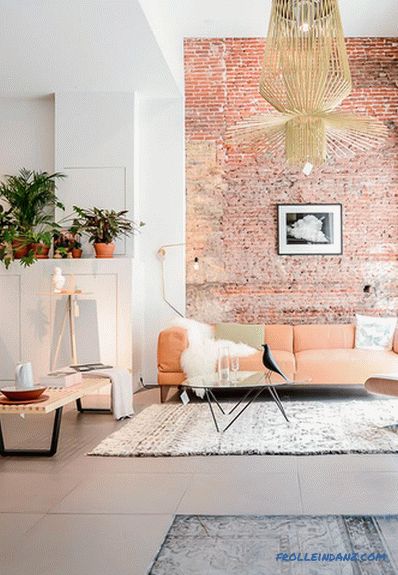 Photo: Binti Home Blog.
Jennifer Lippi from Decorating Delirium
The living room is usually the heart of the house. Whether you use it for formal meetings or for everyday life, it should be a reflection of your personality and style. This amazingly elegant living room is the embodiment of my ideal. At first glance, the room looks very simple, but a more detailed acquaintance with it will help you learn a lot of valuable decorating tips that can be applied to any space.First, the room has beautiful lilac touches, against which golden accents look great. Secondly, soft and outwardly very attractive Mongolian fur stools serve as a certain element of fad that adds texture to the interior. (In my opinion, there must be some fancy element in every living space.) Even more textures bring carpets into this room. Finally, one can observe a good combination of elements from different eras. For example, a large antique mirror adds a touch of antiquity to modern furniture.

Photo: Simon Brown.

Anna Bilton, interior designer
This London townhouse is one of my best works. A rather narrow room was given depth and another dimension due to the placement of two Venetian mirrors on both sides of the fireplace. Mirrors added space and symmetry. A model of contemporary art — Rachael Nee's beautiful work from the Cube Gallery London — hangs in a simple frame above the fireplace, the latter, in turn, when viewed from the back of the room itself is framed by a fragment of a sculpture by Jacques Vanroose Challenge. Contrasting silk and linen textures are superimposed over the velvet to create a sense of depth inside the fabrics. The overall color scheme of the living room, light and neutral, creates a sense of calm in the urban jungle.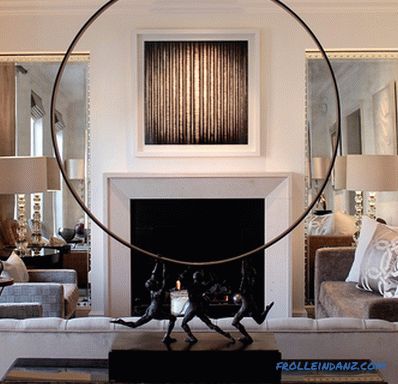 Photo: Anna Bilton
Hilda from Hilda By Design
Do not be afraid to experiment with the interior living room in your private house! For example, I really like the combination of modern design with antiques. If you really love something, you can make it work. Sometimes a single element can modify your entire design scheme. This house in New Orleans, owned by Sarah Ruffin Costello, is a very lively and stylish space. A unique chandelier and huge banana leaves on the mantelpiece make the interior more spectacular. The painting and the stunning antique mirror are also a winning combination.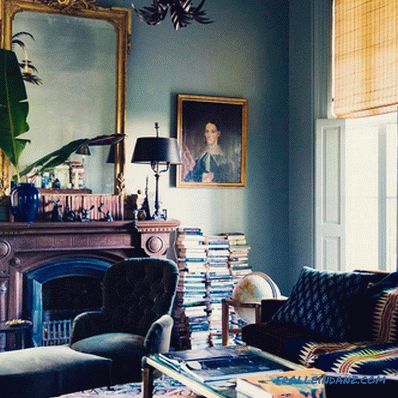 Photo: Nicole LaMotte.
Evija Roberts from From Evija With Love
I like this gorgeous classic living room in gray, brown and gray-brown tones. This color palette radiates elegance. The use of silver metal elements is a very good idea, as they unite the entire interior and create a feeling of luxury without overwhelming it. There is a fine line between the stylish and the capricious, and in this case the perfect balance is achieved. I imagine that I am sitting in this living room, in an armchair, by the burning fireplace, and reading a favorite book.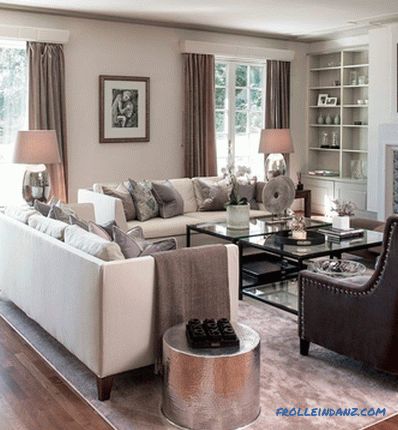 Photo: Swanfield Living.
Bianca Hall (Bianca Hall) from French For Pineapple
I love this living room: it combines so many of my favorite things - from modern sofas to vintage mirrors and brass coffee table , from colorful works of art to eye-catching lamp. Glamor oozes from everywhere, but the interior doesn't seem annoying at all. For me, the preservation of a limited color palette is very important, so a feeling of calm and harmony is created in the room. But in fact, there is a mixture of textures and materials, so the eyes have something to see. This living room is an ideal example of a skillful combination of different styles and elements, but due to the limited color range, it looks quite comfortable. For me, this is the perfect adult living space.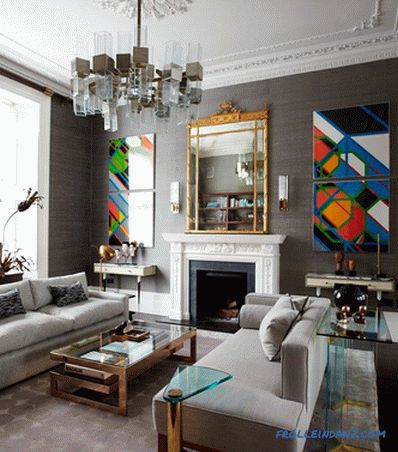 Photo: Air Space Locations.
Emma Hooton, Interior Designer
This living room at the Knightsbridge Hotel is the epitome of understated elegance and sophistication. Beautiful crafts of craftsmen, paintings and sculptures are combined to give a special interest to the interior. I like the muted tones of indigo and burnt orange, gorgeous textiles and unique interior items. This is a great example of how accessories and art objects form the character and essence of the interior, not just serve as an addition to the design, but are an integral part of it.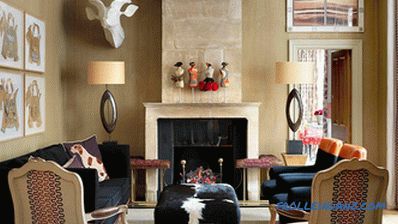 Photo: Firmdale Hotels.

Sophie Howard, interior designer
The key to creating a living room that looks high-class and professional is symmetry ! First, select a focal point in your space, be it a fireplace, a large sculpture or a fabulous sofa, and use this as the center of the space. Use mirrors to make the room visually larger and fill it with light, use pillows of different materials to add texture to the interior, use flowers to create a touch of softness. All this will help bring symmetry and elegance to your living room.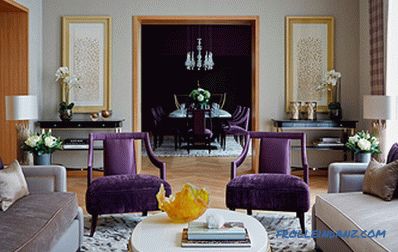 Photo: Taylor Howes.
Jayesh Patel from Air
This living room seems so big because it creates the feeling of being both inside and outside. You can enjoy the connection with nature without leaving the comfortable living room. It's easy to achieve this effect - it's all about the glass doors from Air. Thanks to today's popular sliding doors, it was possible not only to create a feeling of spaciousness, but also to significantly increase the amount of natural light inside the room. The final touch to the interior of this room was a glass table, shelves, floor. Modern design is very popular today with homeowners, and large glass doors are the perfect way to effectively open up your home.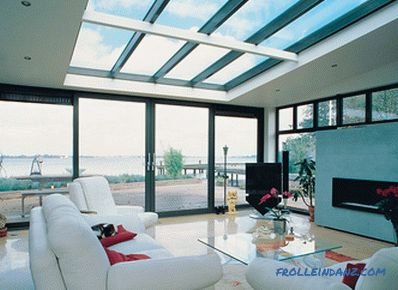 Photo: Discover Air.
Photo: design of the living room in a private house