A variety of materials are used for construction today; they differ not only in appearance but also in their properties. One of the current is plywood, manufactured in the form of sheets. Plywood sheets are used for various types of work.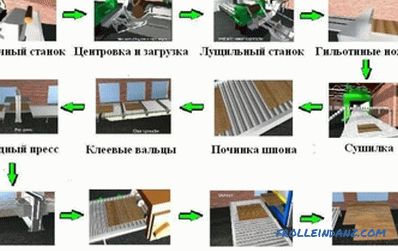 Scheme of the plywood production process.
How to make plywood, what conditions in the production must be observed? This material is great for wall cladding, flooring, even for decorative finishing work and for assembling furniture. The properties of plywood allow you to select sheets to perform specific work, but the characteristics are highly dependent on what kind of grade is used. When choosing a material it is necessary to take into account the manufacturing conditions.
General technology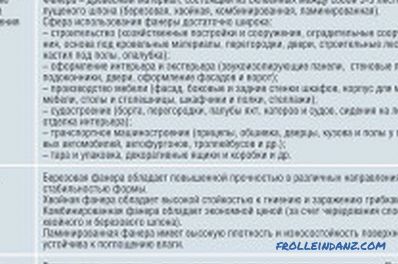 Table of characteristics of plywood.
They make plywood using a special technology that includes the following steps:
The logs are being cleared of bark, the wood is treated with a special machine. Raw materials are exposed to moisture and water, cut into veneers with certain sizes.
The veneer is cut, after which gluing is performed, pressing the layers together.
The stack is being formed, sheets are cut to obtain the necessary parameters.
Grinding can be carried out from 1 or from 2 sides, in some cases lamination is carried out. For such finishing film is used, it can have a different color.
Lining is performed if necessary.
For the manufacture of sheets, flap veneer from various types of wood is used. In this case, the raw material is fed into a special machine, which cuts the material, and then transports it to assemble sheets and prepare the rest of the component. The veneer size is 1.45 mm thick, and the degree of wringing is 15-20% . When processing the temperature of the wood is 25-35 ° C. Special knives are used for cutting, their height is -0.24 relative to the spindle, and the sharpening angle is 55 °. It is important to comply with all indicators, as the quality of logging will depend on this.
Gluing and pressing with all requirements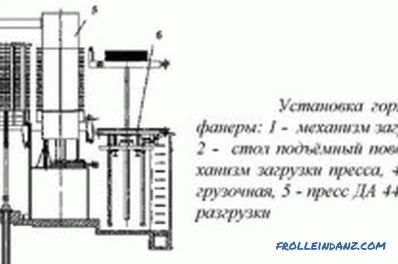 Installation of hot gluing plywood.
To make plywood, a special adhesive is used. This is a phenol-formaldehyde resin (grade SFZH-3014), a mixture of wheat flour, chalk. Resin or glue is prepared using special equipment, the dosage of the components must be extremely accurate. For bonding the pipeline is applied, which feeds the mixture to the materials. It is important to note that after cooking, a precipitate remains, it must be disposed of only after obtaining a special license.
You can start bonding only after sorting the material. It is necessary to apply wood of one thickness, to strictly observe the direction of fibers. The veneer layers should have one direction, go to the center right or left side. This is determined before the sheets and the material will be fed for gluing, pressing. At the time of submission, the materials are aligned, the fold is executed "in the square". This allows for maximum output, high performance.
During assembly of sheets, certain conditions must be observed:
All sheets of veneered material are installed so that they go in a direction perpendicular to each other. It is necessary to ensure that all layers fit smoothly.
The adhesive composition is applied only on even-numbered sheets.
Veneer sheets must be placed symmetrically; wood for veneer is used only for one species, quality and type.
After the bag is dialed, you need to check the thickness. For example, for a sheet of 12 mm should be assembled on 9 sheets.
Cutting, sheet processing and packaging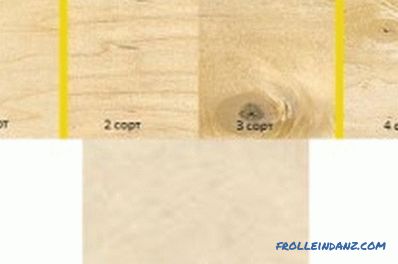 Grades of plywood.
After holding the produced plywood, it is trimmed. This is done with the use of a special machine, the sheet is cut from 4 sides in sizes that correspond to the norm. The long sides are cut first, and then the short sides are processed. After that, the sheet with the help of a roller conveyor is served to carry out work on the putty. If there is a need, the sheet is laminated, for which a special decorative film is used. This allows you to improve the appearance of the material, increase moisture resistance. Most often, laminated plywood is used for assembling furniture, flooring, and for wall cladding.
After processing, sheets are fed for re-trimming, where work is carried out on the formation of plates with dimensions of 1220 * 2440 mm or 1525 * 3050 mm. Molding is done in stacks of 1200 mm in height or less. If necessary, it is protected with acrylic paint (only the edges of the sheet are painted).Trimming is carried out using a format-cutting machine, with a tolerance of +/- 3 mm. If it is necessary to trim, it is important to ensure that there are no chips, fringes, or tresses. The cut itself must be made clean; all dust and debris should be immediately collected.
Sorting finished plywood
After the work on cutting and grinding the material is finished, work on automatic sorting is performed. It is carried out in accordance with GOST 3916. 1-96. At first, sheets are stacked strictly according to grades on a special cover, its thickness depends on the thickness of sheets:
for plywood of 8-10 mm a substrate of 3-5 mm is used;
For plywood from 10 mm a substrate of 3-5 mm is used.
After the material has been laid on the pallet, it is necessary to cover it with a cardboard on top. Here sheets and otlezhivatsya to packaging. The sorting itself is carried out according to the established norms, the material is decomposed immediately into separate sections. After tracking, sorting is not carried out, since the packaging is made from ready-made stacks.
A polyethylene film with a thickness of 0.8 mm is used for the packaging. It is necessary to wrap the sheets first with transverse straps in the amount of 2 pieces, then with 5 straps in the longitudinal direction.
The Rules also allow packaging according to individual consumer requirements, but in accordance with safety standards.
Each package with plywood sheets has a corresponding mandatory marking. Paint color - purple for FSF or other. Before packaging is made, it is necessary to take samples from each batch, to conduct testing for compliance with all requirements.
Plywood is a versatile building material with high quality, durability, resistance to various mechanical effects. There are a variety of sheets that are resistant to moisture. They are often used for plating. The specific properties of plywood depend on how the sheets were made, what additives and technologies were used for this.