In this article we will tell you how to make a rough floor in a wooden and brick house, consider various methods, and also show photos and video instructions.
The subfloor is an aligned base prepared for laying the flooring. Therefore, for the quality of self-repair, it is necessary to responsibly approach the device of the sub-floor.
Variants of a rough tie in a brick house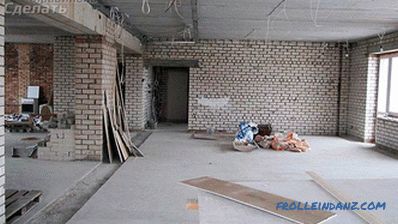 A rough tie in a brick house can be made using various technologies. The final choice will depend on which finishing material will be used. For example, if ceramic tile will be laid on the floor, then it will be necessary to construct a concrete draft floor. If you want a wooden floor, then dry screed is accordingly constructed. Read more about this or that type of roughing screed, you can find out further.
On the ground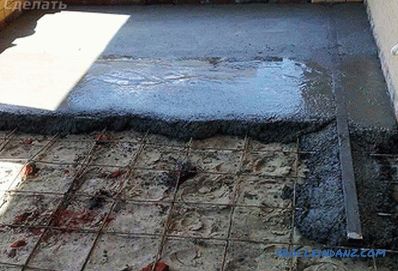 This screed method is considered economical since there is no need to install beams. In this case, it is necessary to strengthen the soil, making a sand pillow and producing insulation.
Draft floor on the ground is suitable only in cases where the ground is completely dry.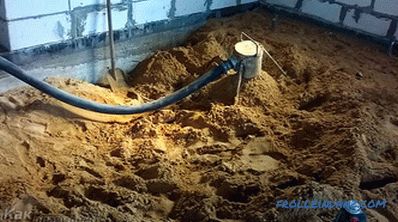 Sand tamper
So, before direct pouring, the soil is compacted. This is important to prevent shrinkage. After a sand pillow is made. Lightly moistened the sand, using a vibrator it needs to be tamped. As a result, it should decrease to 25%. For greater strength, the next layer can be granite.
In the next step, waterproofing should be performed. It is necessary that the moisture from the soil does not penetrate into the house. For example, a polymer membrane or rolled bitumen can be used. The material is lapped up to 200 mm. Also, waterproofing should go on the walls, to a height of 200 mm. After pouring the screed, all residues will need to be trimmed.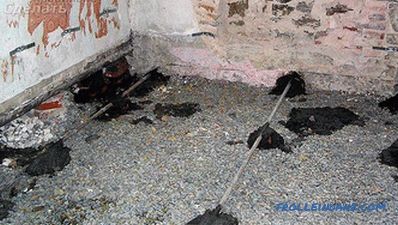 Preparation for screed
Pouring of the subfloor along the ground is done in a thin layer. It will serve as a platform for hydro and vapor insulation. For roughing screeds, it is recommended to use concrete class B. Its filler is crushed stone in diameter up to 22 mm. The optimum thickness of the draft layer on the ground is 50 mm. Filling is done by level. When the screed is dry, a vapor barrier is laid on the floor, for example, a polymer-bitumen membrane that contains fiberglass or polyester. The use of this material will allow in the future to significantly save on heating. After that, the insulation is made of foam or other suitable insulation.
Dry method
Laying the subfloor on logs. This method requires less waste of time and effort than a concrete screed. In addition, when it is performed, water is not used, respectively, the humidity remains unchanged and other repairs can be performed in parallel. Logs are mounted on beams or on the base of concrete.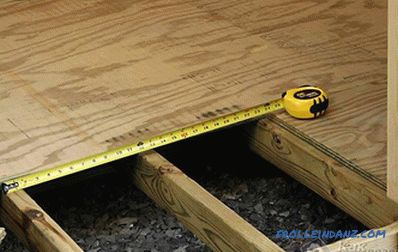 Draft floor on logs
When laying a draft floor on logs, you need to know some nuances:
you will need to make a horizontal marking using a stretched cord or a horizontal level throughout the entire course of work;
you should make sure of the quality of drying of the wood used;
to avoid condensate it is worth protecting lags
in the living room lags should be located in increments of 35-40 cm, and their size varies in width from 8 to 10 cm, and in thickness from 2.5 to 6 cm;
in case of uneven lagging of reinforced concrete pavement is carried out on gaskets of pre-glued plywood;
at the base of the floor holes are made for plastic dowels into which logs will be fastened with screws;
if necessary, a warming material is used.
As a rule, the subfloor is made of chipboard, the hardness of which is determined on the basis of the finishing coating.
On adjustable lags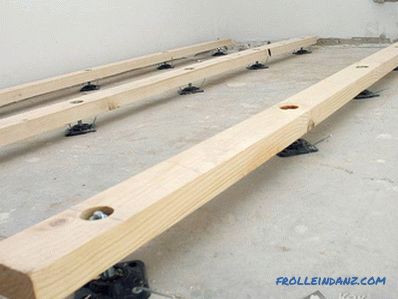 We set adjustable lags
It becomes more and more popular Mounted with strong and durable plastic screws. The floor made in this way will never creak, and the work will not take much time.
Installation process:
Each lag is prepared separately: a hole is drilled in it and a screw is screwed in;
The lags are placed in place at a distance of 1 cm from the wall surface ;
As an alternative to an adjustable floor, on lags, the floor is made of chipboard, fixed to sleeves with internal thread. Thus, the plywood sheet legs appear, but at the same time it is able to withstand a huge load.
Dry screed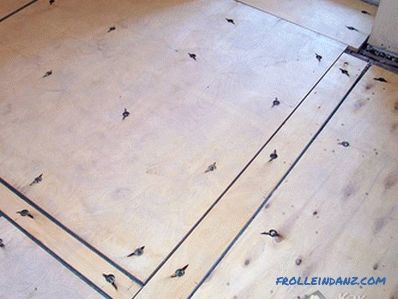 This method makes it possible to even out all base defects, and any temperature conditions are suitable for its installation.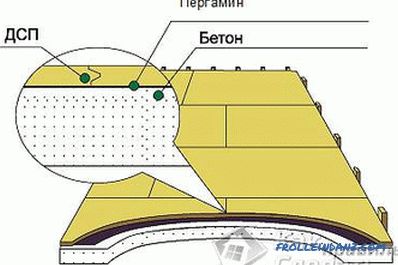 Technological process:
The base is covered with a layer of material for vapor barrier and fixed with adhesive tape. The film should go onto the walls at the height of the dry layer of the screed;
Next, backfilling is made of perlite, silica or quartz sand, slag, and the like with a fraction of no more than 2-5 mm;
The backfill layer is leveled rake at the required level;
Then, chipboard, plywood or gypsum fiber, which serve as a dry screed, are mounted.
Wet screed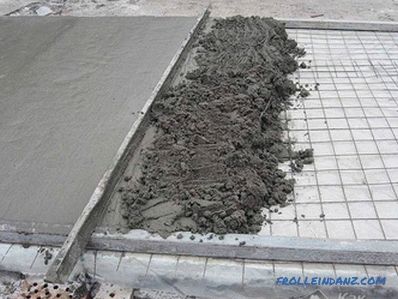 This method is widely used because all materials are commercially available and are relatively inexpensive.
They are laid in the following way:
The base is cleared, covered with a hydro insulator and a heat insulator;
Then the beacons of steel are installed at a distance of 2 meters from each other;
The mortar for the screed is applied in portions with subsequent alignment with a rule and a trowel;
If you are planning to finish the coating with delicate materials, you must additionally cover the floor with a self-leveling mixture with a layer thickness of 1.5 cm.
A self-leveling floor can also be used, which simultaneously plays the role of a finishing and rough tie.
It is poured onto a base previously cleaned and coated with a primer. After pouring the solution, the surface is smoothed using a special needle roller, which will relieve the surface of all air bubbles.
The thickness of the layer of this screed is not more than 3 mm, respectively, and its drying time is much less than that of cement screed and is not more than 14 days.
In a wooden house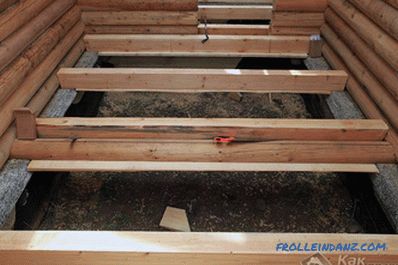 Draft floor of a wooden house
A private house needs to provide good ventilation in the cellar, by making holes there. In the presence of wet soil in the basement is laid clay or concrete insulation layer.
It is also worth waterproofing the foundation with ruberoid or other similar material.
All wooden elements of the floor construction should be twice treated with antiseptic.
The installation of a subfloor in a wooden house is carried out with the help of boards, over which a waterproofing layer, material for thermal and steam insulation is spread.
That's all the basic options for installing a subfloor, which one is suitable, is up to you to decide, based on the final flooring.
We recommend reading:
how to paint the wooden floor in the house;
how to warm the floor on the balcony with expanded clay;
how to make a polymer floor with your own hands .
Video
The process of building a subfloor is presented in the following videos: