What can a cleaver be for? It is not needed in the apartment, but in the house or at the cottage the zealous owner, getting ready to take a steam bath, maintain a fire in the fireplace or cook shish kebab on time, prepare logs in advance and dry them. In this case, you need to consider how to make such a thing and what they are?
There are the following types:
From logs.
Covered frame.
Portable.
It is best to store logs at a sufficiently remote distance from the house, in a shed adapted for these purposes, observing the necessary fire safety measures.
How to do it? There are many options, ranging from the simplest to the present inventions. Consider some options.
Drovnitsa from logs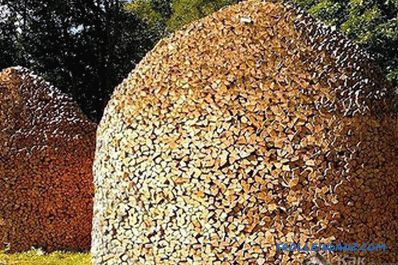 To create such a storage, you need to work hard, because the logs are selected so that they do not interfere with each other. Ready "house" needs to be protected from rain and snow, for which you can use different materials:
plastic film;
old shingles;
reed.
Of all the above, it is most convenient to use a film, since, having closed the structure with it, it is enough to tie a plastic bottle filled with water to each corner and safety is ensured.
Also, this structure can be made the original roof of logs.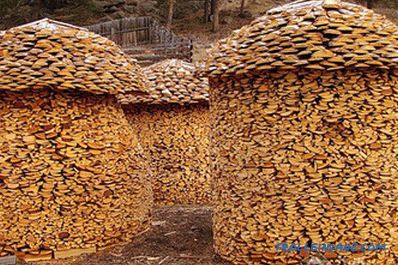 Drovnitsa in the form of a mushroom
In this case, there is good ventilation, but full protection from moisture will not be achieved.
Wooden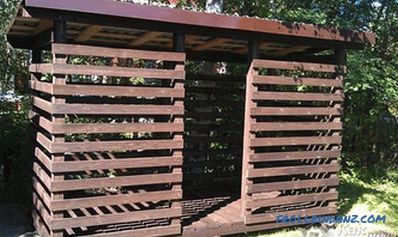 Wooden Drovnik
In the finished structure, it is easier to store firewood, no longer need to worry about how to cover them. To do this, you can build a simple structure of wood.
In this case, it is not at all necessary to lay the foundation or dig the pillars into the ground. It is enough to lift it above the ground, placing stones or sleepers under the base.
From the professional sheet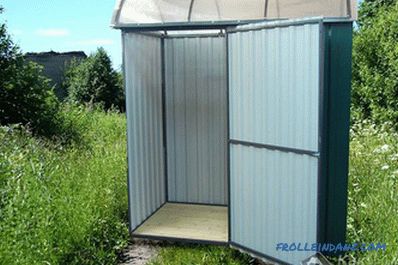 Drovnitsa from the professional sheet
Production of such a drovnitsa no difficulty. This will require some material and tools:
Metal corner or square tube 20 * 20 mm.
Professional sheet.
Welding machine.
Bulgarian with a disc for metal.
Electric drill.
This small household building can be used for various purposes.
Portable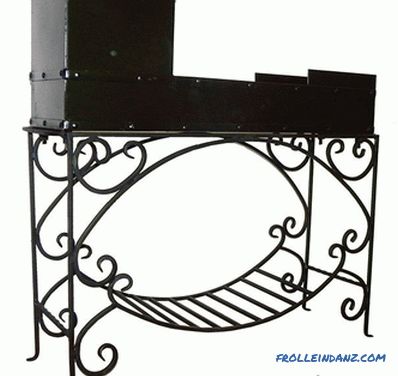 Brazier with wood
When using logs on a daily basis, it may be necessary in the manufacture of portable products. Where can I use it? For example, shish kebab is not made every day, so making an unmovable drovnitsa near the place that was chosen for the manufacture of kebabs does not make sense. Such a product should reliably protect the wood from precipitation, be well ventilated, and installed at a safe distance from buildings.
For daily use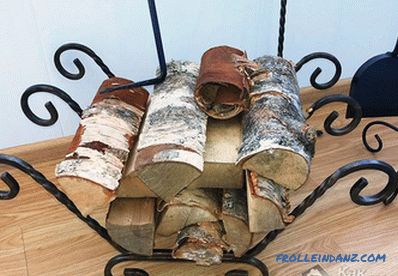 Drovnitsa to the house
As you know, logs quickly burn through, and constantly walk behind them in the yard is not a pleasure, especially when the weather is not favorable. Therefore, it would be wise to procure wood reserves for the day by transferring them to the house, but a new task arises - to provide a place for their storage. Of course, you can fold logs in the hallway, but this is acceptable only if the hallway and the barn are very similar. We want to make a decent and beautiful, so consider how to make the right product for us at home.
The storage space should be far enough away from sources of open fire, so it is not always necessary to make a fire place similar in design to the fireplace, as they will not be near.
This product can be elegant or very ordinary, welded from several strips of metal or woven from a rod.
Original
Firewood in the closet
If the dimensions of the room and its design allow , you can arrange a small storage for wood fuel directly in one of the furniture cabinets, in the drawer of the sofa, or in any other place prepared for this purpose.
Turning on imagination and ingenuity, you can realize both the most complex and the most primitive and affordable option.
Video
How to make a shed for firewood so that the logs remain dry, not rotting and rain? In this video you will see how you can build such a simple structure.