More recently, balconies and loggias did not attach much importance. These rooms were often used as storage rooms, where all unnecessary things were stored, and few people thought that the balcony could be used in some other way. Now, in the age of introducing fashionable technologies and design solutions, everything has changed. Apartment owners seek to make from their balcony a cozy, comfortable room for work and rest, or a summer bedroom, a greenhouse, a mini-gym and even a children's room for games. Today it is very important, so in this article we will describe how to decorate the balcony in the apartment inside and outside with your own hands, consider the various options (flowers, furniture, etc.).
Do you need glazing?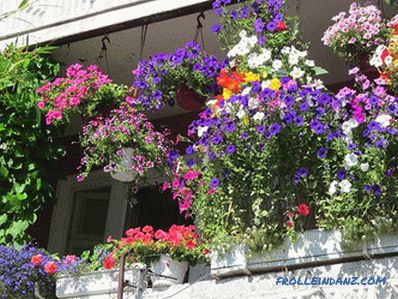 A flower garden on the balcony
If the balcony will be used as a summer garden, it can be left open, and in all other cases glazing and insulation are provided.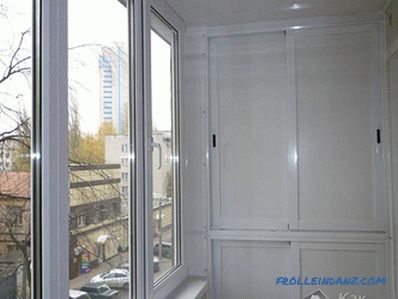 Balcony with plastic windows
For glazing balconies and loggias use aluminum, wood and galvanized frames. But metal-plastic frames remain the most popular, because they are strong enough, hermetic, easy to care for them, they are durable, aesthetic, and there is the possibility of matching the color according to the interior. Installation of metal frames is simple, which means that installation can be done independently.
Interior finishing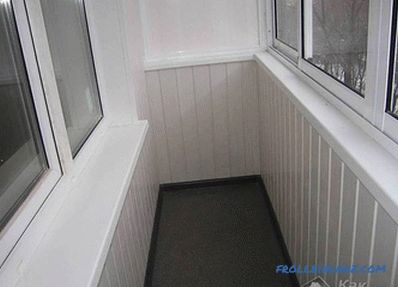 Finishing the balcony with plastic panels
Choosing materials for interior decoration , it is important to remember that the room used requires high-quality insulation due to exposure to temperature changes and the formation of mold. In this case, plastic panels are a good option. They are inexpensive and resistant to temperature. In addition, due to the smooth surface they are easy to care for.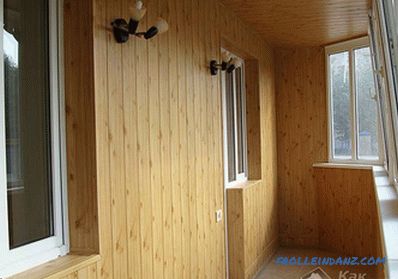 The balcony is trimmed with wooden clapboard
A good design solution is the cladding of the balcony with wooden clapboard. But it should be noted that it needs periodic treatment with an antiseptic to prevent the formation of fungus.
What is the floor to do?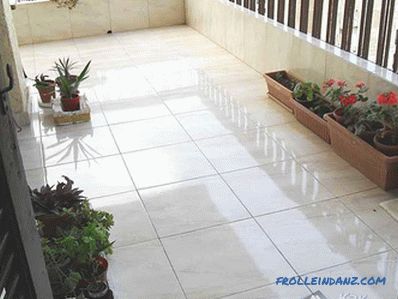 The floor of the balcony is tiled
Practical materials are used to finish the floor. Since moisture, and temperature fluctuations are unacceptable for wood, linoleum and laminate, temperature fluctuations are undesirable, ceramic tiles are best suited for an unglazed and unheated balcony floor.
Planning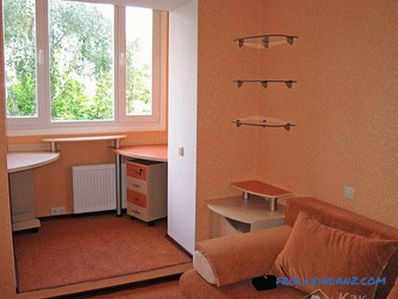 Combining a balcony and a small room
As practice shows, some the owners decide to combine the balcony and a small room. To do this, it is enough to remove the windows and doors between the balcony and the room.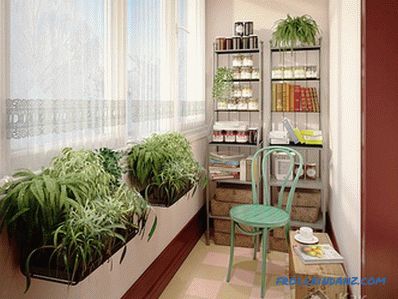 On the balcony you can put shelves for preservation
And if you combine the balcony with the kitchen, then in the resulting The space can accommodate bulky household appliances, such as a refrigerator, a washing machine and a dishwasher, a food processor, and shelves with preservation can also be placed there.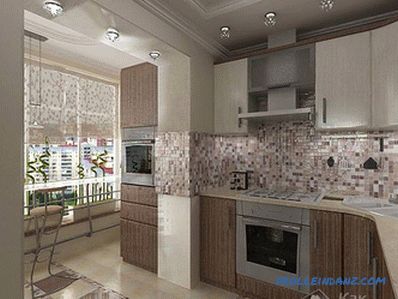 Access to the balcony is connected to the kitchen
If you try hard, the balcony will look like a continuation of the kitchen . Then the room should be warmed, and the walls and ceiling should be decorated in tone of the room or kitchen.
The design of the office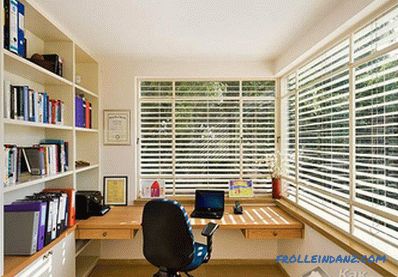 The office on the balcony
In a small apartment often there is no opportunity to retire for work, and in this case it is very appropriate to re-equip the balcony for a study, for which it will be necessary to warm this room. It is better to decorate the walls, as in the office, in strict colors, using plain wallpaper or varnished wooden boards.
The carpet or parquet will look good on the floor. The room decorated in strict tones will adjust on productive work, and promote good mood.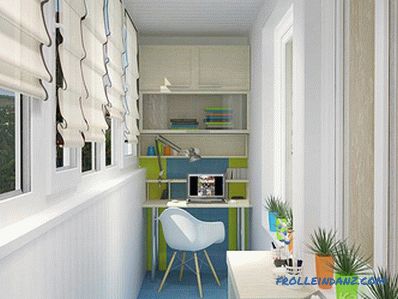 Functional lighting of the workplace
To create a working environment, you must install a small table, a chair, shelves for papers and, of course, a computer and accessories to it. It is also important to take care of proper lighting of the workplace. To do this, you need to hang a lamp above the table. To protect against bright sunlight, it is best to hang the blinds, which also perfectly complements the interior and gives the room an office look. For the floor is better to use carpet or parquet.
Ideas for an open balcony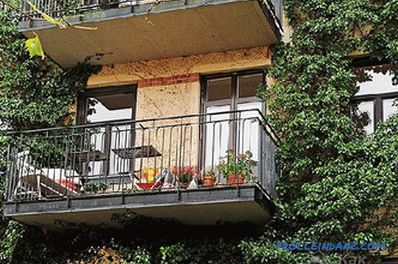 Mini bar on the balcony
Few apartment owners they rush to glaze a balcony or loggia, deliberately leaving for themselves an open space. Options for creating an open balcony also exist.
If the balcony is small, you can use it as a bar during the warmer months.Then the walls and the floor must be finished as for the street: plaster the walls and paint them with bright colors or perform decorative finishing. The floor can be laid out durable stoneware tiles designed for street work. This tile has a rough surface that serves as protection against falling on a floor wet from a rain.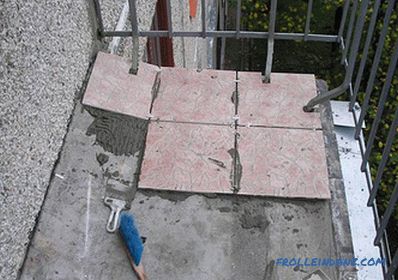 Laying on the balcony
In all cases, it is important to take into account the permissible load on the balcony, so as a layer of concrete screed and laid granite tiles may exceed acceptable performance.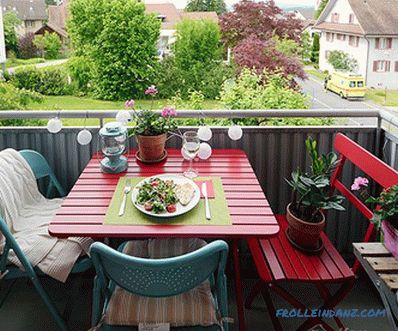 Folding table and chairs on the balcony
The furniture can be a plastic table and chairs - economy option. Often on the balcony you can see folding chairs that can be removed for the winter in the pantry.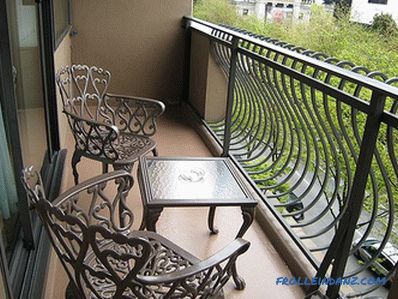 Forged Furniture
If you prefer chic furnishings, you can order forged furniture - it also moisture resistant, only requires regular anti-corrosion treatment. To save space, it is possible to attach a folding table to one of the walls, preferably under the window. The room can be decorated with houseplants.
Balcony-gym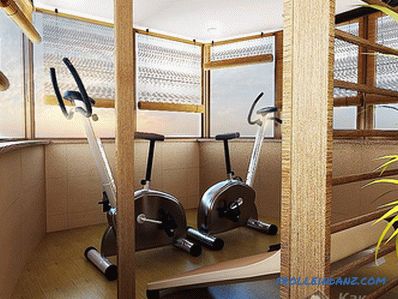 After completing the finishing work, you should hang curtains or blinds on the windows to hide from curious neighbors and from the scorching sun. The design of such a room can be made in a nautical style using blue-white-yellow interior items.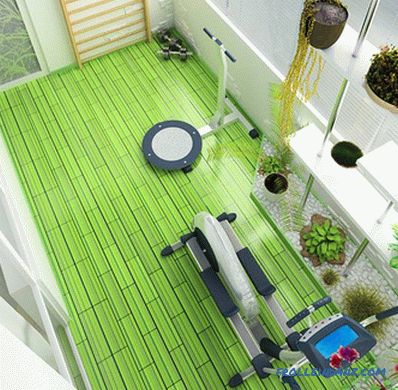 Sports Area
You can install a simulator, a stereo system that will play your favorite music, and such an atmosphere would be an incentive to do exercises, exercise on a simulator, work out with dumbbells, rock a press.
Rest room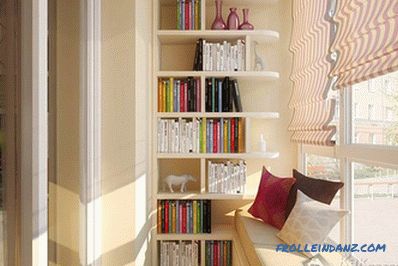 The balcony has been converted to a rest room
The design of such a room can be made in a certain style. Oriental style means organza curtains in the interior. Also, this style is characterized by crimson-orange color scheme with oriental ornaments on the walls, with a wide bed and a lot of pillows (if dimensions allow).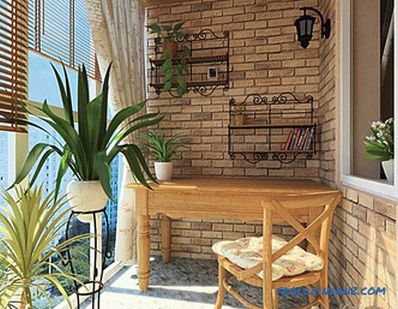 The interior of the Provence style balcony
A room made in country style adjusts to the village life, allows you to escape from the bustle of the city. Used old things and utensils. As decoration used natural stone, wood, brick. Country style tones are light pastel. The furniture can serve as a rocking chair and a small round table on which a tablecloth, a vase with field flowers and a few items of the tea set will look very relevant. A pleasant atmosphere can be created using the nautical style, which implies the presence of blue-white-yellow flowers in the interior. Photowall-paper with a field or rural landscape will look beautiful.
Children's room on the balcony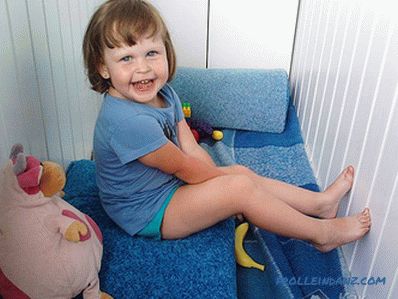 The balcony is equipped with a children's room
For equipment the children's room does not fit a small room, because the nursery must be filled with the necessary things and furniture for the child. Best of all, if the improvised nursery will have a desk for doing lessons or drawing, shelving or shelves for toys.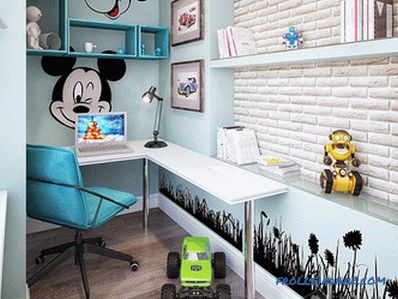 Balcony as a children's room
If you wish, you can equip a corner for sports, for example, by installing exercise bike. And if you install a TV and DVD-player, the crumb can watch cartoons. To make the room bright and fun, you need wallpaper with a colorful pattern, however, if you have the ability, the walls can be painted with bright colors. Be sure to need curtains, and you can put a bed for daytime sleep.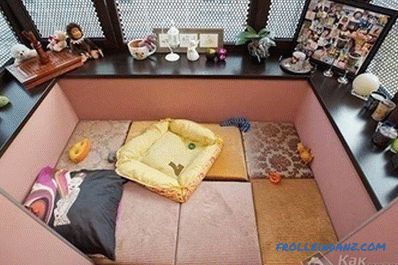 Children's room
When setting up a children's room on the balcony, you should mainly take care of the safety of children. It is unacceptable that a child has access to an open window! Be sure to install metal windows on the windows, which will protect against falling from the balcony. Moreover, the size of the lattice cells must be such that the inquisitive child could not stick his head there.
Whatever the well-thought-out protection, it is best to periodically observe whether everything is in order with the child.
Flowers in the design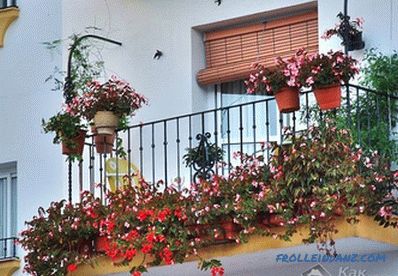 Flowers in the design of the balcony
For the design of the balcony with flowers requires a competent approach. Interior gardening in our time is becoming increasingly popular. Since indoor flowers improve the environment surrounding a person, they have a positive effect on the microclimate of a room, enriching it with oxygen, decorating not only apartments and houses with exotic plants, but also rooms such as balconies and loggias. Among other things, plants have a beneficial effect on the emotional state, their beauty, various forms and rich colors can help relieve nervous and physical stress.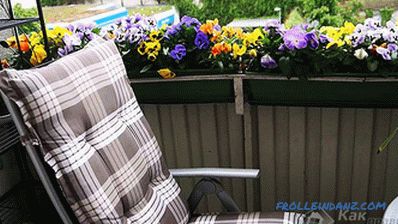 Abundantly flowering plants
To decorate the balcony interior with flowers, first you need to take into account the sensitivity of these delicate plants to room temperature and their need for good lighting. Such an option, as easy to arrange flowers in all empty corners, is far from the most suitable. So that indoor plants do not interfere with each other, and in general the room had a decorative appearance, we should not allow them to be crowded. In this case, there are many ideas for placing flowers. You can use the stand, making it possible to place at different levels, gratings for climbers, shelves or hanging flowerpots for plants with hanging shoots.
When choosing plants, one must proceed from the size of the room, its lighting and personal preferences.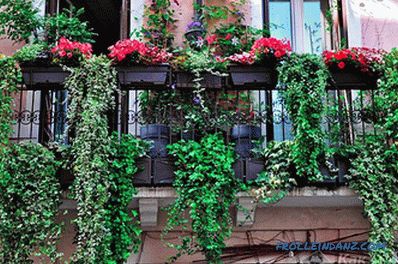 Composition on the balcony with the ampelous plants
Large boxes and should not be placed on the balcony cumbersome tubs, and it is better to give preference to abundantly flowering plants with a small root system. Balcony space can be used as a mini-garden by placing hanging boxes with parsley, ornamental vegetables, strawberries and curling beans. These plants look great at different stages, like seedlings, in the process of flowering and, of course, when they begin to bear fruit.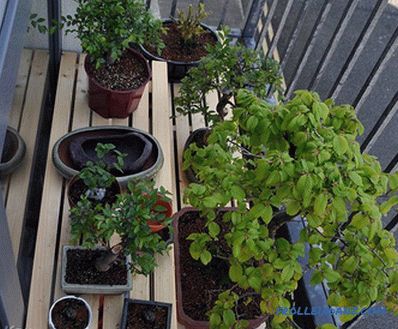 Japanese bonsai garden on the balcony
Japanese bonsai garden can be an elegant design. To do this, acquire dwarf trees growing in small containers, and fleshy succulents in flat bowls. A pink petunia in hanging pots can play the role of cherry blossoms. Curtains with such landscaping is better to choose in the Japanese style with a print in the form of hieroglyphs.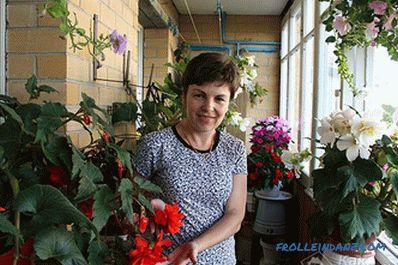 Flowers need to be carefully selected
However, not all plants are suitable for landscaping a balcony. In the case of an open balcony, remember that some of them are not adapted to the wind, the sun and to significant temperature differences. Their use as a design can be episodic. But in the glazed room you can use begonia, cyclamen, violets, pelargonium and many others.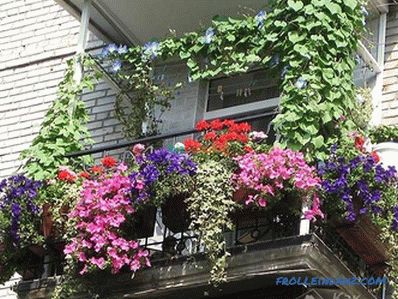 Climbing plants in the interior of the balcony
Climbing plants will turn the balcony into a richly flowering garden arbor or entwined with ivy some english courtyard. In addition, in the vicinity of the ivy will look beneficial multi-colored petunia and other bright flowers.
Design of a small balcony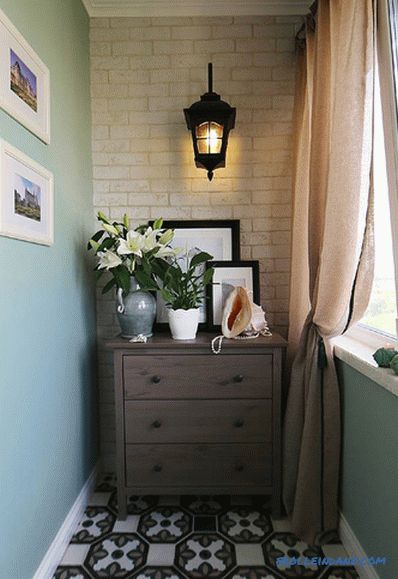 Example of a small balcony
Not all multi-unit tenants houses are owners of large balconies and loggias. If you have a small balcony, then you need to avoid cluttering up large flowerpots and containers, but rather use small boxes with an abundance of flowering plants in them. It is better to arrange such flowerpots from the outside of the balcony. It is also appropriate to use one or two pots under the ceiling with hanging greens and flowers.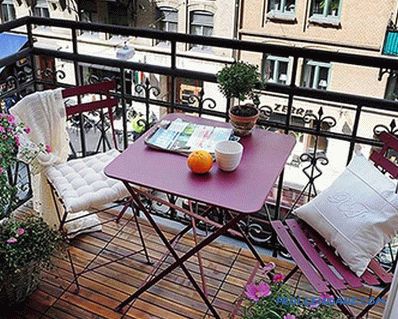 Folding furniture on a small balcony
Furniture is better to install foldable - stackable plastic chairs and folding table top.
As you can see, to make an attractive balcony in an apartment, you need a great desire, a well-thought-out approach, imagination and a few things at hand. And then such a room, decorated independently, will become a favorite place for households and guests, and the atmosphere will contribute to the positive microclimate of the family.
Video
In this video, you will see how the design of the open balcony can be done:
Watch a video that provides an example of design and landscaping balcony:
Photo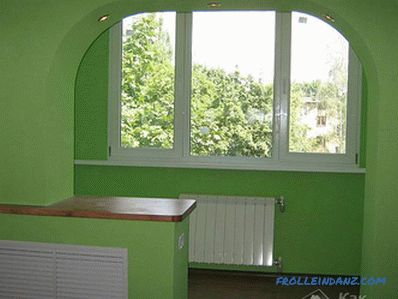 Arch on the balcony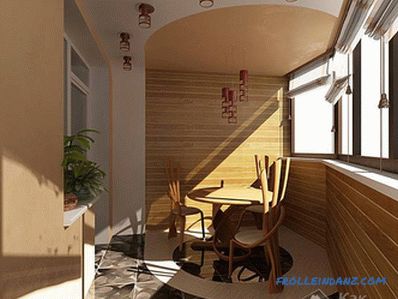 Example of a room with a balcony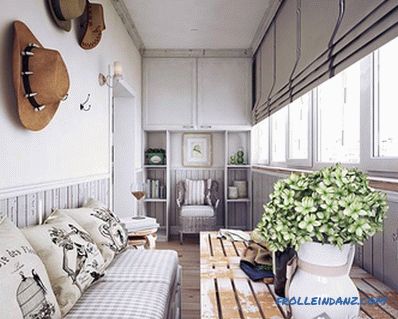 Balcony in country style
The balcony is combined with the living room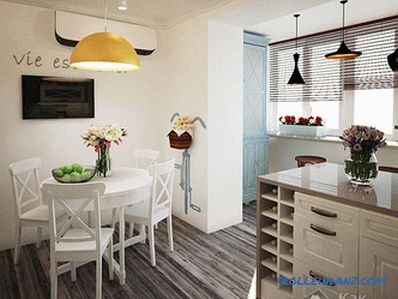 Kitchen on the balcony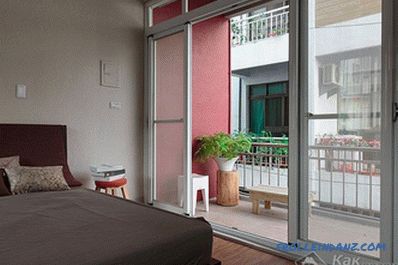 A small amount of simple furniture made the balcony cozy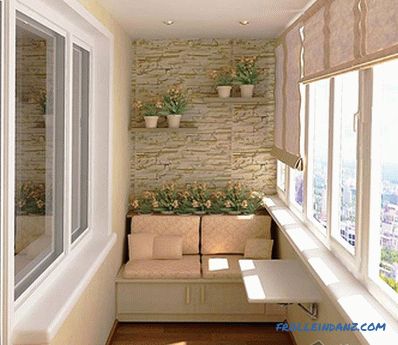 Simple design of a narrow balcony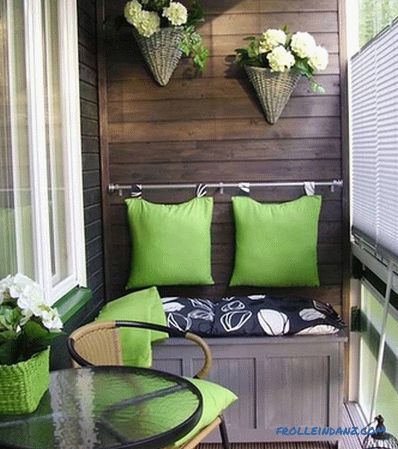 Design narrowly dark balconies in dark colors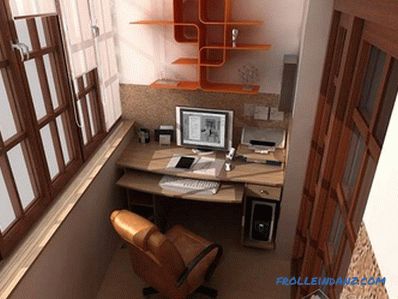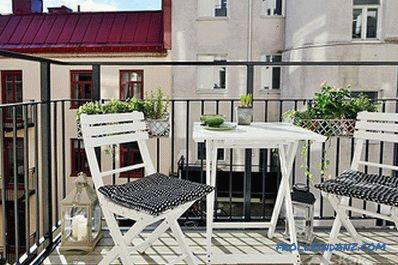 Folding furniture on a balcony with wooden flooring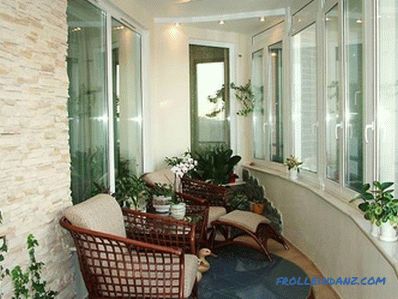 Moderate use of flowers for landscaping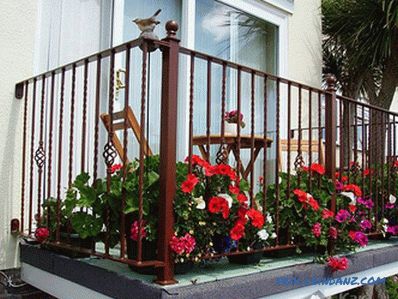 Balcony in the Khrushchev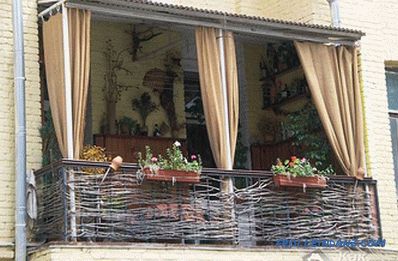 Balcony decorated in the style of Provence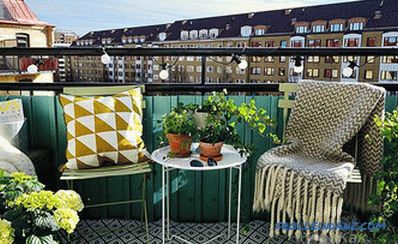 Open balcony with a beautiful view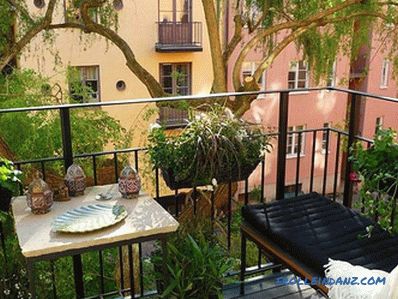 Open balcony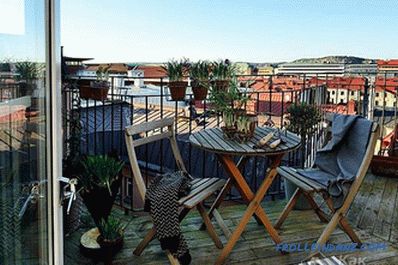 Design of a non-standard balcony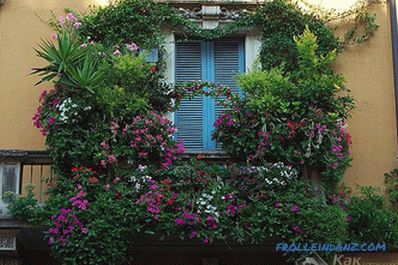 Garden Balcony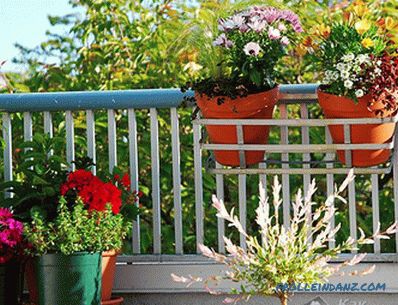 Flowers on this balcony are only in the summer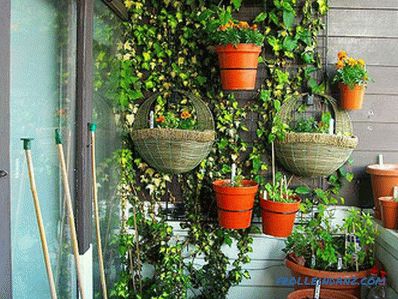 Garden on the balcony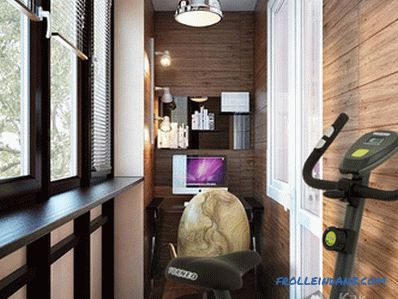 The office and gym on the balcony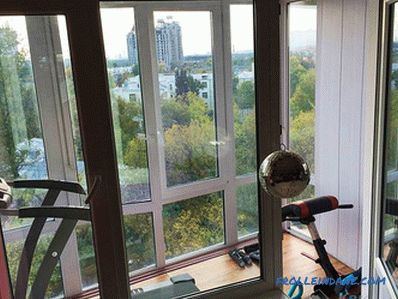 Mini-gym on the balcony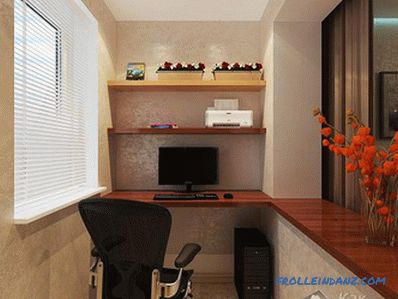 One of the options for decorating the office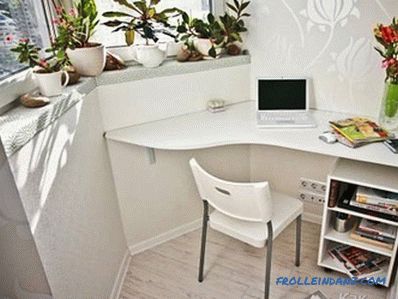 Design of a balcony for an office