A variety of pipes are used in modern construction. There is also a large selection of ways to connect them into a single pipeline. Some require the use of special equipment and skills, others can handle almost anyone. This article will discuss how to connect the two pipes.
We connect metal pipes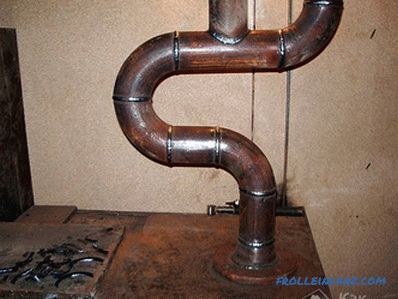 Welding metal pipes
To connect two metal pipes two methods can be used:
welding;
threaded connection.
The first option has recently been used less and less. The fact is that welding requires the use of special equipment - a welding machine. Also such work should be carried out by a specially trained specialist.
The connection itself can be made using various methods:
transverse butt joint;
longitudinal butt joint;
one-sided angle;
two-sided angular;
bell-shaped overlap, etc.
Most of these terms are familiar only to specialists. Therefore, if it is decided to connect the pipeline using electric welding, then it is better to call the master. The joints themselves are durable and reliable (assuming a job well done).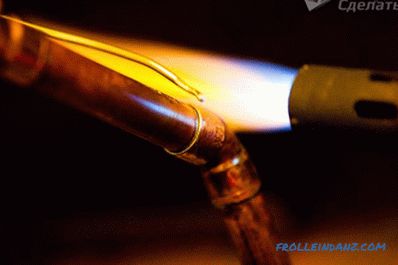 Brazing of copper pipes
If copper pipes are used, the soldering method is used. Such pipelines are mainly used in elite buildings (copper is very expensive). Therefore, one cannot do without a highly qualified specialist, although if you read the article "Soldering copper pipes with your own hands," you can try.
A more common method is a threaded connection. Anyone can assemble any pipeline with this method. In this case, the assembled structure can be both straight and with turns and bends. To do this, a thread is cut at the ends of the pipes and a special lock nut is screwed on.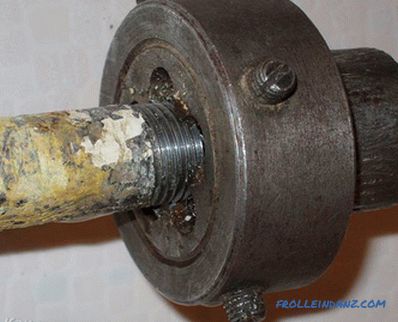 Manual threading of the pipe
The thread can be cut in the factory or in the factory. domestic, because when installing pipelines often have to cut pipes, in this case, cutting can be done independently. For this, most often, use a special device - screw die. This is a special, small tool made of high strength material. Rolling this device on the pipe, a thread is cut on it.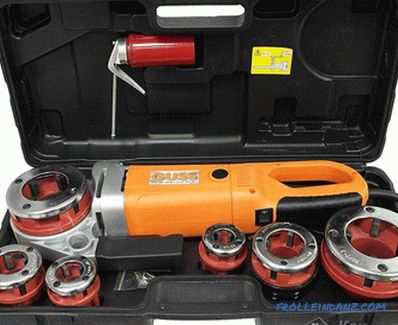 Clamp
The lock nut is tightened to the place of the pipe joints. The result is a strong and reliable connection. Oak or fum-tape, wound on the thread, is used as a sealing material.
You can also find the connection without the use of nuts. In this case, a fum or tow is wound onto the thread and the pipes are screwed into the acquired coupling with internal thread.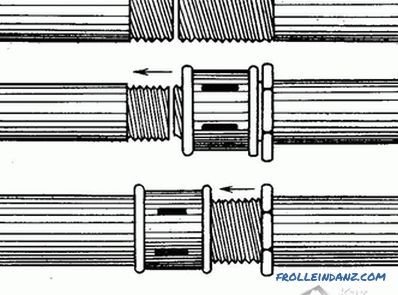 Piping installation scheme on a threaded connection
The advantages of this method of connecting two pipes are its simplicity. (all work is carried out without welding), reliability and disassembly of the resulting joint. Namely, such properties are necessary when creating intra-house pipelines.
Connection of pipes from other materials
Soldering of polypropylene pipes
The connection of two pipes made of HDPE and plastic can also be carried out using welding (in this case it is called brazing) and using fittings.
Two methods are used for soldering:
Butt.
With the use of fittings.
The first option requires special equipment and can be performed by a highly qualified specialist. Butt-soldering is used only for the installation of large-diameter pipelines; therefore, it does not apply to the creation of household communications. Soldering using connecting elements (electrically or special) can be carried out independently.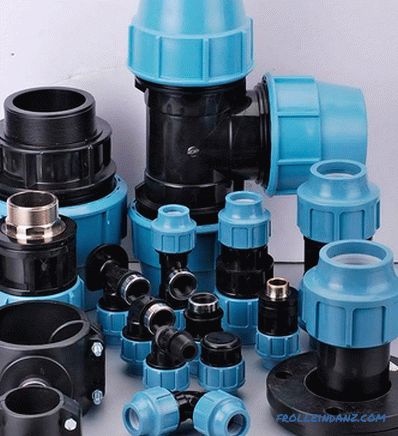 Compression fittings
But most often they use joints without soldering. For this purpose, special fittings are used, such as:
The first option is used when connecting pipes of the same diameter. In this case, the pipes themselves can be from different materials.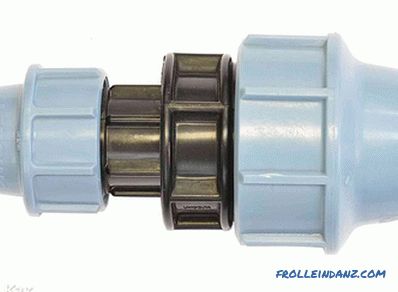 Reducing fitting
Reducing fittings are used when you need to connect pipelines with different diameters.
The principle of their use is quite simple. A fitting is put on each end of the pipe. Then, using a wrench, tighten the nut. The result is a strong and collapsible connection.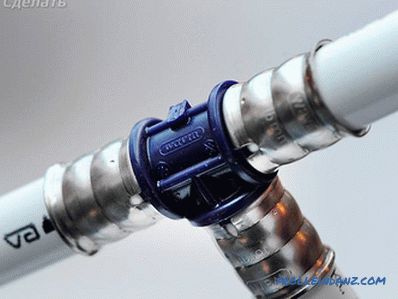 Press-fitting for metal-plastic pipes
Metal-plastic pipes docking in 105>
Compression compression fitting. During installation, the ends of the fitting are inserted into the pipe. They have rubber seals that securely hold them inside. The fitting is then tightened with a collet and secured with a control nut.Such a connection can be subsequently disassembled.
Press fitting. This method is used less frequently, since the joint is one-piece. Fitting shanks are inserted into the pipe. Then, using a special device, a flexible cuff is crimped. The result is a strong and reliable connection.

After becoming familiar with the methods of connecting pipes, it remains to choose the product with which you will be most comfortable working.
Video
This video shows how to weld metal pipes by electric welding:

See how the plastic pipe is connected to the iron: