If everything is done on time, then many additional works can be avoided. For example, after the completion of the laying of tiles, if it is not immediately washed, then you will have to wrestle with your thoughts, thinking about how to clean the tile from the glue that has dried on it. It's not so easy to do this work, as it seems, and what could have been done with ease just yesterday, today is "even gnawing at your teeth." This is due to the peculiarities of the glue, which must firmly hold the ceramics, but it is gaining strength gradually, becoming stronger day by day. Consider different removal methods, depending on how much time passed after the end of the work.
Fresh glue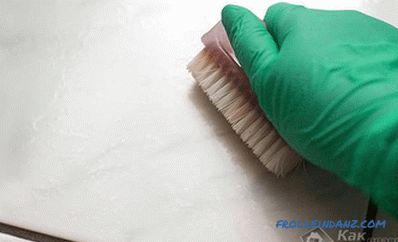 Clean the fresh glue
While the glue is dry, it is not a problem to remove it with an ordinary wet cloth, however, you can get so carried away that, without noticing, you can clog the seams with this waste. Then, before grouting, you have to mess around for a long time, clearing this space, which will not be easy.
The just dried glue is removed with little effort, however, they can scratch the tile, as it contains abrasive or fine sand, which act like sandpaper. So, you can easily remove the gloss and even apply deep scratches.
From not very dried glue

Construction grater
Remove tile adhesive with tile can be done in two steps, first performing a dry cleaning using a construction trowel. During the work, do not put a lot of effort, as you can scratch any tile. It is especially easy to apply scratches and chips, hooking the coating between the seams, so be extremely careful. This method is good if the glue has not yet turned to stone, and still remains tiny. Glue in this state can be made more pliable if it is saturated with water.
After the tile has dried, you can proceed to the second stage - removing residual glue with a sponge moistened with warm water. Rubbing the surface in a circular motion, you gradually get rid of all the glue.
From thoroughly dried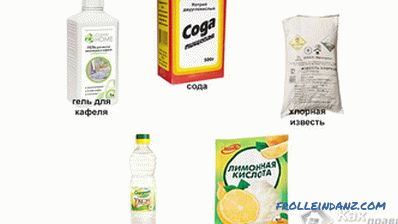 Means for removing glue
If you brought to of such a state, you will have to use special tools, the instructions of which indicate how to clean the tile from the glue, and what is required for this. You can use the tool ATLASSZOP, or similar to him, which are specifically designed for such works. Use the instructions attached to them, and act as recommended, because there is no one guideline for all the means.
If cleaning is done after sealing the seams, please note that light grout may darken from the use of chemicals.
Vinegar
Ordinary vinegar can also be used for this purpose. In any case, you should act carefully, carefully handling the tile.
For work you will need:
Vinegar.
Warm water.
Sponge.
Spatula.
Construction grater.
Soda
There is also one more inexpensive way with which you can effectively enough clean up from heavy pollution - ordinary baking soda. Pour some soda on a damp sponge and rub the polluted places, but do not overdo it, since soda can also scratch the tile. However, if the sponge contains a lot of water, then such problems can be avoided. After cleaning, rinse with water.
Chlorine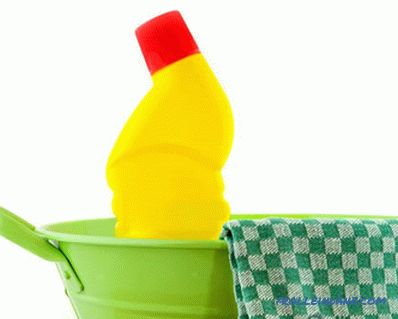 Chlorine
Chlorine is a rather caustic substance that can cope with the tasks and more difficult. Due to the specific smell, this drug was practically ceased to be used in institutions; nevertheless, many still remember how the toilet bowls were filled with them, after which they became noticeably cleaner. Chlorine also copes with glue on tile. For work it is required to dissolve bleaching powder with water, and pour into a spray bottle. After spraying the liquid on the surface of the dirty tile, you need to wait for a while for chlorine to corrode the glue and then clean the surface with a damp sponge.
This inexpensive cleaning method has another advantage over other technologies - chlorine can cope with mold, which is especially good for bathrooms and other damp rooms.
Citric acid
If you do not need to fight mold, you can use citric acid. When the tile is heavily smeared, then this tool can be applied to the wall from the spray gun, if you need to remove the glue in several places, then use a brush, smearing only those places where cleaning is required. Just as in the previous case, the treated sites need to be rinsed with water. After such a cleaning, no odor remains and the bacteria are destroyed.
Steam mop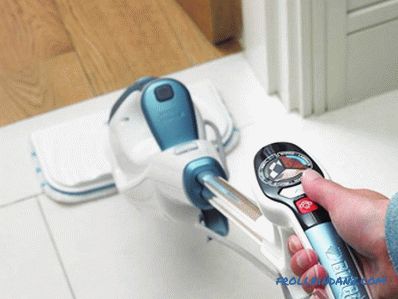 Cleaning with a steam mop
This device is due to the large number of nozzles multifunctional. Directing a stream of steam to the "dirty" place, you will easily soften the glue, but it is better to use it for hard-to-reach places.
Precautions
Since any acid is corrosive and can harm human health, take measures so that it does not get into your eyes and body. If this happens, wash off the acid with plenty of water.
When working with the spray gun, do not allow the spray liquid to be directed in your direction.