When it comes to building fences in a suburban area, it's rare for homeowners to consider using concrete. This is largely due to the old stereotypes. But often, many gardeners or owners of cottages simply do not know how to make a concrete fence, what are the main advantages of such a structure and its main priorities. It should be noted that these are the most durable types of fencing, the most durable and reliable. In addition, they are built quickly and efficiently with the use of minimum equipment and materials available anywhere.
Design features of modern concrete fences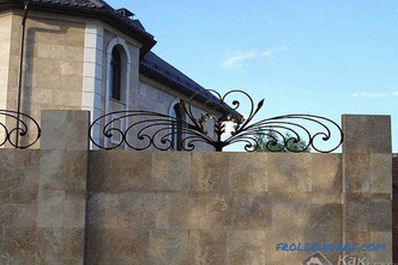 Concrete fence with metal inserts
It is important to note that previously many residents of country houses refused such fences due to their external unattractiveness, dullness and despondency. Modern technologies have significantly expanded the range of proposals, and concrete products are offered for any stylish landscapes, architectural ensembles and design complexes.
Today, these products are complemented by a spectacular inlay of luxurious metal forging or inlays of natural stone.
The main technical characteristics of concrete fences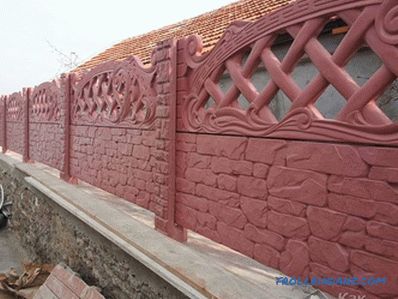 Ready-made fencing panels
Today, instead of traditional slabs, manufacturers offer a large selection of decorative items. They are special plates that are produced by the method of vibratory casting, with the obligatory use of steel reinforcement of a certain cross-section, high-quality cement of high frost resistance, decorative stone and carefully cleaned sand.
The main feature of the creation of a concrete element is the presence of a special decorative form, giving the textured surface to the enclosing plates. In some cases, high-quality dyes are added to the solution, which drown out the usual gray color, coloring the mixture in different colors. In addition, the finished plates are optimally suitable for applying paint, which can be applied to the surface of the fence several times. Such a panel construction after decoration looks respectable and practical, and it costs much less than brick or combined structures.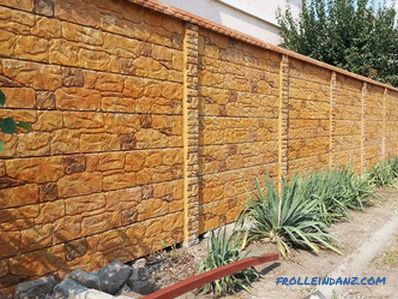 Colored concrete fence
Today, a concrete fence can be erected directly on the object using the multifunctional removable formwork, which can be made independently of moisture resistant plywood and wooden bars.
Monolithic fences are expensive structures that require complex preparation and large investments in the production process.
Video
Features of the production of concrete panels for fencing:
Technology for the construction of a concrete fence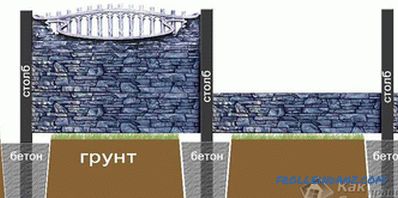 Installation of a fence made of concrete blocks
Like any other fence, concrete begins with a careful measurement of the territory, its markings and the design of the location of the main components and elements. Great importance is given to a preliminary study of the topography of the site and soil features. It is important to mount reinforced supporting elements and reliable foundations in the area of ​​the entrance gate and wicket.
The arrangement of enclosing concrete structures does not require expensive special equipment, lifting mechanisms and sophisticated equipment. Enough to attract to the work of several intelligent helpers, to prepare the level, level, quality shovels and a small concrete mixer. Proper marking and detailed forethought of all technological processes without downtime and delays will be the key to successful construction of a reliable and durable fence.
For the finished factory configuration, you should immediately purchase the supporting pillars from the manufacturer, which are equipped with special connecting grooves for fixing molded products. As a rule, modern manufacturers of reinforced concrete products offer enclosing panels of 0.5 by 2 meters. Four such panels are used to equip one span. An important advantage of prefabricated precast concrete fences is minimal preparatory work. Under them there is no need to organize a costly monolithic foundation.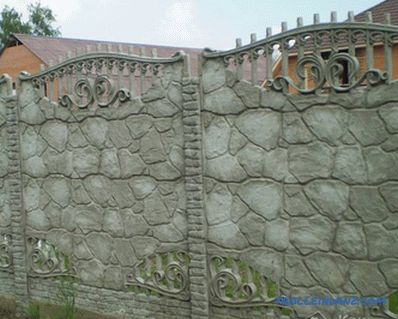 Textured fence
The installation of the supporting pillars is started by drilling holes for pouring the base into which for the best The layers of sand and rubble alternately fall asleep to stability, carefully tamping them down, constantly shedding water. Bearing supports are inserted into prepared holes and concreted, leaving not a few days until the mortar solidifies. Pre-assembled concrete panels are mounted between the fixed pillars.
After the completion of the installation work, they begin to decorate the external surfaces with the help of special painting, glass decoration or designer's forging.Concrete fencing can be built in just a few days, completing the construction with the installation of convenient and functional sliding or rolling gates, a practical wicket and other structural elements.
Video
How to install a fence made of concrete panels, see below: