A literal translation from the French "long chair" quite accurately describes the shape that the deck chair has. This folding design has a sloping back and a long seat that allows you to stretch your legs and stay in a comfortable reclining position. This item is successfully used for a comfortable holiday on the beach, picnic or summer cottage.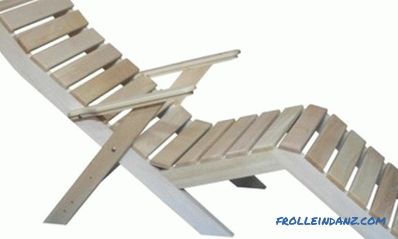 It is recommended to soak all the parts with an antiseptic before assembly.
It can be made of various materials - metal or plastic, but the product of wood will not only have the warmth of natural material, but also harmoniously fit into any natural interior.
The advantages of a lounger from wood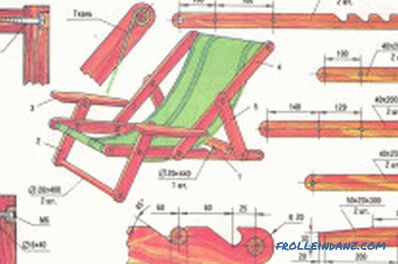 Scheme of manufacturing a sun lounger.
Compared with synthetic and metal counterparts, wooden construction has many advantages. Wood does not heat up under the influence of sunlight, like metal, and does not emit harmful fumes characteristic of plastic. Aesthetic appearance and complete environmental friendliness leave no doubt when choosing the material for these comfortable sun beds.
Such a structure is durable and durable; it is not as easily damaged as fragile synthetic chaise lounges, which, if the slightest cracks appear, can completely fail. Another weakness - plastic is not able to withstand the weight of more than 100 kg, so for obese people it does not fit, and together it is better not to sit down on it. The wooden chaise lounge easily folds and can be conveniently placed on storage in assembled form.
How to make a chaise lounge with your own hands
You can easily make your life difficult and buy your favorite model in the store, but if you have skilled hands and a hardworking character, you don't need to spend extra money.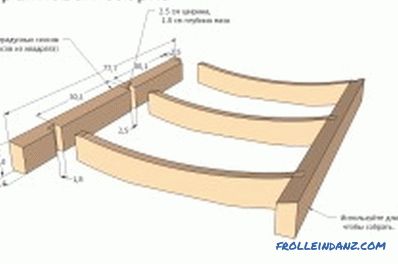 The frame layout of the chaise longue.
This elongated chair does not differ in its too complicated construction, and to create it you need not so much material and a simple set of tools:
3 wooden beams with a section of 5x10 cm and a length of 400 cm;
4 cut inch boards 8 cm wide and 400 cm long;
fixing pins - 2 pcs. ;
handsaw;
drill;
square, pencil, tape measure;
self-tapping screws;
putty;
sandpaper;
antiseptic;
paint, brush.
The basis of the construction will be a rectangular frame with sides of 215 and 50 cm. For this purpose, the sawn is cut into the required lengths and fastened with screws. Then the board is divided into 13 equal parts with a length of 60 cm and fixed them on the horizontal plane of the frame, leaving between them an equal gap of 1 cm. After that, they proceed to the manufacture of the legs. In the seating area, that is, in the area of ​​greater load, they are made double, and from the head of the head it will be enough single.
After that, create a frame for the back of the product. It consists of 2 longitudinal bars of 88 cm and 3 transverse 39 cm long. After their fixation, the frame is installed in the main frame and the rest of the boards are mounted on its surface. Stepping back 9 cm from the edge of the seat, drill through holes. They are inserted into the locking pin, which will hold the head. In order for it to be in different positions, at the base of the frame there are 2 notches on each side measuring 5x10 and 5x5 cm. They must be at a distance of 20 cm from each other, and the first one should be exactly 9 cm from the hairpin. They fit pieces of timber that will help change the angle of the backrest.
It should be ensured that before assembling all wooden parts are impregnated with an antiseptic, which will prevent undesirable processes in the wood under the influence of air humidity. Before painting or applying lacquer, it is necessary to carefully check the surface again for any roughness and, if any, to treat the irregularities with a sanding machine or fine sandpaper.