It is difficult enough to care for a large plot, especially as a summer house or a country house. Here the owners come to relax or spend the weekend. In this case, not too want to spend the whole day in the fight against weeds. To solve this problem is to consider such an option as a lawn. Minimum care requirements, low costs and in just a few weeks an even green carpet will show off on the lawns. Today, the lawn is often used to create landscape design. Many gardeners lovers who want to improve their site, are at a crossroads, which lawn to choose to give? This article will provide a small overview of existing types of lawn, their benefits and features in the care.
Basic lawn varieties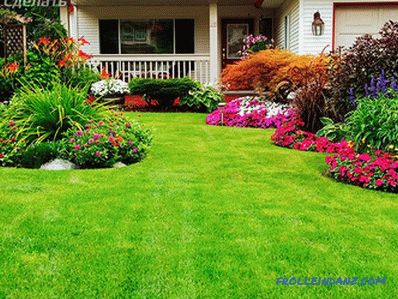 There is no particular need to seek help from a specialist to advise on the type of lawn and the place where it will look best. To make the right choice you need to understand the main types, characteristics and advantages. And this will do.
Meadow grass. It is considered one of the most simple and affordable options for which you do not need to spend a lot of time. Meadow grass performs the main task - the aesthetic appearance of the site. Walking on it is not worth it, as the grass will tread quickly and grow poorly. In the summer, you need to organize regular watering. In most cases, Bluegrass or Ryegrass is used to grow such a green planting. Low cost makes them attractive to everyone. Sowing, care and haircut also does not take much effort.
Landscape gardening. Virtually no different from the previous type of lawn, with one difference - increased resistance. On such a green surface, provided quality care, you can spend leisure time: picnics, sports, dancing and other forms of recreation. Experts recommend choosing this type of green space for territories where "interactive events" will constantly take place. Its cost is also available. The composition includes herbs from the family of cereals.
Rolled. Expensive, but at the same time fast and attractive option for arranging a private territory. The cost of such a lawn will be several times higher, unlike other options. The main advantage of the roll cover is the speed of laying: it is enough to buy several rolls and spread them across the plot. Manufacturers use different types of plants to create artificial turf, but in most cases it is Bluegrass or Lupine.
Flower lawn. If a large number of decorative elements consisting of flowers are planned in the garden area, then this type of lawn will be an excellent addition. It should immediately be noted that the cost is quite high, so this coverage will not be affordable for everyone. This price is due to the use of expensive flower seeds, which are part of. When selecting seeds, it is necessary to take into account stability, frost resistance, maximum height and other features. Walking on such a coating is also not worth it.
English lawn. Due to the combination of several herbs that make up the English lawn, it is one of the most attractive. Using it you can get the original landscape design and design of the site. It should be planted on a summer sunny day. With sharp changes in air temperature, the green coating can die very quickly. Among the features of care is to highlight:
daily watering;
haircut 1 time in 3 days.
When choosing a grass for a lawn, first of all you need to focus on the amount of free time. If you constantly care for the coating is not possible, then it is worth considering the first or second option. With an unlimited amount of free time you can stay on the flower lawn, but subject to the availability of a large budget.
Roll or seed: the pros and cons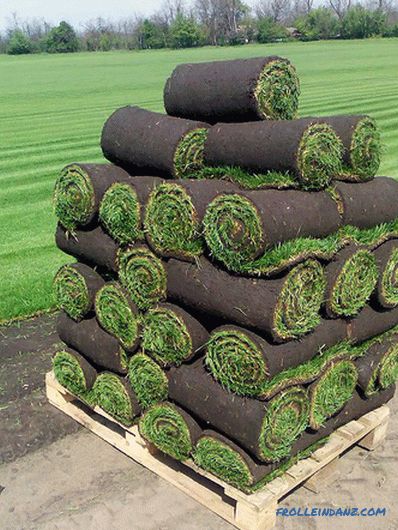 To decide which type of lawn, roll or seed, is right for you, you should consider Advantages and disadvantages. This will narrow the range of choice and make a suitable purchase. Among the advantages of a turf can be distinguished:
speed and ease of location on the plot;
no weeds;
color saturation and density are several times more from the seed lawn .
There is also a small list of drawbacks that need to be taken into account when purchasing:
high cost;
large weight of green cover rolls;
the need for constant monitoring of humidity.
Now you can study the characteristics of the sowing lawn. First, let's talk about its advantages:
affordable cost (except for flower coverage);
high survival rate;
rapid adaptation to weather changes.
And now it is worth highlighting a few drawbacks. One of the main ones is getting a high-quality and thick lawn a year after sowing. Until the grass germinates and the root system can not be fixed, it is necessary to monitor and care for the lawn.
Pros and cons of each type of green cover, so you can only make the final choice in favor of one or the other. Take into account taste preferences, financial base, climate, as well as the amount of free time you need to arrange lawns.
Basic grass types for sowing lawns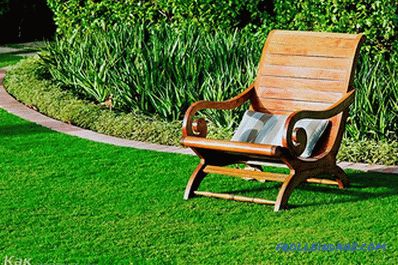 As mentioned above, sowing lawns can consist of various herbs. This is an important criterion to consider. Each of them has its own characteristics.
Fescue. There are 3 options: red, sheep and meadow. The first two options are undemanding to light and soil moisture. No need to dig up the lawn. Also worth noting is the good tolerability of mechanical stress. If we talk about meadow fescue, then it is referred to as capricious herbs. The lawn will need to be constantly watered, planted only in fertile soil. Most often it is mixed with other types of herbs.
Ryegrass is pasture. Also considered a versatile plant that is great for decorating green carpets. An important difference is rapid and uniform growth.
Bluegrass Meadow. It is planted in all types of soil, and also tolerates various vagaries of nature: a sharp change in temperature, hot sunshine and a constant shadow. The grass is not trampled and does not require frequent watering.
Polevitsa. Happens two types: thin and pro-forming. The first option is not suitable for lime soil. The second type also should not be planted in any soil. Due to the abundant watering you can get a fairly thick and low lawn.
Clover is white. This type of grass is considered an amateur, since it is impossible to obtain a uniform coating structure, even with constant care and abundant watering. For the shady sides, white clover is not suitable, therefore, it should be planted only in sunny areas.
It is necessary to plant lawn grass seeds on the ground free from vegetation. To maximize the root system is to remove the top layer. Otherwise, grass and weeds will grow quickly and will not give the seeds of germination.
Criteria affecting the choice of lawn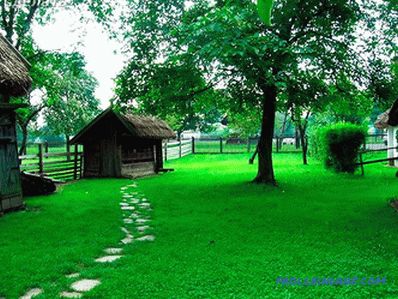 If you follow the recommendations from experts, you must take into account not only the types of grass, their density and germination rate. It is also important not to forget about your own opportunities:
the high cost of English and floral lawns will not fit the budget option;
also these options should be excluded in the absence of a large amount of free time, since they require a lot of attention;
another important criterion for these lawns will be the presence of a shade: the first and second options will not be effective;
if you plan to conduct active rest on the lawn, then stop your the choice can be on the landscape park cover;
it is worth considering and llergiyu from any member of the family, as in this case, there is no flower lawn.
Guided by just a few points, you can quickly narrow down the range of choices and find a suitable option for yourself.
Features of the selection of seeds for planting lawn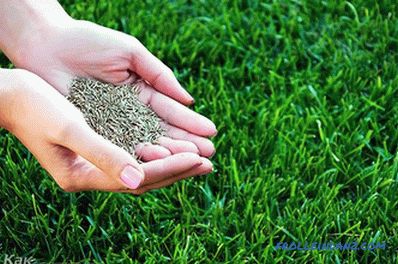 Intensity of development. In this article we consider the question of choosing a lawn to the country, where the owners come from time to time. Therefore, it will be difficult and problematic to spend time constantly, follow the growth and cut it once every 3-4 days. Plant growth should be slow.
Assignment. Each plot in the country has its own purpose: there are flowerbeds on some, reservoirs on others, and rest areas on the third. To choose the right plants, you need to choose your own type of lawn for each territory. On one of them it will be possible to walk, while others will complement the created landscape design.
Soil composition and climatic conditions. In addition to choosing the right lawn, it is important to take into account how it will take root on the site. Soil type, heavy rain, drought or constant shade may not be suitable.
Care. The main thing in this criterion is the frequency of watering and growth rate.
The general recommendation is as follows: when choosing, be guided by the vegetation that is suitable for arranging the lawn in your area.
Before you go to the store for seeds or rolls of finished lawn, you will need to take into account many criteria. Also individually addressed issues regarding planting seeds, watering, care and other features. Equally important will be the correct calculation of the required number of seeds. To do this, it is better to consult with a specialist or seller in the store.If you have already completed the lawn in your garden, then leave comments at the end of this article.
You may be interested in the following topics:
Landscape design with your own hands
What flowers to plant at the cottage
How to make a vertical garden
Video
From the provided video material, you can learn about the intricacies of choosing and sowing lawn seeds: