Bimetallic radiators - they are installed without problems, they give plenty of heat, and they can boast of a beautiful design. The stores sell bimetallic radiators of different design and technical characteristics, but which ones are better to buy, we will find out in this article, having analyzed their most important parameters and design features.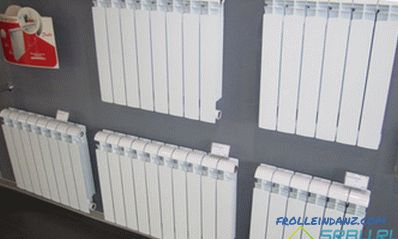 What is the difference between bimetallic and polibimetallic radiators?
Bimetal
In these bimetallic heating devices, only the external part is made of aluminum. Radiators are produced as follows: steel core pipes are welded, and then they are cast with aluminum under pressure. As a result, the coolant is in contact only with the steel, without touching the aluminum surfaces. This saves the radiator from corrosion and gives it increased strength. Well, the figured body increases the heat transfer performance.
They also make radiators whose core is made not of steel, but of copper. This is a real salvation for those autonomous heating systems, where antifreeze is added to the water. After all, steel pipes quickly destroy such a coolant.
Polibimetal
In a polibimetallic radiator, the core consists of two metals. Vertical channels in it reinforced with steel elements, but the horizontal - aluminum. By increasing the amount of aluminum in the product increases the heat transfer radiator. However, hot water with a high alkali content (central heating), in contact with this aluminum, is corrosive. And another thing: different thermal expansion of aluminum and steel parts of the core can cause their displacement, leading to the instability of the radiator.
As a rule, bimetallic radiators are installed in apartments with a central heating system. In such systems there are 2 big problems - this is high pressure with periodic jumps and low-quality coolant. Both of these will have a rather large negative effect on radiators of the semi-metallic type.

Therefore, since you decided to install reliable heating devices, it is better to give preference to true bimetallic radiators. Polibimetallic models of radiators can be found in firms such as: Sira, Rifar, Gordi. They differ significantly in price from bimetallic, but they are worth it.
Sectional or monolithic bimetallic radiators
At first, products from bimetal were always assembled from several sections. However, any sectional radiator can suffer from heat transfer fluid that damages the joints and reduces the life of the instrument. In addition, the joints are always a potentially dangerous place that is more likely to leak due to the increased pressure in the system. Therefore, they invented a new technology, according to which a whole steel or copper collector is made, and on top of it a "shirt" is put on from aluminum. Such radiators are called monolithic.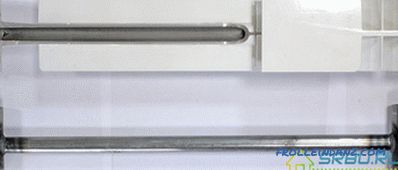 Device section of a bimetallic radiator.
Now we will try to find out which bimetallic radiators are better - sectional or monolithic. The technical advantage of the latter is obvious.
The term of work is up to 50 years (for sectional ones it is up to 20-25 years).
Working pressure - up to 100 bar (for sectional ones - up to 20-35 bar).
Heat output per section is 100-200 watts (on par with sectional models).
But the price of monolithic devices is somewhat higher than sectional ones. The difference can be up to one-fifth. And one more nuance: solid-core models cannot be modified by removing unnecessary or adding additional sections, but they are available in various sizes, both in height and in length. Therefore, to pick up the radiator necessary for power is not difficult.
If the apartment is located in a high-rise building whose height exceeds 16 floors, then we can assume that the coolant pressure will be substantial, so in this case there is a need to give preference to monolithic models.
Which firm bimetallic radiators are better than
Italy
Let's start with the Italian manufacturers. First of all, this is the company Sira, whose specialists invented bimetallic radiators. You can also mention the brand Global Style and Radena. All these products have a price for the section from 700 to 1500 rubles. Elegant and high-quality finish, interesting design, compactness and lightness - this is what radiators from Italy are. Modern technologies allow them to work for at least 20 years. Specifications:
Sectional thermal power - from 120 to 185 watts;
hot water temperature limit - 110 degrees;
working pressure - up to 35 bar.
Russia
Do not forget about domestic producers. One of the most famous is Rifar. This is a company from the Orenburg region produces thermal appliances with a price of from 500 to 900 rubles per section.Specifications:
Sectional heat output - from 100 to 200 watts;
hot water temperature limit - 135 degrees;
working pressure - up to 20 bar.
Note the patented radiator RIFAR MONOLIT, which is often called one of the best domestic appliances. It is tested at a pressure of 150 bar. Specifications:
Sectional heat output - from 134 to 196 watts;
hot water temperature limit - 135 degrees;
operating pressure - up to 100 bar.
Other countries
Here you can mark the radiators of the South Korean company MARS. Their core is not steel, but copper. Price - from 400 rubles per section. The stated characteristics:
The hot water temperature limit is 130 degrees;
working pressure - up to 20 bar;
sectional heat transfer - 167 watts.
The Polish company "REGULUS-system" also manufactures bimetallic radiators with a copper core. The manufacturer guarantees 25 years of work. Specifications:
Operating pressure - 15 bar;
hot water temperature limit - 110 degrees.
Well, a few words should be said about Chinese manufacturers. Their radiators are significantly cheaper than the well-known brands, as they do not shine with careful decoration and beautiful design. In principle, if you have a very modest budget, you can take the "Chinese", given that he can withstand less pressure.
Table: Comparative characteristics of some manufacturers and models of bimetallic radiators
Brand, country made.
Model
Distance between axes, mm
Dimensions, H / W / D (section)
Max. working pressure, bar.
Heat output, W
Water volume in sections,
l
Weight, kg
Max. temperature heat carrier

Italy

STYLE 350

---

STYLE 500

---

STYLE PLUS 350

---

STYLE PLUS 500
350

---

500

---

350

---

500
425/80/80

---

575/80/80

---

425/80/95

---

575/80/95
35
125

---

168

---

140

---

185
0.16

---

0.2

---

0.17

---

0 , 19
1.56

---

1.97

---

1.5

---

1.94
110

Italy

BiLiner Inox 500

---

BiLiner 500
500
574/80 / 87
20
171
0.2
2.01
90

Germany

TENRAD 350

---

TENRAD 500
350

---

500
400 / 80/77

---

550/80/77
24
120

---

161
0.15

---

0.22
1.22

---

1.44
120

Russia

RIFA R Forza 350

---

RIFAR Forza 500

---

RIFAR MONOLIT 350

---

RIFAR MONOLIT 500
350

---

500

---

350

---

500
415/90/80

---

570/100/80

---

415/100/80

---

577/100 / 80
20

---

20

---

100

---

100
136

---

202

---

136

---

194
0.18

---

0.20

---

0.18

---

0.20
1.36

---

1.84

---

1.5

---

2.0
135

China

Gordi 350

---

Gordi 500
350

---

500
412/80/80

---

572/80/80
30
160

---

181
0.21

---

0.3
1.4

---

1.7
110

Italy

Gladiator 200

---

Gladiator 350

---

Gladiator 500
200

---

350

---

500
275 / 80/80

---

423/80/80
30
90

---

140

---

185
0, 1

---

0, 13

---

0.42
0.65

---

0.85

---

1.6
110