Heating of premises during the cold season is a rather urgent problem. Such tasks can occur both in production and in private homeowners, if necessary, quickly heat a certain room. For these purposes, the most suitable option will be heat guns. In this article we will look at the best heat guns, and also make the comparative characteristics of devices with different heat generating units. As always, for the selection of the best models, we analyzed the reviews and opinions of the users of this equipment and, based on them, made our rating.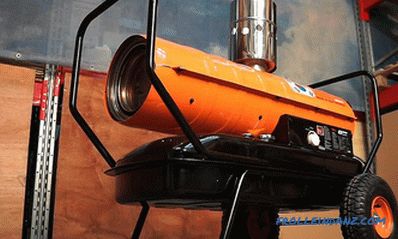 Comparison of heat guns of various types
A heat gun is a device that is used to quickly heat rooms, and can also be used when performing certain technological processes for quick drying or heating of objects (finishing works in buildings in the winter period, heating of garage rooms during repairs, heating of warehouse and production premises, etc.).
The main structural elements of the heat gun are the following parts and components:
element for heating the air;
a fan that supplies heated air to the room ;
heat gun body (usually made of metal);
thermostatic element that prevents the device from overheating;
thermostat is used to maintain the set temperature parameters when operating in an autonomous mode;
Depending on the installed heat generating unit, heat guns are divided into three types: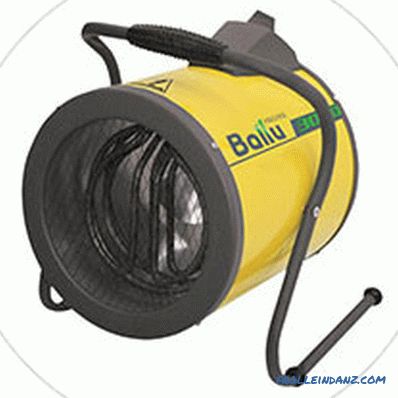 Electric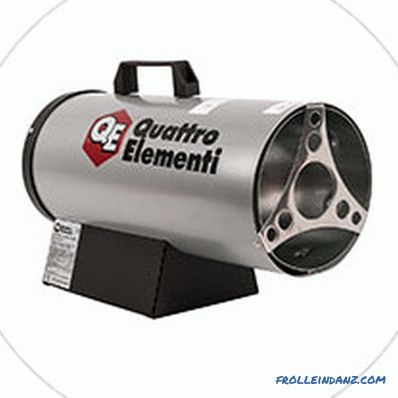 Gas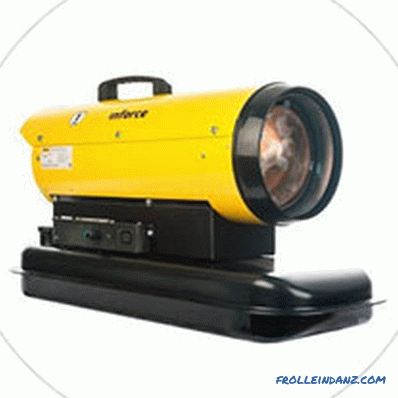 Diesel
Each of these units has its advantages and disadvantages, which we describe below. In order to understand which heat gun it is better to buy, it is necessary to determine the tasks that are envisaged to be solved with the help of this heat device.
First you need to define:
# 1. For what purposes a heat gun is purchased: occasional use if necessary, constant use for heating premises or production areas, for quick drying of surfaces, aggregates or vehicles, etc.
# 2. Before choosing a heat gun, it is necessary to determine the place where it will be installed in accordance with the technical and fire safety standards.
# 3. To calculate the power depending on the specific conditions of use. Choosing a heat gun with an excessive "margin" in performance will lead to cost overruns, and the purchase of an insufficiently powerful device will not provide effective heating.
In order for the consumer to better understand which heat guns are better, we have prepared a comparative analysis of the devices by different heat sources.
Comparison of heat guns of various types:
Which heat gun is better than gas or electric
To operate an electric heat gun, you need a sufficiently large amount of electricity that is used for heating heating elements or spiral heating elements, as well as for rotating the fan blades used to supply hot air into the room. Since the power of such guns can reach 50 kW, then for normal operation, quite powerful power supply lines are required.
Important! It is impossible to connect devices in which the consumption of electricity exceeds 5 kW in the ordinary household electrical network.
In gas heat guns, the source of thermal energy is gas, which is completely combusted in the device, as a result of which there is almost no pollution of the surrounding air. The main distinctive element of these heating devices is that the efficiency in such units is very high and reaches almost 100%.
Gas devices consume a small amount of electrical energy, which is spent only on fan operation. Such heaters, unlike electric ones, do not need preliminary heating and are able to give off heat almost immediately after switching on. They are equipped with flame control systems and protective elements that prevent overheating, therefore they comply with all operational requirements.
Due to the high degree of efficiency, efficiency and safety, gas guns have found wide application in various spheres of human life. Such thermal devices are rationally used in construction for drying screeds and plaster, heating of warehouses, greenhouses, industrial and livestock buildings.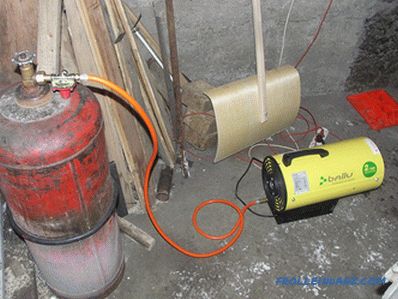 An example of using a gas heat gun.
Many consumers are alarmed by the fact that gas heat guns require gas to operate, so they prefer to buy devices with more expensive, and therefore economically unprofitable, sources of energy.
However, when heating residential or office premises, such guns cannot be used, therefore, in this case, an advantage is with electric devices.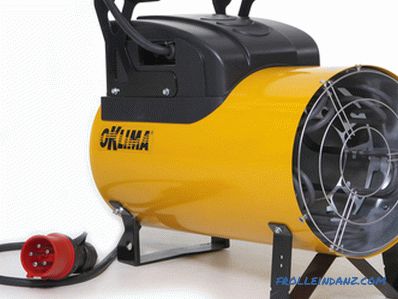 What kind of heat gun is better than diesel or electric?
Heat guns that run on diesel fuel and electricity have a number of significant differences. Diesel units have a lot of advantages, but at the same time, given the availability of combustion products, their use is sharply limited.
Diesel heat guns, produced in two versions:
Direct heating.
During the operation of such equipment all products of combustion enter the heated space. When operating such a gun, it is necessary for the forced ventilation system to function well in the room.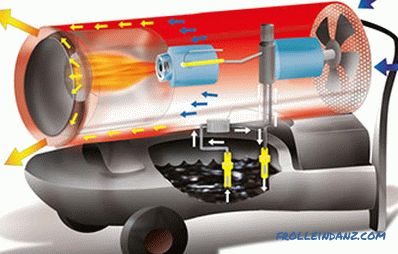 Indirect heating.
Such equipment ensures the supply of heated air to the room, with all products of combustion removed by means of specially arranged chimneys outside the heated space.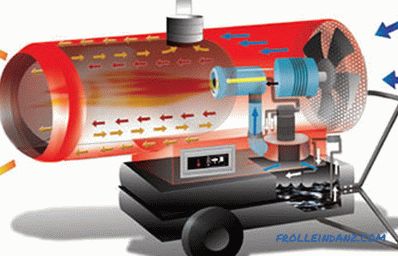 Given the performance characteristics of diesel heat guns, it is necessary to consider the conditions in which they will be used. This mainly relates to direct heating units, which are strictly prohibited to be used for heating and heating of housing and rooms in which people are located. When such equipment is in operation, the organization of a ventilation system is required, which will not only remove or reduce the concentration of combustion products in the air, but also create an oxygen supply for the normal operation of the equipment.
Diesel heat guns of direct heating are most efficiently used in agriculture, as well as to provide the necessary temperature conditions in utility, storage or other premises where there is no permanent presence of people.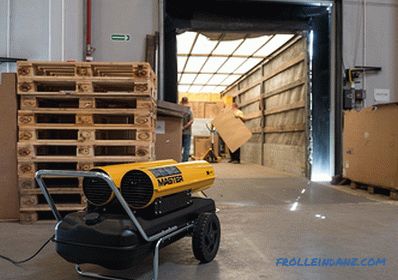 Use of a direct-heat diesel heat gun.
Thermal devices with indirect heating, subject to all standards for the discharge of combustion products, may be used in repair shops, garages, industrial premises, as well as for heating residential complexes.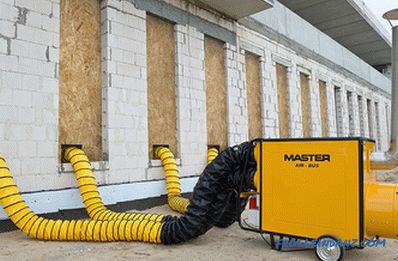 Use of a diesel heat gun of indirect heating.
An important fact is the fact that diesel heat guns are quite heavy. Their transportation is carried out using the set of wheels with manual control. Fuel for the operation of such a gun can be kerosene or diesel fuel. They are quite economical - fuel consumption is not more than 1 l / hour. This is enough to heat about 250 m 3 air.
A distinctive feature of an electric heat gun, in front of a diesel, is that it has the ability to stepwise adjust the temperature of the heated air. Also, such a unit can operate in fan mode (in this case, the air is not heated). Thanks to the built-in thermostats, you can set a certain room temperature, which will be maintained in automatic mode. Such climatic equipment can be used without restrictions in residential and other premises. It will become irreplaceable even when repairing an apartment, thanks to high efficiency not only a certain temperature will be maintained, but if necessary, you can speed up the drying of paint, plaster, etc.
Which heat gun is better than gas or diesel
If we carry out a comparative analysis of the performance characteristics of gas and diesel heat guns, the gas version has a number of noticeable advantages.
First, an important parameter is the cost of equipment. You can obviously give preference to gas devices, as they are much cheaper. It is also worth comparing the weight of heat guns. Diesel guns weigh much more, which limits their mobility, if necessary, while guns with a gas heater are fairly light in weight. The efficiency of heating devices with gas burners is much higher, they are able to more quickly heat the required volume or area.
Due to the fact that during operation, diesel guns with direct heating emit combustion products that must be removed, this limits their use in residential areas, as well as in areas where people work.
Important! When operating diesel heat guns, it is necessary to organize a very efficient exhaust gas removal. Contact with combustion products in a room where people are located can lead to serious poisoning or even death.
The gas heater is considered safer in operation for human health.
For normal operation of gas units, heating requires the supply of natural (main) gas, and in its absence it is possible to use bottled (liquefied) gas. This makes it possible to use heat gas guns in places where there is no centralized gas supply (garages, construction sites, temporary structures, etc.). At cost, the use of gas is always cheaper than diesel fuel or electricity, so comparing these two guns, you can give preference to gas units.
To determine which heat gun to buy, it is necessary to proceed from the specific operating conditions and economic feasibility.
The best electric heat guns
Among a wide variety of electric heat guns, we have selected for you the most popular models that are in demand by consumers and ranked electric heat guns that are commercially available.
Heat Gun Timberk TIH R5 3M ECO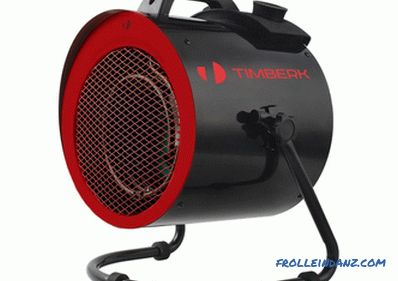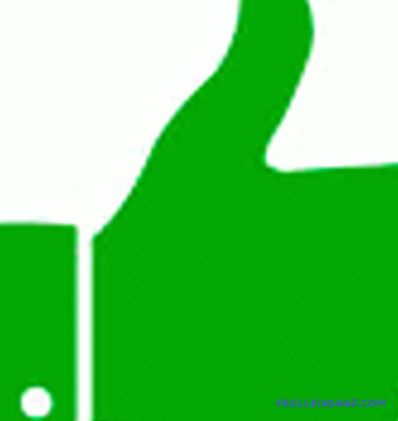 + Pros Timberk TIH R5 3M ECO
Fast warming up of the room.
Very high-quality assembly.
Optimum power for small spaces (3000W maximum power).
Excellent performance, can be used as a fan.
Good ratio of temperature and air flow.
Possibility of adjusting the direction of air flow, including and vertically upwards.
The presence of rubberized gaskets to prevent damage to the floor surface.
Low cost.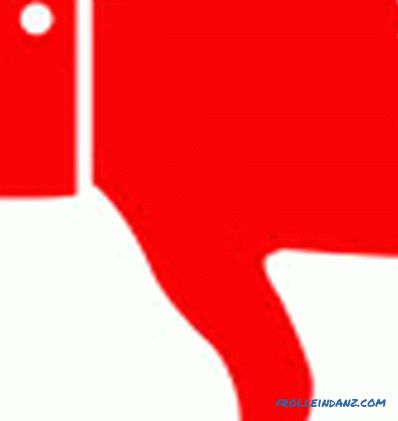 - Minuses Timberk TIH R5 3M ECO
Small adjustment range - 1.5 kW or 3 kW.
Audible noise when the fan is working (at night in the bedroom it will interfere with sleep).
If necessary, use high-quality extension cords with an appropriate wire cross-section.
Results: Having considered all the positive and negative characteristics of the model, it is safe to say that such a heat gun is an excellent option for heating small ones (about 30m 2 ) premises. It can be used to supply heat in residential and other areas. It is a budget option that copes with the tasks.
Elitech heat gun TP 2EM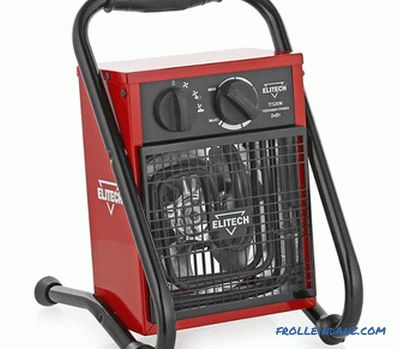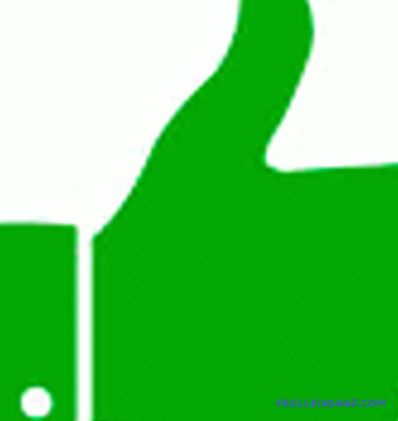 + Pros Elitech TP 2EM
Very high-quality assembly.
Compact dimensions that do not take up much space in the room.
Virtually no noise during operation.
Low cost, affordable to a wide range of consumers.
Power 2000W.
The volume of heated air is 140 m3 / h.
Three adjustment modes
The housing is resistant to corrosion damage.
The heating element is made of stainless steel.
Equipped with thermostat and overheating sensor.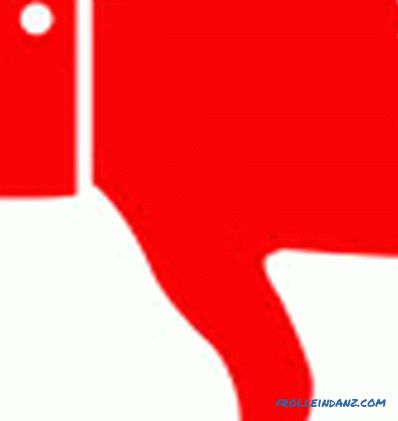 - The Elitech TP 2EM
More suitable for living space than for a garage.
Low power.
Results. The presented Elitech TP 2EM heat gun is designed for space heating up to 20 m 2 . Perfect for maintaining the required temperature in individual rooms, small garages or workshops. It can be used for repairs in apartments and houses, for accelerated drying of painted or plastered surfaces. The quiet operation of the fan provides comfortable working conditions, does not annoy the people around them.
Heat Ballun BKX-5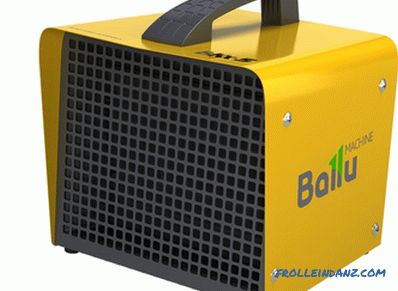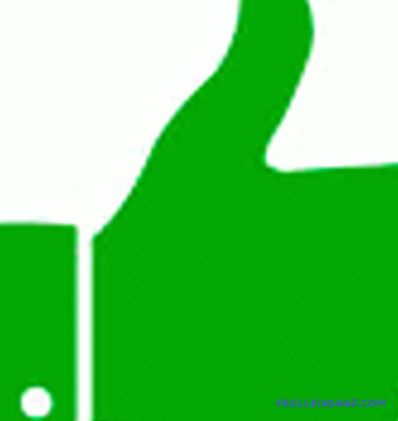 + Pros Ballu BKX-5
Compact size and light weight, does not take up much space.
Two modes for adjusting the heating of the spiral (1800/3000 W).
Good performance (250 m3 / h).
Ceramic heating element.
The presence of a thermostat and protection against overheating.
Acceptable cost (lower than other models of similar capacity).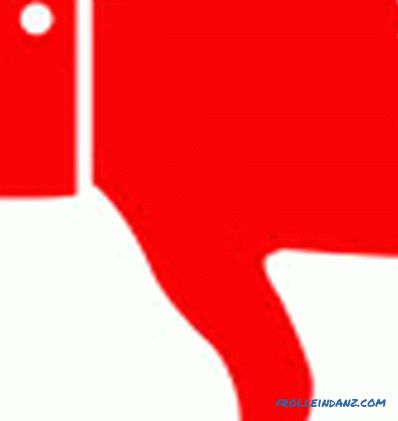 - Ballu BKX-5
Noise and slight rattling when the fan is running.
Short power cord (problem corrected with an extension cord).
Results. This model is suitable for heating residential premises, garages. The compact size and low weight allow you to quickly move and install the heat gun in any place convenient for you. It will be an excellent option for additional space heating in extreme cold.
The best gas heat guns
The modern industry produces a fairly wide range of gas heat appliances. Below you can see the rating of gas heat guns, based on user feedback.
MASTER BLP 17 M
Caliber TPG-10
Master BLP 33 M






Heating power, kW
16
10
33
Fuel type
propane or butane
propane or butane
propane or butane
Air consumption, cu. m / h
300
500
1000
Liquefied gas pressure, bar
0.7
0.3
1.5
Maximum consumption of liquefied gas, kg / h
1.16
0.8
2.14
Power Adjustment
Voltage, V
220
220
220
Ignition
piezo
piezo
piezo
Dimensions (L x W x H), mm
550x230x300
468x262x320
560x260x360
Weight kg
5
5
8.95
MASTER BLP 17 M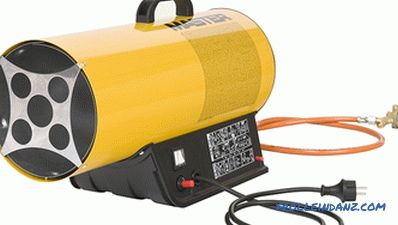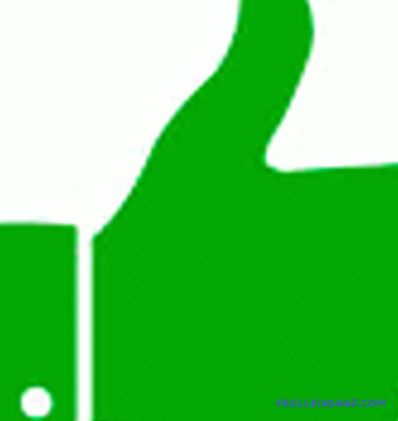 + Pros MASTER BLP 17 M
High-quality manufacturing of housing and accessories.
The power control (10 ... 16 kW) is located directly on the gun body.
Stable in any position.
There is a gas emergency shutdown button.
Low power consumption (53 W / h) and gas.
The volume of warm air 300 m3 / h.
No smell of gas during operation.
Availability of a handle for transport on the body of the gun.
A long period of work without any breakage.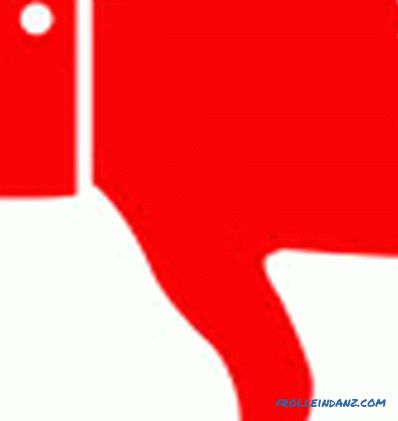 - Cons MASTER BLP 17 M
Insufficient power for heating a large area.
The gas supply hose is not long enough.
Results. This model of a gas gun perfectly will be suitable for heating of rooms of the small area. Due to its compact size and low weight, it is often used by masters engaged in the device of stretch ceilings. Such a unit can be successfully used for heating cars in the winter season, as well as for heating garages during repairs. When operating a gas gun, you must have ventilation in a heated room.
Heat gun Caliber TPG-10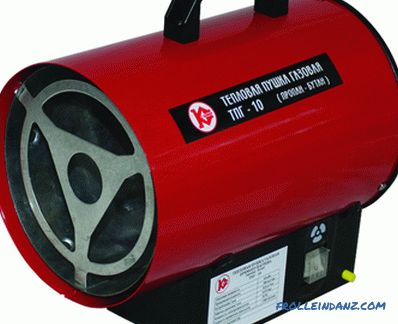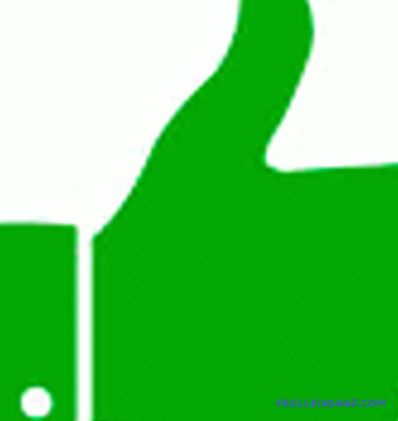 + Pros Caliber TPG-10
Economical gas consumption (a 40-liter bottle lasts an average of 27 hours of operation).
Fast warm air in the room.
Low cost with excellent quality.
Economical power consumption (fan power 60 W).
The power cord is long enough.
Large volume of heated air (500 m 3 / hour).
Possibility of changing power by regulating gas pressure.
Compact size and light weight.
Availability of handle on the case for transportation.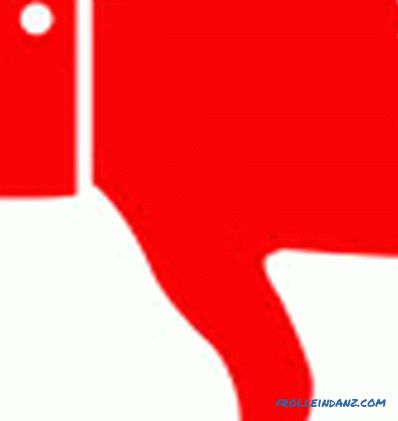 - Caliber TPG-10
Short and hard gas supply hose.
Sometimes there are difficulties with piezo ignition.
A small volume cylinder is supplied in the kit.
Results. The caliber TPG-10 is an inexpensive and reliable source of heat that can be used to heat various rooms. The small size allows you to use the gun even with a minimum free area. Perfect for those who are engaged in repairs in residential premises. It can be used in garage or industrial premises as a means of heating.
Heat Gun Master BLP 33 M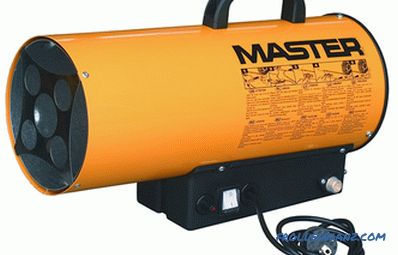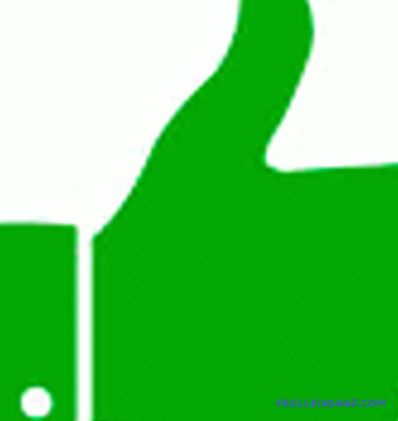 + Pros Master BLP 33 M
Fast space heating.
High power (33 kW).
The volume of heated air is 1000 m 3 / hour.
Fully equipped to get started.
Reliable work for a long time.
Economical gas consumption 2.14 kg / hour.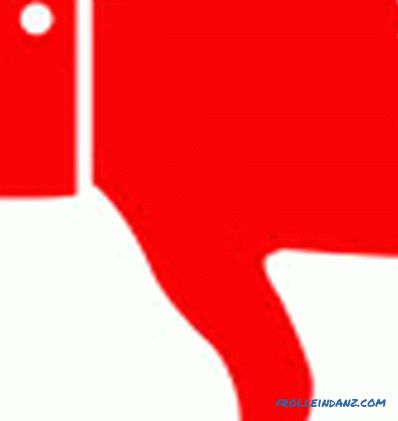 - Minuses of the Master BLP 33 M
Censure on the work of the piezoelectric element.
There is no power adjustment on the heat gun. Adjustment is made on the gearbox.
Lack of spare parts. Repair is carried out only in specialized service centers.
Results. The Master BLP 33 M heat gun is intended for use on large construction sites, agricultural enterprises, greenhouses.Due to the high power and performance, it can quickly heat the rooms of even a large area. Will become an indispensable assistant when carrying out construction or repair work in the winter. It can also be successfully used in boxes for storing cars. When operating this gun, it is necessary to have a reliable and effective ventilation system to exclude people from poisoning by combustion products.
The best diesel heat guns
After reviewing user reviews and opinions, we included the following devices in the rating of diesel heat guns:
Master BV 77 E
Elitech Professional TP 22DP




Heating power, kW
20
22
Fuel
diesel or kerosene
diesel or kerosene
Heating type
indirect
straight
Air flow, cu. m / h
1550
257
Fuel consumption, l / h
1.67
1.7
Tank capacity, l
36
19
Flame monitoring system
Overheating protection
Voltage, V
220
220
Dimensions (L x W x H), mm
1180 x 410 x 530
760x297x394
Weight, kg
53
12.2
Heat Master BV 77 E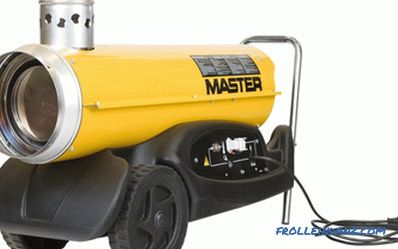 Heat Gun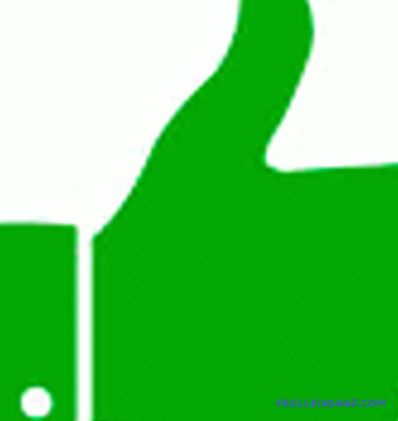 + Pros Master BV 77 E
Economical consumption of fuel.
Increased efficiency.
Powerful fan.
Installed thermostat and overheating protection.
Stable and steady burning of the flame.
Easy to use and repair.
Parts in contact with open fire are made of stainless steel.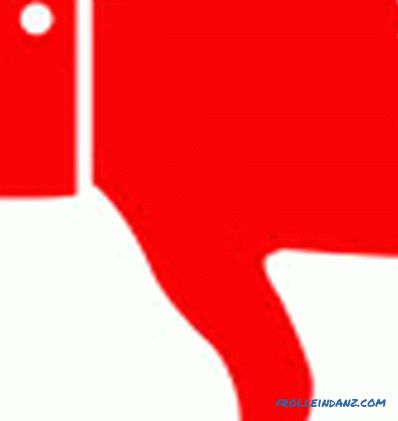 - Minuses Master BV 77 E
High enough cost.
Increased noise level during operation.
Results. The diesel Master BV 77 E heat gun has a power of 20 kW and can be used to heat non-residential premises and production facilities. Often used during construction work in the winter time to accelerate the setting of concrete mixtures and cement mortars. It is possible to connect a room thermostat to adjust the temperature offline.
Heat gun Elitech Professional TP 22DP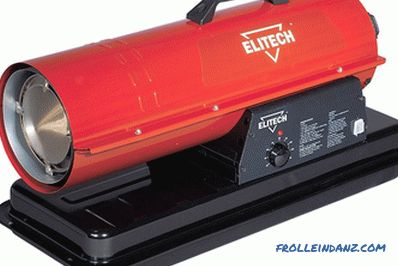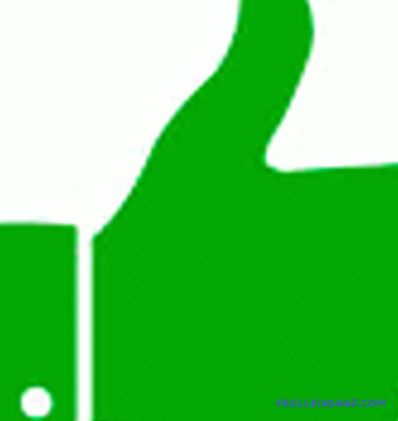 + Pros Elitech Professional TP 22DP
There is a built-in temperature control device.
Can be operated automatically.
The heat gun is equipped with electronic control of the flame burning.
The chamber in which fuel burns is made of stainless steel.
The air nozzle provides high efficiency.
A two-electrode ceramic candle is used for ignition.
Availability of fuel and health monitoring sensors.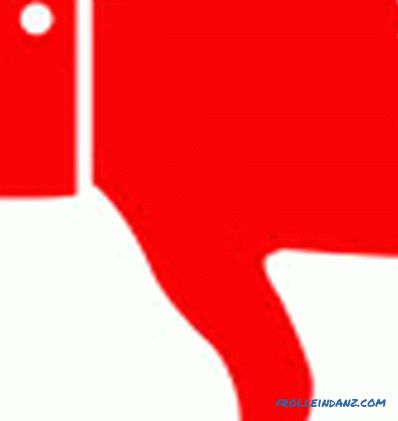 - The Elitech Professional TP 22DP
In case of severe frosts (-15 ... -20 o C), preheating before starting is required.
Results. This heat gun is a completely autonomous device that can be used in a variety of situations. Such a unit will be useful if it is necessary to heat non-food warehouses, hangars for storing equipment and other rooms. It is often used by construction crews for heating laid concrete in winter conditions, for drying painted and plastered surfaces.

The selection of goods is carried out on the basis of reviews, opinions and opinions of users posted on various resources on the Internet. All information is taken from public sources. We do not cooperate with manufacturers and trademarks and do not call for the purchase of certain products. The article is informative.