The modest charm of the Scandinavian style attracts us all instantly. In the classic Scandinavian interior, functionality is valued above aesthetics, and the color palette is modest. In fact, minimalism is an integral feature of this style, which makes it ideally suited for modern homes, whose owners appreciate the lack of plenty of extra things and cluttered space. Recently, creative designers have learned how to skillfully combine this Nordic style with other styles to bring individuality to the atmosphere of each home.
Today we look at 56 amazing Scandinavian-style bedrooms, from simple to chic. Each of them is unique in its own way, and, nevertheless, they all seem equally attractive. Presented interiors combine the best of past, present and future. Filled with the feeling of summer and the approaching autumn, this style is ideal for those who want to give their bedroom a bright, fresh and at the same time stylish look. And a few small changes will allow you to feel warm and comfortable here in winter evenings. The design of the bedroom in the Scandinavian style is a skillful combination of simplicity and sophistication.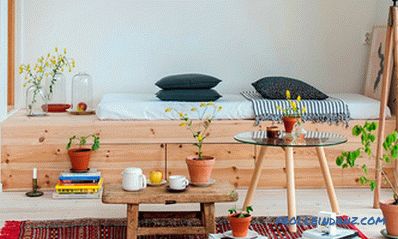 Strokes of color
One of the surprising features of Scandinavian interiors is the neutral background, which makes it possible to decorate the room with additional elements, making it truly exquisite. It is almost like a blank canvas that waits for it to be filled with individuality and originality. Color is a great way to do this, but the main thing is not to overdo it. When it comes to Scandinavian bedrooms, it is very important to choose the right background color. Currently, the most frequently used background color in Scandinavian interiors is blue or white. After the background color has become obsolete - no longer popular or just bothers you - you can change it to the next season hit.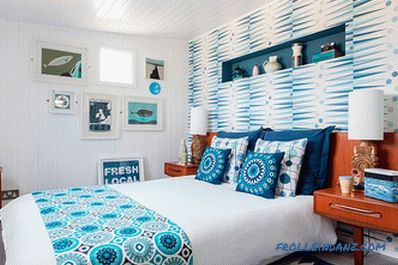 Using wallpaper in a stylish Scandinavian bedroom (by Chris Snook).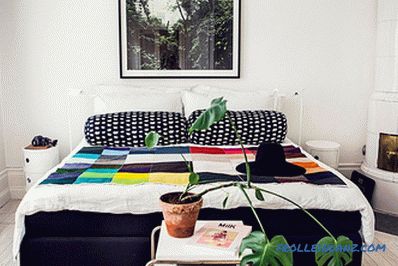 Colorful bedding and a hint of greenery (from The Way We Play).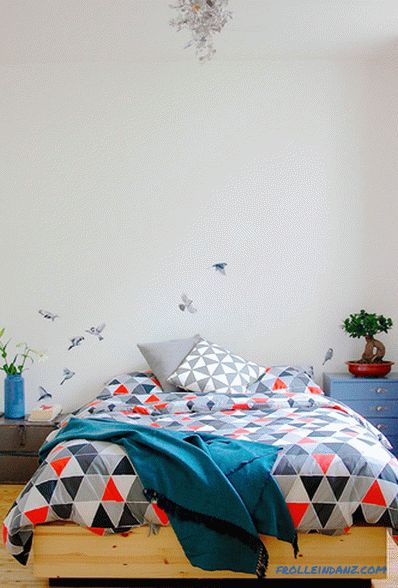 The stickers in the form of birds in the background of this stylish bedroom, despite their modest size, are the focus of attention (from Holly Marder).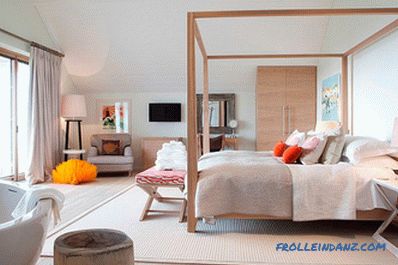 A magnificent bedroom in a soft Scandinavian style. The magic of the color palette (from Cornish Interiors).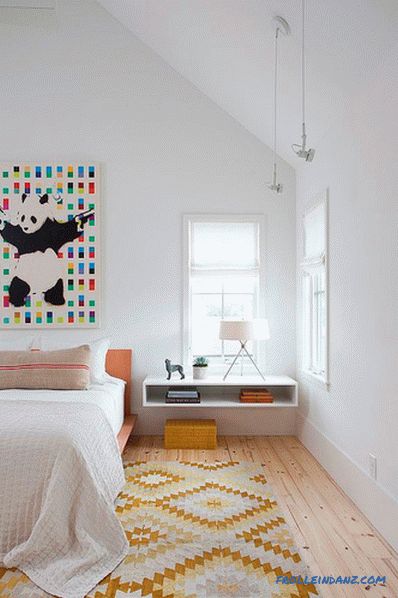 The wall panel and the carpet on the floor add color and pattern to this stylish Scandinavian bedroom (from Texas Construction Company).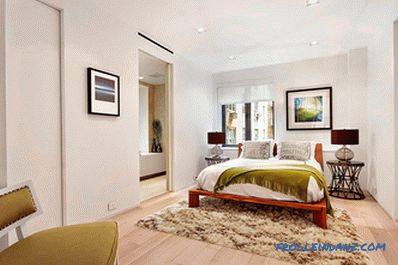 A light touch of green in an elegant white bedroom (from Studio D).
Proper distribution of space
Adapted Scandinavian style is not only aesthetics, but also ergonomics. The latter is very important for owners of small bedrooms. If you do not have enough space, the simplicity inherent in the Scandinavian style, the use of a neutral color palette with a predominance of white color, the rejection of unnecessary accessories and decor are really a great advantage! However, thanks to the use of rugs, wooden bedside tables and natural ventilation, your small bedroom will not seem "sterile" and dreary.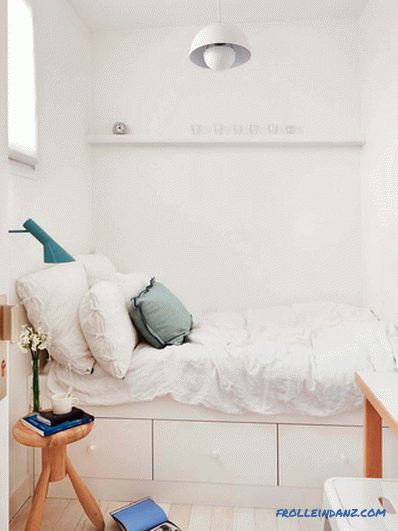 A brilliant idea to decorate a small bedroom (from A + B KASHA Designs).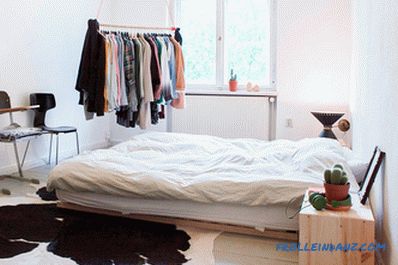 The cowhide rug is a Scandinavian-style trademark (from Katleen Roggeman).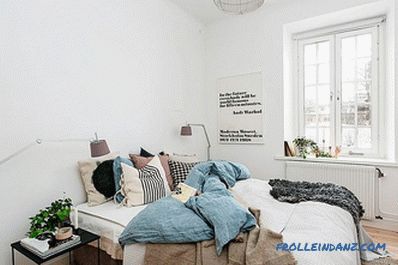 A note of inspiration on the walls of the bedroom! (from Britse. Company AB).
In the Scandinavian style, the emphasis is on efficient use of space. That is why, even in the largest bedrooms, only those square meters that are absolutely necessary are used. You can use colorful bedding or a bright spot on the wall in a light pastel color to add color to this setting.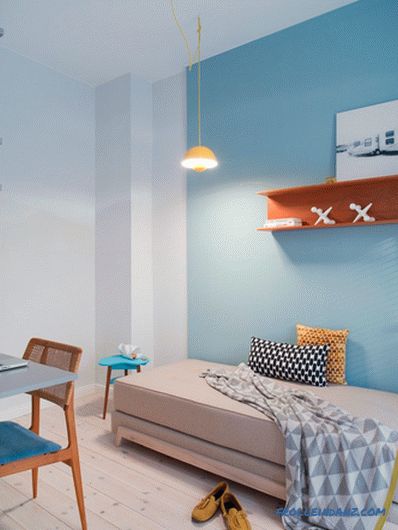 Blue as a color accent works great in the Scandinavian interior (from VINTAGENCY).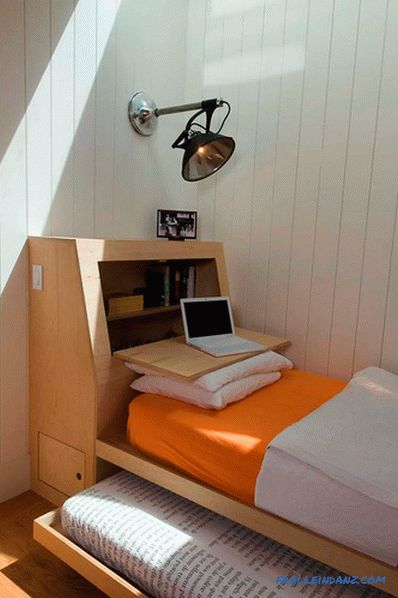 A specially designed bed with a folding table built into the headboard (by Malcolm Davis Architecture).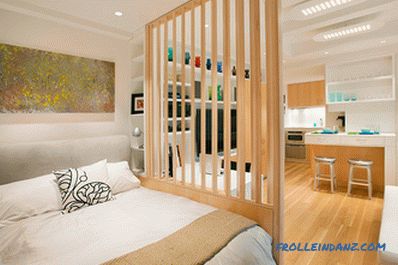 A Scandinavian bedroom in a New York small apartment (from Allen + Killcoyne Architects).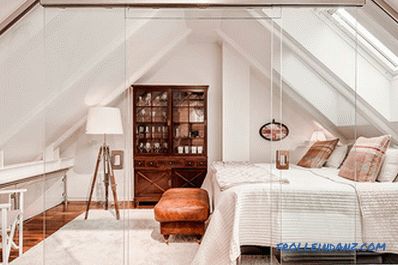 Located in the attic bedroom with glass walls.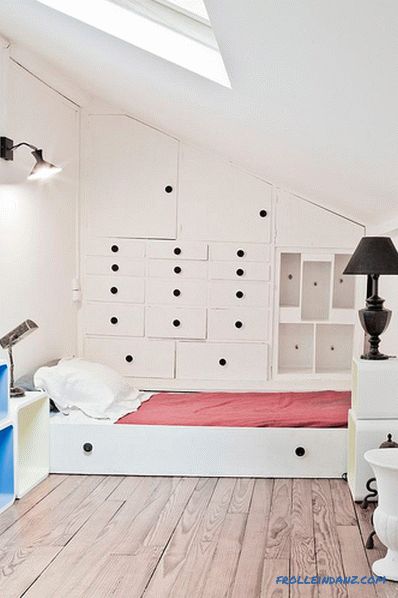 A simple color palette gives the bedroom lightness and airiness (by Miriam Gassmann).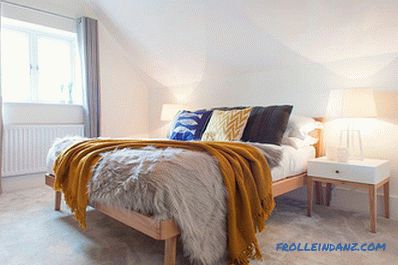 Reasonable use of a small attic space (from Jigsaw Interior Architecture).
Teasing textures
In addition to color, there are other ways to give your bedroom a visual contrast. When it comes to the Scandinavian style, one of these ways can be a variety of textures.Soft cow hides that serve as bedside rugs, walls upholstered with natural wood, and a hint of copper glistening in the form of a pendant lamp ... Such details really have a big impact on the overall atmosphere of the bedroom and perfectly fit into the Scandinavian style. Pay attention to the choice of bed frame: it must be elegant and made of natural wood.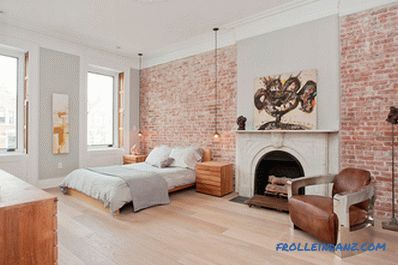 The brick wall brings impressive texture to this luxurious bedroom (by Jensen C. Vasil Architect).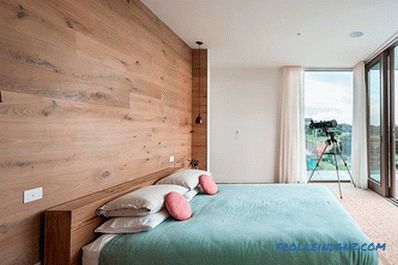 A beautiful bedroom with bedside pendant lamps and a wooden wall at the head of the bed (from Urban Angles Photography).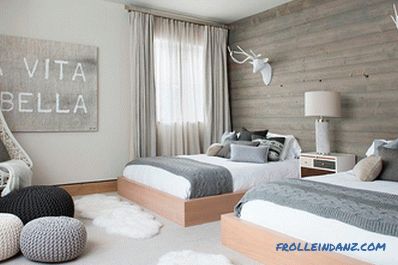 Scandinavian bedroom with accented wooden wall and interspersed with gray color (from Reed Design Group).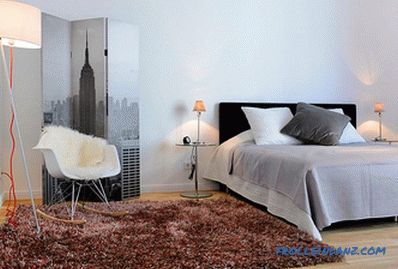 An interesting use of a screen in a modern bedroom (from Wellhausen Immobilien Styling).
We all like Scandinavian bedrooms, which are decorated using stylish beds with a base in the form of a sleigh or basement - they instantly become the center of attention. You can take it as a base by adding a white brick wall, custom hanging lamps, some black and white posters and a low bedside table (maybe made from an old stump) so that your bedroom can clearly see a calm, relaxing Scandinavian style.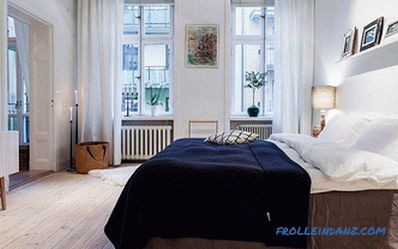 The neutral color palette of an elegant bedroom (from Alexander White).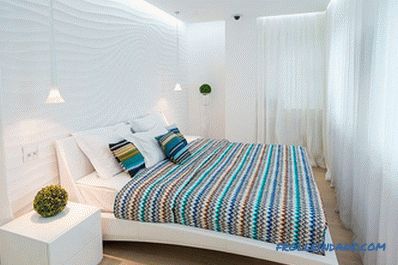 A textured wall and curtains covering all other walls in a modern Scandinavian style (from Anna Shemuratova Interiors).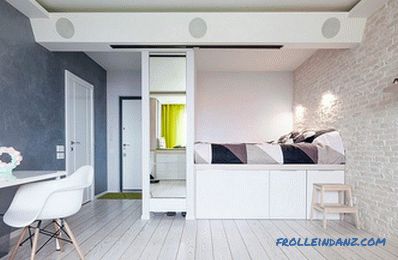 The unique bedroom design allows for the implementation of the principle of minimalism (by Denis Esakov Photography).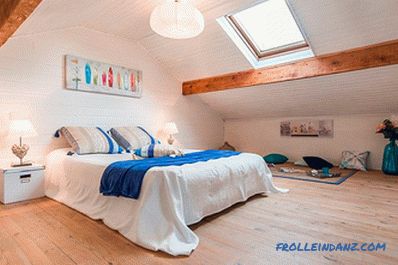 Wood adds warmth and comfort to this modern bedroom (from Katia Janoski).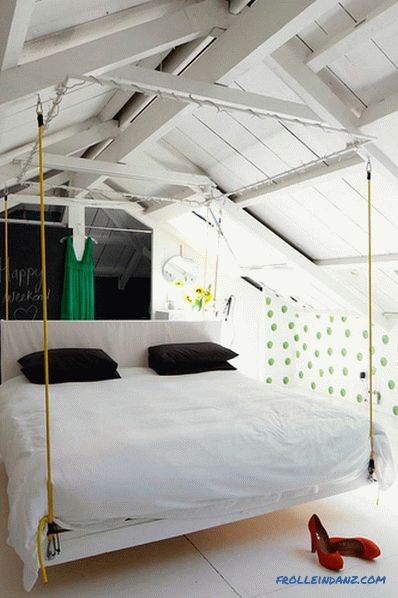 A hanging bed adds fresh appeal to the bedroom (from Callwey).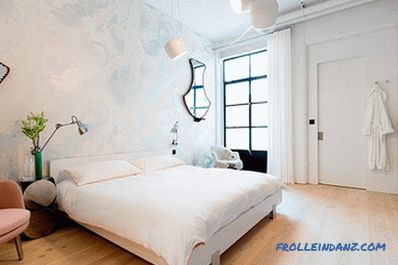 Pastel colors give the bedroom sophistication and beauty (from Cloud Studios).

Without a bedside table and soft carpet, this bedroom would seem somewhat cool (from Shirley Meisels).
Return to basics!
While white in the Scandinavian interior needs no introduction, do not underestimate the importance of black and gray. Black helps identify and highlight the architectural features of your room and provides the perfect visual balance. The shades of gray enhance this seemingly monochromatic appearance and give the Scandinavian bedroom a refined aura. Use this approach by adding simple straight lines, shelves with hidden fastening and cabinets, whose outlines are lost on the pale background of the bedroom!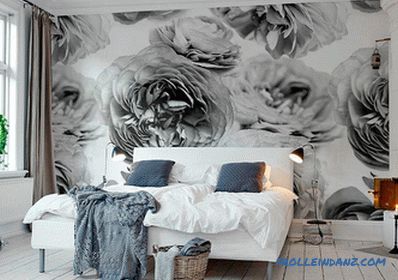 The background in the bedroom enchants (from Rebel Walls) .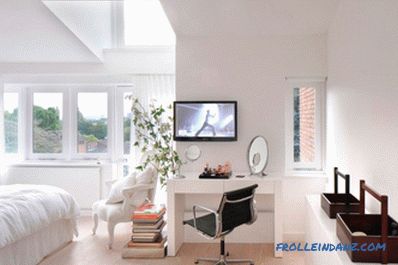 A cozy bedroom with a well-designed work area (from TG Studio).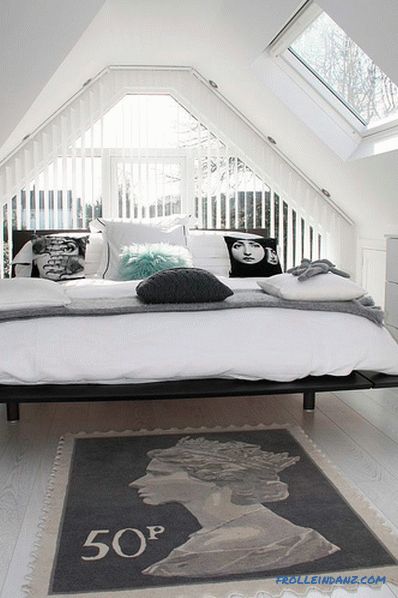 Attic bedroom in black and white (from MODEL Projects).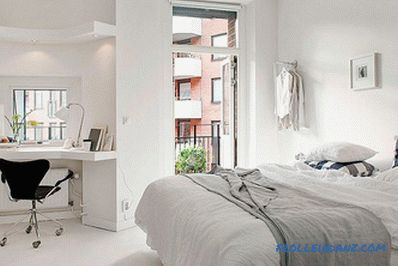 Natural ventilation and corner work space add to the charm of this attic bedroom (from Alvhem Brokerage and Interior).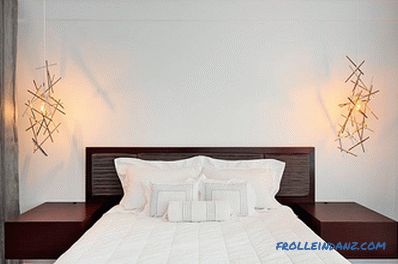 Suspended lights bring a bit of sculptural style to this modern bedroom (from BuiltIN studio).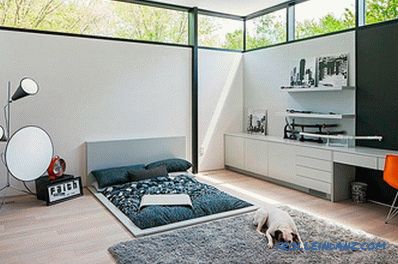 A really unassuming bed for those who love minimalism! (from Peter A. Sellar).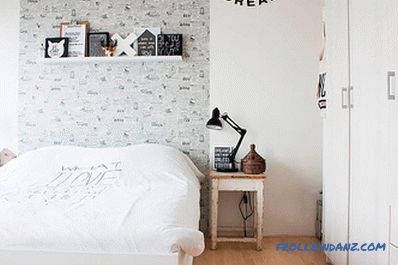 The idea of ​​decoration that fits perfectly into the Scandinavian style (from Louise de Miranda).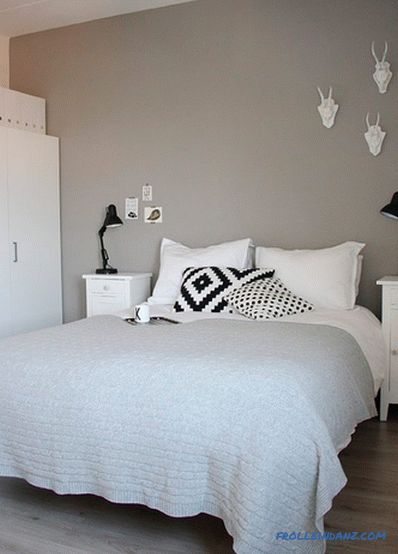 A great idea for those who love only black, white and gray! (from Holly Marder / Avenue Lifestyle).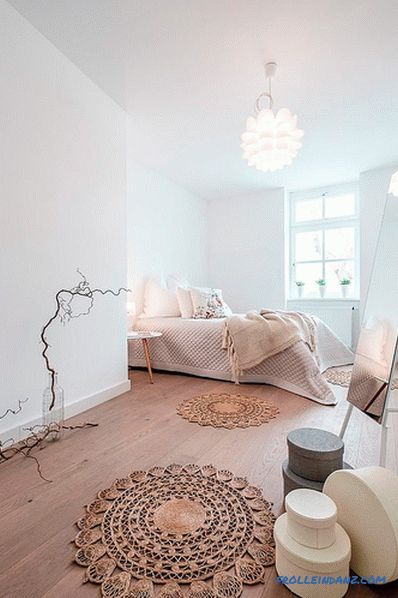 Fantastic bedroom in the style of Scandinavian minimalism (from Wohn. Fee Home Staging).
"Warm" elements from natural wood
One of the key features of the Scandinavian style is the use of wooden furniture, floors and other interior details. Natural wood creates a feeling of light simplicity, calm and serenity. Leave the doors and other wooden interior elements in their natural, raw form.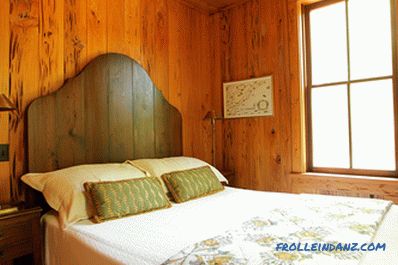 Warm walls made of natural wood and contrasting wooden furniture in color give rise to a cozy golden glow in the bedroom (by Margaret Donaldson Interiors).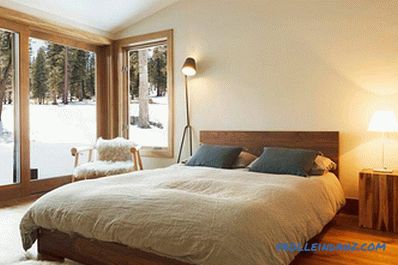 Wooden floors, nightstand and headboard in contrasting colors (from Sage Modern).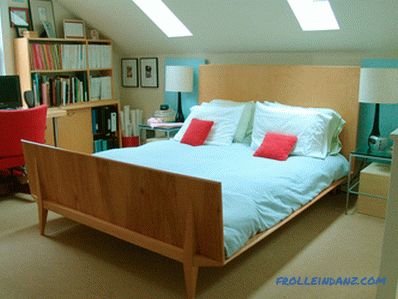 Even if the floors and walls in your bedroom are not made of wood, you can add heat using wooden furniture (from Soorikian Architecture).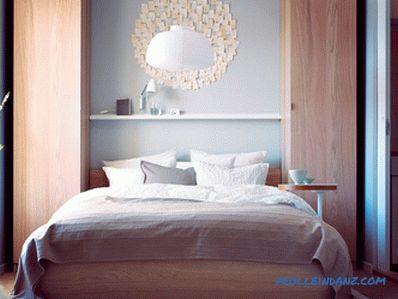 Even for bright rooms there is no need to cover wooden elements of the interior with white paint. Just choose a lighter tone of wood (from IKEA).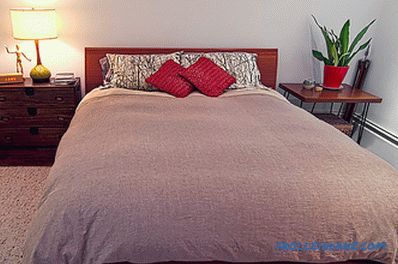 Notice how the wooden bed and the bedside tables form a strict modern interior. Simple bedding and a few blotches of color make the picture complete (from Alex Amend Photography).
Smooth furniture lines
The Scandinavian style of the interior involves the use of modern furniture with its smooth outlines and streamlined details. However, strict straight lines are not alien to this style.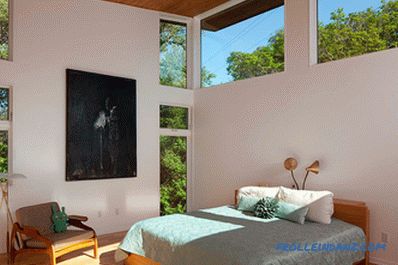 Smooth lines of wooden furniture in the Scandinavian-style bedroom. A modern version of the style of the middle of the last century (from Dick Clark Architecture) is traced in the armchair and lamps.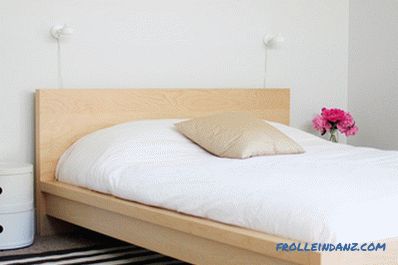 Straight and smooth lines in a modern bedroom. Notice how the strict straight lines of the bed contrast surprisingly with the rounded shapes of the bedside table, and the striped rug as if unites the space (from A Merry Mishap Blog).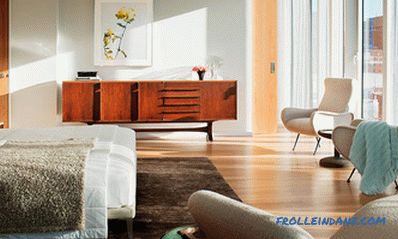 Smooth lines of modern chairs and strict lines of a long, narrow curbstone against a wall. The absence of clutter in the room allows you to consider each element of the interior (from Brad Ford ID, Inc.).
Metal accents
Looking for a way to add a little shine? Use metal accents, for example, lamps in industrial-industrial style or furniture trim matte silver. Not only is the metal striking, it also serves as an elegant contrast to the natural elements that fill the room.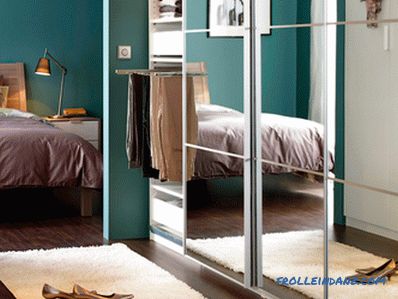 Metal parts in the Scandinavian bedroom (from IKEA).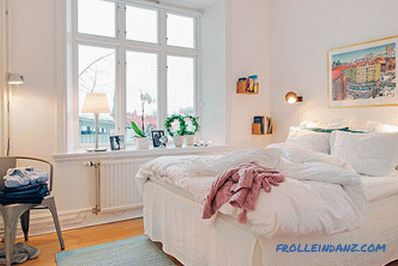 A Scandinavian-style bedroom with a metal chair in the corner of the room (from homebloghouse. Com).
Striking Textiles
Bright textiles of the most daring shades are often present in Scandinavian interiors. Sometimes modern and sometimes rustic, these patterned elements can determine the mood of a room. Often, Scandinavian textiles have openwork patterns, bringing softness and charm to the room they "inhabit." And you can experiment and add a bold geometric pattern in black and white!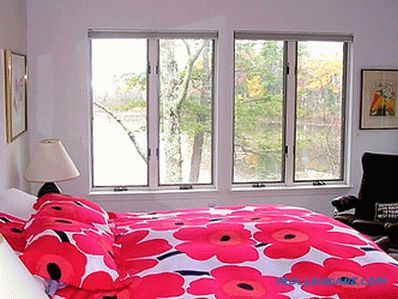 Modern bedding from the Finnish design company Marimekko (from Houzz Becky Harris).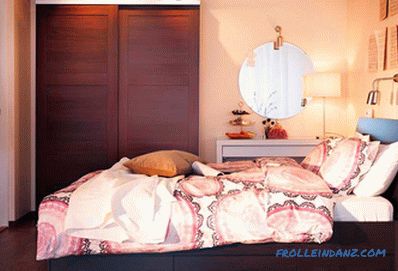 Bed linen with a lace pattern helps to create a pink glow over the boudoir (from IKEA).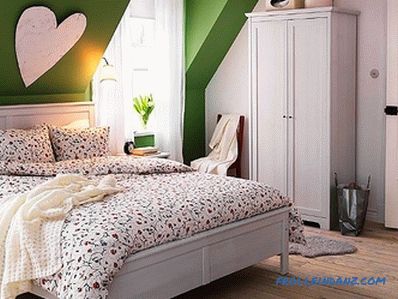 Warm strokes in the form of floral patterns can give the room a slightly playful look, especially in combination with handmade elements like the heart on the wall of this bedroom (from IKEA).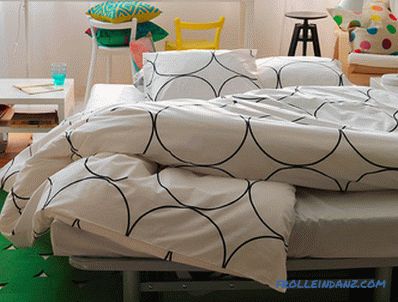 The circles on the textile in this modern bedroom create their own stylish mark (from IKEA).
Below we see the same bedding as in the previous example, but this time in combination with brighter colorful accents, such as curtains and striped pillows. Pay attention to the interaction of black and white and ultra-bright interior details. Mixing neutral tones with colorful ones allows you to create a large number of different design options for the same space.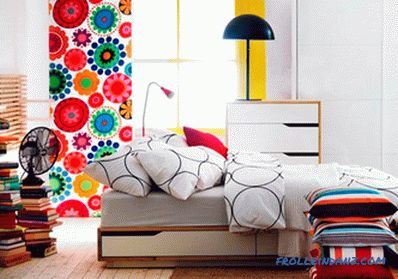 A colorful Scandinavian bedroom (from IKEA through Female Ways).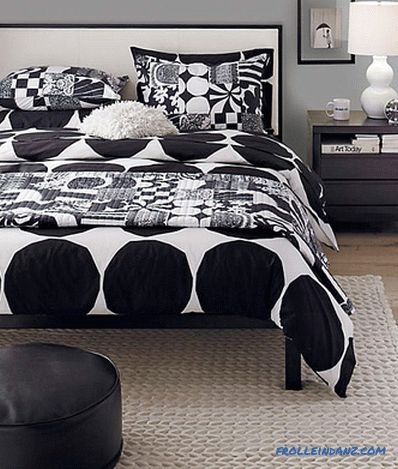 Sometimes, even in a modest color palette, patterns themselves are in the center of attention, like black and white bedding by Marimekko (from Crate. Barrel).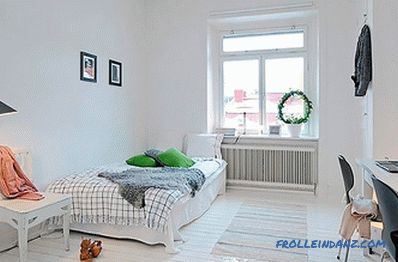 Scandinavian textiles often have more traditional patterns, for example, intersecting horizontal and vertical lines. Calm and comfort add a touch of green (from homebloghouse. Com).
Scandinavian design of children's bedrooms
Our latest selection of photos is for children's rooms! Against the background of white walls, contrasting colorful accents look particularly appropriate - fancy drawing on the wall or just bright toys.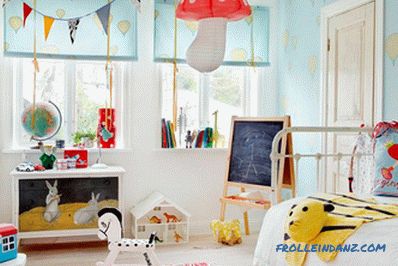 Design a children's bedroom in the Scandinavian style. Flags hanging around the room and a mushroom-shaped pendant lamp play the role of contrasting elements (from Damask. Dentelle).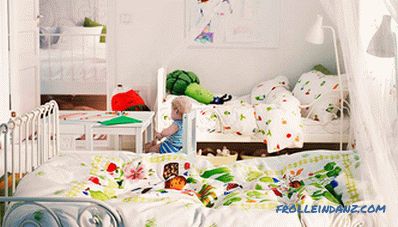 In a room for two children, try to mix color patterns with similar shades, like bedding and curtains in this room (from IKEA).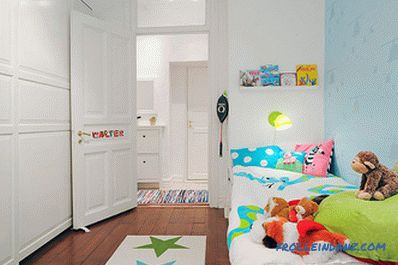 A Scandinavian children's bedroom with bright bedding and a rug with a picture of stars. Pay attention to the use of soothing green and blue hues, which are the anchor colors of space. They combine perfectly with the brighter patches of yellow and red, creating spectacular accents (from Homedit).
When adding individual details to your interior, try to imagine the big picture that you would like to put into practice. If color is important to you, use bright bedding, pillows or some other blotches of saturated tones. But even if you like simple bright and spacious white bedrooms, it is not a bad thing to add a touch of warmth using a patterned blanket or indoor plant. Most importantly, have fun mixing different elements that highlight the beauty of the Scandinavian style!