Drinking clean water that does not smell of bleach is not only tasty, but also good for our health. Therefore, most people are trying to expose the water from the tap to clean. Today we will discuss the most compact filter device. This is a filter jug ​​for water - which one is better, safer and more efficient, we will try to find out within the framework of this material.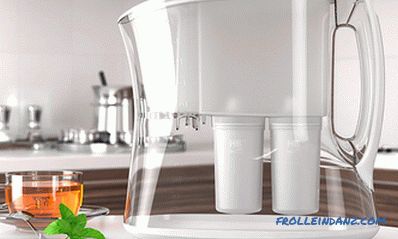 The main selection criteria for jug ​​filters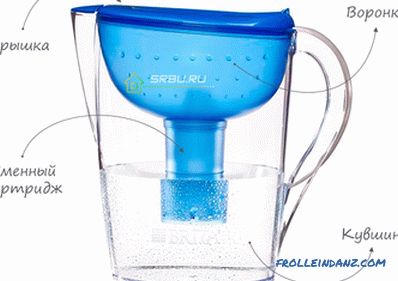 Volume
Equal in design, these devices may have different volume. It is from this parameter that one should make a start when deciding how to choose a jug-type water filter. Remember that it is not necessary to take a jug with a reserve - be guided by using filtered water at a time. After all, the water in the kettle, re-boiled, is not very useful - scientists have proved it.
And if there are three or four of you in your family, then a jug of two to three liters will do for you. By the way, in the summer, a compact device can be easily accommodated in the refrigerator, which is very convenient - cold water to quench your thirst will be at hand. More solid device jug type (for example, four-liter) is useful in large families.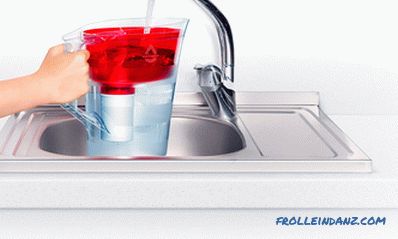 Manufacturer
All popular brands produce good quality products. Russian companies make decent filters. True, they are sometimes a little cunning, claiming that they were created specifically for the "Russian" water. In principle, this cannot be true - because the water in the faucet differs not in the country, but in where it comes from, as well as in the quality and novelty of the pipes. Russia is large, and in different cities (even in different areas of the same city) tap water may have different purity, taste, additives.
But if you want the impeccable quality of components and stylish European design, and the price issue is not a priority, you may want to think about German products. The extensive experience of manufacturers from this country, as well as the strictest control over manufactured goods, speak for themselves.
A little about cartridges and control over their replacement
All popular manufacturers care about a good assortment of filter modules. They offer both universal filters and specialized (iron remover, softening, bactericidal). As a rule, they are available in several sizes - for small and large jugs.
Only by knowing the quality of the water at home or in the country (where pitchers are often used), you can easily choose the right filter element.
Usually a cartridge lasts a month or a half. It is important to change it in time, but instead of water purification, you can get additional pollution. But not always imprinted in the memory of the installation of the cartridge. Therefore, it is not bad if the manufacturer has provided a counter that tells you when it will be necessary to replace the filter element. Mechanical counters are present in many models, more visual electronic ones - in more expensive jugs of European and American production.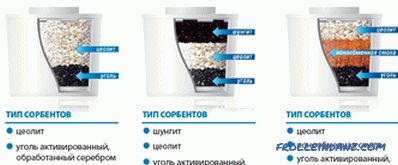 The most demanded cartridges and their fillers.
Plastic quality
For trusted manufacturers, this should be all right - their products are certified. But you never know - suddenly you will like a jug of a not too well-known firm. Then take it in hand and check whether the plastic is food grade. If a fork and a glass are drawn, then everything is in order. It does not hurt to smell the product - it should not smell like "chemistry" or plastic.
Best manufacturers of jug filters
Any jug filter consists of only three elements: the upper and lower containers with a replaceable cartridge in between. And these ingenious and uncomplicated designs were invented more than 40 years ago by German manufacturers. They began to import them into Russia since 1992, at the same time their own production began to actively develop. During this time, domestic manufacturers have achieved considerable success, and their products - the world level and a decent range.
Barrier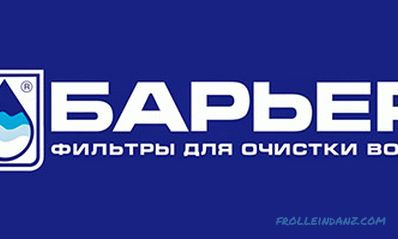 Let's start with the Russian company, one of the most popular in the market. The company offers pitchers of fourteen varieties. Their volume varies from 1.7 to 4 liters. Tanks are made of special plastic brand BASF from the German manufacturer. It is of high quality and environmental safety.
Depending on the composition of the tap water, one of the seven types of cartridges can be selected. In addition to the standard, removing only the smell of bleach and an unpleasant taste, there are also fluorinating, bactericidal, emollient cartridges. For residents of the city on the Neva, a "Neva" cartridge has been created, subtly taking into account the peculiarities of water in this region.
Geyser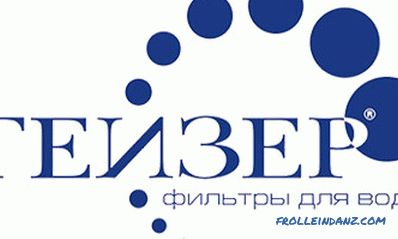 And again we smoothly turn to a Russian manufacturer. This company from St. Petersburg makes ten varieties of jug filters. Moreover, the polymer filler for cartridges have their own design.It is called "Aragon" and makes it possible to purify water at the microglobular level.
In total, the company produces four types of cartridges for different purposes. Universal modules are used for ordinary water. In addition, there are models for removing excess iron, excess hardness and for bactericidal treatment. In general, the whole set, satisfying any requests.
Akvafor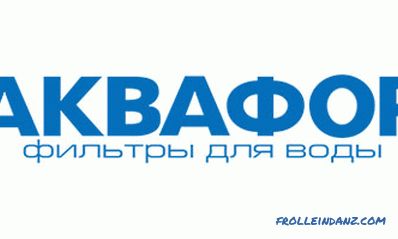 Another manufacturer from Russia whose products are no less in demand. And not only in their own country, but also abroad - from Asia to America. Often it is very difficult for the buyer to answer the question: which water jug ​​filter is better - Aquaphor or Barrier? After all, those and others receive a lot of positive feedback.
Jugs "Aquaphor" produces 13 varieties ranging in volume from 2 to 3.9 liters. The plastic from which the devices are made is also safe and certified worldwide.
Special attention should be paid to cartridges developed by the company's specialists. They use a special fibrous filtering element called "Aqualene". Due to the large amount of ion-exchange resin, the water is purified by "five plus". At the same time, the harmful "channel effect" is not observed (when the liquid flows to where it is easier to pass, as a result it is weakly purified).
Like the Barrier, you can also buy cartridges from Aquaphor for varying degrees of cleaning. Standard, iron remover, emollient. It should be noted that some of their types are universal - they are also suitable for jugs of American and German production.
Brita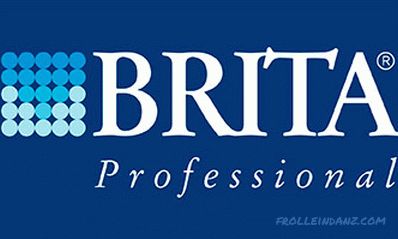 When thinking about which jug-type water filter is better, many consumers prefer German quality - the BRITA brand. After all, this company owns the primacy in the manufacture of such devices. Made well, using excellent materials, jugs have a beautiful and diverse design. Pleases buyers and wealth of colors.
As for the cartridges, they are also at altitude. They suggest their own water purification technology called "MAXTRA". After it, the most tasteless and not too pure tap water becomes no worse than spring water, and also slightly mineralized.
Especially popular are the Marella and Elemaris jugs, which are very stylishly decorated, equipped with counters for cartridges (electronic or mechanical type).
The best jug filters according to user reviews
Harry's Aquafor - the largest volume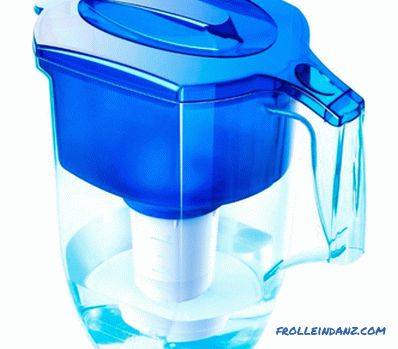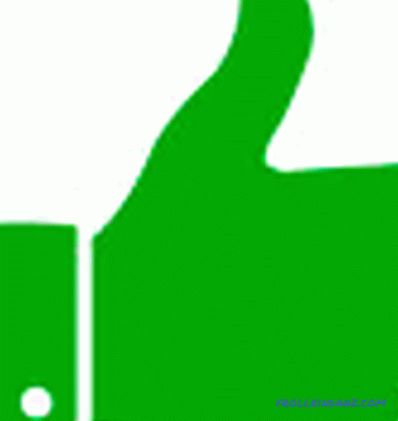 + Pros Aquaphor Harry
The jug is very compact, fits easily into any place, but its volume quite decent.
Excellent appearance, good build quality.
Perfectly removes the smell of bleach and iron from tap water. Gives you the opportunity to enjoy delicious tea and coffee.
Large cartridge life (manufacturer claims two months).
Easy to use - all you need to do is pour water on it and wait until it passes through the filter element.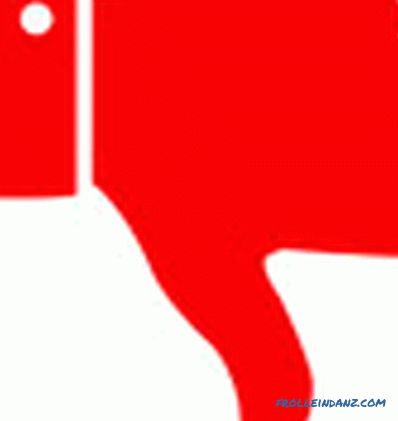 - Cons Aquafor Harry
Co time the cap on the nose begins to stick.
It is not very convenient to insert the cartridge - sometimes it gets up unevenly, which causes water to seep through where it is not needed. It would be more convenient to connect the threads.
Not for any water replaceable elements last for two months - with its increased pollution it is limited to one month.
Results: A model that is extremely simple to use, beautiful and compact, will be useful to those who want to have a little effort at home or in the country without much effort and frequent replacement of cartridges. delicious water. The main thing is to carefully change the cartridge, trying to insert it smoothly so that nothing leaks anywhere. However, this skill gradually comes with experience.
The Barrier Grand is the largest cartridge resource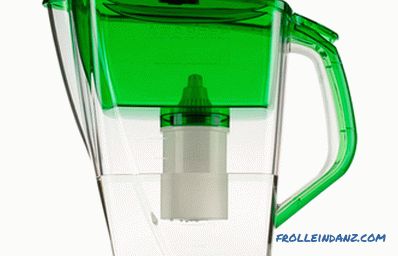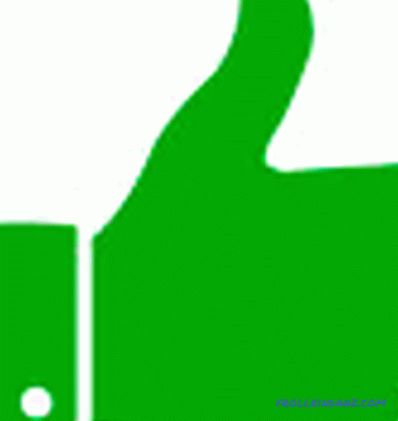 + Pros Barrier Grand
Solid volume of the bottom tank for clean water.
Sufficiently high-quality filtration - the water becomes tasty, extraneous odors and impurities disappear.
Easy change of cartridges and their long service life.
Reasonable price of a product.
Bright and original design.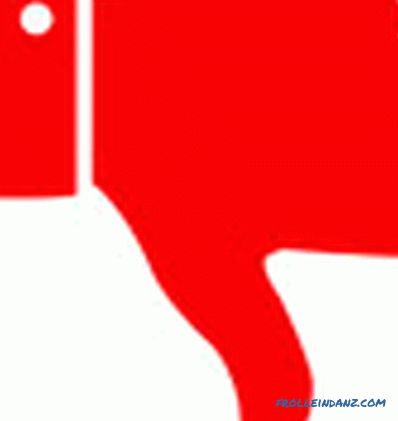 - Cons Barrier Grand
Lid the upper tank (where the water is poured) is kept insecurely. When the tank is full, it tries to fall off.
Recently, poor-quality cartridges have sometimes been found. For example, do not let the water.
With one hand, it is inconvenient to pour water on only two, holding the lid.
If the filtration is not fully completed, when pouring, clean water may mix with the unpurified.
Lack of a counter telling when to change the cartridge.
Results: An inexpensive model of this type is useful for those for whom the financial issue is not in the last place. Large volume, good quality filtration and beautiful design harmoniously combined with a low price. But it will be necessary to pour water with two hands (so that the lid does not fall off), and you will have to remember about the replacement time for the cartridge yourself (no counter).
Brita Marella XL - the best usability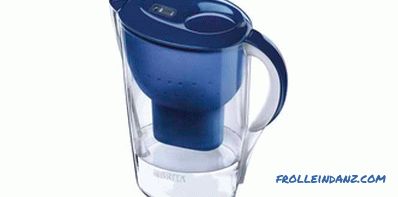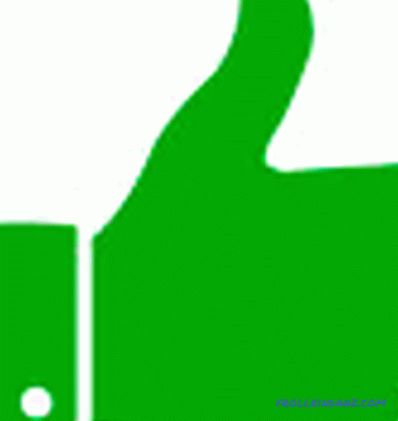 + Pros Brita Marella XL
You will not forget about changing the cartridge.
Water quality is excellent - scale does not appear in the kettle.
Strong plastic, high-quality assembly.
Beautiful design.
The lid is securely fixed, perfectly separating filtered and flooded water. When tilted, they do not mix.
Filtering is fast.
Ability to pour water without removing the lid (through a special valve).
Large jug capacity - 3.5 liters.
Convenient to wash.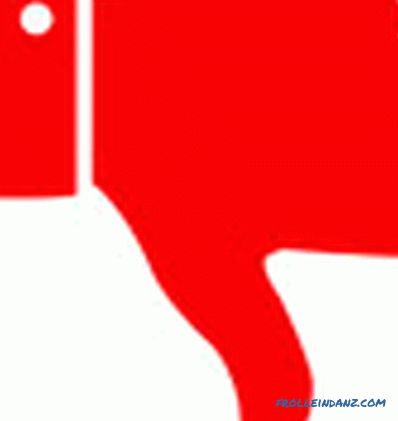 - Cons Brita Marella XL
The device should be washed at least once a month. Otherwise, a black mold is formed on the blue plastic that is difficult to clean.
There is no table for calculating the resource for a cartridge in accordance with different levels of contamination and intensity of use.
Quite expensive cartridges.
With a large degree of water pollution or its increased rigidity of the replaceable element, it lasts a week for three, not more.
Results: This model is suitable for those who need a large volume jug filter that works quickly and is conveniently maintained. And it does not play a special role the price of consumables (here they are expensive). If water has a lot of additives, then the resource cartridges will have to be determined independently (empirically).
Griffin Geyser - maximum performance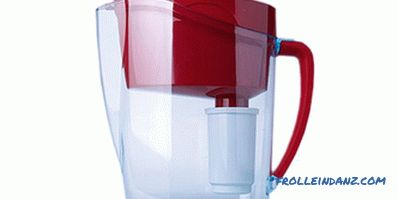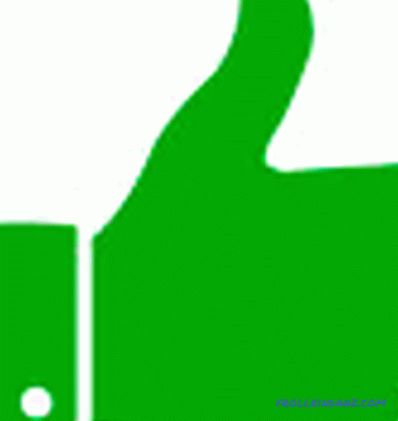 + Pros Geyser Griffin
Nice design combined with a very nice budget price.
Excellent filtration quality - water is obtained without odors, excellent taste. No sediment during boiling is not detected.
The convenient rubberized handle which is not sliding at all in palms.
The assembly is of very high quality - nothing staggers anywhere, hangs around, leaves and creaks.
Cartridges are available in four types - to choose from, depending on the quality of water in the faucet.
Silent operation (unlike some filters whistling during water purification).
Tight-fitting lid.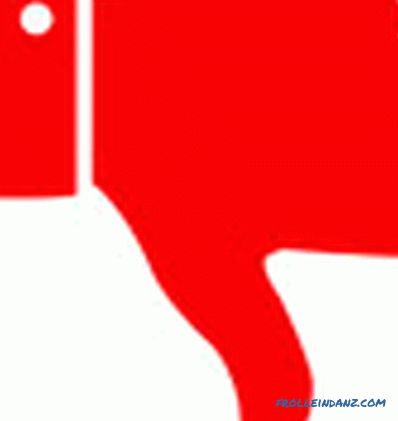 - Cons Geyser Griffin
K Unfortunately, the filter element has a not too long resource.
Not bad, if the manufacturer, besides a non-slip grip, would have provided a non-skid bottom.
The spout is small enough, so the purified water slowly pours out.
Cartridges are not always available for sale, therefore it is better to buy them with a stock.
Results: This model is also a good budget option, also beautifully designed and equipped with a rubberized non-slip grip. Filter cartridges work conscientiously: no bleach, no foreign taste in the water remains. In addition, you can always find a cartridge suitable for your water. However, it should be remembered that they are not so often found on sale, such as, for example, the modules of the Aquaphor and Barrier brands. Therefore, if possible, buy them with a stock.
The selection of goods is carried out on the basis of reviews, opinions and ratings of users posted on various resources on the Internet. All information is taken from public sources. We do not cooperate with manufacturers and trademarks and do not call for the purchase of certain products. The article is informative.
Take part in the survey: