If you decorate your bathroom in a classic style, this will indicate only a good and sophisticated taste. After all, this particular trend has always been considered fashionable, elegant, modern. To the bathroom in a classic style fully consistent with its direction, you must adhere to some tips and rules.
The color palette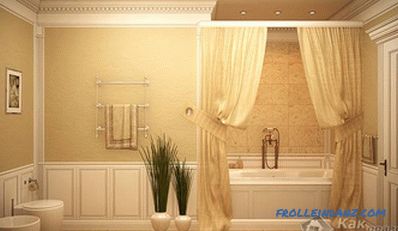 In beige tones
Developing a bathroom design in a classic style, you must adhere to a certain color scheme. You can not use bright colors, metallic shades and ultra-modern paints. Stop your choice on these colors:
gray;
beige;
white;
green;
blue;
pink;
black and other restrained shades.
It is preferable to use a light green tint, as well as white. No less attractive are terracotta and brown. It is recommended to supplement the interior with natural materials.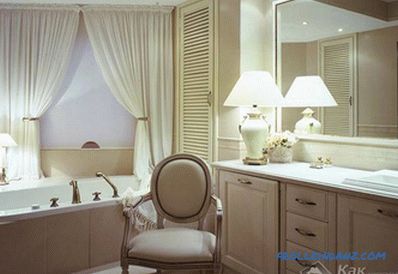 In ivory
White is the color of purity, spaciousness, freedom , as well as expansion of horizons and, accordingly, the volume of the room. Do not forget that it has many shades:
milky;
white chocolate;
ivory;
alpine snow.
In addition, it is worth noting that it is white that perfectly harmonizes with dark shades. For example, this is a winning solution for contrasting dark furniture, plumbing and decor.
The classics of the genre are pastel, a combination of black and white.
Surface finishing options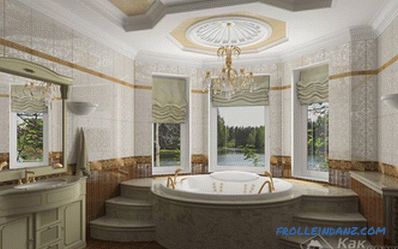 Tiling
To finish walls and ceiling in a classic bathroom, it is worth picking up special materials. Pay attention to such options for the wall:
plaster (smooth or fine-grained);
ceramic tiles;
wallpaper;
paints and varnishes.
Do not forget to include natural stone and wood in the interior, which will add originality and exclusivity. If there is a window in your bathroom, use light textiles to decorate it, it will add to the interior of weightlessness, airiness and bring a touch of romance.
To make the separation of zones (washing, water procedures, storage of things), and also to focus on any elements of the decor, for example, a mirror, you can use columns. This option is only suitable for large rooms. The most profitable will look room with stucco. It can be placed both on the walls and on the ceiling.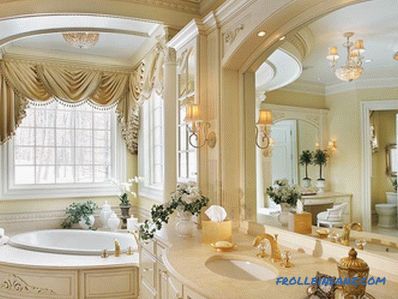 With stucco and fabric drapes
When choosing a ceiling finish, you should opt for the following materials:
light shades of paint (visually expand the room);
fabric drapery (adds a luxury element to the interior);
textured plaster;
stretch ceilings.
There are at least options for floor decoration:
ceramic tiles;
parquet;
self-leveling floors;
marble;
artificial stone imitating natural.
The correctly selected door will be the final chord. It is worth paying attention to the models made of glass or framed. Fittings made of bronze, copper or gold plated will look great.
Choosing plumbing and furniture
After finishing work and purchasing materials is done, you can proceed to the next stage - this is the selection of plumbing and furniture. Naturally, in the first place in the bathroom plumbing. To date, her choice is wide enough, which leads to the confusion of many consumers. Let's consider the most appropriate options for the classic style.
Bath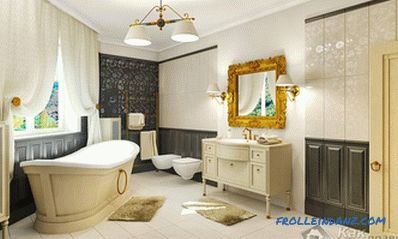 Bath for an interior in a classic style
The specified direction does not provide in this matter, there are no particular limitations on the size, shape, and color of the bath bowl. At the same time, complex configurations and bright colors will look rather inappropriate. The ideal option is the thicker oval. Its color can be any:
white;
beige;
gray;
black.
To emphasize the luxury of design, you should look at the bronze legs, made in the form of lion's paws. It would also be appropriate to supplement the bath with copper faucets.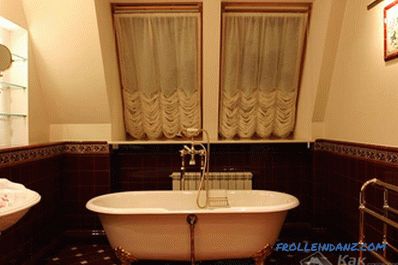 Bath with feet in the form of paws
Recently, manufacturers have been producing collections of baths from natural materials such as marble, stone and wood. In the individual design in the workshops make forms of glass and porcelain.
Shower
If you have a small bathroom or you prefer fast water treatments, it is best to pay attention to modern shower enclosures. The walls of the cabin in most cases trimmed with the same materials as the walls.This approach will create a solid and harmonious interior.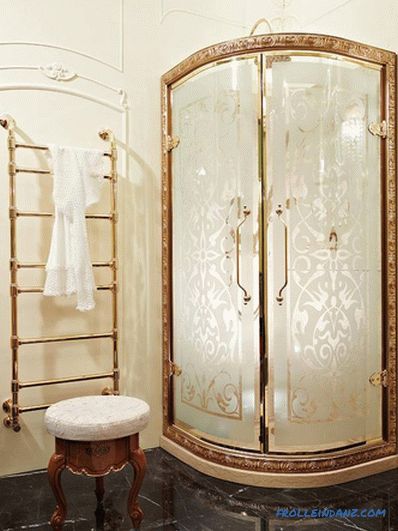 In a modern bathroom, a combination of both a shower and a bath is often allowed. They are combined into one "wet" zone, which is hidden behind a glass or mirror partition. Using a large canvas mirror is very appropriate in dark and small bathrooms, as it can be used to add more light and expand the space.
A built-in light in the shower will add to the interior.
Sink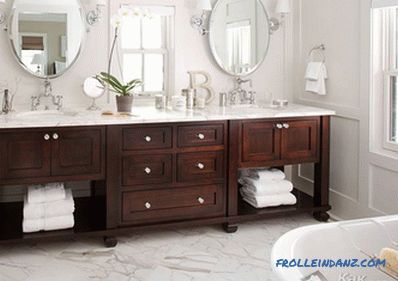 Two sinks
Complete the last item in the bathroom - washbasin. It is worth noting that recently in the classic style of the bathroom is used the trend: two sinks or one big. Such an approach allows several tenants to wash and brush their teeth at the same time, which means that there are no traffic jams during rush hours.
Two sinks can be positioned in several ways:
side by side, in a direction perpendicular to the bath bowl (standard method);
symmetrically opposite each other.
If there are small children in the house, it would be more appropriate to place one sink a little lower for convenience.
Furnishing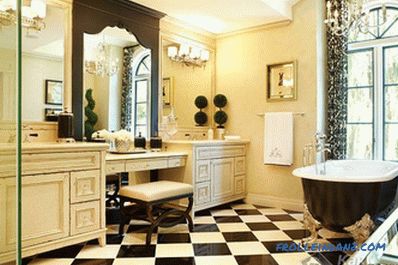 You can provide a dressing table
In standard bathrooms All furniture in the rooms is reduced to several closets and small cupboards:
floor standing (under the sink);
hanging (above the sink, toilet and entrance door).
But if we are talking about a spacious bathroom in the country, in a large cottage, then you can place not only cabinets and shelves, but much more:
chairs;
sofas;
dressing tables;
chairs;
open shop windows.
Another interesting option in a classic bathroom is a fireplace. It will harmoniously fit into the conceived design and bring the desired warmth. The combination of two elements in one room at once, water and fire, can give the most incredible sensations and bring residents to the atmosphere of a medieval castle.
The fireplace can be made in the form of a model, around which you can arrange the candles.
Parts and accessories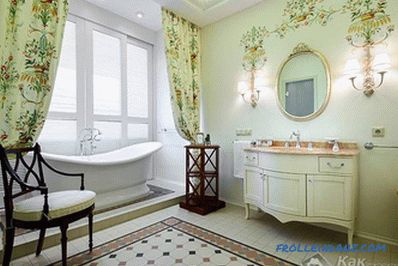 To put the final point and complete the bathroom design in a classic style, you must arrange the accessories and decor. Selecting them, it is necessary to remember about the chosen direction - it will be appropriate to use antique objects. These include:
canopy;
unusual drapes;
paintings in old frames;
candelabra;
lamps;
candlesticks;
vases;
a chest for linen.
Textiles are a must for a well-ventilated bathroom with a window. But you should not make the interior heavy and dark curtains, it is best to give preference to tulle and organza. Also in this category are floor mats that should not slide. You can achieve an atmosphere of comfort and coziness with the help of indoor plants on the window.
Do not forget that in the bathroom, in addition to natural light, there must also be an artificial one. The ceiling can be decorated with a properly selected chandelier, and on the sides of the mirror - wall sconces.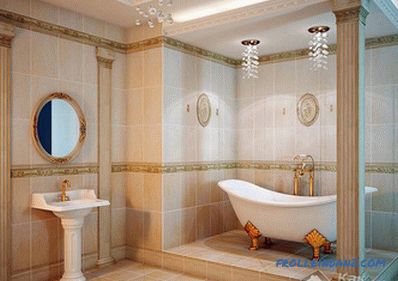 Do not overburden the interior
Classic bathrooms combine simplicity and sophistication at the same time, so do not overdo it with the number of colors and accessories.
To learn more about the details of the design of the bathroom in a classic style, you can view the photos published below. This will allow you to quickly navigate, choose a suitable idea for yourself or develop your own.
Editorial tips:
how to replace the cartridge in the faucet in the bathroom;
which tile to choose in the bathroom;
install the wall-hung toilet hands;
how to solder polypropylene pipes in hard-to-reach places;
laying ceramic tiles in the bathroom with your own hands.
Photo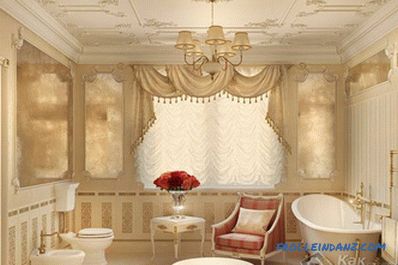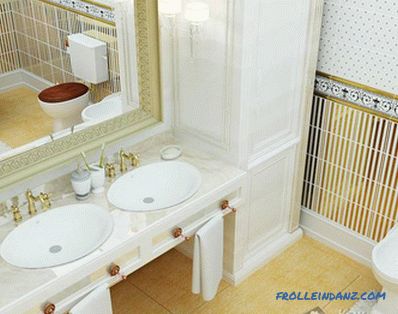 Two sinks on the same tabletop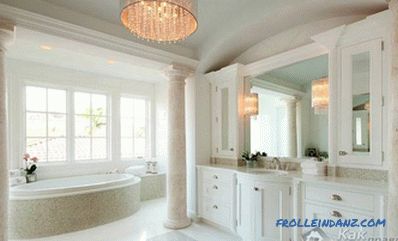 Bathroom decorated with columns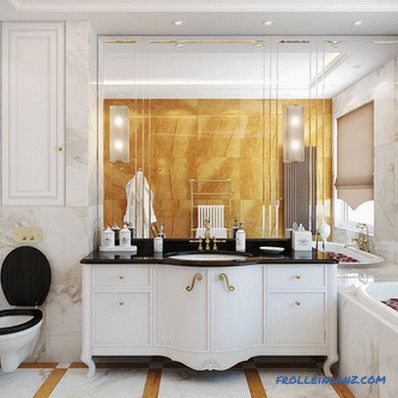 With elements of black colors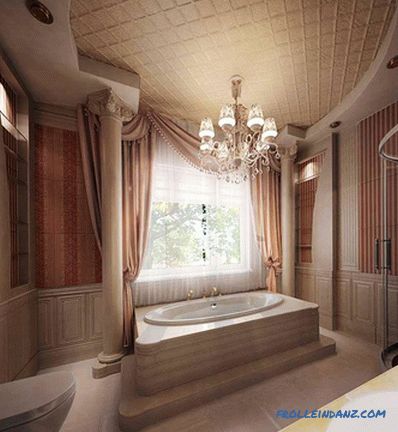 In pastel colors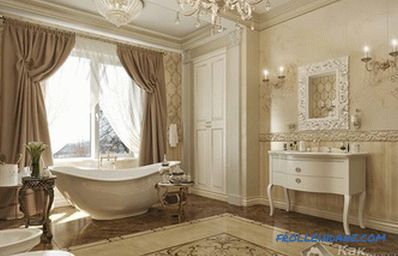 Chandeliers and wall lamps are appropriate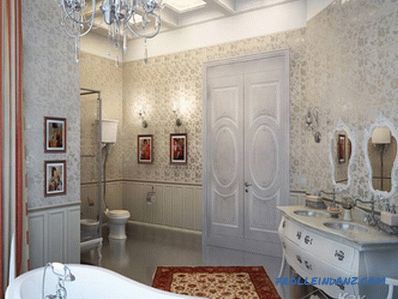 You can hang paintings