Any drywall product must have a "ridge" - a frame made of durable parts. These are profiles and guides of various shapes connected by various fasteners. By quality, they can be different. Alas - sometimes you can find out about a purchased marriage only during installation, or even when using a finished structure. This is the problem of developers with no experience. Choosing the right types of profiles for drywall, they do not know how to find quality products. But here it is impossible to make mistakes, so consider what are the types of profiles, components and fasteners for drywall, consider the selection criteria for these elements.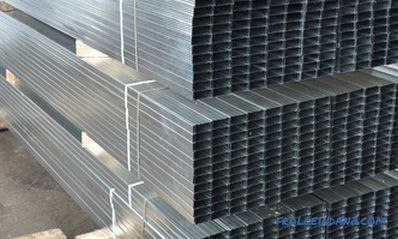 What are plasterboard profiles: types and dimensions
For the manufacture of the profile, a cold-rolled metal sheet treated with zinc coating is used. Products turn out strong, practical and reliable. After all, galvanized surface corrosion is not dangerous, and therefore such a profile is destined to have a very long life.
The metal frame used for the installation of drywall is simple in design. It includes horizontal and vertical parts. The latter are called carriers, or rack, elements. Perpendicular to them are guides, or starting, elements. Selecting a suitable profile for plasterboard partitions is not so difficult. To begin with we will list all their types.
Rack profile (CD or PP profile)
Rack profile (also called ceiling) is one of the most popular. They are, according to the label Knauf, denoted by the letters CD. Similar products brand Giprok called PP profiles. Thanks to their optimally chosen dimensions, space is rationally and economically used. During the work in rooms of any size of waste practically does not remain.

This profile is used for the manufacture of a frame for wall covering and suspended ceilings.
Profile dimensions:
Length is from 2.5 to 4 m;
Width is 60 mm;
Shelf height - 2.7-2.8 cm.
Guiding profile for plating (UD or PPN)
UD (or PPN) profiles are the guides of the frame. Facing the drywall wall or building a suspended ceiling, you need to mount such parts around the perimeter of the plane. Since during the installation of these profiles, the auger passes right through them, it is desirable that they be perforated. After all, it will be much easier to enter the holes of the borax.

Used as guides into which rack profiles are inserted.
Dimensions of guides for drywall:
Length - 3 m;
thickness - 0.55 mm;
width - 2.7 cm;
height - 2.8 cm.
Profiles for creating partitions - UW or MO
Guide profiles for creating partitions are marked UW or Mon. In order to be able to make a partition of any thickness that is needed, these parts are produced with a large range of sizes, in particular, widths.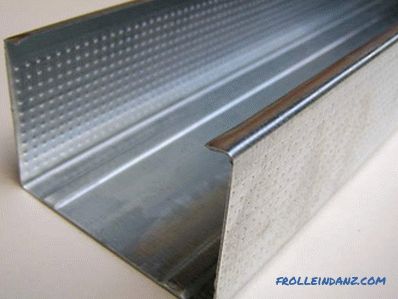 Used in the frame as guides when creating partitions.
Profile sizes:
Length - from 2 to 4 m;
shelf height - from 3.7 to 4 cm;
width - 4.2; five; 6.6; 7.5; ten; 12.5; 15 cm.
Profiles for partitions - CW or PS
Rack profile for walls is marked with letters CW or PS). In width, they are matched to the starting elements. Quality products always have a special notch, to facilitate the laying of communications. Profile detail PS from Giprok has an additional stiffener, which creates a bent edge.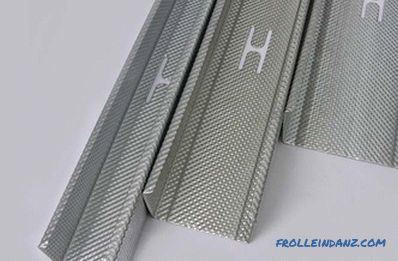 Used to create a frame when mounting partitions.
Profile dimensions for drywall:
Length - 3 to 4 m (special lengths are made to order);
shelf height - 5 cm at Knauf and 4 cm at Giprok;
width - in accordance with the UW or MO profile.
Arched profiles
Special curved profiles can have either a convex or a concave surface. They are used when a structure of complex shape is to be made, with bends and curvilinear planes (for example, an arch). However, if necessary, our masters have learned how to manage rack profiles.

Sizes of arched profiles:
Concave
Convex
Radius, mm.
Length, mm.
Radius, mm.
Length, mm.
500 - 1000
2600, 3100, 4000
-
-
1001 - 2000
1001-2000
2600, 3100, 4000
2001 - 3000
2001-3000
3001 - 4000
3001-4000
4001 - 5000
4001-5000
. 5000
. 5000
What additional elements are needed for the frame
There are many accessories for plasterboard - there are more than one dozen.But some of them, except in the catalog, can be seen, since they have a special purpose. And we will consider those elements that are used most often - they are enough for any master.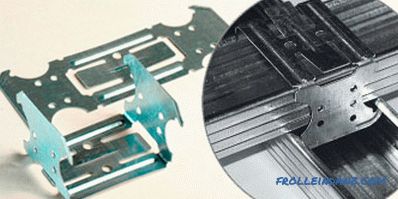 A two-level connector for a CD profile is used to fix these profiles at various levels. In this direction, perpendicular to each other. Since this part is sold in the form of a sweep, before work, we will give it the shape of the letter "P", for this flexing it. For installation will require special screws (2 pieces - one from each edge).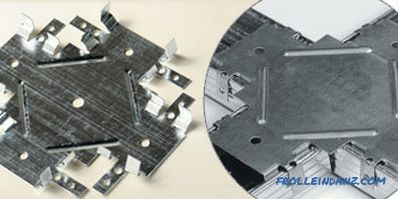 Single-level connectors for a CD profile are called "crabs." They are designed to fix parts within the same level. As in the previous case, they have a criss-cross, perpendicular to each other. If the load per square meter is no more than 20 kg, then self-tapping screws will not be needed - just snapping profiles. Otherwise, you will need 2 screws - on one and the other side.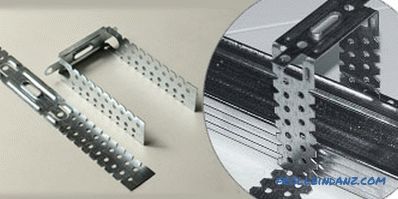 The direct suspension for the CD profile is used when installing suspended ceilings. This part is attached directly to the ceiling surface. Before connecting with the profile element, the suspension is bent in the shape of the letter "P". Then screw, on the edges, 2 screws. The length of this product (standard) is 12.5 cm. There are other options on sale - from 7.5 to 30 cm. The load that the suspension is able to withstand is 40 kg.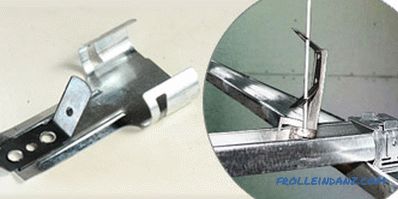 Anchor suspension, also called a suspension, also serves to connect the ceiling surface and the CD profile. It is needed when the direct suspension has an insufficient length. The suspension itself is inserted into the profile, and its thrust must be threaded through special holes in the spring. The length can be 25, 50 and 100 cm. The maximum load is 25 kg.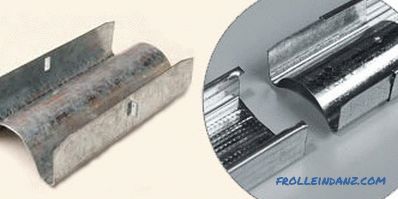 The extension for the CD profile (otherwise, the longitudinal connector) is able to make the profile element longer. This part is inserted into it from the front side, with the protrusions that look like horns, should be directed upwards. As usual, twist two screws along the edges for additional rigidity.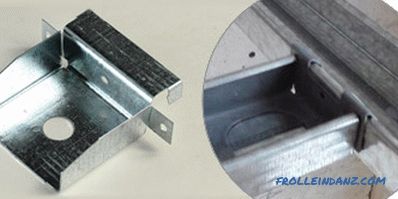 The corner connector for the CD profile may well replace the crab element when installing suspended ceilings that have the same level.
Fasteners for plasterboard systems
TN 25 self-tapping screw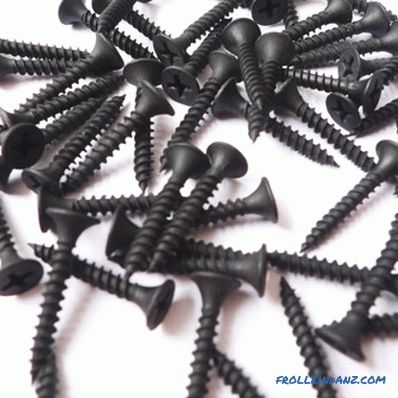 To securely fasten drywall to metal surfaces , use screws with frequent thread type TN25 (25 mm long). If the lining is in several layers, then take the screws 35 - 40 mm long. To attach the gypsum board to the crate of wood, use self-tapping screws with a wide thread pitch of a length of 35 mm.
Self-tapping screws LB 9, 11, 16 and LN 9, 11, 16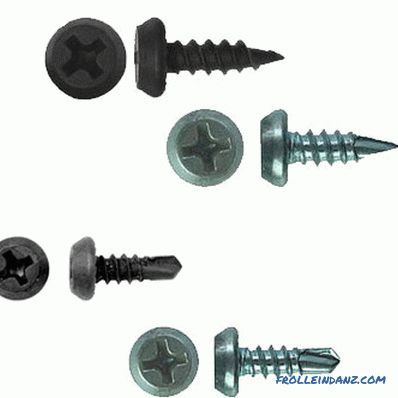 Attach a direct suspension, extend and connect different types profiles for drywall need drilling bolts such as LB 9, 11, 16. They also fit piercing screws LN 9, 11, 16. Figures indicate the length of the screw in millimeters. The smallest drilling self-tapping screw LB 9 has a length of 9 mm. All small fasteners have a drawback - they are hard to tighten. A hat strongly protrudes and prevents the fit of drywall.
Self-tapping screws with a press washer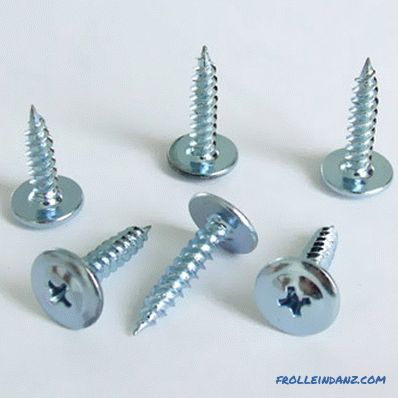 It is more practical to use universal self-tapping screws with press washers with which you can work with any surfaces. They are made and piercing, and drilling type. The length varies from 9 to 100 mm, sometimes more. The most popular sizes are 16 and 14 mm, which can be used almost everywhere.
Self-tapping screws with nylon dowels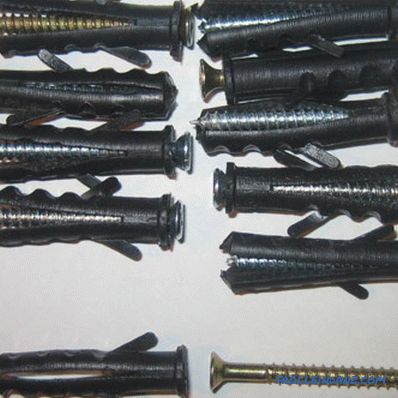 It is best to use plastic dowels for mounting wall profiles for plasterboard type UW or UD to wall mounting.
Anchor wedge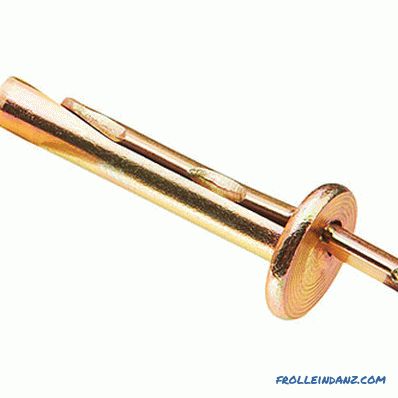 Direct or anchor hangers can be conveniently fixed to the ceiling using a special anchor fastener wedge. It does not take corrosion, it is not susceptible to drying, and therefore serves an impressively long time. In the manufacture of the ceiling is not worth saving. The fastener must always be metal and durable. In addition, you can use the ceiling dowel.
Dowel - nail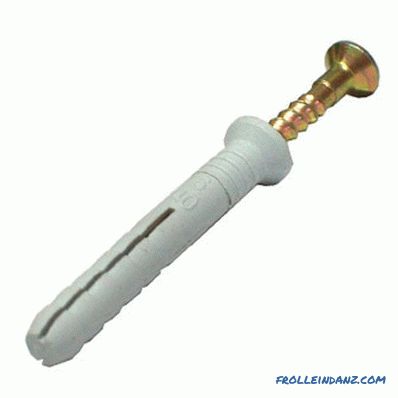 If we attach the frame (hangers and guide profiles) to the supporting elements of concrete, brick or blocks, then take special dowels. Plastic fasteners with a fungus head with a diameter of 6 mm and a length of 40 - 60 mm are suitable. They can hammer directly. Before work, you need to stock up on various types of fasteners in order to be able to connect any parts, for example, hollow ones. When using instead of bar hangers, take TDN anchors or their analogs.
Tips for choosing high-quality fasteners and profiles
Before you buy, check that the profile elements are flat, have the appropriate size and intact galvanized coating.Being interested in how to choose a profile for drywall, remember that its thickness less than 0.55 mm is not allowed. Do not forget that not everything that is sold on the market and in the store meets the standards.
There are the following types of defects:
# 1. Metal has insufficient thickness - this is a big drawback. After all, when working, the screws are scrolling, as the thread quickly breaks down. Check the thickness of the easiest with a tool (calipers). If it is not at hand, then as an option, you can compare profiles from different manufacturers.
# 2. Traces of rust definitely should alert you. Once the corrosion process has begun, it will continue. And one more thing: if a pack of profiles glitters from abundant lubricant, then this is a bad sign. Most likely, the seller tried to disguise the fact that the coating is of poor quality.
# 3. Incorrect rolling is visible almost immediately - just pull a separate part out of the pack. If you look at it along, you can see that the profile is all twisted, and its shape, to put it mildly, is far from ideal. Definitely need to abandon the purchase, and then tortured to set profiles. By the way, when they are stored incorrectly, similar problems also arise - the details are bent and deformed.
# 4. Inaccurate sizes are one of the most unacceptable types of marriage. Especially if the starting profile of the shelf height is less than necessary. And work is inconvenient, and the frame will turn out so-so. For smooth parts such as CW, the shelf height must be exactly 5 cm, and for corrugated Gyproc-Ultra PSs, a slightly lower value is allowed. And even if the dimensions of the drywall profile are slightly smaller than necessary (2.48 m instead of 2.5 m, as some manufacturers do), this should not be allowed.
# 5. If the notch is made too rarely or too weakly, then it will be hard to twist the screws. They dance on the surface for a long time, refusing to go to the right place. And if the edges of the shelves of the CD profile are too large, then the LN screws are also not easily screwed. Their sting invariably turns on inclined planes.
# 6. When buying a fastener, we check the tip - for this you can even try to screw a couple of screws into the metal. Visually check to see if there is a fastener in the bundle, whose tip is broken or there are metal residues. Check heads too - they should have clear slots, well cut. Otherwise, the bit does not hold on the screw. Marriage of the vents may be in the casting of poor quality or metal, its hammered. There should be no trace of rust.
# 7. Never take a profile with burrs - all hands will be cut. Very dangerous and sharp stuff.
# 8. For dowels, check plastic plugs. If they have a lot of influxes, then it is difficult to push such plugs into the hole. Cork weakly held in the hole and poorly revealed.